There are several hikes that are within reach of Quito on a day trip, but the main issue is getting to the trail-heads on public transport. Given that I'd already hiked to the summit of Rucu Pichincha last year, the one I particularly wanted to do was Volcán Pasochoa, but it seemed like it was going to be difficult or expensive to get there on my own. Plus I really would prefer not to hike by myself (I've been trying to find a hiking group ever since I arrived).
So imagine my elation when I saw an event for climbing Volcán Pasochoa come through one of the expat Facebook groups I'm part of. I immediately deposited the $10 in the bank account (why doesn't Ecuador use PayPal??!!) and was in!
Of course, the day of the hike turned out to be the worst day weather-wise since arriving in Ecuador 3 months ago. Usually the days start out with brilliant sunshine, and then the clouds come over by about lunchtime. But to start with rain… It didn't bode well!
Still, at 6:30am I headed to meeting point at the Universidad de las Américas (UDLA), hoping that by some miracle it would suddenly clear up. I was just about to send a message to Nicolas saying I was piking and going home, but ended up sticking it out and heading off in the school bus with 10 other intrepid souls. Turns out I'd gatecrashed the UDLA Outdoors club!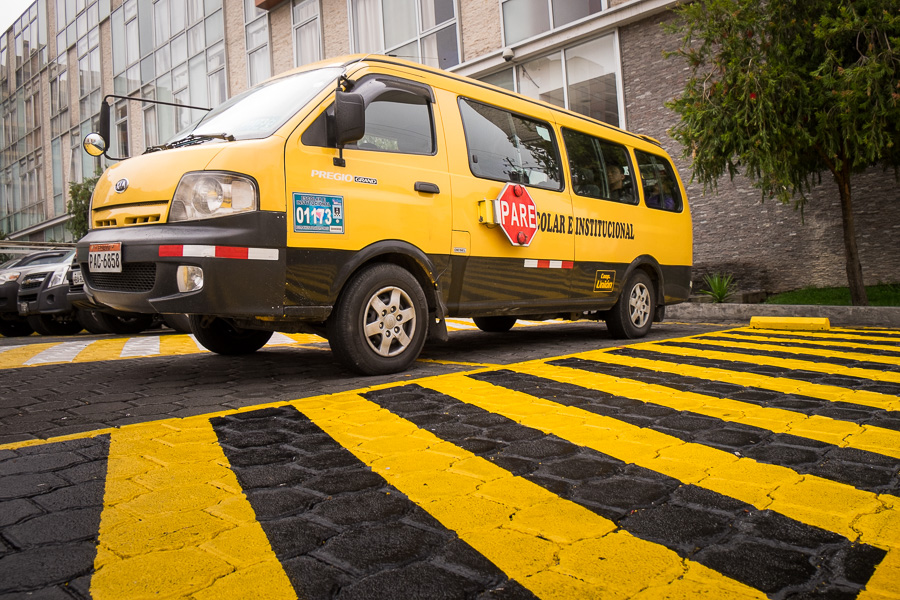 It took about an hour to get to the trail-head of Volcán Pasochoa, and the weather still looked pretty ordinary.
Nicolas started us off with a warm-up – we each had to introduce ourselves, say a little about ourselves and then choose a warm-up exercise to get our bodies prepared for hiking. I was the only non-Latino in the group, which I get the feeling was a bit of a novelty.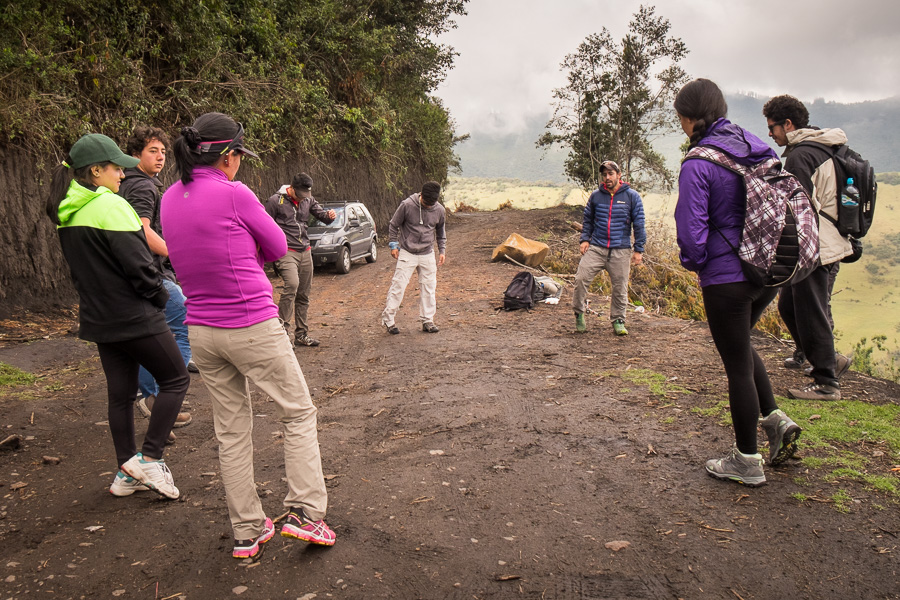 Introductions made and warm-up done, it was time to start the hike. The first part was not very steep, though doing any form of activity at 3,200m always give the lungs and heart a good workout.
We passed through (squeezed through in some areas) a small forest
and emerged to a welcoming party of cows … who were not at all keen to let us pass. They specifically came running towards us to block our path!
After negotiating half of a ladder
the climb began in earnest though the páramo – Ecuador's high grasslands.
The weather was not improving as we climbed higher, but at least it wasn't raining … yet!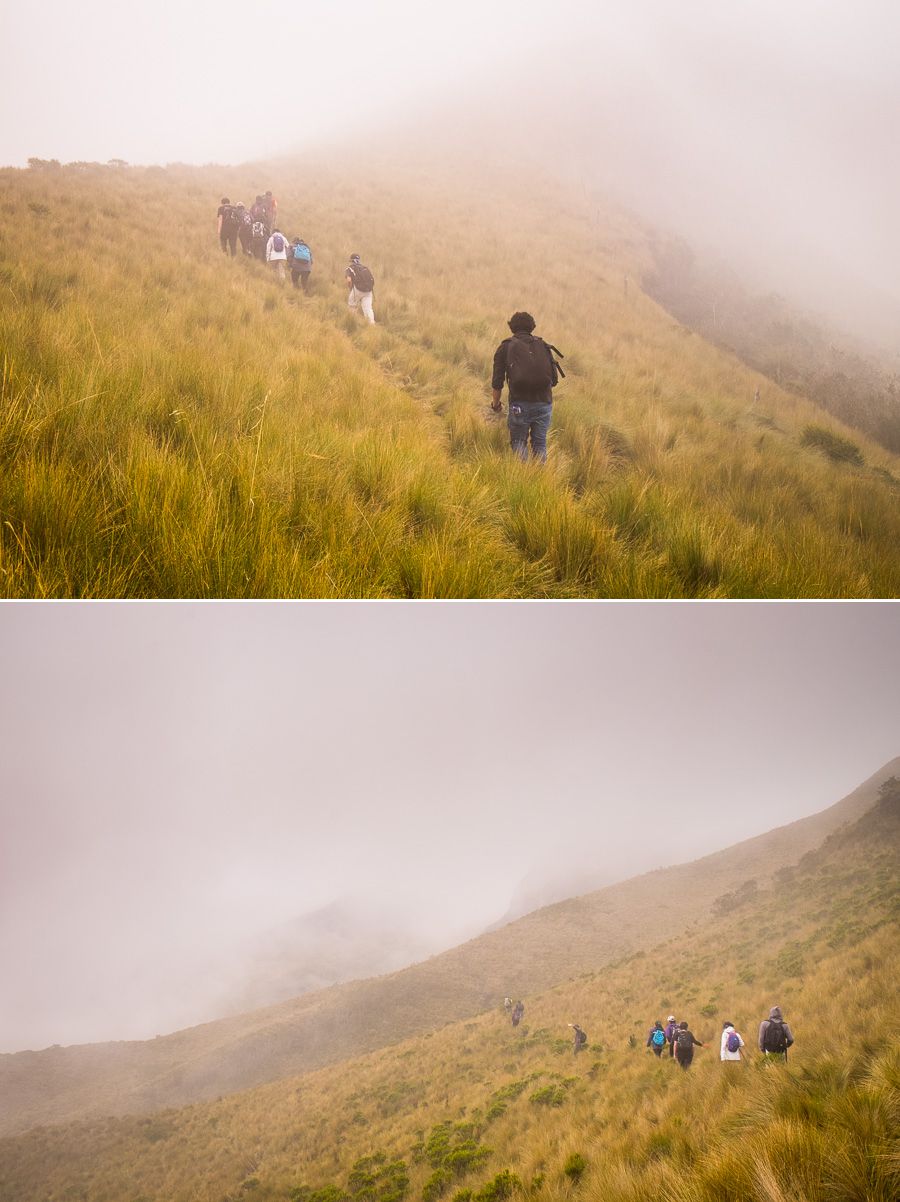 The fog kept rolling across, but we could see the summit of Pasochoa when we weren't too far away.
And I was very, very happy to finally see the "classic" view of the ridge-line (at least) of the volcanic crater on our way up.
I can only imagine what the view must be like on a clear day … a volcanic crater that drops away suddenly with vistas to the even taller volcanoes of the region. But I did find the fog-filled crater really compelling – moody, and very, very mysterious. Despite not being able to see much, this view was spectacular, and made the hike totally worthwhile.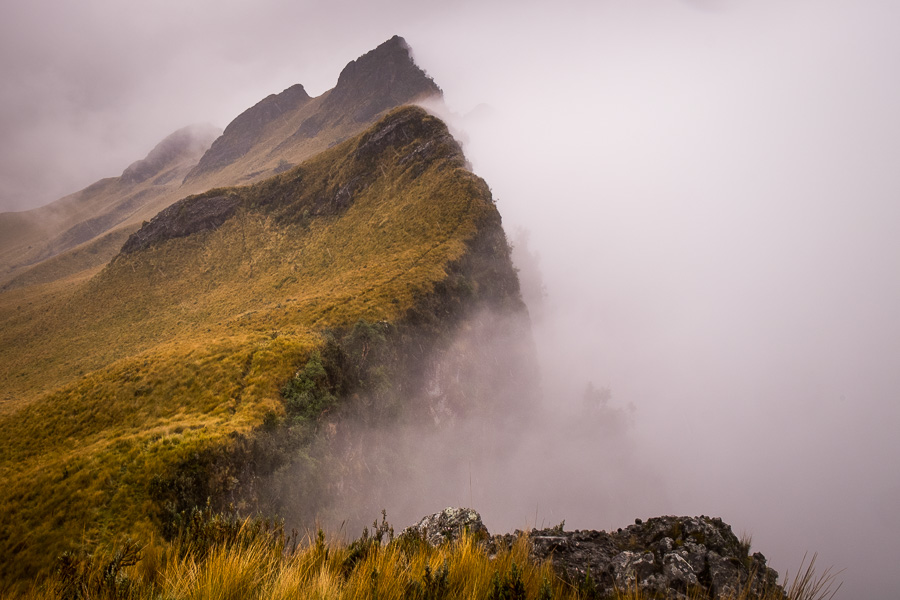 We had a fairly quick lunch at the summit (4,200m above sea level) as the fog socked in around us
before starting the return journey.
It did actually start raining on the hike down, turning the already very slippery mud track into an absolute nightmare
Thank goodness páramo grass isn't blade grass, because the only way to ensure you didn't slip and fall was to grab handfuls of it in order to anchor yourself as you very carefully took the next step. Of course, with the rain, the páramo was constantly wet, which in turn froze our hands and soaked our pants to the point where we couldn't get any colder or wetter if we tried.
Despite the less-than-stellar weather, I had an awesome time with the UDLA group, and I'm trying to arrange my schedule so I can do a few more hikes with them in January. Wish I'd found these guys 3 months ago!!
Oh – I also discovered that at least several of the group spoke good English, though we spoke in Spanish the whole day. I did suggest at the summit that because we'd spoken Spanish all the way up, we had to speak English all the way down – but they out-voted me. I really didn't mind 🙂 Great practice for me and I look forward to our next adventure together!
Recommendation
This was a beautiful hike, despite the fact that we didn't get to see very much. I imagine it must be spectacular on a bright sunny day! Another great acclimatization hike if you can figure out how to get to the trail-head.
Cost: It cost me USD$10 to do this with UDLA, including guide and transportation
Time: We took about 5 hours to hike to the summit and back. It was another hour each way in the minibus from and to Quito