Getting around in Nicaragua is both easy and difficult.
What is easy:  there is public transport to pretty much everywhere and it is really cheap
What is difficult:  said public transport is
slow as a wet week
crowded as sardines in a tin
without aircon (Nicaragua is a hot country, especially in April)
without a bathroom (or bathroom breaks!)
lacking a well documented timetable – quite often you just have to rock up and hope you aren't waiting too long
To get from La Mariposa Spanish School and EcoHotel to San Carlos on the Río San Juan, first you have to take a microbus to Managua.
However, it turns out the buses to San Carlos leave from El Mayoreo bus terminal and none of the microbuses that pass by the school terminate there (though they do terminate in every other terminal in Managua).    Best bet was to catch the Huembes micro (which, of course, is the rarest of all the micros that pass by the school) and then take a taxi from Huembes to El Mayoreo.
Stood outside the access road to La Mariposa waiting for the Huembes micro and had just made the decision to take the next micro – regardless of where it was going in Managua – when it turned out it was going to Huembes!   And – even more miraculous – it wasn't already full/overcrowded!   So I shuffled my way into the back corner and I set about maneuvering my bags so that I only occupied a single seat in the micro.  Otherwise I would have to pay double the amount – which I usually do (after all it is a grand total of AUD$3.50), but was keen to see if I could avoid it today.
Arrived at Huembes, took a taxi to El Mayoreo (US$10 – no, taxis aren't particularly cheap) and the bus to San Carlos was pulling into the bay just as I arrived.   I asked whether there was another bus at 11am (the timetable I found online said there was, but I'd heard from others that there wasn't) – the answer was no, only at 1pm.  It was 10:00am.   I asked if it was an express bus.  They said it was.  I asked how long it would take.  They said 5 hours.  I have to admit I was dubious (it was a chicken bus after all), but 1pm was a long way away so I bought my ticket (AUD$7.50), and found my seat.
It was not an express bus.  We stopped an uncounted number of times at random points along the highway to pick up additional passengers and, of course, the ubiquitous food and beverage vendors that swarm the bus every time it comes to a halt.  Even before we left Managua there were people standing in the aisle, and I'd heard 2 spiels from 2 different guys trying to sell people vitamins (in the first instance – his spiel went for 15 minutes),  and Ginkgo Biloba (in the second instance – a mercifully short spiel) as the answer to whatever heath problem my fellow travelers had.  Weight loss (there are a surprisingly large number of obese people in Nicaragua, one of which was sitting next to me at the time), kidney stones, arthritis – you name it, these magic pills could fix it!
It did not take 5 hours.   Between all the random stops to pick up and let off passengers and the 20 minute lunch break for the driver in Juigalpa which left all the passengers sweating to death in the bus for fear of losing their seat (if they had one) or being left behind – it ended up taking 6.5 hours to reach San Carlos.   6.5 hours to travel 300km.
Fortunately I had dehydrated myself to such a point that even once I'd arrived in San Carlos I still didn't need to go to the bathroom.   Obviously this is not a good thing, but its what you do when you have a long bus trip with no breaks.    The incredible heat also helped in this endeavour.  While it wasn't too bad while we were moving, every time we stopped I could immediately feel beads of sweat roll down my back, my front and down my legs from the backs of my knees.  It was so hot I ended up sleeping more than 1/2 the time, and what was interesting is that even those who were in the aisle were sleeping standing up!   They were pretty packed together so there was no chance they would actually fall down, and every time I started feeling sorry for myself, I just looked at the crush standing in the aisle and realised it could have been a whole lot worse…
Checked into Cabinas Leyko after arriving, though they didn't seem to have my booking.  It's fine for 1 night and has decent WiFi.   Started the rehydration process and then went for a walk down to the Malecón – the walkway that fronts onto Lake Nicaragua and the river.   Amazing view – I'm so excited about being here!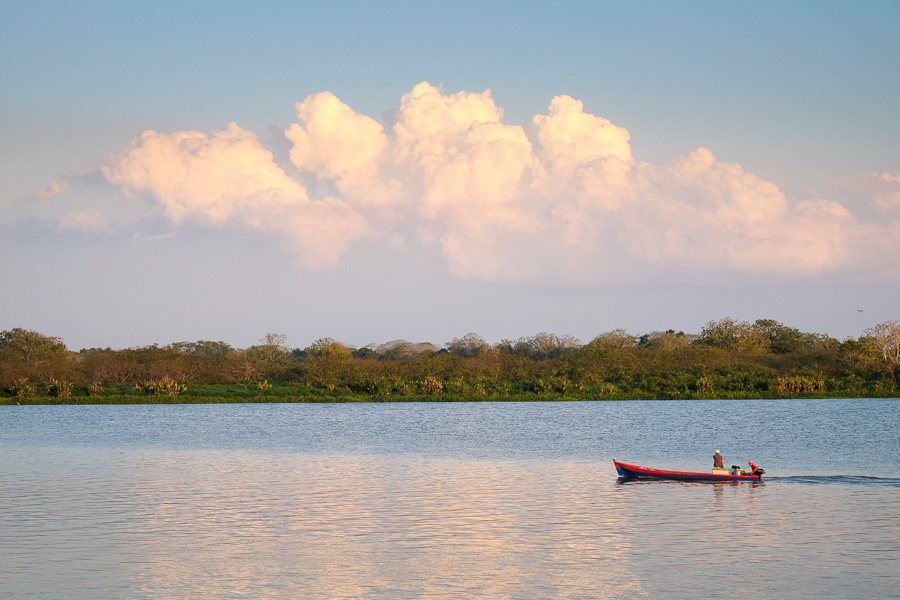 Watched a gorgeous sunset while drinking Coke Zero (desperately needed something icy cold) and eating an icy-pole (again, icy cold).  Did I mention the heat at all?   Was a long time before I saw another Chele (Nicaraguan equivalent to "gringo") but eventually discovered I wasn't the only one in town.  Cabinas Leyko seems to be full of Nicaraguans.
Ate at the fritanga near the open area on the Malecón that the young guys use to play soccer when it finally starts to cool down in the evening (love the Nicaragua and FSLN – Sandinista flag in the photo).   Wasn't particularly hungry, but given I didn't have any lunch either – figured it was probably a good idea.
Tomorrow I'm off to La Esquina del Lago Jungle River Lodge for several days and its not clear whether I'll have internet for the rest of my stay down here (the next 2 weeks).   If not – there'll be plenty more blog posts published once I come out the other side!