Leaving Bishkek for the last time, we had 2 long drive days to the Tajikistan border via Osh. Aigol from the Green Apple hostel wished us luck with a juniper burning ceremony, and off we headed.
Kyrgyzstan is most definitely a land of mountains – with over 90% of the country actually classified as such. We started up and over the first mountain range during the morning of the first day – gorgeous scenery of course!
We passed under several avalanche/rockfalls protectors – obviously, some vehicles were a little higher than they should have been!
And ultimately passed through a 2.5km long tunnel to emerge on the other side.
From there it was down into a stunning valley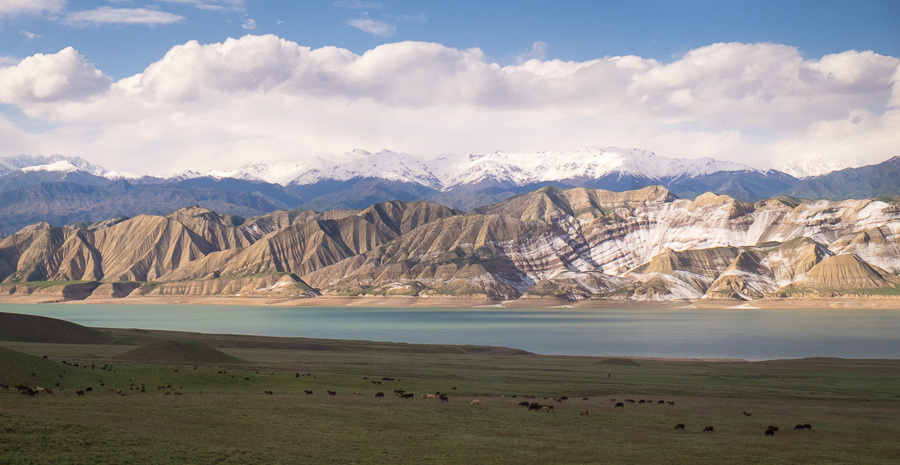 And into a canyon,
where we found our campsite for the night just off the side of the road. The guy who owned the abandoned building to the left came and said hello to us and even helped some of our group pitch their tents inside!
The next day we were up and out of there fairly early for another full day on the road.
We stopped just before Osh to finally fill our 800L water tank to the brim at a local tap (first time it has been full since I joined the trip), which took about 45 minutes. One does wonder why they have to put barbed wire around the tap?!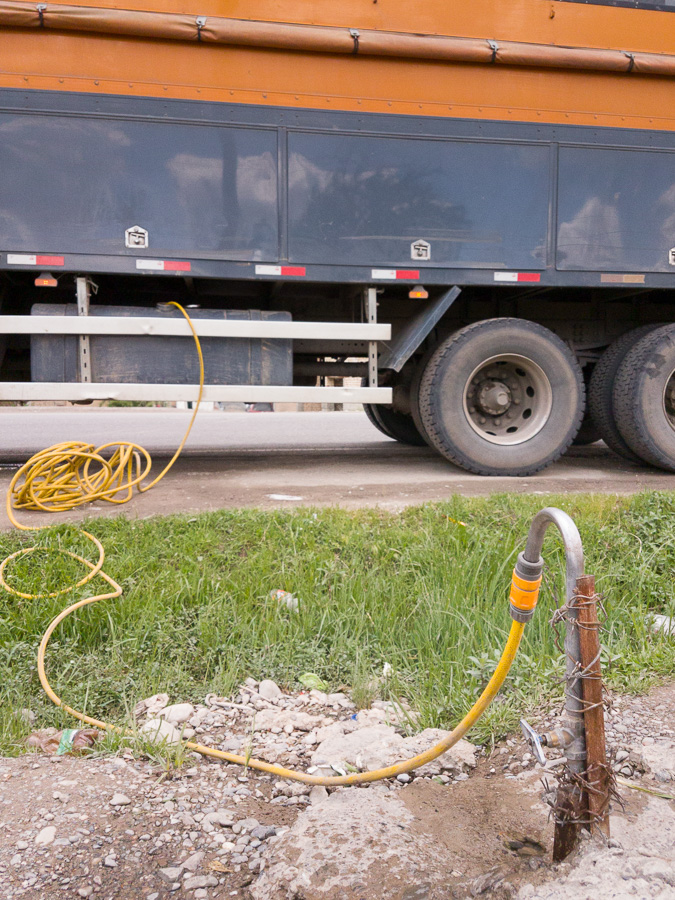 My cook group was on duty for the next 24 hours, so when we finally got to Osh at about 1:30pm – we headed straight to the market to buy what we needed for dinner and breakfast for 20 people. I'd taken the lead in my group and wanted to cook something "local" as I figured it would be simple to find the ingredients. To this end, I'd downloaded a recipe for Lagman while in Bishkek and that's what we were shopping for.
With the help of Google translate (into Russian) and lots of pointing, we managed to get everything we needed, though finding mutton was surprisingly difficult! We did get some, but decided to get some other "mystery meat" as well (I suspect it was horse – it was quite dark and gamey) to bulk out the meat content of the dish. I also bought a heap of pistachios, honeyed peanuts with sesame seeds on them, dried dates and halva to combine together into a "mix-platter" for a local dessert.
Had just enough time after that to find a shashlik on the street for lunch (oh my god it was good! I should have ordered 2!), to change my Kyrgyz money into Tajik money, and buy a bottle of coke (it was the first bottle of full-strength coke I've drunk since Coke Zero came out … I actually prefer Coke Zero!) before it was back on the overland truck to continue our journey.
From Osh – we joined the famous Pamir Highway (one of the highlights of the trip for me), and we headed up another stunning pass in the late afternoon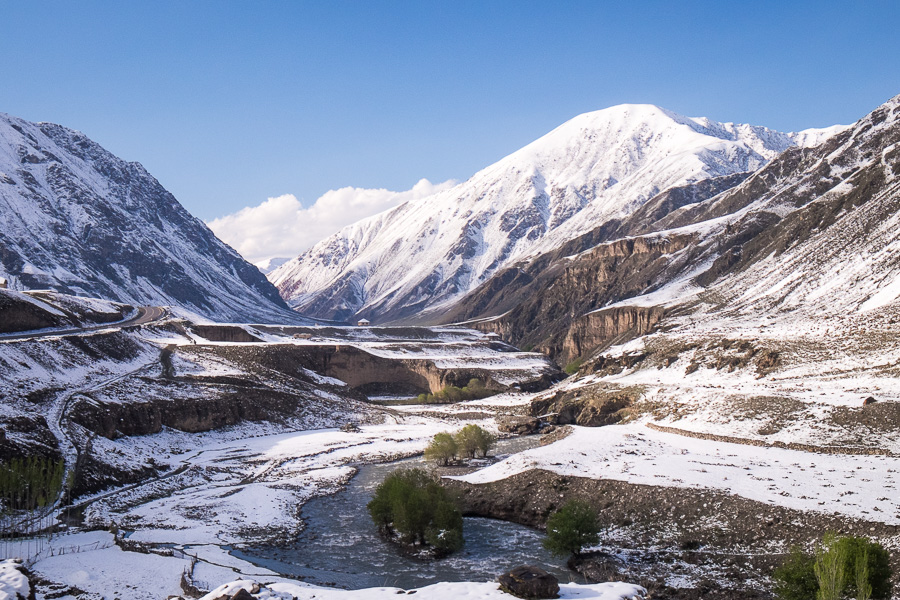 and, once over the top, found ourselves another abandoned building with an area for the truck to set up camp for the night. Trust me to be on the cook group that is cooking in the snow!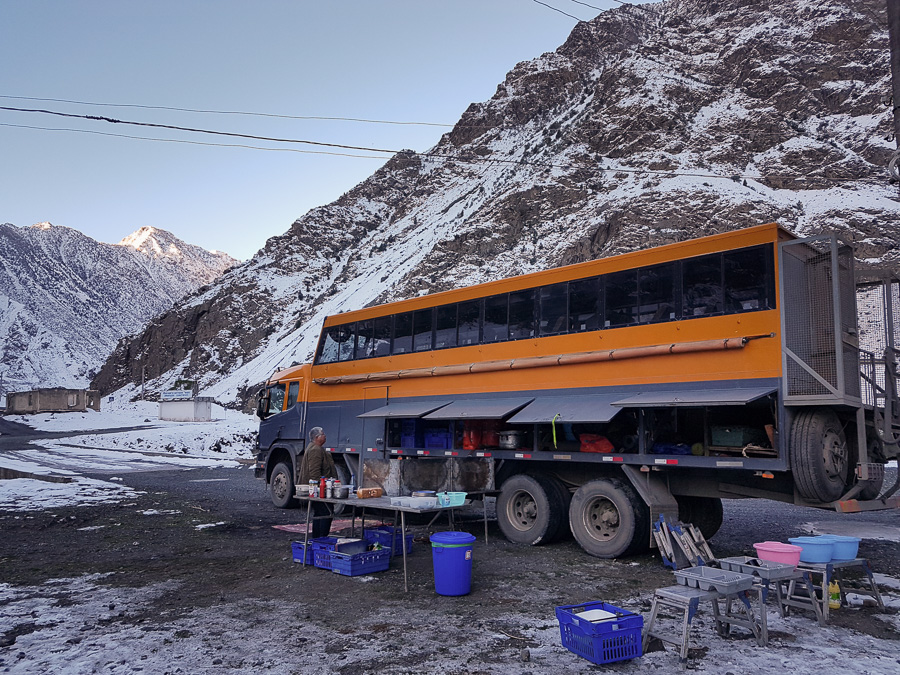 Fortunately, the cooking kept my hands warm, though my feet slowly froze through 2 pairs of socks and my hiking boots. Unfortunately, there are no images of the cooking process, nor the outcome – I was too cold and too distracted to think of it! But – judging from the comments of my fellow travelers and the number of people who came back seeking out seconds – the Lagman was a huge success 😊 As was the desert! I think several people were surprised to hear that it was all locally inspired.
Filled up my coke bottle with boiling water before heading to bed as soon as everything was packed up. Yes – the "hot water bottle" trick I discovered last year on the Huayhuash trek is back, and the real reason I bought the Coke in the first place at lunch 😊
In summary, the night was COLD! Thank God for the Coke-hot-water-bottle, as I did manage to warm my feet up before falling asleep. It turns out that whatever the temperature was overnight, I was just warm enough with my sleeping bag and tent. Of course, had to get up and go to the loo twice during the night. Tried to make both times quick as possible, but even that short view of the stars was magic.
It was well below zero overnight, because when our cook group got up at 6:15am to start breakfast, we were confronted with a frozen hose from the water tank! Hmmmm…. Didn't think of that! Managed to unfreeze it and put the kettles on for a brekkie of potato/sausage/onion/egg stirfry + tea/coffee + bread. Everyone else stayed warm for as long as they could and only emerged when breakfast was ready. My hands were so cold that they'd gone beyond pain and into complete numbness. Made it very had to pull down my ½-frozen tent!
Back in the (unheated) truck and rugged up with my refilled Coke-hot-water-bottle and my sleeping bag until I defrosted. I think there were several others in the group who wished they had done Coke-hot-water-bottle thing last night and this morning as well!
Up and over yet another stunning pass
and we were finally approaching the border with Tajikistan. Unfortunately, we were only 30kms away when we were confronted with this:
Snow chains went on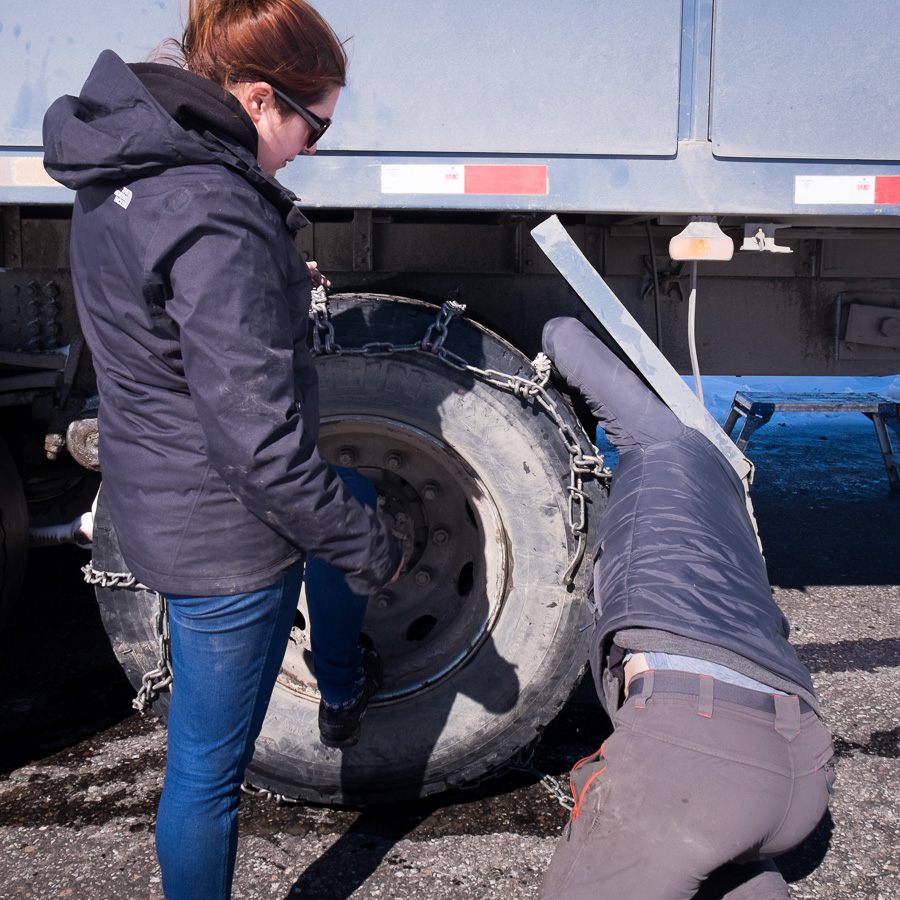 And we plunged forward, only to be turned back about 500m further up the road – we just couldn't get traction. We stopped an old Russian van (those things really can go anywhere) to ask about the road ahead, but they said that it was completely snowy on the Kyrgyz side, but clear on the Tajik side. So, no go for us.
The decision was then made to try the other border that was about an hour or so away … though we'd heard that it was not for international tourists. It was a lovely drive up a valley to be confronted with a small, padlocked barrier.
Gayle and James went to see what they could arrange with the border guards, who explained that that border crossing was only for locals under a treaty with the Tajik government. However, they were extremely helpful and called Bishkek to see if we could get special permission to cross. They also called the main pass that we'd tried earlier and told them to send the snow plow down to clear the road.
Unfortunately, Bishkek said "no" and we headed back up the valley to the main pass to await the snow plough to do its thing. We ended up camping at the intersection, given it wasn't clear how long it would take to clear 30kms of snow and it was going to be better to camp at 3000m rather than somewhere along an unknown mountain pass where there probably wasn't anywhere to camp anyway. Cook group 6 did a great job – was very yummy. Then time for an early bed. Couldn't beat the view either!