The Huayhuash Circuit Trek (pronounced Why-wash) is widely regarded as one of the best alpine treks in the world due to its remoteness and the proximity to enormous mountains that you can almost reach out and touch. Even better, the number of visitors is still relatively low. Most opt for the shorter and more famous Santa Cruz trek in the Cordillera Blanca, though this is changing with the success of the movie and book "Touching the Void" – Joe Simpson's remarkable survival of Siula Grande (one of the highest peaks in the Cordillera Huayhuash).
So after a single acclimatization hike to Laguna 69, and a couple of days in Huaraz arranging logistics, I got picked up at my hostel at 8am to head out into the wilderness for 10 days. The trek itself is about 130km in total, 98% of which is between 4000m and 5200m, and there are 8 passes above 4500m to cross. Hmmm… about that acclimatization…
Our route (and where we camped each night) is mapped in purple on the below (thanks to Peruvian Soul for the best illustrative map I could find).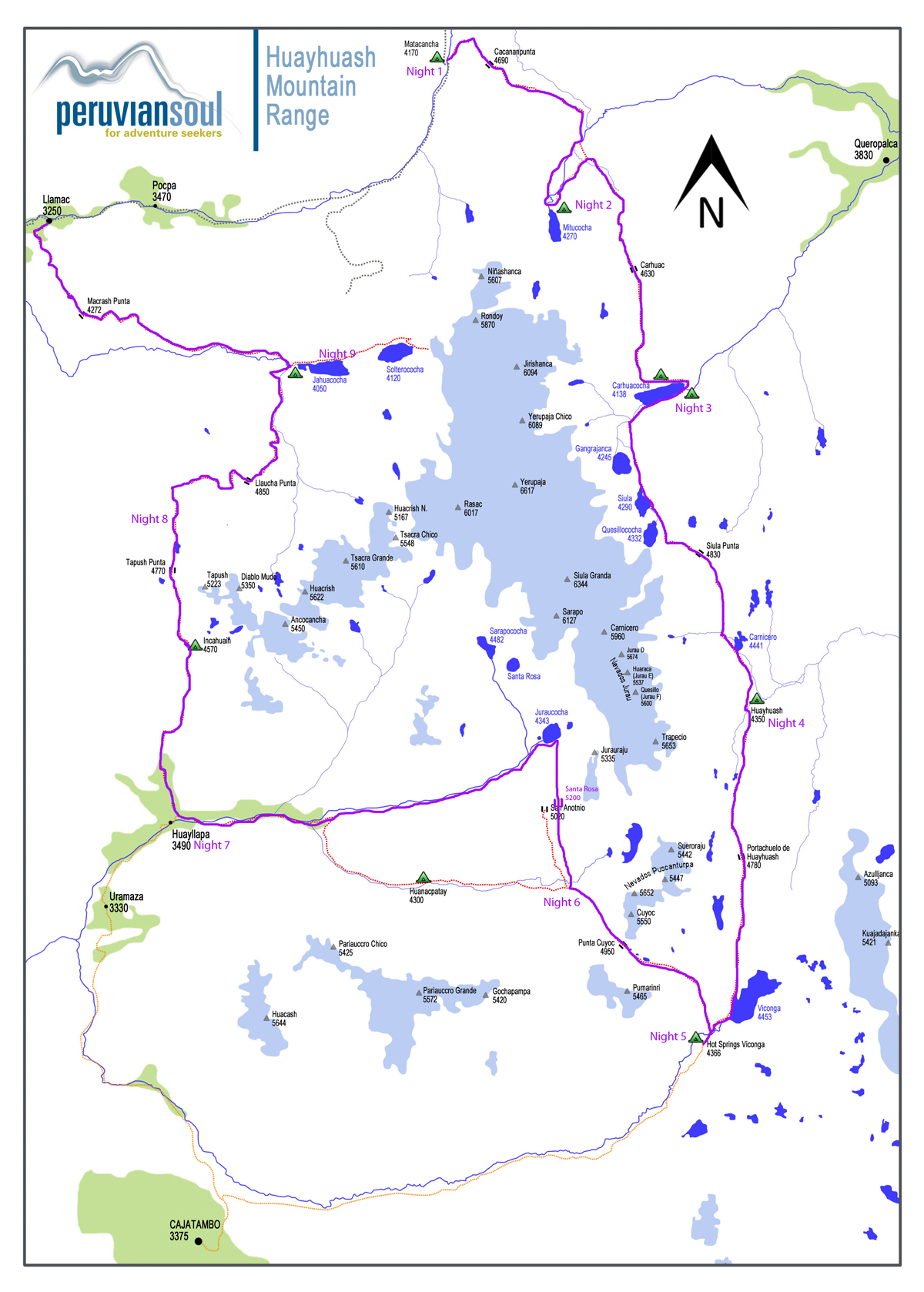 Peruvian Soul also have the cool altitude chart of the trek, and although not quite correct (given we didn't exactly follow the Peruvian Soul route), it gives you a pretty good idea of what we were dealing with though (the major difference is that we did the Santa Rosa pass @ 5200m instead of the San Antonio pass @5020m).
I was sharing this adventure with Nico (Swiss-Italian) and Max (German) – two awesome, awesome guys who I really loved hanging out and trekking with.
Our guide – Eliceo (an amazing guide/cook)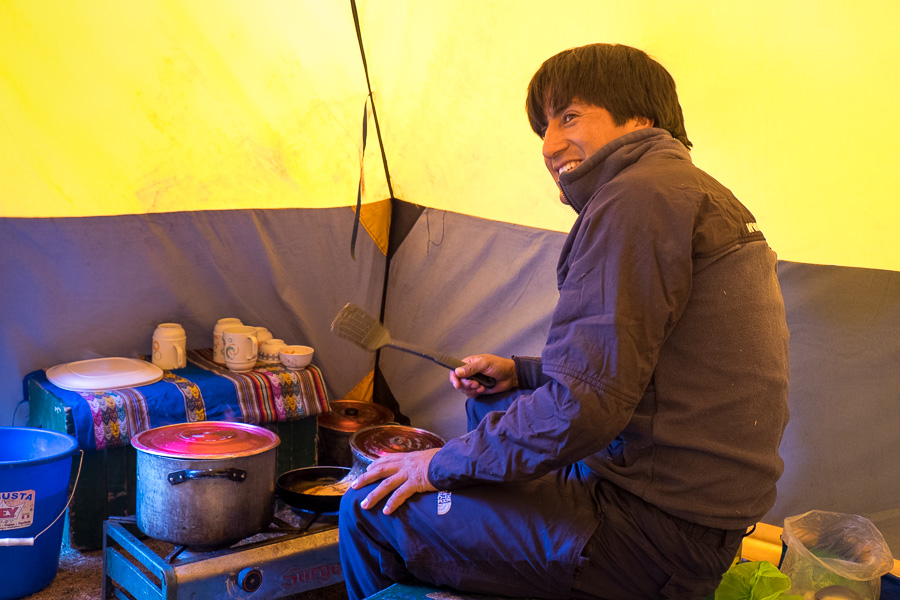 and our donkey-driver-come-general-helper-who-really-doesn't-feel-the-cold-at-all – Elijio (along with his entourage of 6 donkeys and 1 horse) rounded out our very small group.
I have to say, I was really, really thankful for the smallness of the group … we came across a large (12 people + guides + donkeys) group on about Day 3 for a couple of days (fortunately we were walking much faster and so only really saw them at the campsites) and that really would have driven me mad! I was relishing the peacefulness and loneliness of where we were hiking – that would have been destroyed utterly with a lot of people.
To be honest, I'm mostly just going to let the images do the talking in the following 🙂
Day 1: Huaraz (3050m) – Quartelhuain (4300m)
Actually, there was no hiking this day given that they have extended the road all the way to the first campsite. 4 hours in the van getting to know each other. Set up camp. Enjoy being in the outdoors. Read. Eat. Sleep. That was pretty much the extent of it 🙂 So happy to have awesome trekking companions, and brilliant to meet a real-life James Herriott (Max is a ruminant vet).
Day 2: Quartelhuain (4300m) – Cacanan Punta Pass (4700m) – Mitucocha (4220m)
Our first day of hiking. It was absolutely freezing when we started out (even the -20 degree sleeping bag didn't keep me warm last night – camping at altitude is a cold, cold business) and it took quite a long time for the toes and fingers to defrost.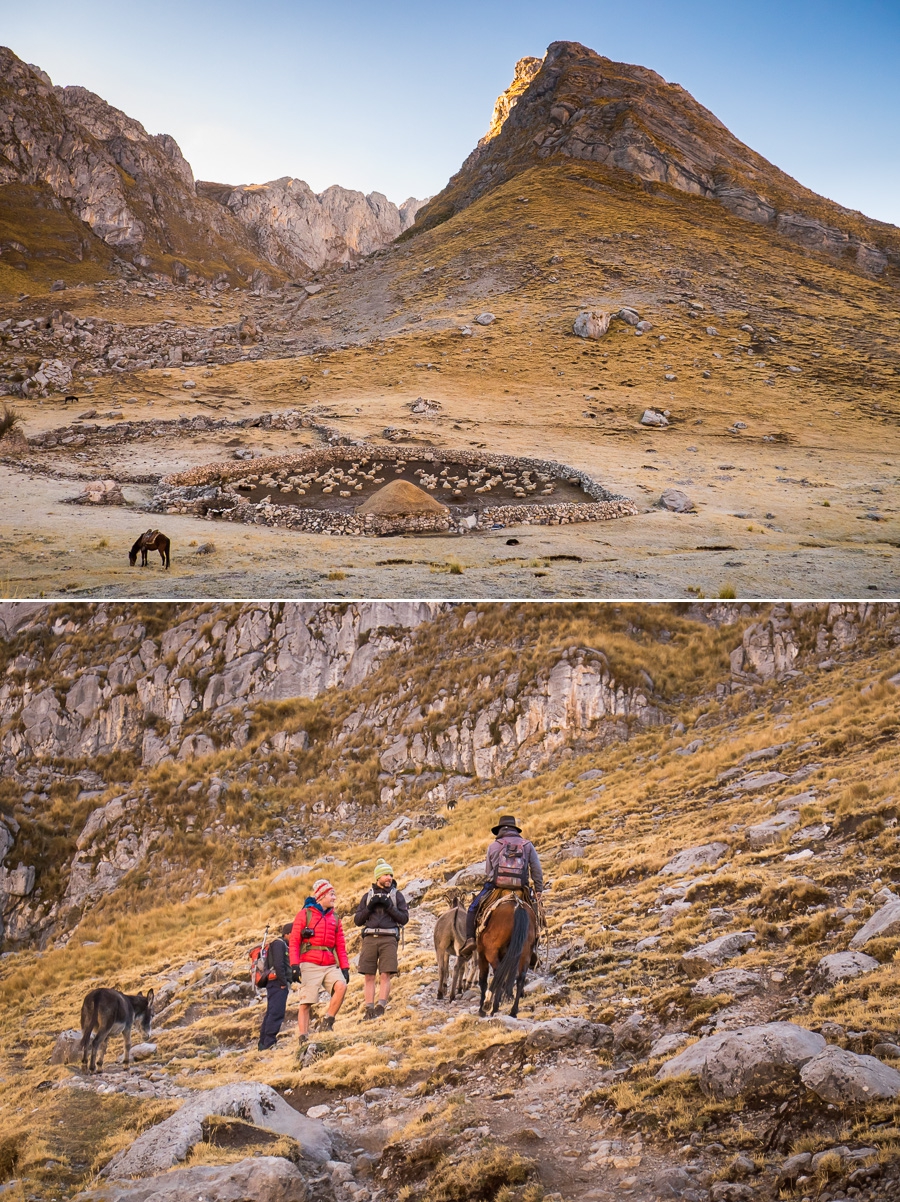 I have come to the conclusion that the first and most important thing they teach the high-altitude guides in guide school is how to walk slowly. Eliceo set a VERY slow pace up the steep first pass – and while it was not easy, it actually wasn't that difficult either. I think the problem I have usually is that I try to walk too fast. There is a reason they look like they are barely plodding up Everest!
The view from the top of the pass was absolutely spectacular, though I was still not quite warm enough to strip off all the layers!
We then hiked over to check out an absolutely gorgeous lake and to have our lunch, running into some Vicuñas along the way.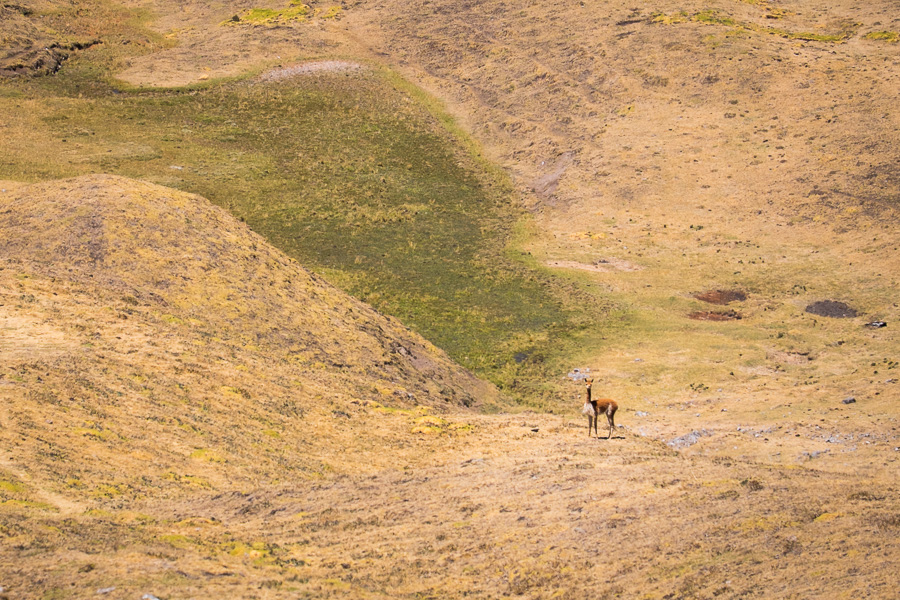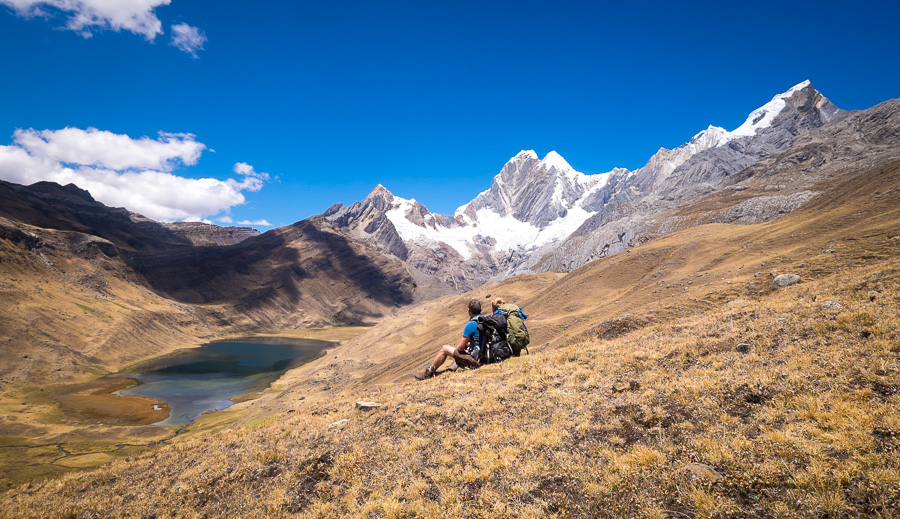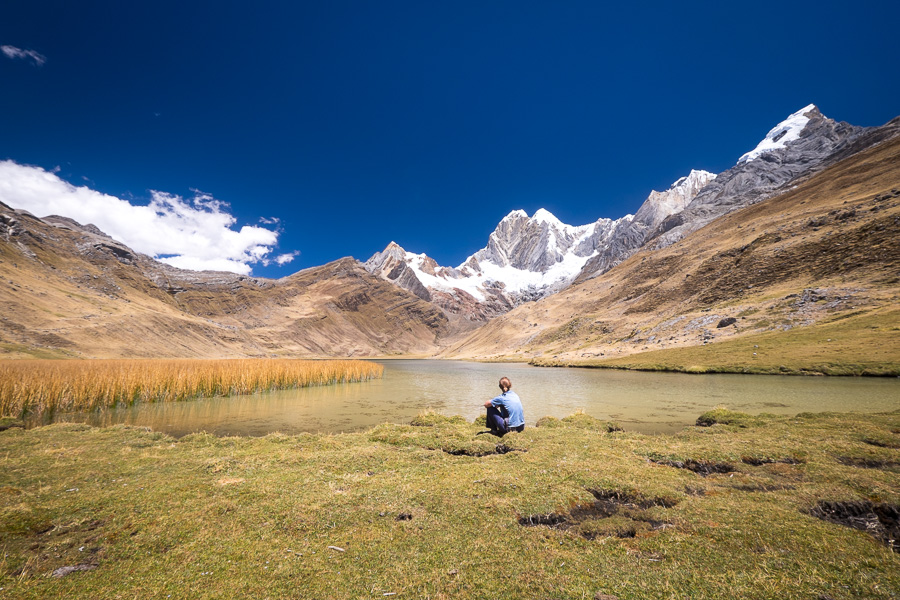 Then down to Mitucocha Lake for our second campsite. What a view!
Day 3: Mitucocha (4220m) – Punta Carhuac pass (4650m) – Carhuacocha (4150m)
Although it was freezing, there are definitely worse places to have breakfast than this. Yes, Max and Nico are crazy wearing shorts at this time of the day!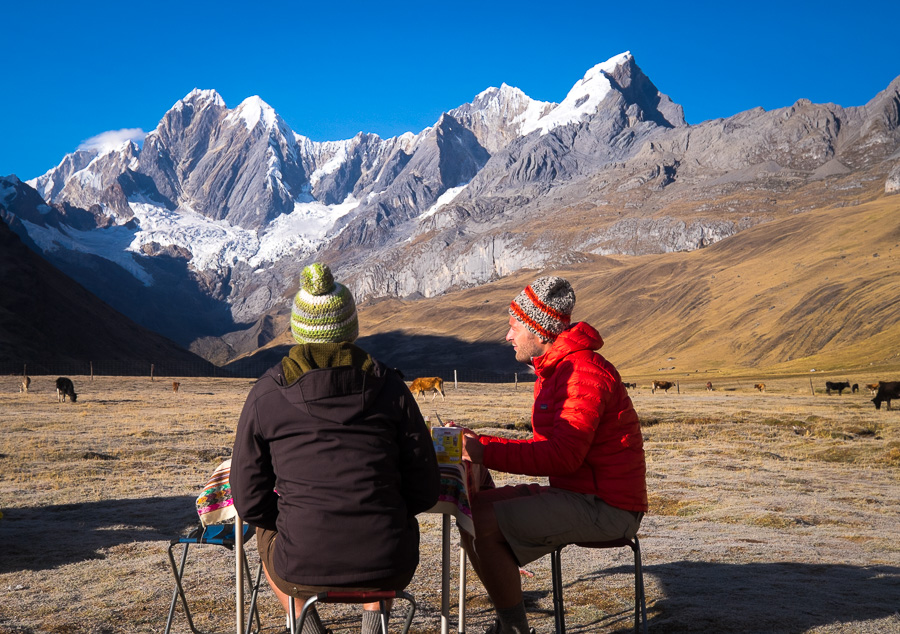 Packed up our tents, left Elijio with the rest of the packing job (guided treks are awesome!) and headed out towards the Punta Carhuac pass.
A fairly easy day of hiking, and the scenery just continues to be spectacular.
Day 4: Carhuacocha (4,150m) – Siula Pass (4,850m) – Huayhuash (4,350m)
Woke up to a perfectly calm and gorgeous morning – a beautiful start to one of the toughest days of hiking.
It didn't start out too bad – a nice flat walk along the edge of the lake towards the mountains.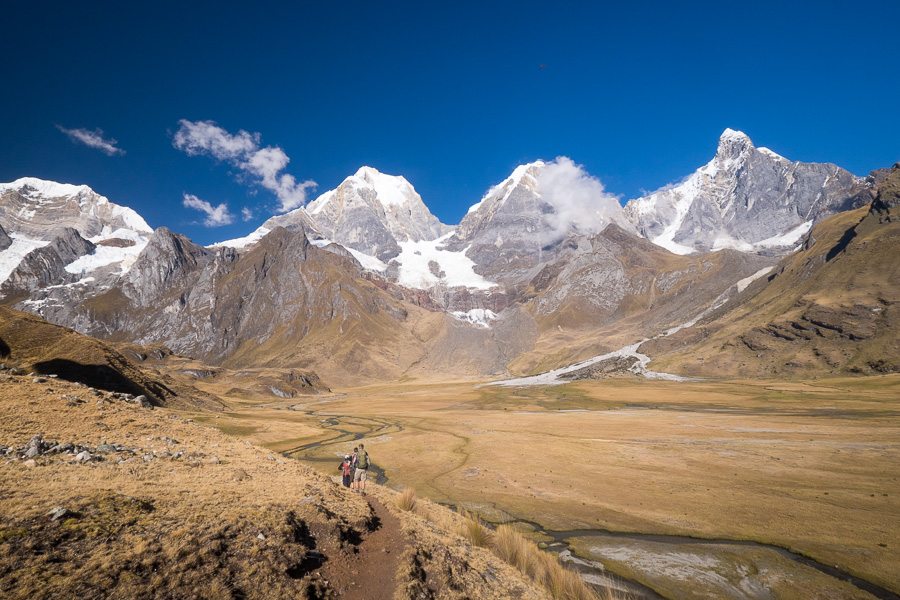 Then around the corner and past a farm with arguably one of the best views in the world. Interestingly, the Huayhuash Circuit is not within a National Park. It passes through farming communities and the trail fees go directly to the community who provide basic facilities and look after the campsites.
Hiked around some gorgeous lakes as well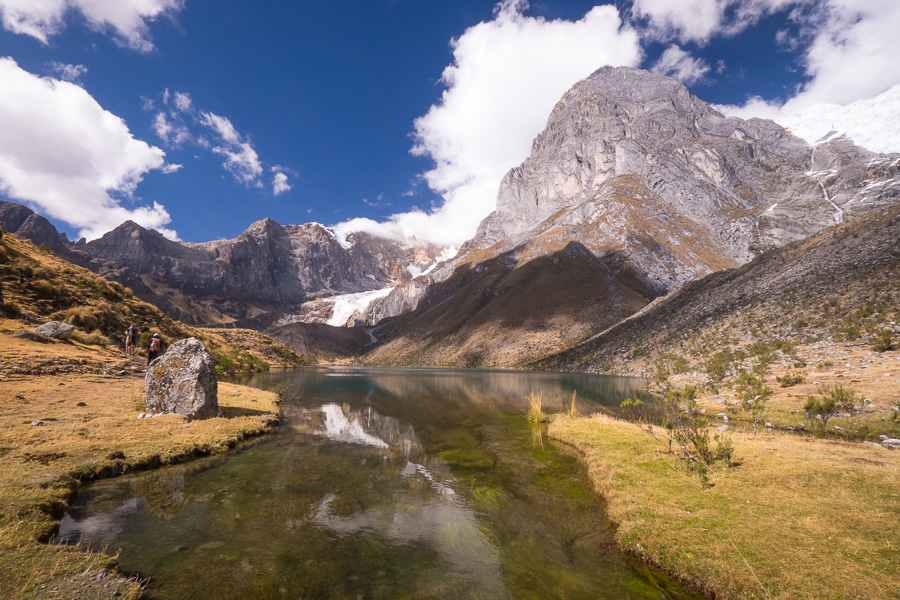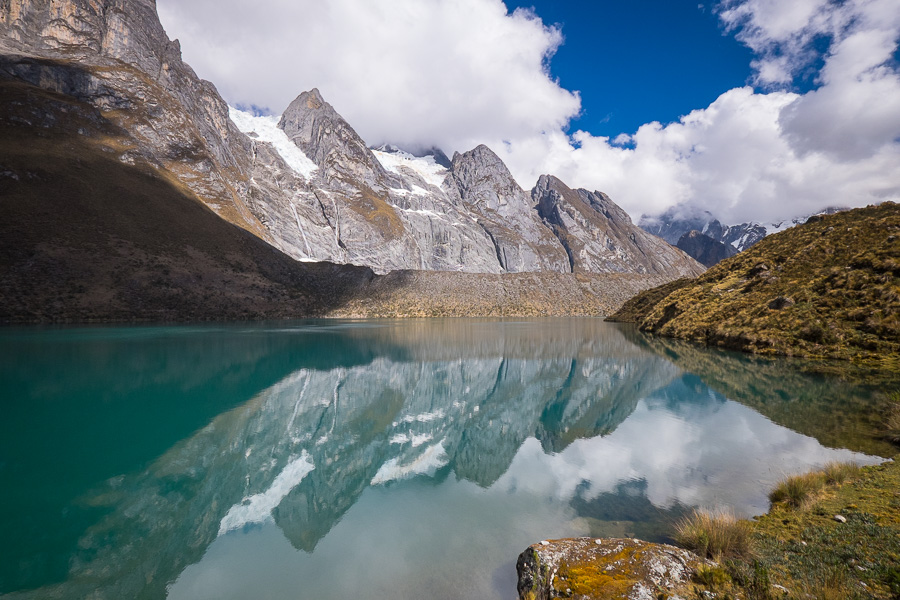 before the going got tough!
Straight up a very steep path to the lookout over the lakes and mountain range. Yes, even at Eliceo's snail's pace – this was a tough climb at altitude!
But the reward was worth it 🙂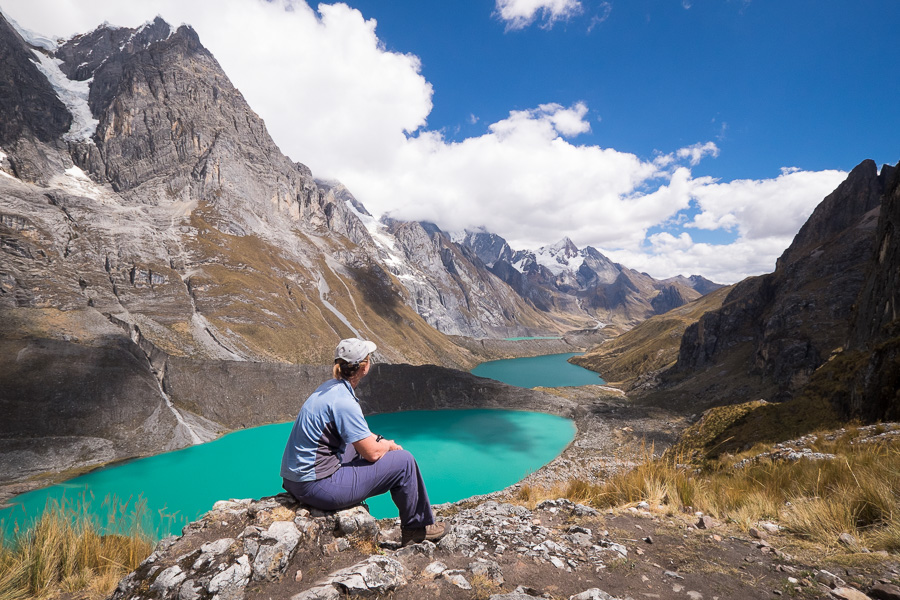 But we were still not done… There was still quite a lot of uphill to go to actually reach the top of Siula Pass.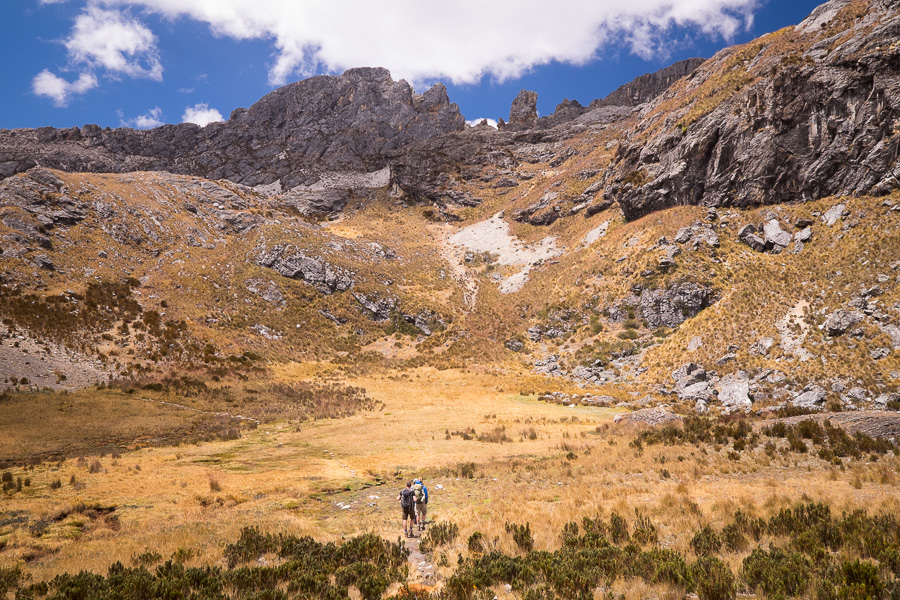 But I did make it 🙂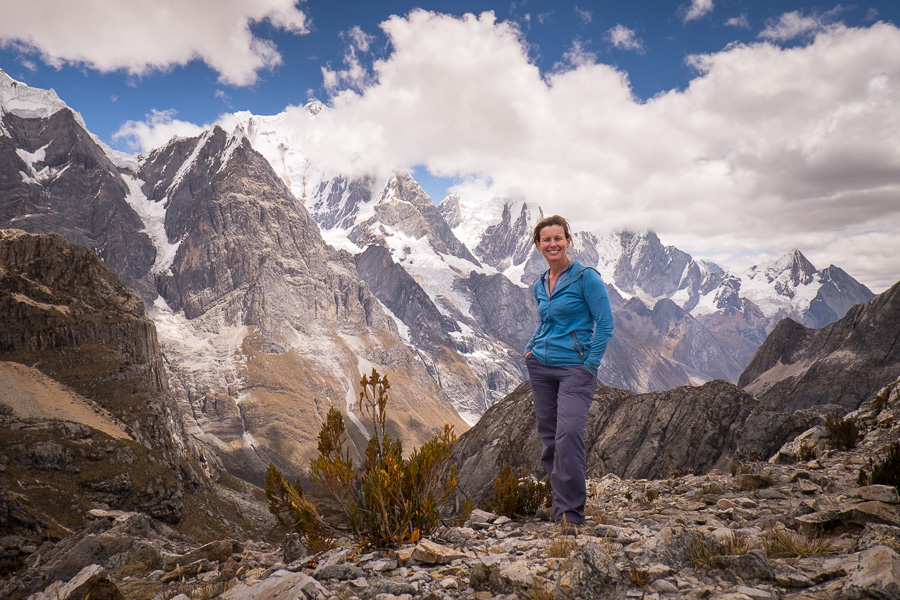 The rest of the day's hiking was a doddle – decending towards Huayhuash campsite.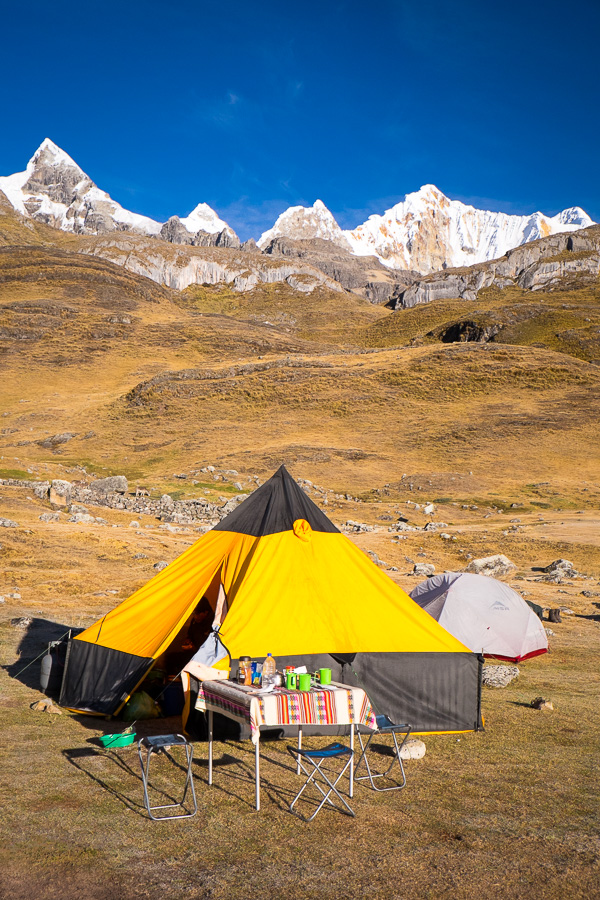 Day 5: Huayhuash (4,350m) – Portachuelo Pass (4,795m) – Lake Viconga (4,407m)
This was another fairly easy day, and our long-awaited reward of thermal baths lay at the end of it. I was hanging out for that – especially since I hadn't had a proper wash for 5 days.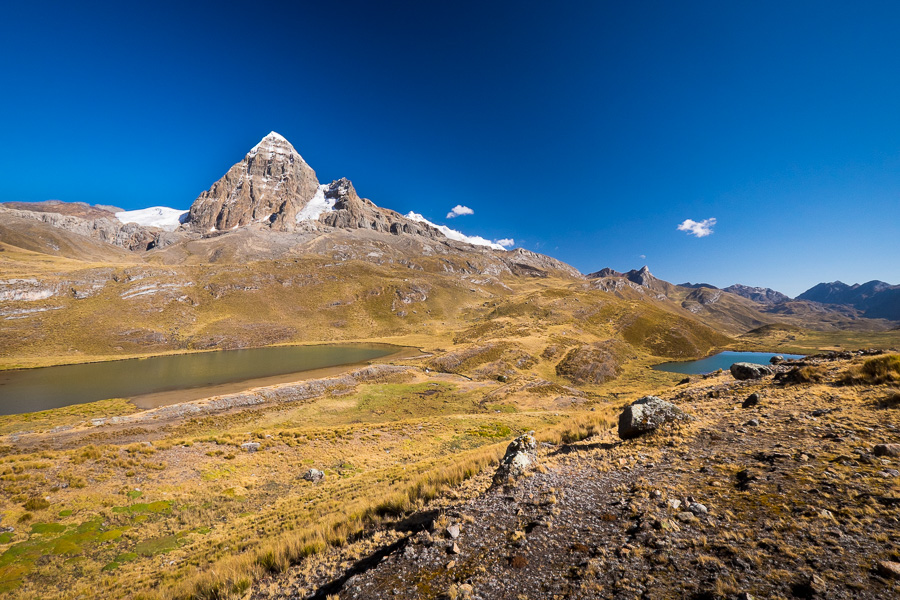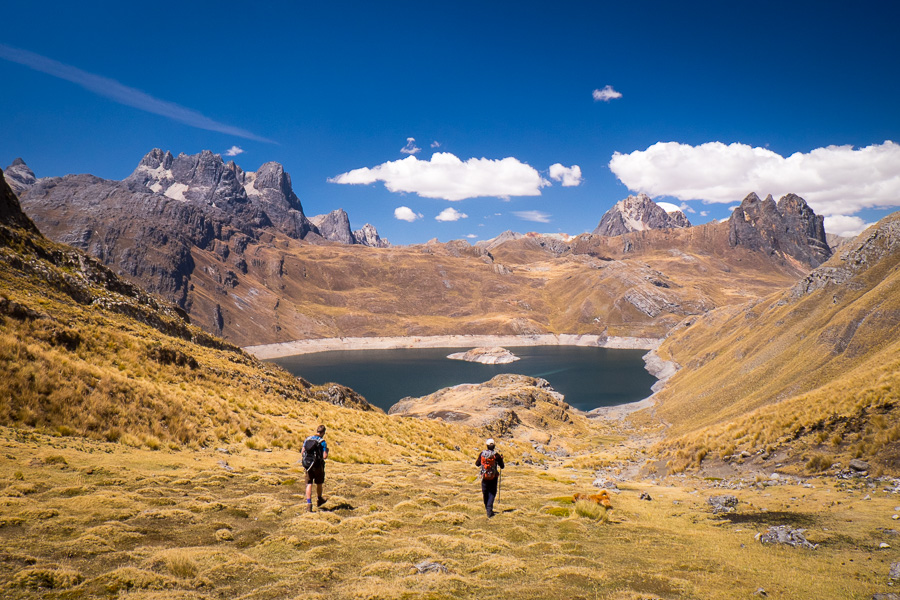 Read more about the rest of this incredible trek in the next blog post!