Day 9 of the Icefjords and Remote Villages trip with Greenland Adventures  was a free day to explore Tasiilaq and its surroundings.  Despite the less-than-stellar weather, Andrea offered to guide whoever was interested on a short hike out into the Flower Valley – it turned out that we were all interested 🙂
I had actually done this hike last year when I visited Tasiilaq but was happy to join with the group to do it again.
We hiked past the small waterfalls
and as far as the end of the second lake (still with ice floating in it this year)
before returning to town and a lunch of reheated frozen pizzas! Lots of brownie points, Andrea 😀 Lots of brownie points!
The weather cleared up dramatically after lunch as I met a local Instagrammer I had connected with for coffee, investigated souvenirs at both the artists workshop and the information center
and then spent several hours wandering around town exploring.
All up, a very nice and relaxed day in East Greenland's largest town.
Read more about the Icefjords and Remote Villages Tour
If this post has piqued your curiosity about hiking and trekking in East Greenland, read about the rest of my adventure on the 10-day Icefjords and Remote Villages tour with Greenland Adventures:
If it has sparked an interest in Greenland more generally, learn more about this amazing country at Visit Greenland, and check out the wide range of tours of all kinds (not just hiking and trekking) at Guide to Greenland.
Hiking Information
Distance = 7.3 km
Time taken = 3 hours 10 minutes
Strava Link = https://www.strava.com/activities/1704299361
Map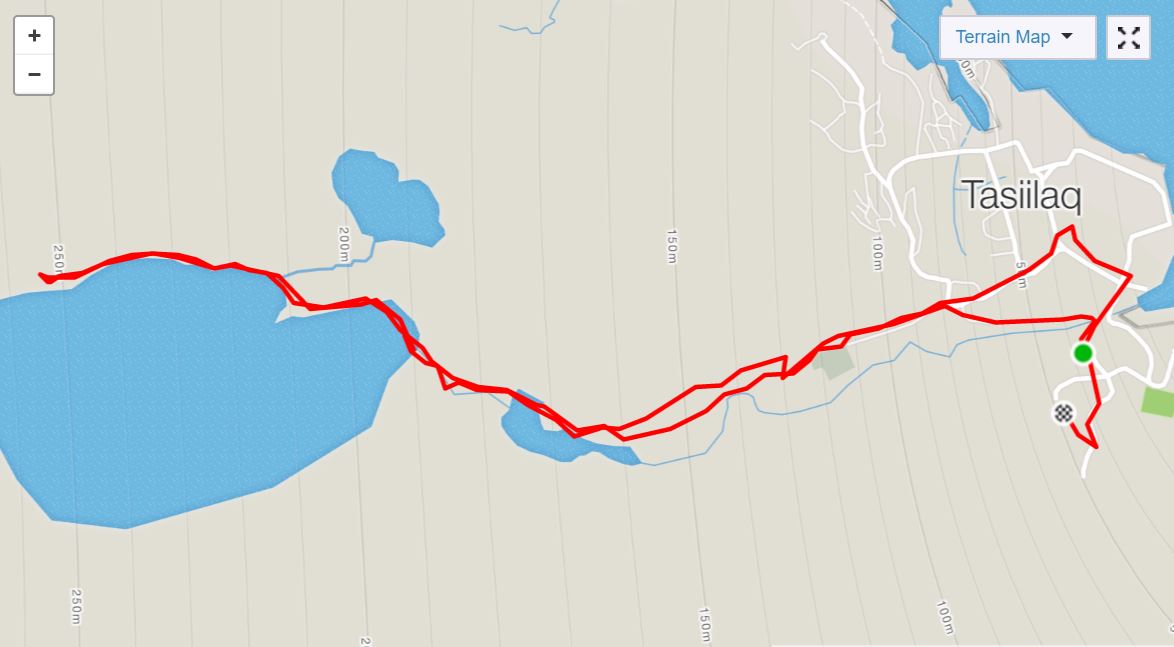 Altitude Profile
This post contains some affiliate links. If you make a purchase through one of these links, I will earn a small commission at no extra cost to you. Your support is appreciated!