More bright sunshine and another relaxed start to Day 3 of the Icefjords and Remote Villages tour in East Greenland.  Breakfast at 8am (thankfully, following my late night), have bags packed by 10am, and be waiting down at the harbour by 10:30am for our 10:45am boat transfer to Kuummiut, were our instructions. 
Plenty of time to have one last wander around this very small town of less than 300 people

[move mouse over image to see the full panorama]
And one last cinnamon roll from the Pilersuisoq 🙂 Oh my, these things are sooooo tasty and addictive! I've have had (at least) one every day since arriving in Kulusuk almost a week ago!
Down at the harbour, Allan and Eric (outdoor adventurer friends for more than 40 years) pulled out their Backgammon board and embarked on what was to become a very common sight every time we had a spare moment during the trip.
At 10:45 on the dot, Lars from Arctic Dream appeared with his new, large passenger boat. He'd only taken delivery of it 3 days ago, and I must stay that it is a big step up in comfort level compared to the boats that transferred us for the Unplugged Wilderness Trek last year!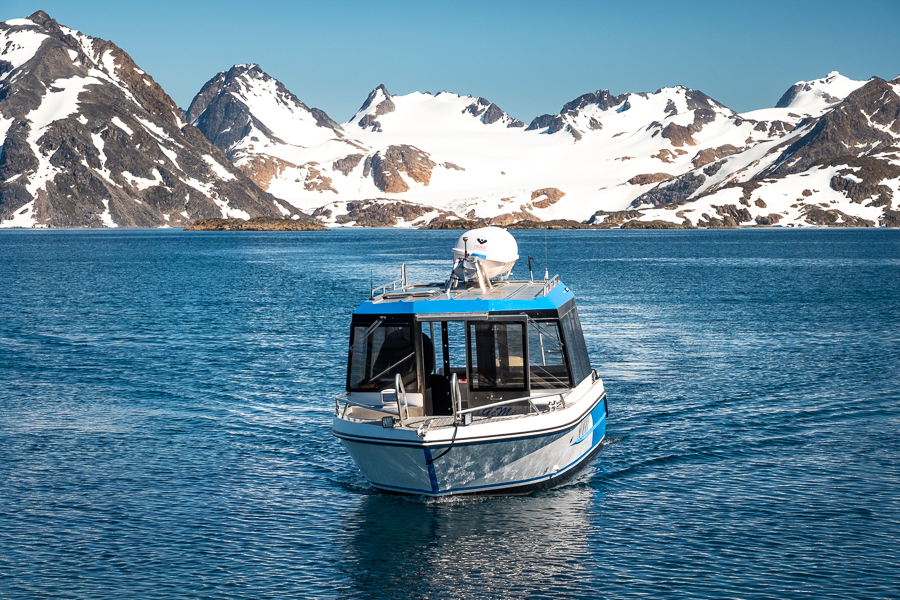 Luxury!
What hadn't changed was the necessity to help load our gear into the boats to make the journey. Fortunately, given that we would be staying in villages and not camping in the middle of nowhere, this was a much quicker and easier undertaking than last year.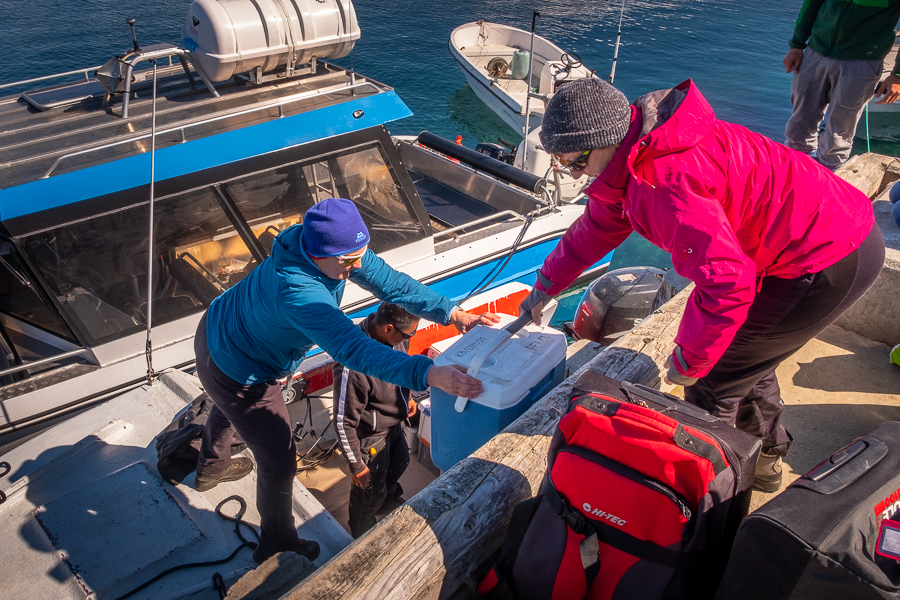 Gear loaded, we boarded our transfer and I nabbed a seat out the back in the sunshine. Lars gave us a full briefing of safety on board (another very different experience from last year – if disaster struck in 2017, we were on our own!) and off we set.
The views as we headed up the Ammassalik Fjord under bright blue skies were beautiful, though I was missing the spectacle of boating past the icebergs that are usually more prevalent at this time of year. Although the long, cold winter had left plenty of snow still thawing on land, several Piteraqs (fierce storms) in recent weeks had blown most of the ice out of the fjords. It was such a different vista compared to 12 months ago!
After about an hour of smooth sailing, the village of Kuummiut came into view ahead of us. Brightly coloured buildings clustered at the base of some impressive looking mountains!
Once Jens had tied the boat to the dock, we each scaled the vertical ladder, shouldered our own luggage, grabbed one of the boxes containing our basic food supplies, and headed up the hill to our home for the next 3 nights.
Unfortunately, we met with a slight snag at the front door. The key was meant to have been left in a particular location, but neither Andrea nor the local guy who was helping us could find it. So we ended up breaking in!
It was a very small house for 9 people, with just enough room to sit around the table, and space for only 8 on a double platform in the dorm room. For this reason, we had actually booked to have 5 people sleep here and 4 people at the "Service House" just down the road, but apparently the visiting priest ("palasi" in Greenlandic. Yes, I have an obscure vocabulary!) had made off with the key and nobody could find him. Hmmmm…
Since I had all my camping gear with me, I happily volunteered to be the 9th person and sleep on a mat in the kitchen – distancing myself somewhat from the snoring that always accompanies a group this large 😛
Our standard lunch of bread, cheese and processed meats out of the way, we decided to take advantage of the continuing good weather and go for a short hike up the Kuummiut fjord.
With the bare rock of the mountains on one side and the blue waters of the fjord on the other – it was a wonderful way to spend the afternoon – and take the first of several group photos 🙂
When we reached the peninsula Andrea was aiming for, we burrowed down amidst the rocks to hide from the breeze and spent the next hour contemplating the view and watching for whales. Of which there were several! Though all quite far away 🙁 We could see their blows and perhaps a small part of their back, but they were placidly going about their business and not putting on too much of a show for us.
We abandoned our whale watching as a weather front came over and the temperature suddenly plummeted.
Despite this, we took our time and stopped to inspect the ruins of Inuit shelters
and refill our water bottles as we hiked back to town. This is one of the many beautiful things about hiking in Greenland – the fact that you can drink the water directly out of any stream.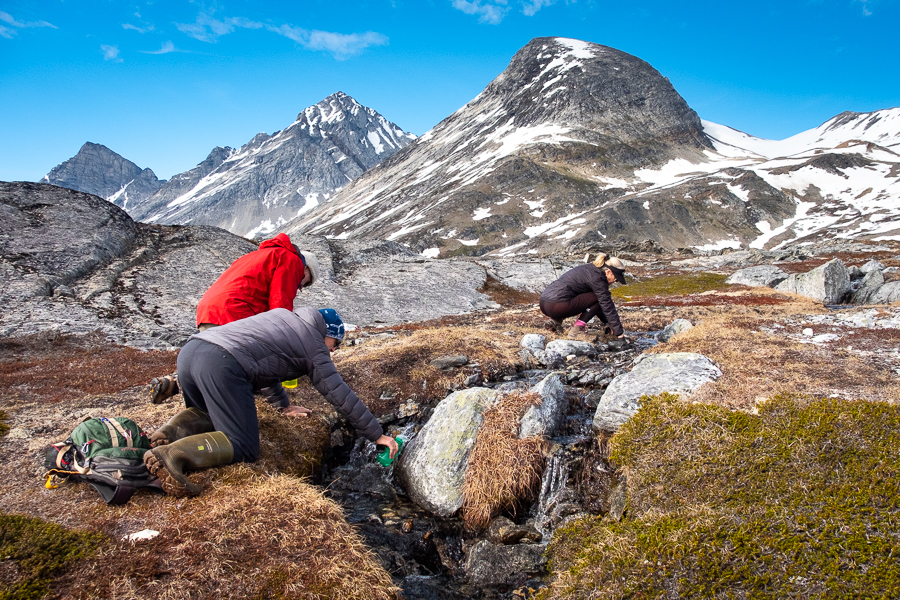 We stopped by the Kuummiut church on the way back to our hut to discover that although it had a more traditional style of stained glass window than in Kulusuk, it also boasted a model boat in the front-left of the chapel. This time an Umiaq – or Greenlandic women's boat.
Then we settled back in our cozy lodging for tea, coffee, afternoon snacks, and fun conversation around the dining table.
In many houses in East Greenland there is no running water, and this one was no exception. So while Andrea and I started to prepare the evening meal, some of the others went to fill the large barrel from the closest water pump house. These are small, blue huts located in several places around town where you place your barrel under the outflow pipe, stand back (to avoid being splashed) and press the button to start the (usually quite forceful) water flow. You then carry the typically heavy and very awkward barrel back to your residence. For this reason, it's better to make it a 2-person job 🙂
Dinner was delicious: honey rye bread and brie for starter, salmon, veggies and rice for main, and a weird Danish "strawberry jam" type thing for dessert.
Allan and Eric were the self-designated after-dinner washer-upperers for the trip
and once they'd finished, we stood watching the whales in the fjord from the kitchen window.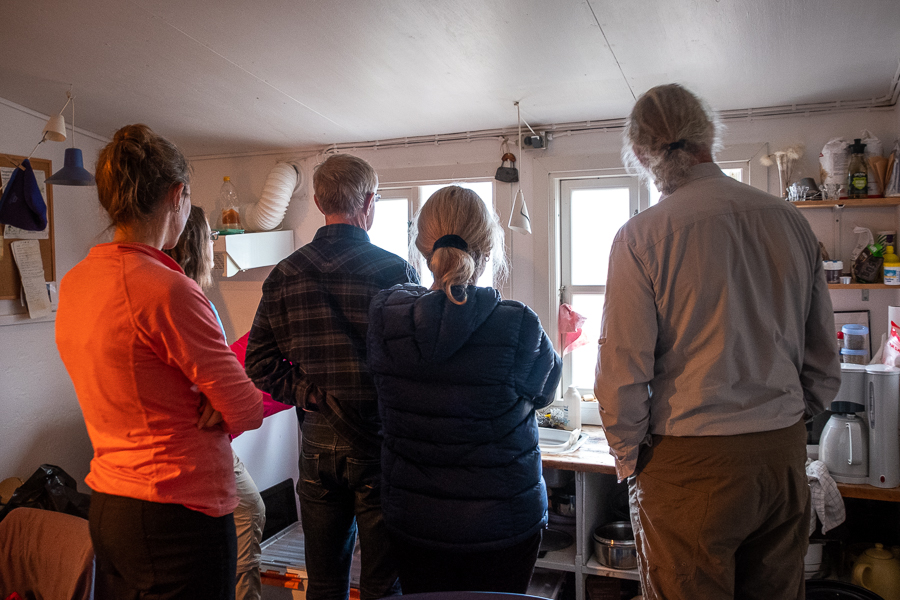 It doesn't get much better than this!
Read more about the Icefjords and Remote Villages Tour
If this post has piqued your curiosity about hiking and trekking in East Greenland, read about the rest of my adventure on the 10-day Icefjords and Remote Villages tour with Greenland Adventures:
If it has sparked an interest in Greenland more generally, learn more about this amazing country at Visit Greenland, and check out the wide range of tours of all kinds (not just hiking and trekking) at Guide to Greenland.
Hiking Information
Distance = 5km
Time taken = 3 hours 49 minutes
Strava Link = https://www.strava.com/activities/1704299276
Map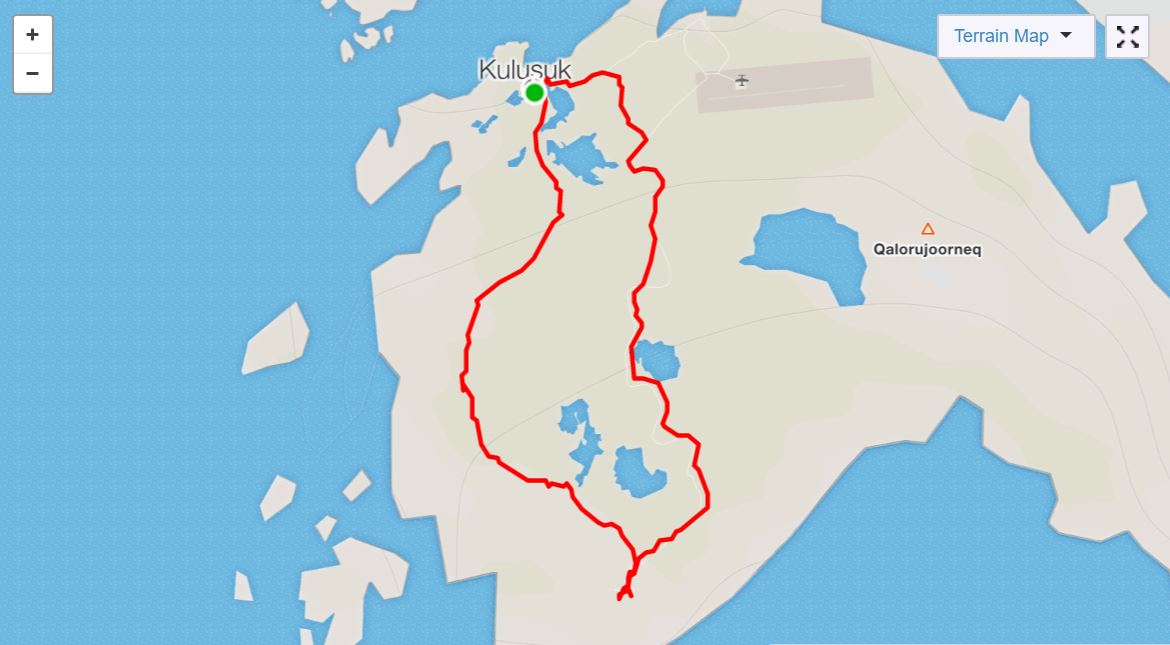 Altitude Profile

This post contains some affiliate links. If you make a purchase through one of these links, I will earn a small commission at no extra cost to you. Your support is appreciated!