My original plan last year was to travel from Cuenca to Loja and Vilcabamba in southern Ecuador before heading to Peru. That was scuppered when I had to hightail it to Peru directly from Cuenca to arrive in time to do the incredible 10-day Huayhuash Circuit trek. So when my friends Pedro and Raúl decided they wanted to visit the Galapagos for 5 days (I'm going there for 2 weeks later in December), I headed to Loja – just in time to catch the end of the Festival of Loja and the International Arts Festival.
Even with only a few days to explore Loja, I was determined to do one hike in the nearby Podocarpus National Park. So I arranged a taxi through my amazing Airbnb host, Fransiska, out to the trail-head of the Los Miradores Hike, to arrive as soon as the park opened (I had to get back for my first show at the Festival after all).
Can I just say, this is an absolutely incredible hiking trail! But not for you if you suffer from vertigo.
The park ranger told me it was better to hike in an anti-clockwise direction, which actually meant following the signs for the lakes route, rather than the above sign for the miradores. His rationale was that this way I would only have to walk 2km uphill followed by 3km downhill. Sounded good to me!
If you follow this advice, the trail starts off in thick forest on a well-defined path.
I cannot describe how beautiful it is, and how many birds you see – including this guy that seemed to be following me for most of the way.
I seemed to be the only person in the park – just me and the sounds of nature. Absolute heaven!
The weather was not the best
but there was a spectacular showcase of gorgeous flowers wherever you looked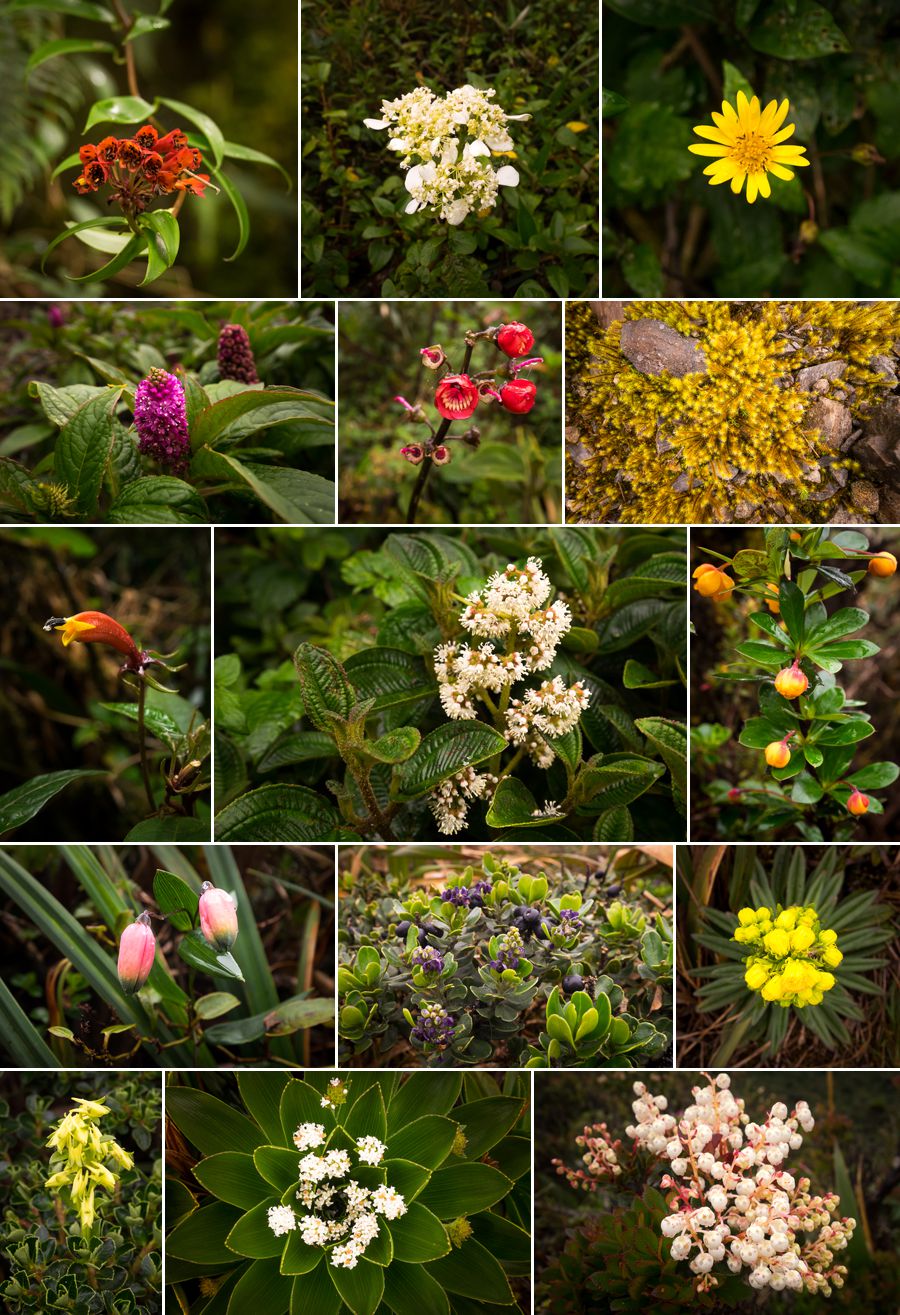 and awesome plants as well.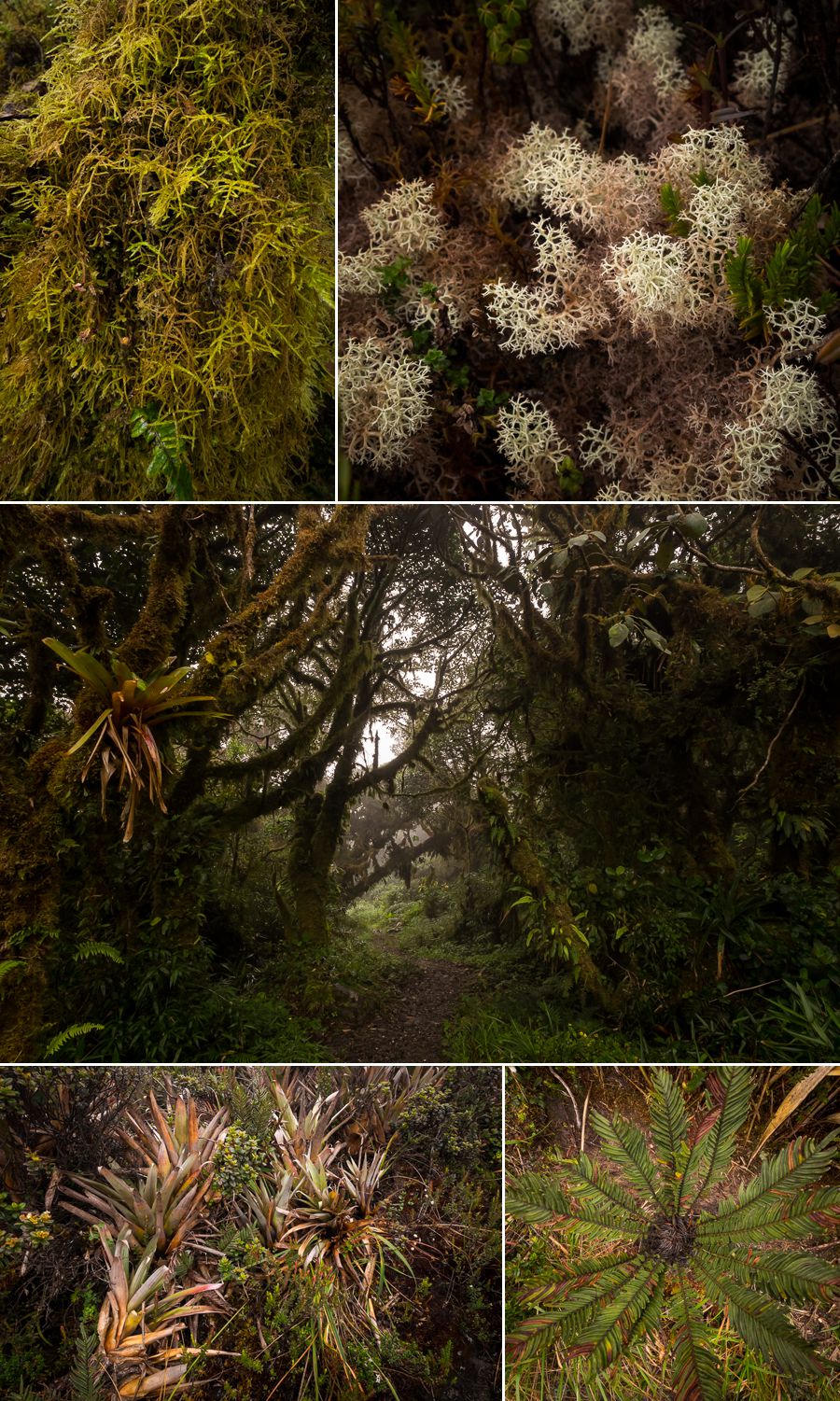 I got the occasional glimpse out to the valley to the South
before breaking through the tree-line and onto the open ridge where the viewpoints are.
No, I didn't get to see much unfortunately.
Up until this point, the hike had been fairly easy, ignoring the usual challenges of hiking at altitude. So I was very surprised to discover that it quickly turned much more technical for the next 2 km! Essentially, on this section, you hike along the top of a reasonably narrow ridge that ascends and descends (I swear it was an M. C. Escher mountain!), and has steep drop-offs on either side. Add in a pretty stiff wind with gusts strong enough to make me stumble, and it was an "interesting" time!
I had read online about using attached ropes for parts of this section, and this was not the first time I had used ropes while hiking recently. However, I do believe they should have started them earlier than they did! There was one place in particular that gave me significant pause – wondering how the heck I was going to get down the rock without slipping and falling and killing myself.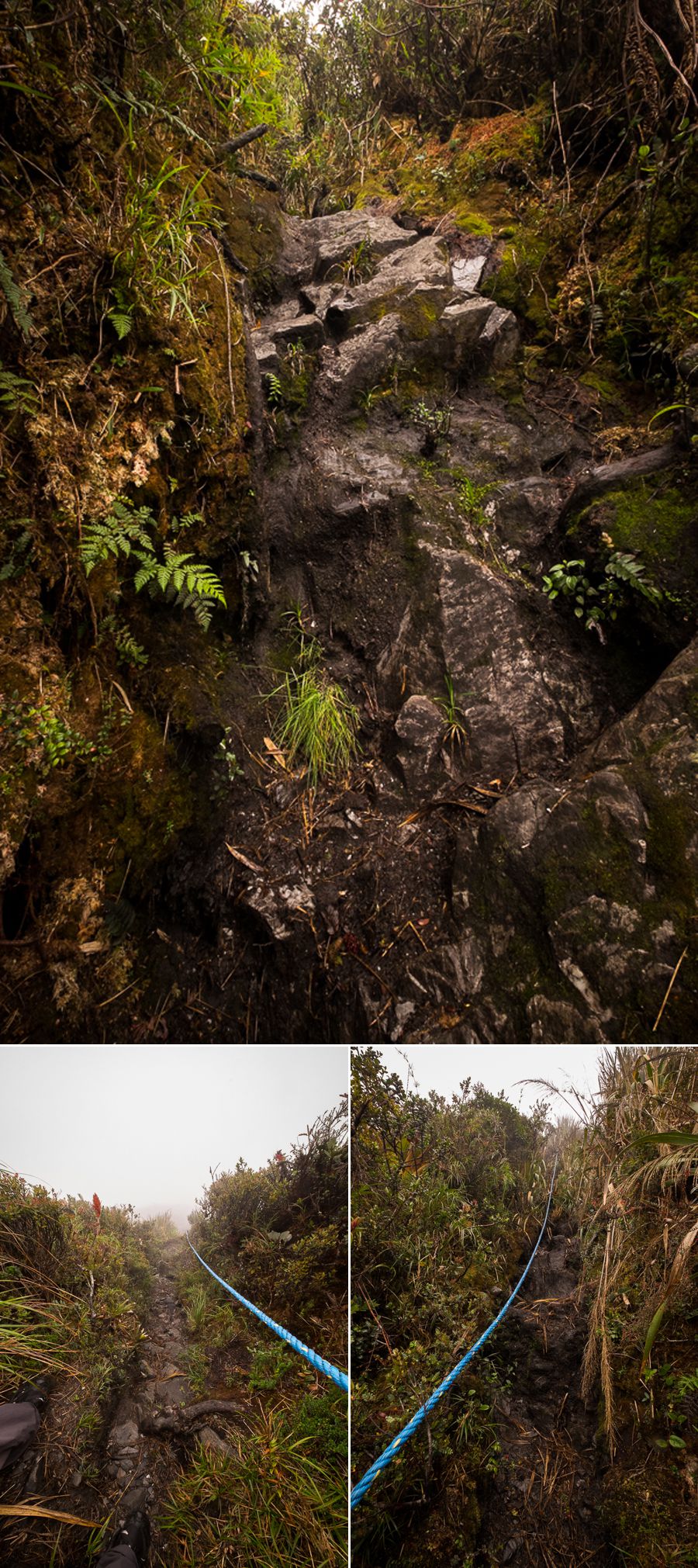 But it was spectacular!
Despite the crap weather and the fact I couldn't see any of the distant vistas from the miradores, I would say that this is one of the most beautiful hikes I've ever done – thanks to the diversity and lushness of the vegetation.
I eventually made it back to the trail-head and then began the 8km hike down to the highway along the access road. When I signed out from the park, it turns out I was the only person to visit that day!
Recommendation
If you are in Loja – you should definitely visit the Podocarpus National Park. It is beautiful! There are 2 shorter hikes that are much easier, and one longer hike that I'll do next time I visit. If you aren't stable on your feet, are uncertain about rock scrambling, or suffer from vertigo, I wouldn't recommend Los Miradores Trail.
Also, ask your taxi to take you to the start of the trail-heads at the refugio to save you an 8km uphill walk. It's much nicer to walk back down it, and very easy to catch a bus back to Loja from the junction with the main road.
Time: I took 5 hours to complete what is touted as a 3 hour walk. I reckon it is longer than 3 hours if you take care over the more technical bits. Then again, I did spend a lot of time watching birds and taking photos…
Cost: I managed to get a taxi all the way to the trail-head for USD$8 – about 1/2 the price usually quoted. There is no cost to enter the park, and the bus back to Loja cost USD$0.50.