I spent a total of almost 6 days in La Habana but didn't really get up to very much.   These were my highlights.
Doing nothing:  I spent a lot of time sitting on the balcony of the Casa Particular where I was staying, watching the view and listening to Maroon 5 and The Cat Empire.

As I've mentioned before, Cuba does good storms and it was a wonderful place from which to watch them come over the city.
Salsa Dancing lessons:  One of the reasons I spent so long in La Habana was that I wanted to get in some serious salsa dancing lessons before I left.   I ended up doing ~2hrs/day at Salsa en Clave with Yordi as my teacher.  My dancing is apparently pretty good, but I have a long way to go with my styling 🙁
Street Art:  In all my wandering around, I came across a lot of great street art.  It's funny – I'm not often interested in formal art galleries, but I love the informal art found in the streets.
Panadería y Dulcería San Jose:  A bakery on the main pedestrian street in La Habana Vieja (Obispo) that sold the most incredible pastries.   The box has my favourites – Palmeras, Cocadas (round, moist coconut balls), Catalana (flakey pastry filled with coconut paste), and the best brownies I've ever eaten!  I called in every day after my salsa dancing class.
La Habana Vieja:  It is touristy and it is a cliche, but wandering around La Habana Vieja really is lovely.   The architecture is incredible though it is sad to see the state of disrepair.  That being said, there is a lot of restoration going on … the sound of La Habana Vieja is jack hammers!   Would be amazing to see it all completely restored!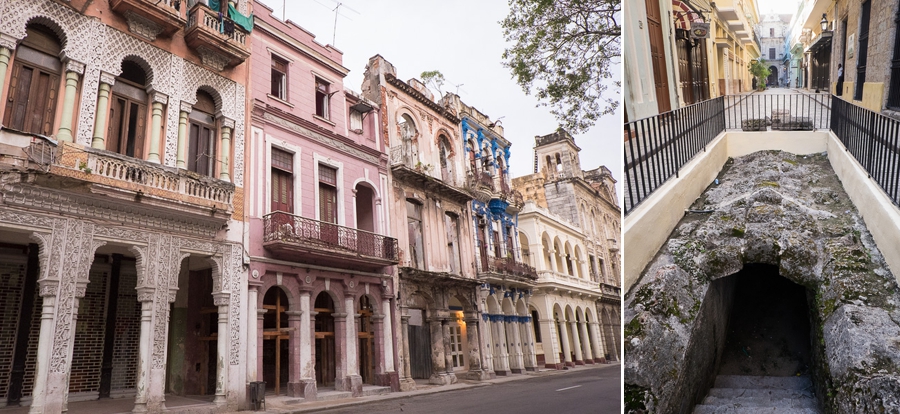 El Malecon:  Another of the touristy cliches, but again definitely the place to be.  I have to admit, as a single woman sitting there by yourself – you do get hassled a lot!  All the guys want to chat with you.   In the end, on the last evening, I resorted to putting in my headphones and turning on my music so I had an excuse to not talk (plus it drowned out the sound of the traffic).  But even then, I reckon within the space of 1.5 hours, I got tapped on the shoulder 11 times by guys wanting to get my attention and telling me to take my headphones out.   Nope!
Plaza de la Revolución:  Got up very early one morning to walk out to this massive monument, which is bordered by one of the most iconic images in La Habana – that of Che Guevara.
The old cars:  Yes, they really are still everywhere and kinda cool to see 🙂