Sitting in a helicopter flying towards the iconic Sermitsiaq Mountain at sunset is by far one of the most amazing things you can do in Nuuk. The only thing that could make it better – actually land near the summit and have time to explore!
An interesting fact about Greenland is that flying in a helicopter is a relatively common way of getting around. Greenland has no roads between its towns, which means that the only year-round option to get from place to place is by air (you can't sail in winter).
Although helicopters provide a vital cog in the transportation infrastructure for Greenland, it is also possible to take some tourism-oriented flights. The main options are in Ilulissat, Kangerlussuaq, Qaqortoq and Nuuk – with the HelicopterSummit Flight being the pinnacle in Greenland's capital city.
Safety briefing
My 4 fellow passengers and I met our pilot at Nuuk's small airport at 5pm. Geir led us out to the helicopter, gave us a safety briefing and asked who wanted the front seat. While everyone else was being nice and pausing before putting their hand up – I just jumped right in 🙂
With the others squeezed into the back of the helicopter (there's not much space when you get 4 adults in there) and our headsets on, we took off in the direction of Sermitsiaq.
Flying around Sermitisaq
It is a short flight from Nuuk to Sermitsiaq mountain – but absolutely stunning!
On a day like this – the views go on forever – and you really can appreciate the spectacular beauty of the Nuuk Fjord.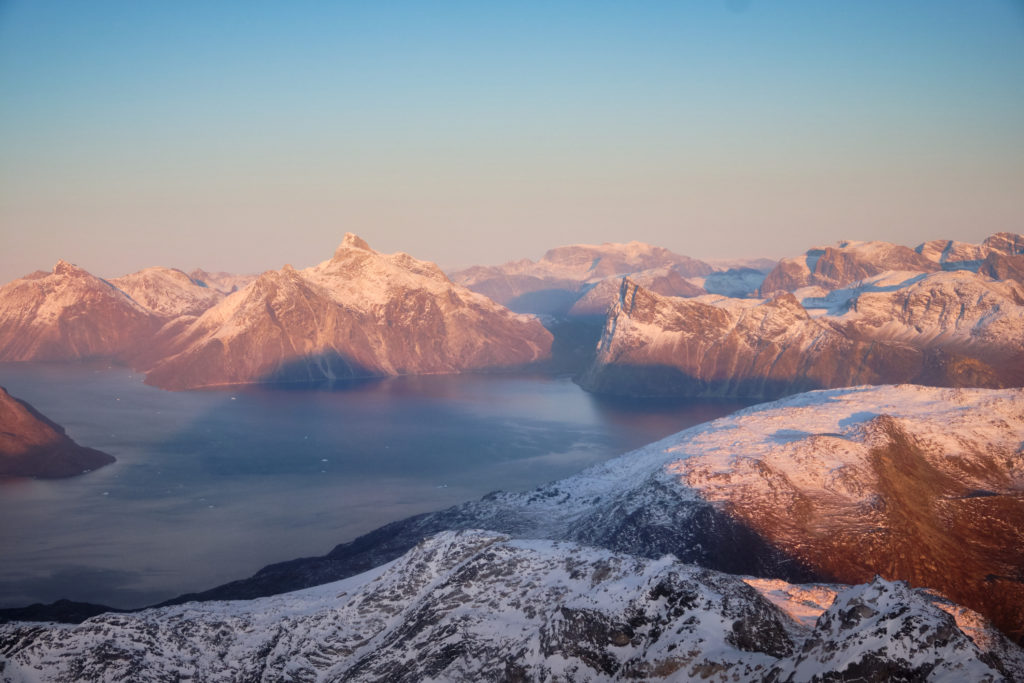 I had actually done this helicopter summit flight earlier in the year during Winter. Back then, the entire mountain was covered in snow and you couldn't see any of the details. Those of you who have been following for a while know how much I am in love with rocks in Greenland – and being able to see the rock coming through the dusting of snow on the peak was a highlight for me.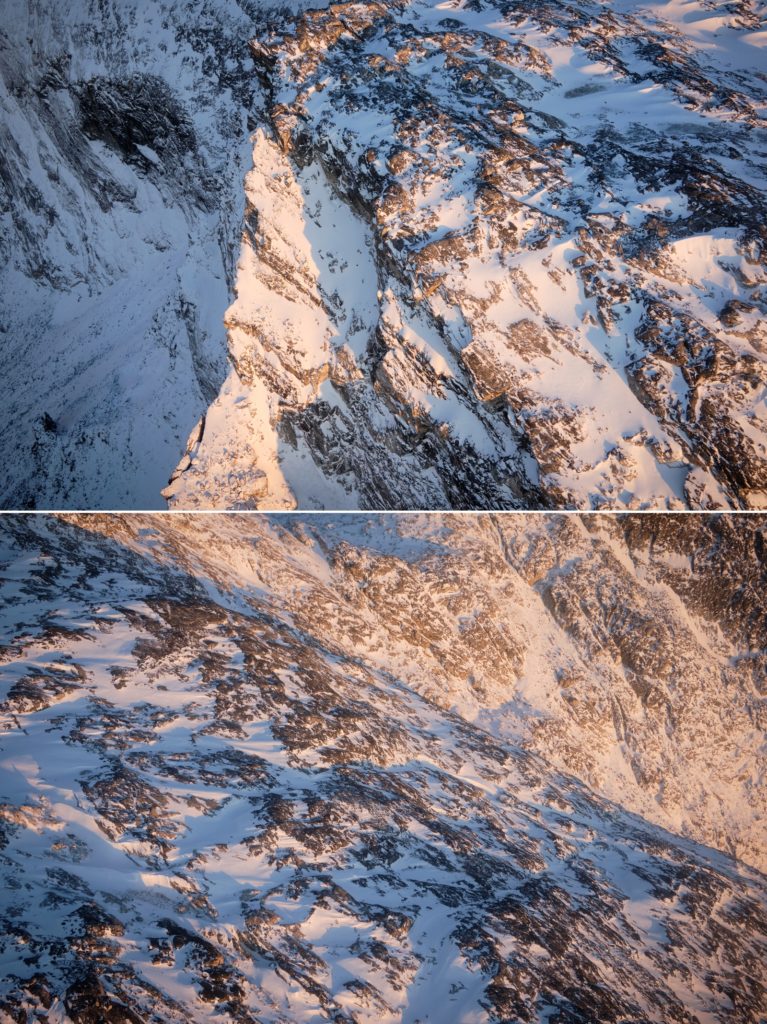 As was discovering unexpectedly that there is a large lake between the ridge and the summit! I had absolutely no idea that was there as it was completely covered in snow and ice the last time I visited.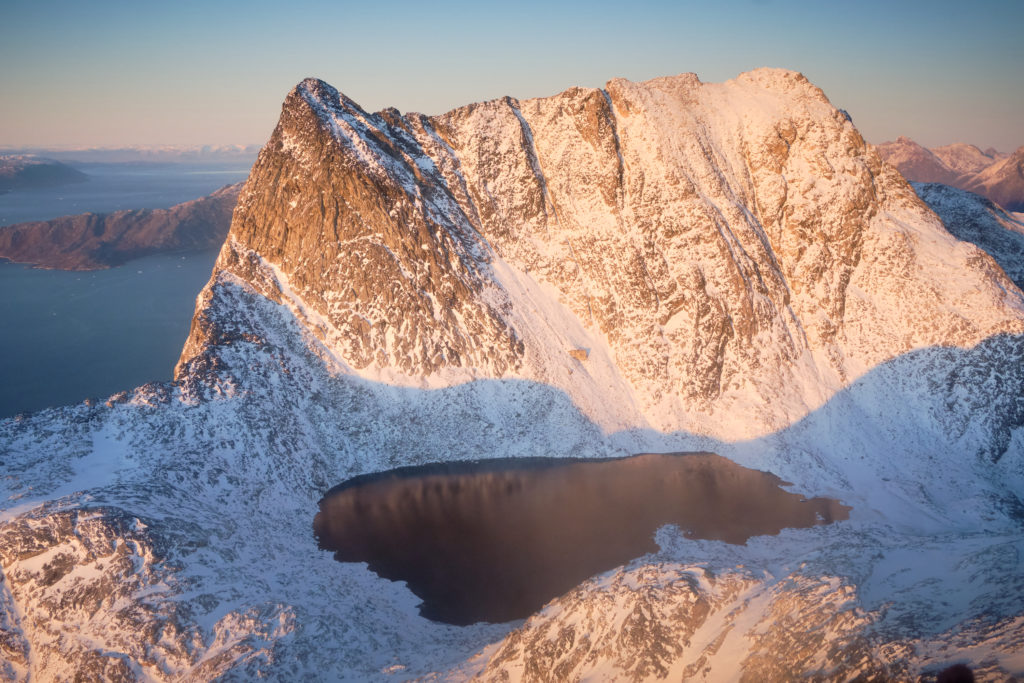 To ensure that everyone ended up with a fantastic view of the mountain, Geir took us on 2 circuits of the summit – first one direction and then the other. Both the amazing views and the slightly disorienting feeling of manoeuvring in a circle in a helicopter brought a massive smile to my face.
Summit landing on Sermitsiaq
After we'd all taken about a million photos of the mountain, Geir bought us in to land on the ridge below the peak of Sermitsiaq.
Really – it doesn't get any better than this!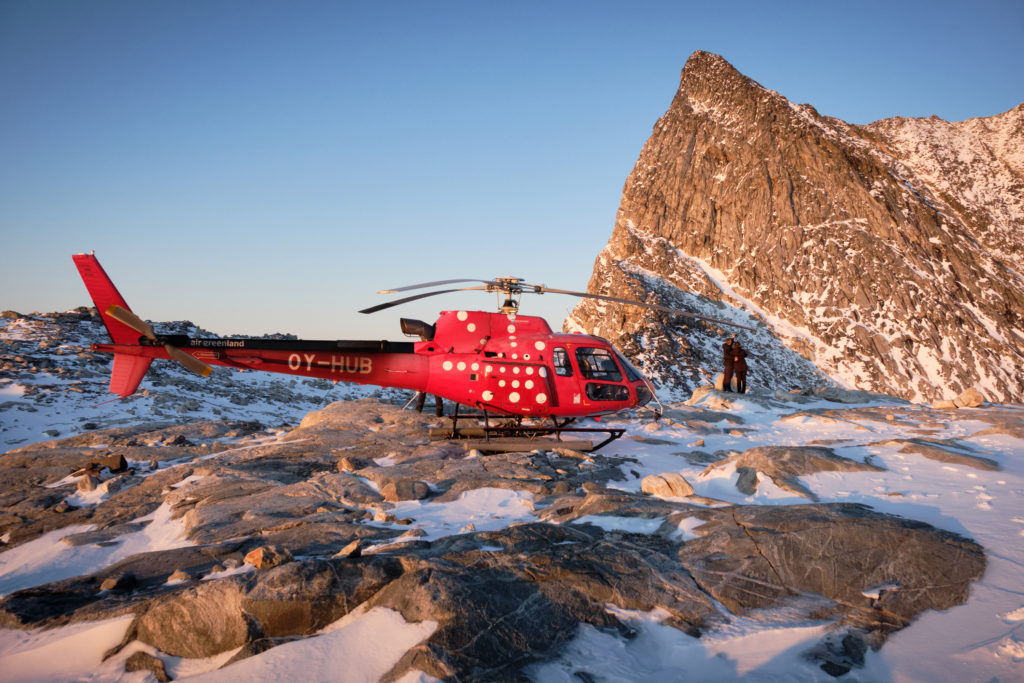 There was not a breath of wind (the wind was coming from directly behind the peak so we were sheltered) and we had the next 25 minutes to explore our incredible surroundings and try to take in where we were and what we were experiencing.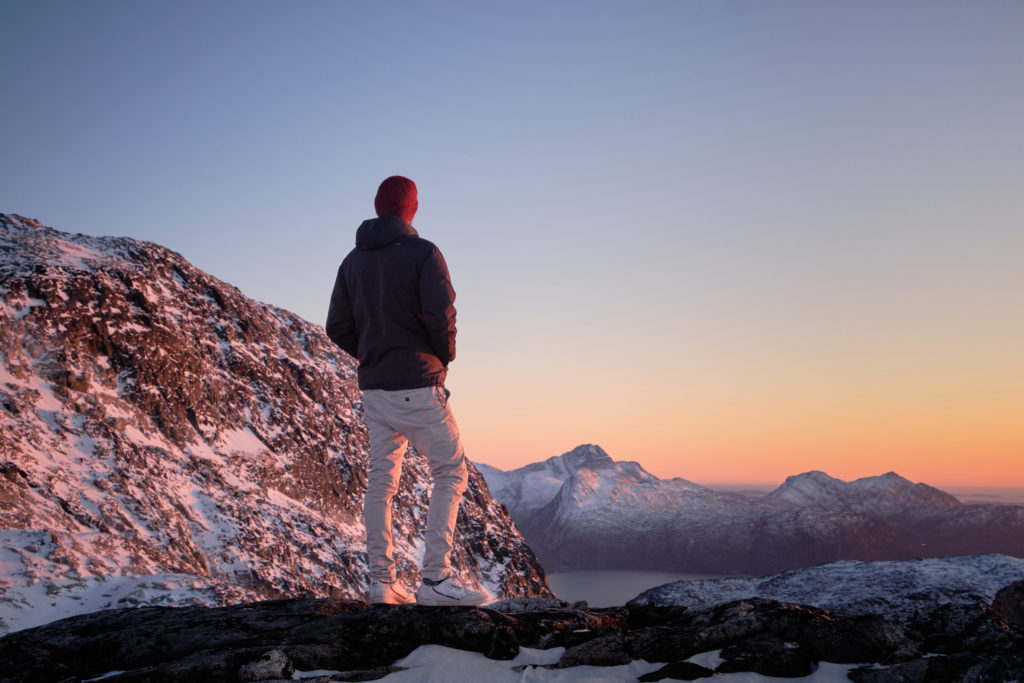 I couldn't get over the existence of the hidden lake! And the fact that there was an almost perfect reflection of the golden peak in its waters was just the icing on the cake.
move mouse over image to see full panorama
The light was spectacular, and becoming more so by the minute as the sun headed towards the horizon.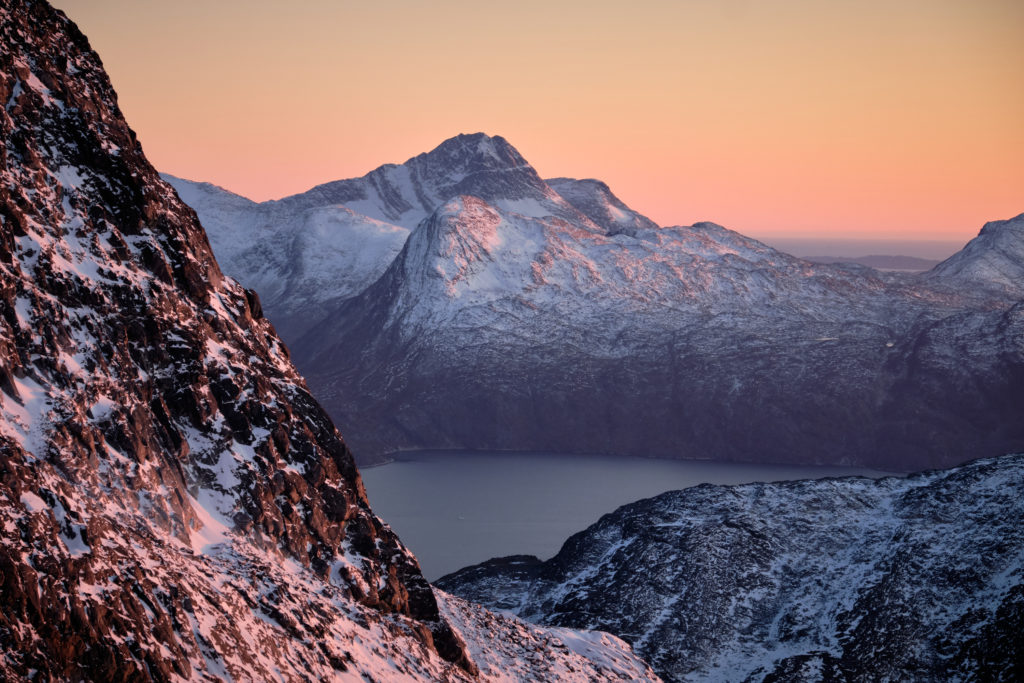 It didn't matter which direction I looked – the view in front of me was one of the most beautiful I'd ever seen.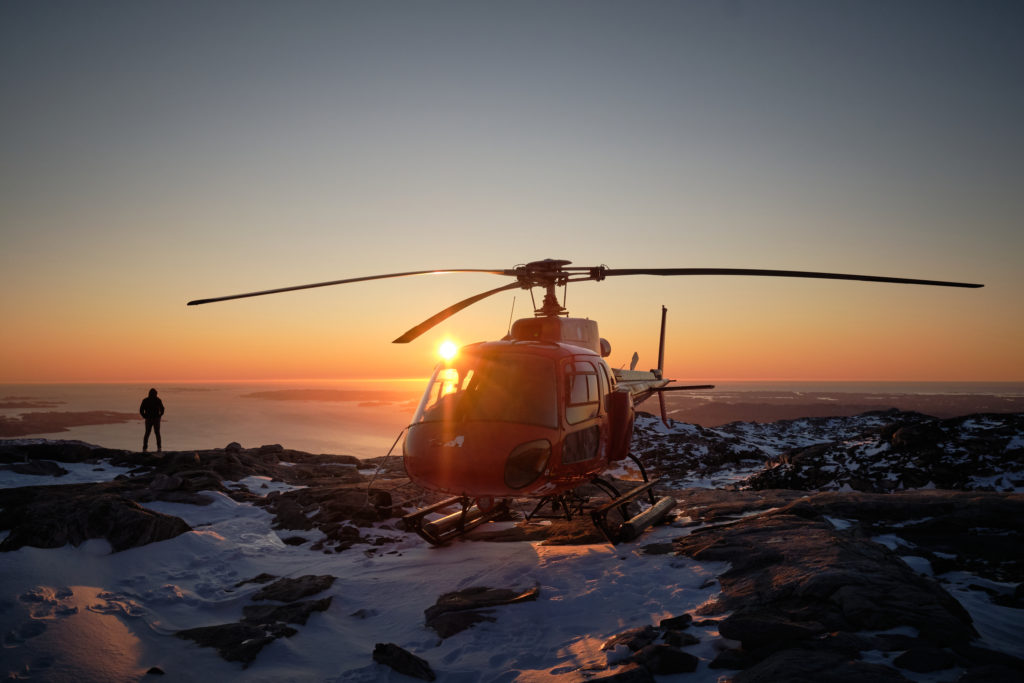 Yes – I know there are a lot of superlatives in this post – but it really was beyond incredible!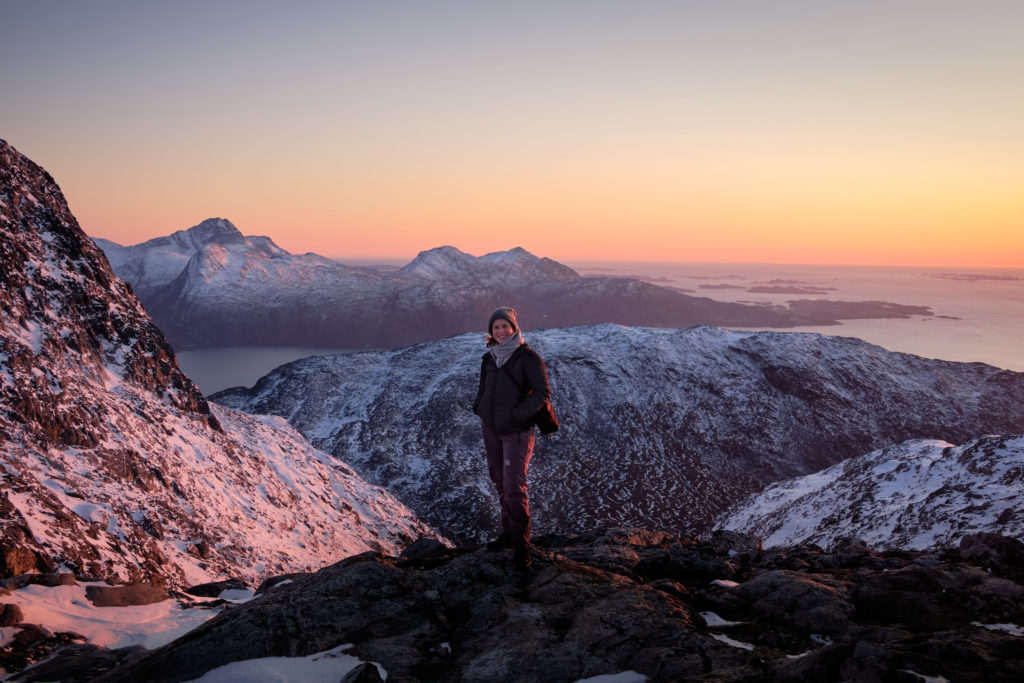 Flight back to Nuuk
I used every second of my 25 minutes exploring the ridge and taking photos in all directions. But eventually we had to leave. This time I sat in the back of the helicopter – which still offers awesome views as you fly.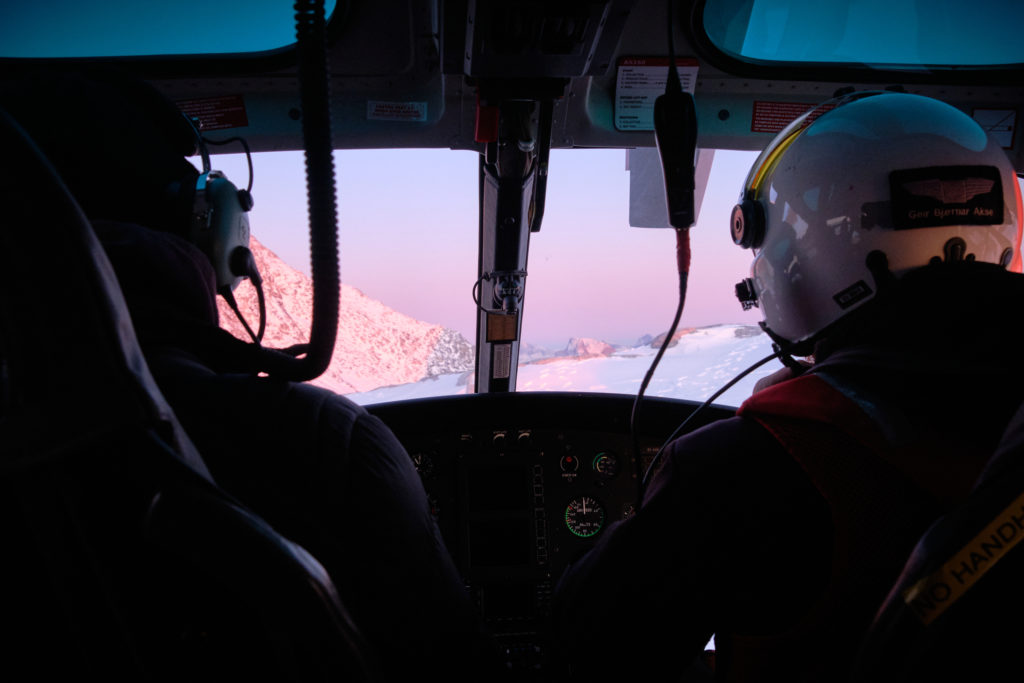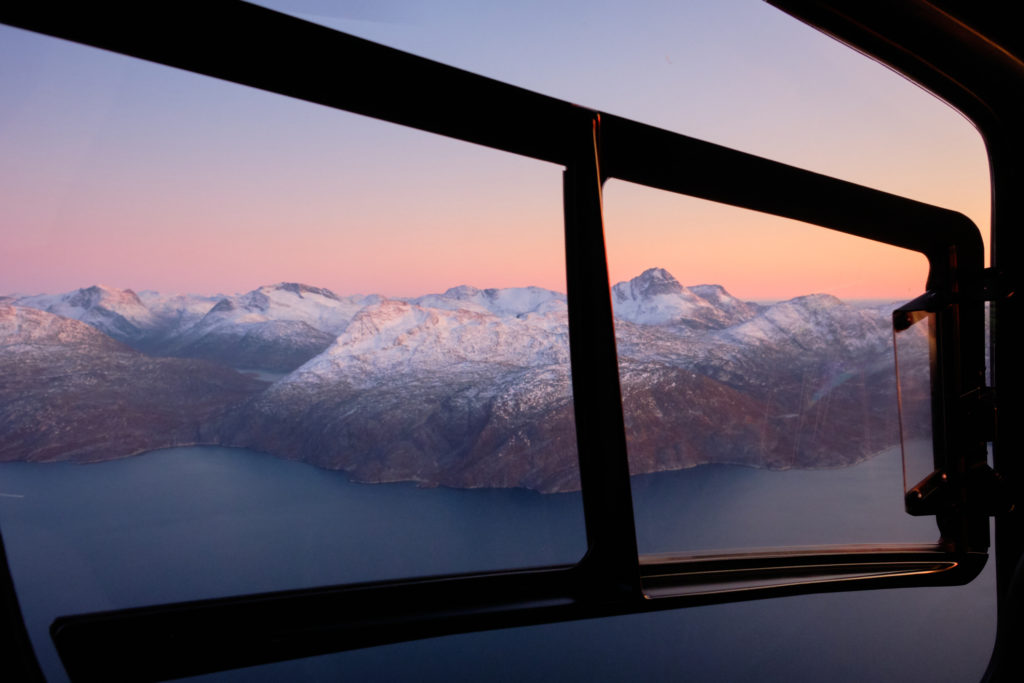 Our return flight took us past the airport
and over the city of Nuuk itself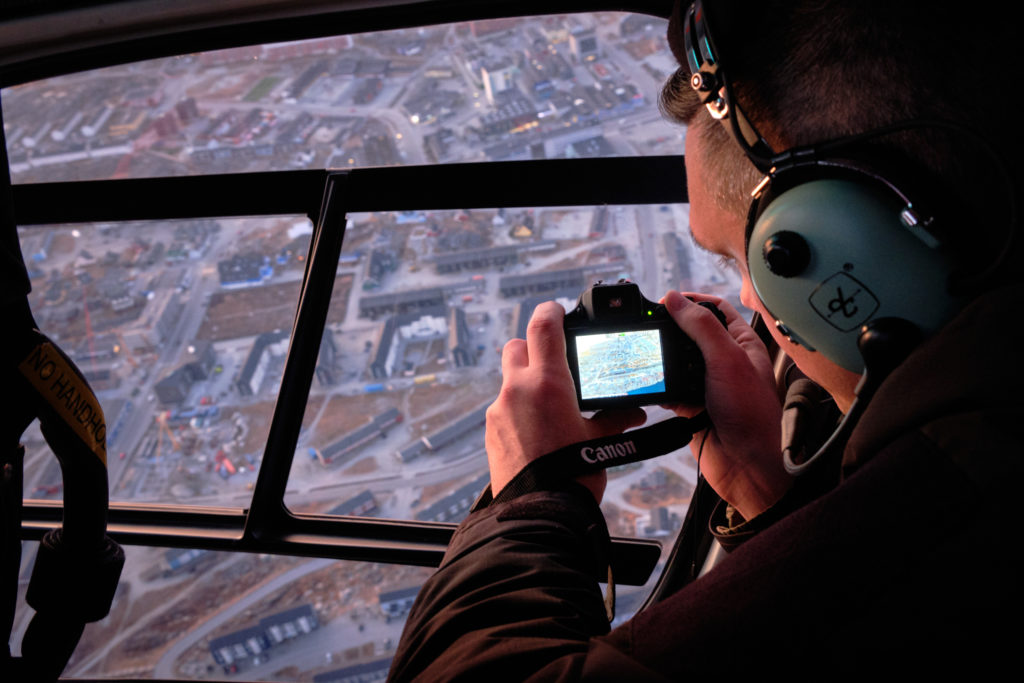 before circling around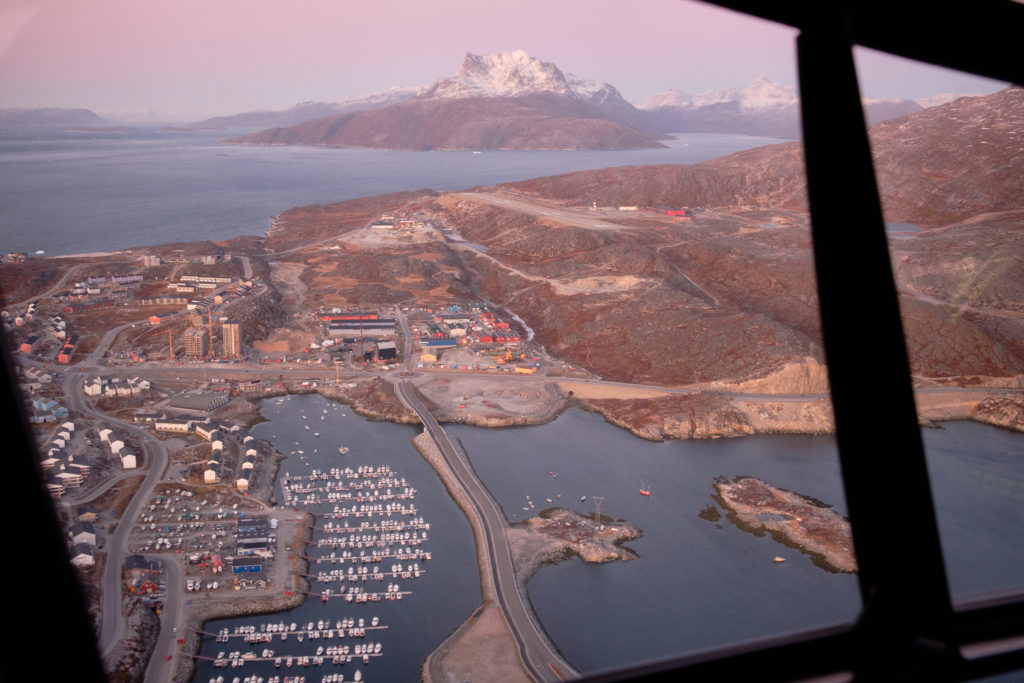 to land back at Nuuk airport.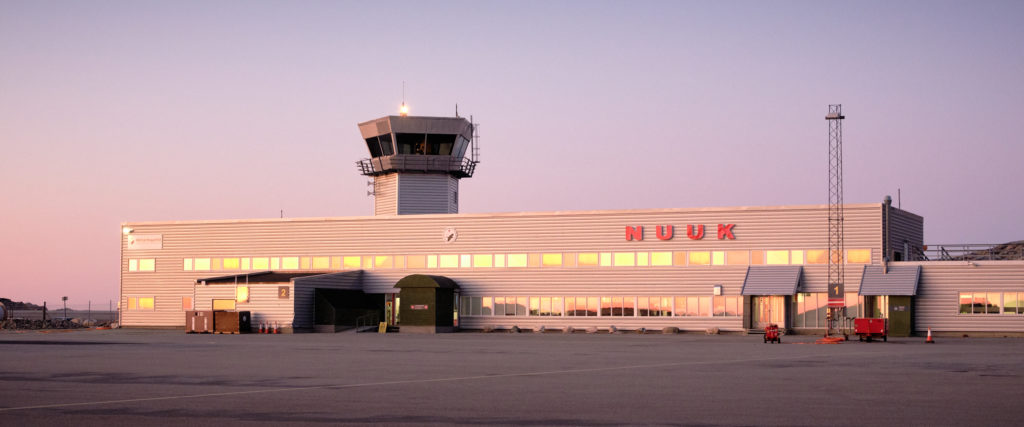 A must-do helicopter scenic flight
If you are looking for something really special to round out your trip to Nuuk, doing a remote helicopter landing on an iconic mountain peak has to be right up there. I highly recommend the Helicopter Summit Flight from Nuuk – and it is even more spectacular if you time it for about an hour before sunset. You won't be disappointed!
Discover more about Greenland
The Ultimate Travel Guide to Nuuk is the most comprehensive online guide for planning your vacation to Greenland's capital. Definitely a must-read for anyone thinking of visiting.
You can read more about my experiences in Greenland both here and on my Greenland-specific blog at Guide to Greenland.
For more information about Greenland, the best websites are Guide to Greenland (which is also a one-stop-shop for many of the tours available), and Visit Greenland, the Government tourism site.
This post contains some affiliate links. If you make a purchase through one of these links, I will earn a small commission at no extra cost to you. Your support is appreciated!