Reykjavik domestic airport borders the southern edge of the city's downtown area.  It is literally a 2km walk to the terminal from City Hall.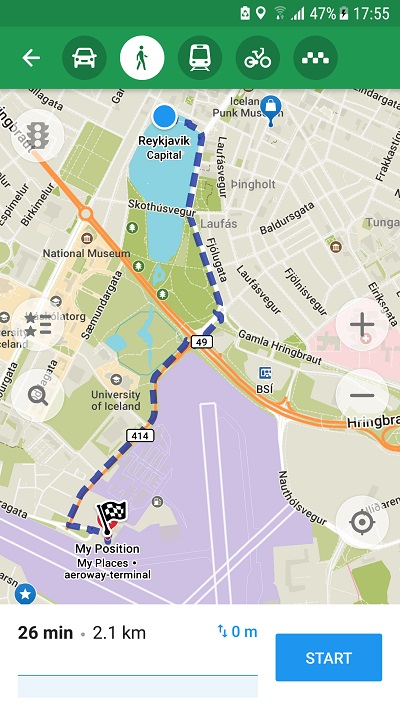 As you might imagine, only small propeller planes take off from here (the rest depart from Keflavik International Airport, 45km away) and the terminal itself is very small.
Being the eternal early-bird, I arrived for my Air Iceland Connect flight to Ísafjörður about 1.5 hours ahead of time, only to find that I couldn't get rid of my checked luggage until about ½ hour before the flight. They check each flight in in turn, you can't jump the queue!
But eventually it all happened and I was winging my way to Ísafjörður in Iceland's Westfjords region.
The approach to Ísafjörður 
To be honest, there was not much to look at out the window of the Air Iceland Connect Bombardier Q200 propeller plane (clouds!) until we were on our final approach to the airport.  And then I kinda wished I couldn't see anything! 
At least one aviation website considers Ísafjörður to be one of the most scenic and challenging approaches in the world, and I have to say "I concur!"
Flying up a valley with the right wingtip almost touching the mountain just outside my window, we pulled a hard 180 degree turn within the valley itself before landing on the tarmac runway.  Here is what it looks like from the cockpit of a plane (not my flight) – though I'm not convinced it gives you a good feel for exactly how close you get to that mountain!
All I will say is thank goodness we had a calm day! I would hate to be doing that in rough weather!
We touched down without incident (thank goodness!), and I spent the rest of the day wandering around town, and sorting final logistics for my week long solo-hike in the Hornstrandir Nature Reserve.  I really hope the weather remains like this!
move mouse over image to see full panorama