Because you can never see too many petroglyphs (and I don't say that facetiously – I actually find them fascinating), one of our quick stops in Azerbaijan was to visit the Gobustan petroglyphs. This National park is home to more than 6,000 rock engravings dating from between 5,000–40,000 years ago – some of which are in an amazing state of preservation!
We arrived at 9am only to discover that the site didn't open until 10am. So we decided to boil some water and make a cup of tea while waiting – the advantages of traveling in an overland truck 😊
The site we visited was not particularly large (there are other parts of it that we didn't manage to get to), but the petroglyphs were fantastic! They were carved into large boulders that littered the hillside – quite different to the more shale-type of rocks on which the La Silla and Tamgaly petroglyphs are carved.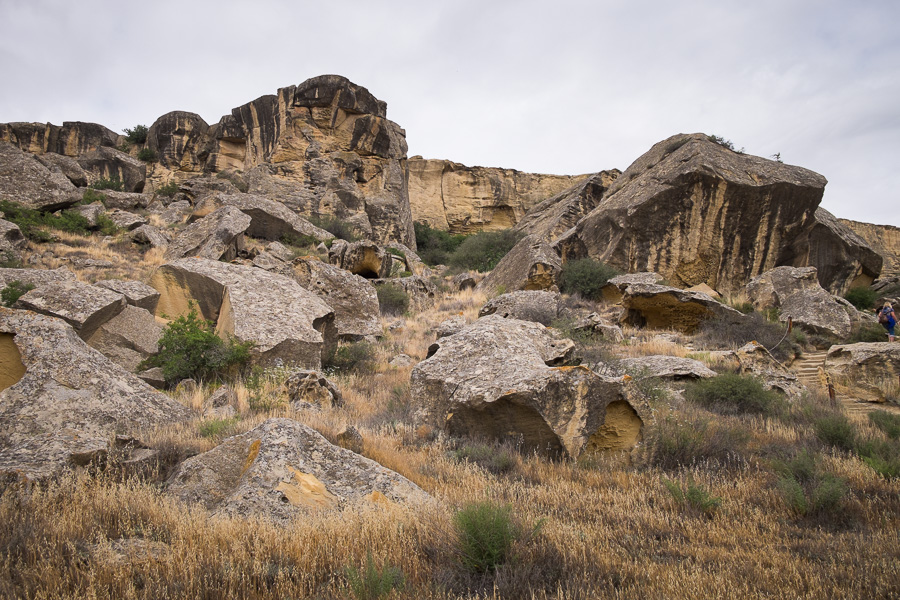 There were lots of very clear human figures
As well as bulls and horses and goats.
It would seem that Azerbaijan was not always as arid as it is today!
Unfortunately, we only had an hour at the site – it would have been great to get to the other areas that our ticket gained us entrance to – but this is one of the challenges of being on an overland trip. Never enough time to fully explore anything, and the constant need to keep moving.