While in La Palma, Andre and I decided to head up to El Pital – the highest point in El Salvador, on the border with Honduras.
We started out at 6:20am taking the 119 chicken bus to San Ignacio.  From there we switched to the 509 bus that headed up the mountain.  It's an impressive drive!   The road goes straight up, and I don't think we got out of second gear the whole way.
Got off the bus at Río Chiquito with the administrator of the park, and he offered us a lift up the 4WD-only road that essentially takes you to the top of El Pital.  Yes – just like in Australia – you can drive pretty much all the way to the top of El Salvador.   However, we elected to walk the 5.5km up the road to get a bit of exercise and check out the views.  Unfortunately, this time of year it is pretty hazy, so the views weren't quite as spectacular as they could have been, but we ended up picking up a couple of tour guides fairly early on in the walk that accompanied us the whole way.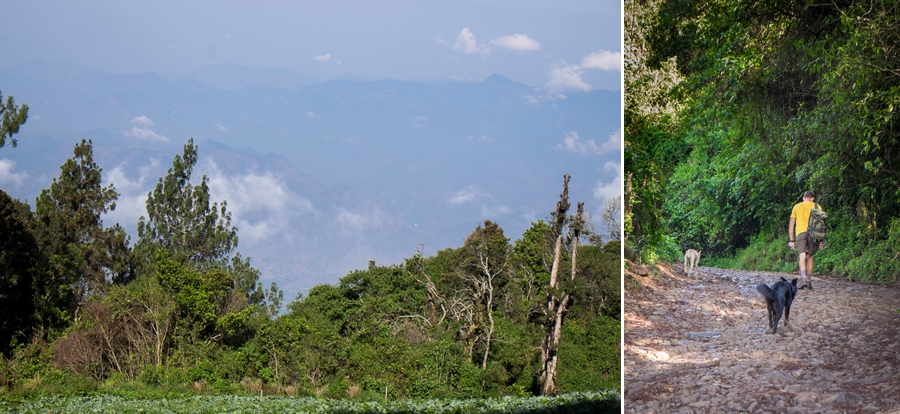 Got to the El Pital entrance after about an hour and a quarter (the administrator only beat us by 10 minutes as the 4WD is a communal one) and really wasn't expecting what we found.   Huge, well-maintained lawn with several restaurants around it!   Apparently it is a popular spot, and the locals were starting to arrive (in 4WDs, only gringos hike up) when we were getting ready to walk back down.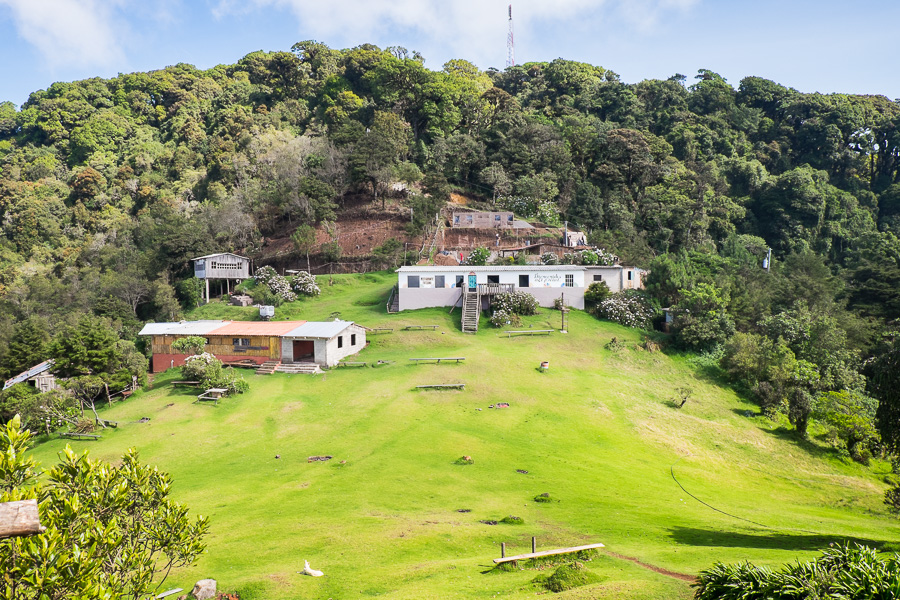 Ate our breakfast of crackers (me) and cream biscuits (Andre) and then set out to find the trig point before the clouds closed in.
It was located at the top of the steepest part of the walk, and I have to admit it wasn't the most impressive trig point I've ever seen.  That fence is the border with Honduras, and yes, there is an open gate in it where you can walk freely through.
We did the usual touristy thing of sitting/standing 1/2 in El Salvador, 1/2 in Honduras, and really love the bottom image from Andre – he was braver than me to stand up there like that!
By the time we finished pfaffing around at the trig point, the clouds were pretty thick and the view almost gone, so we decided to walk back down and catch the 12:30pm bus back to San Ignacio and La Palma.  Passed 3 more gringos walking up, I don't think they would have seen very much once they arrived!