One of the really cool things to do in Matagalpa is visit the local chocolate factory ("El Castillo del Cacao" – "The Castle of Cacao") on the outskirts of town.  I actually did this independently (ie not on an organised tour) when I was here in 2013 (hence why this post is a little vaguer than the others I've written – I don't have my notebook with me), and it was a fascinating.
For a start – figuring out how to get there and where it was was an epic in itself!  I eventually found someone to tell me about which bus to take, and from where and where to get off the bus.   I knew I had to walk a little further up the road and look for the "big white rock with the name on it".
Walked right past it!  The rock was not as big as I was anticipating and I didn't see the "castle" from the road, but some helpful locals at a pulpería on the side of the road turned me around and I eventually got there.
I turned up just after 2 other guys and so we did the tour (in Spanish) together.  They took us through the whole process from when the beans arrive at the castle.
After sourcing the fermented and dried beans from local, organic Cacao farms, the first step is to roast the beans which are then ground the old fashioned way to separate the bean from the skin.
The beans are then ground further to the point where they start to release their own oil – El Castillo del Cacao actually leaves the oil in the chocolate so they don't have to add it later.   Sugar is then added to the cacao and mixed well for several hours.   Perfect time for a taste test!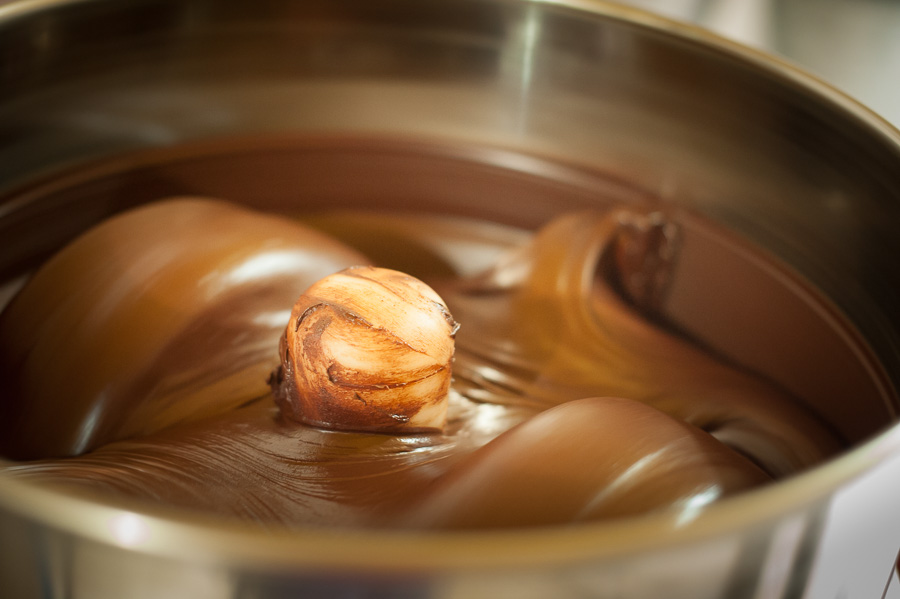 It then moves to a different mixer that includes any added extras – such rum, cashews, coffee or cocoa nibs (small chunks of cacao seeds).  And another taste test!
From there it is put into moulds and refrigerated for several hours before being hand-packed by the ladies (there are only 3 of them!) who work there.  Yes, they make the little foil packages and hand-glue the labels on.  This is not a massive chocolate factory – everything is done with love and care – and they make less than 400 bars/day via this method.

The tour ended in their small display shop where you could buy the chocolate at a slightly discounted rate.
The chocolate from El Castillo del Cacao is quite unlike anything we get in Australia.   Its more much more gritty but surprisingly good – my favourite is the one with Cacao Nibs.  And you can even order it online now!