Along with going to the cinema, another of the things I love to do when travelling is to experience different massages. Last time I was in Nicaragua, I had one of the weirdest massages ever. The pummeling that usually heralds the end of a massage – well that was the entire massage. For an hour! So I thought I'd give Nicaraguan masseuses one or two more tries.
The first was actually about 2 months ago when I first visited León. This was with "Seeing Hands Blind Massage" – an enterprise in León, Granada Laguna de Apoyo and Managua to support visually impaired Nicaraguans.
I'm not sure what the other locations are like, but if you are going to partake in a very affordable massage here in León (US$15 for 1 hour), don't expect a salubrious spa! Essentially, they have a few massage tables behind a partition in a high-roofed room, separated by curtains that don't quite offer privacy. It's as hot as Hades since it is all open to the heat of León (there are very few places in Nicaragua that are air-conditioned), and there is no music – though you are accompanied by the sound of passing traffic.
The massage was a traditional one and a little lighter than I am used to, and I was really interested that Roberto (my masseuse) would lift his hands as he moved around rather than keeping contact, which is what all masseuses in Australia seem to strive for. I would have thought that maintaining contact would have helped a visually impaired person?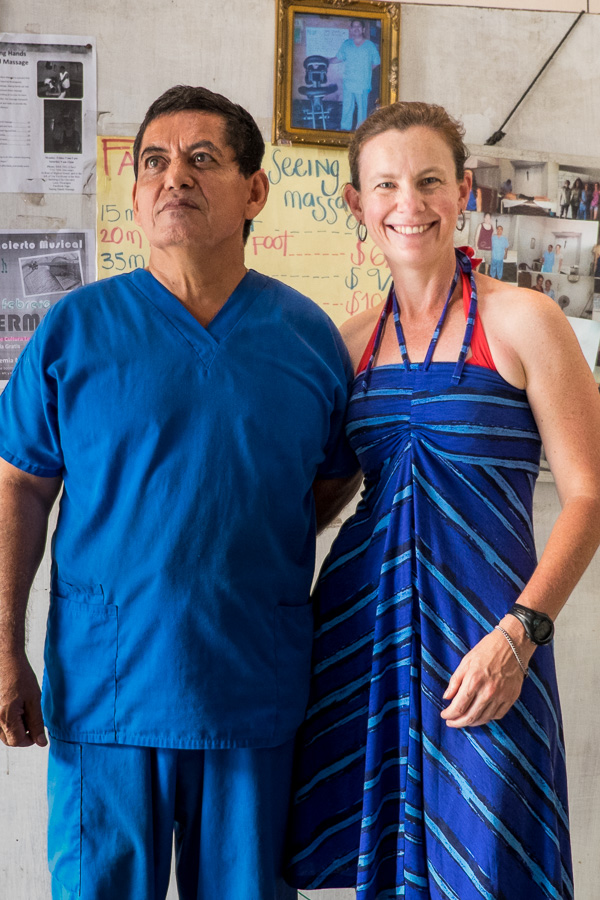 The other massage I've had since arriving in Nicaragua this time was arranged through Treehuggers in Estelí – US$8 for 45 minutes. The description said it was done in the home of the masseuse so I wasn't sure what to expect. But in fact it was done in a room put aside for the task in a home out the back of a natural remedies shop.
Pretty nice temperature (Estelí is cooler than León), and with the infernal flute music beloved by masseuses around the world playing, it was again a little lighter than I normally ask for, but really quite traditional and relaxing. Especially when the rain started and the flutes were drowned out by the drumming of the rain on the tin roof. Would definitely recommend if you are in Estelí!