Day 3 of the Unplugged Wilderness Trek saw us set out in the opposite direction, away from the Karale Glacier and up towards the Knud Rasmussen Glacier. Unlike Day 2 where it was relatively flat, this hike climbed ~850m up some pretty steep slopes
for some spectacular views over the Karale Fjord.
It was the climb that just kept on giving! There were stunning tarns.
Fascinating rock formations (I sooooo should have been a geologist!)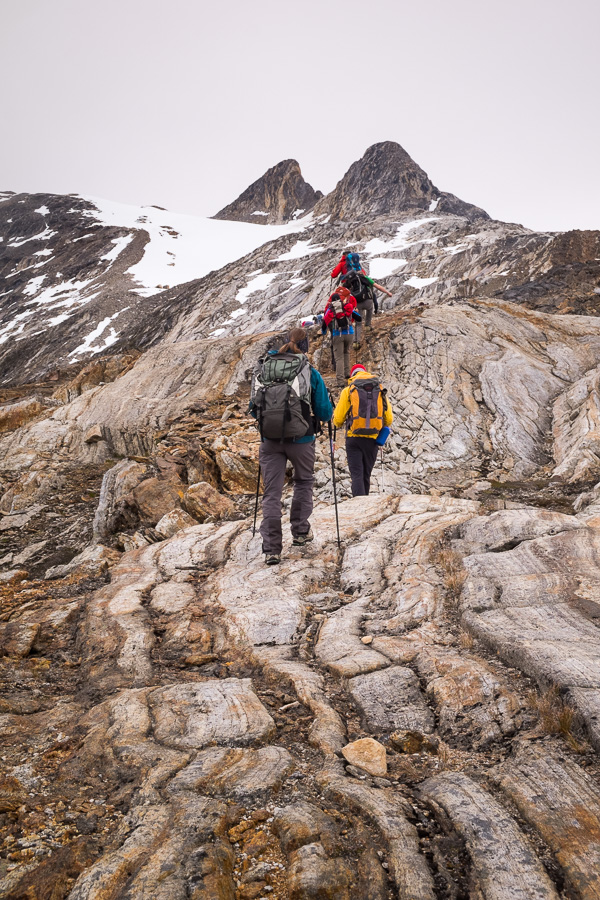 Amazing views of the Knud Rasmussen Glacier.
And snow.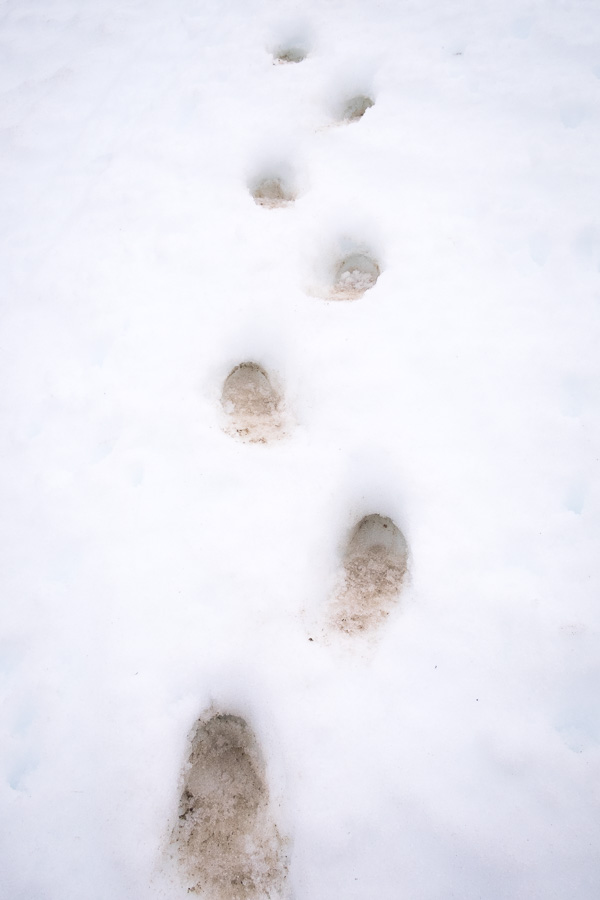 Sooooooooo much snow, which I think Maxime was specifically seeking out for us to walk through.
Now I admit that my Salomon XAPro 3D hiking trail shoes were not the best fit for this particular trek, but when you are traveling for a year and only hiking occasionally there has to be compromises. And although the Gore-TeX theoretically makes them waterproof, I can tell you right now that's bullcrap. My feet had turned into blocks of ice by this point!
Our lunch spot was on a patch of bare rocky ground in the shadow of one of the tallest peaks in the area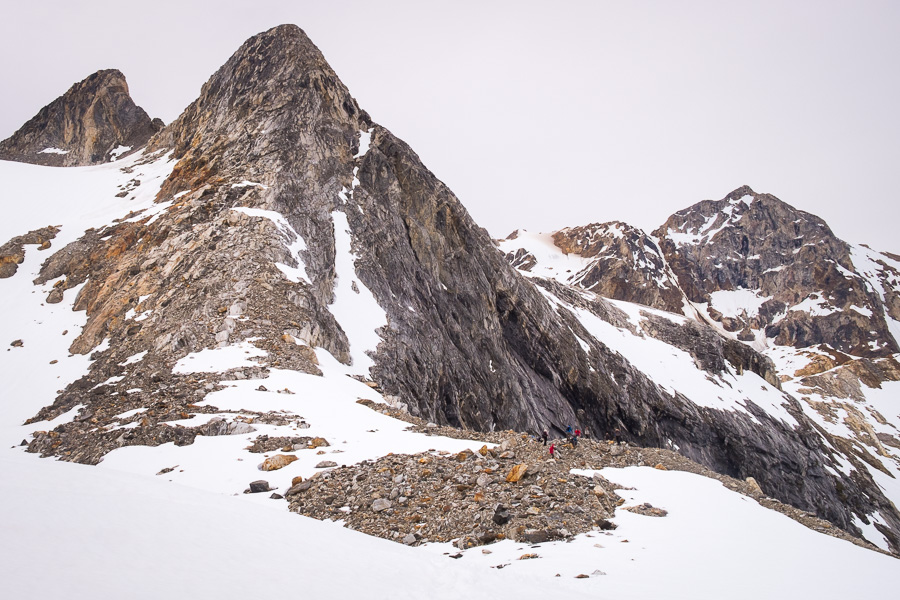 and I thought it might have marked the highest point on our trek for the day. But no! There was a lot more snow in our immediate future, though I do acknowledge that Maxime had the worst of it – having to forge a route through it for us to follow in his footsteps.

It didn't matter where you looked, there were incredible views.
Including from the very top.
Fortunately it wasn't too cold or windy so we spent quite a bit of time enjoying the different views from up here before beginning the hike back to our campsite. This more or less followed the same route (though there are no paths to follow on this trek so it always just goes where the guide leads), but it was a lot quicker getting down the snowy slopes than it was going up!
Filip and I essentially gave up all pretense of trying to keep our feet dry and snow out of our shoes and foot-skied/ran down the snowfield. Soooooo much fun! Even though I'd lost all feeling in my feet by the time we'd gotten to the bottom, and both shoes were chockers with snow.
The weather had improved slightly for our journey back for even better views of the Knud Rasmussen Glacier and its surrounding mountains.
And the Karale Glacier.
We even had a special visitor – an Arctic Fox – waiting for us when we returned to camp 🙂
This was a truly spectacular hike, despite the less-than-stellar weather.
Hiking time: approximately 8 hours
Read more about the Unplugged Wilderness Trek
If this post has piqued your curiosity about hiking and trekking in East Greenland, read about the rest of my adventure on the the 12-day Unplugged Wilderness Tour with Greenland Adventures:
Day 1 – Tasiilaq to Kulusuk and along the Sermiligaaq Fjord
Day 2 – Hike to the Karale Glacier
Day 3 – Hike to the lookout over Sermiligaaq Fjord and Karale Fjord
Day 4 – Karale Fjord camp to Beach camp
Day 5 – Beach camp to Bluie East Two
Day 6 – Bluie East Two along the Ikateq strait to the Tunu Fjord
Day 7 – Tunup Kua Valley to Tasiilaq Fjord
Day 8 – Along the Tasiilaq Fjord
Day 9 – Tasiilaq Fjord to Tasiilaq Mountain Hut
Day 10 – Tasiilaq Mountain Hut
Day 11 – Tasiilaq Mountain Hut to Tasiilaq Fjord to Kulusuk
Day 12 – Kulusuk to Reykjavik
Video Slideshow – of some of my favourite images
If it has sparked an interest in Greenland more generally, learn more about this amazing country at Visit Greenland, and check out the wide range of tours of all kinds (not just hiking and trekking) at Guide to Greenland.
This post contains some affiliate links. If you make a purchase through one of these links, I will earn a small commission at no extra cost to you. Your support is appreciated!