I slept surprisingly well despite my nervousness about the trek, and was at the office of Serac Expeditions just before 8am. There we added 1/2 of a tent (the tents were shared) and our specialised equipment for the Southern Patagonian Icefield Expedition (crampons and harness) to our packs, as well as food for the next 6 days.
Everything was divided evenly and, in the end, each of our packs weighed around 21kg (the guides were carrying 26kg). I was the smallest person in the group, and this was more than 1/3 of my body-weight. Lifting it from a standing start was challenging to say the least!
Once we had all the equipment and food packed, we bundled into a minivan for the 40 minute drive along a bumpy gravel road to the Río Eléctrico – the starting point of our expedition.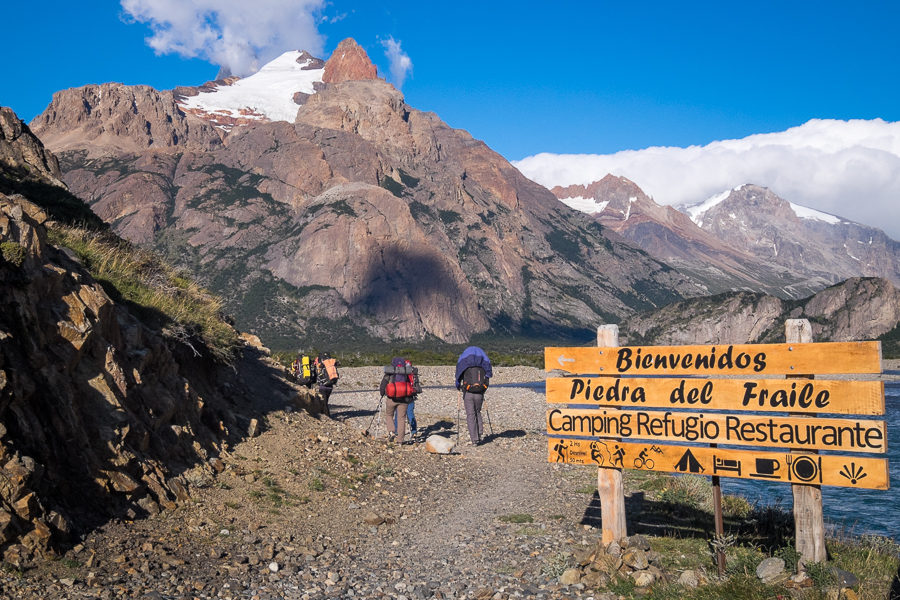 The first few hours were nice and flat and followed the river through the Lenga trees to the Refugio Los Troncos at Piedra del Fraile. However, to make it a little more challenging, Juan and Rafa set a cracking pace, which meant I was almost running to keep up as I tried to stop and take photographs along the way.
We stopped at the Refugio for about 1/2 hour for a snack and a rest and to admire the incredible surrounds, before loading up again and continuing past the "point of no return"…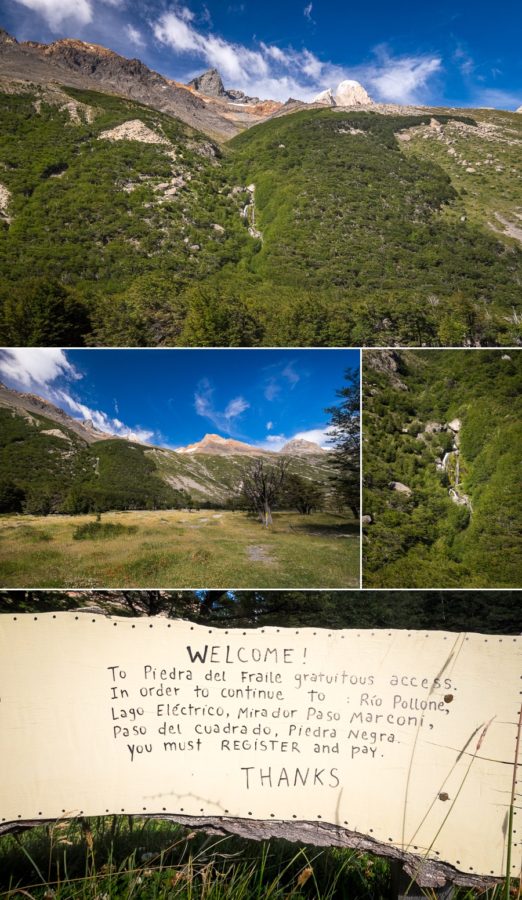 From there we entered a wide glacial valley surrounded by impressive peaks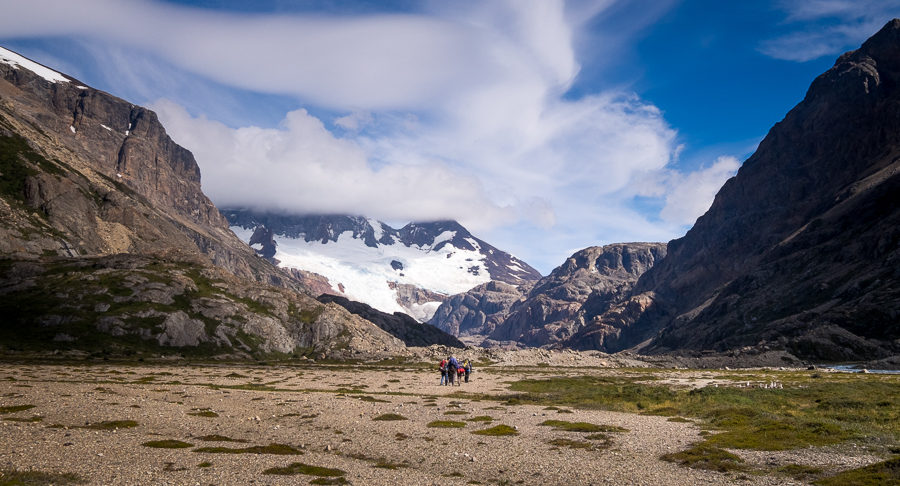 and eventually reached the Lago Eléctrico, which we skirted around for the next hour or so.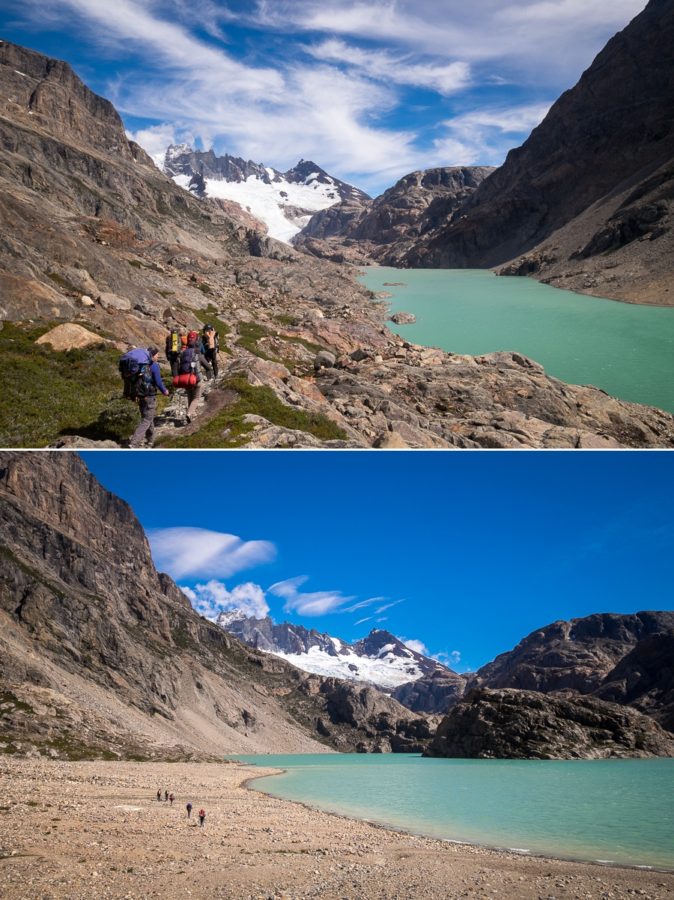 About 1/2-way around the lake, we encountered our first major obstacle of the expedition – the Pollone River. It was time to change from our hiking boots into our river-crossing shoes.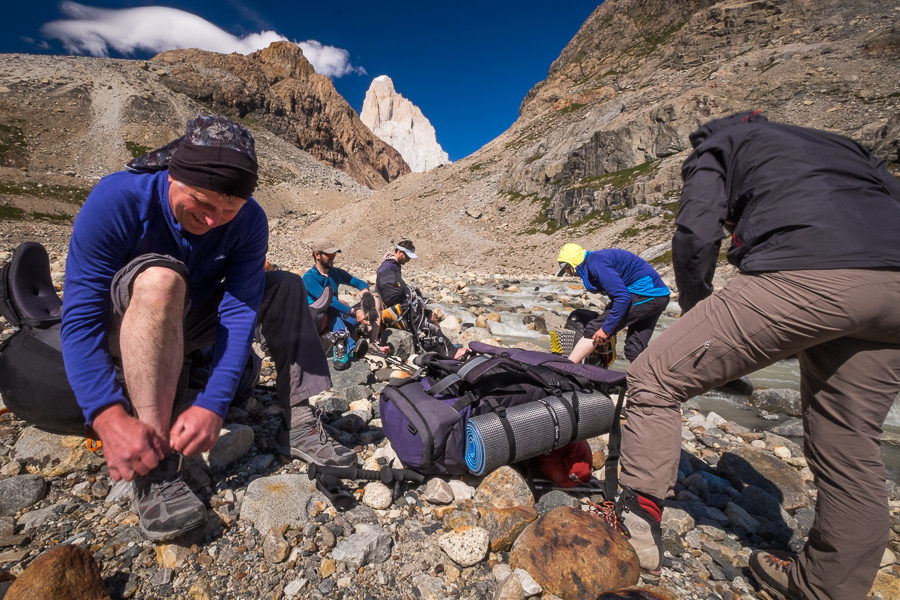 Just like the rivers in East Greenland, the Pollone River originates from a glacier and is absolutely freezing cold. Unfortunately, I still don't own neoprene socks, so by the time I slowly negotiated the deep and very swiftly flowing river (there were a few hairy moments, even with the aid of my trekking poles), my feet were once again in agony from the chill.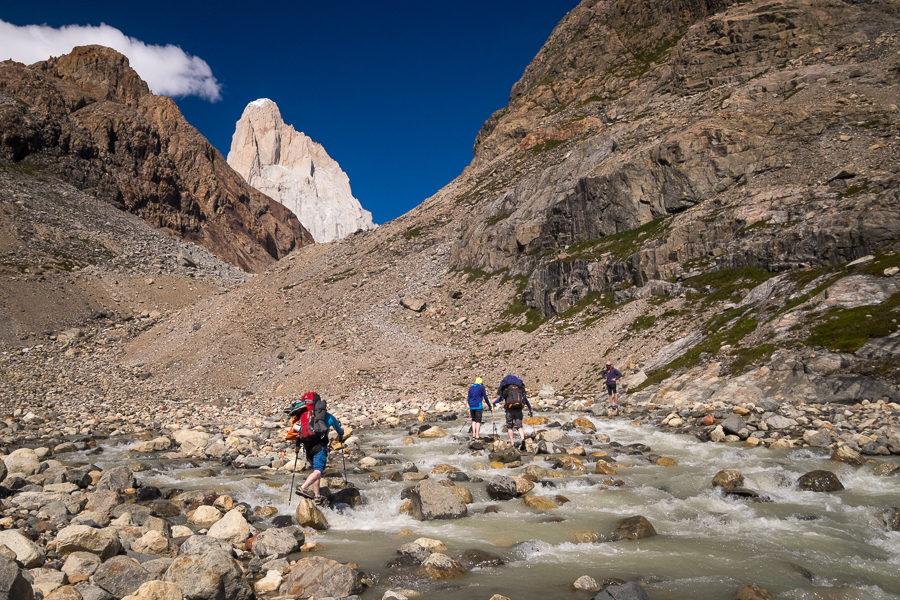 We continued following the shore of Lago Eléctrico to reach the scheduled campsite at La Playita but, as agreed with Juan at the briefing the night before, we did not actually make camp there.
The idea was to hike an extra 1.5 hours on this "easy" first day, to make the "very hard" second day a little less difficult. Seemed like a very good idea, so we started our ascent toward the alternate campsite at Lago 14.
A little further on, we encountered our second obstacle of the trek – the raging Río Eléctrico Superior. This was a huge amount of water flowing down a very narrow channel in the rocks and, in order to cross, we had to use a zipline! So this is why we were carrying harnesses 🙂
I went across first with my 21kg backpack dangling between my legs. The line was angled slightly up so we actually had to pull ourselves across – thank goodness Rafa was helping out!
Obstacle number 2 out of the way, we continued our climb to Lago 14. We were hiking against a pretty stiff wind at this point and I was very tired when we finally arrived, but you couldn't ask for a more beautiful campsite!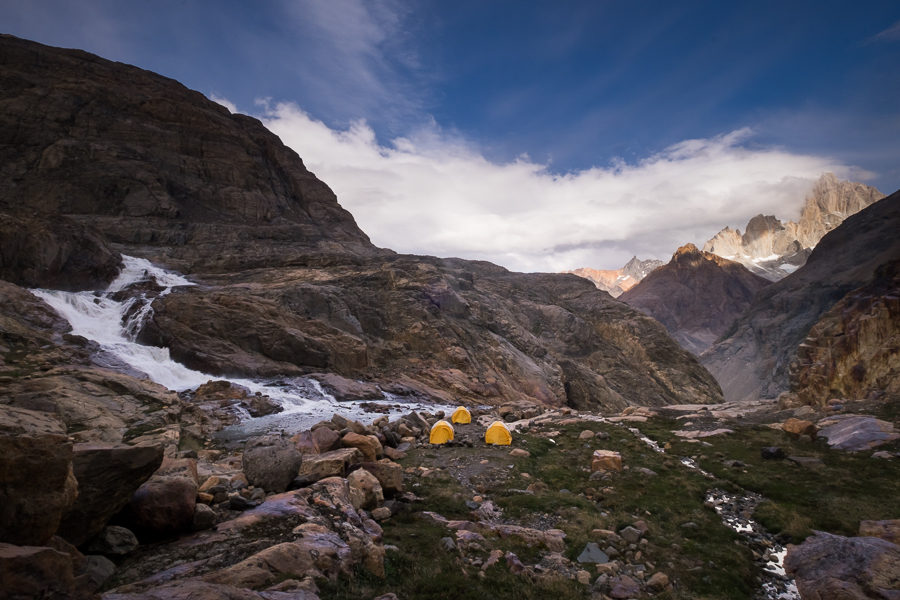 Juan and Rafa showed us how to pitch the tents and we settled in before it started drizzling. The views to Cerro Fitz Roy were absolutely stunning, and it was clear why it is often called "the smoking mountain".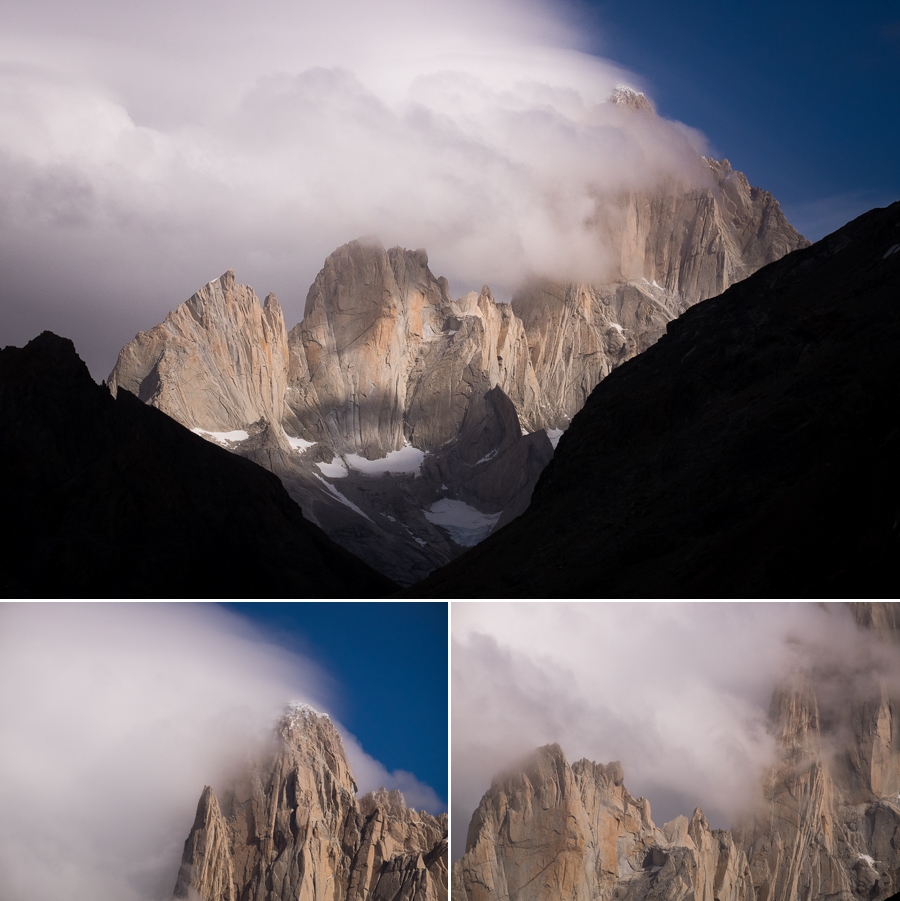 Unlike in Greenland, we had no communal dining tent on this trek. Juan and Rafa would boil water for tea and cook our dinner, and shuttle-run between the tents to deliver thermoses of hot water and our meals. I have to admit I felt sorry for them being out in the cold, but very thankful at the same time that I didn't have to go out there in it! Although I love the idea of being a trekking guide, I'm not sure I'd really enjoy the reality of it.
After Jan and I finished our in-tent/in-sleeping-bag dinner, Juan appeared with the map and explained the plan for Day 2. An early start for the very steep climb up onto the Marconi Glacier and the Icefield itself. This is the day I've been worried about…
Hiking Details
Hiking time: 7 hours
Distance Covered: 8.3km
Altitude: +500m, -185m
Read more about the Southern Patagonian Icefield Expedition
If this post has piqued your curiosity, read about the rest of my adventure on the the 8-day Southern Patagonian Icefield Trek with Serac Expeditions and Swoop Patagonia:
Prelude – leading up to departure
Day 1 – El Chaltén to Laguna de los 14
Day 2 – Marconi Pass to Refugio Garcia Soto
Day 3 – Gorra Blanca summit
Day 4 – Refugio Garcia Soto to Circo de los Altares
Day 5 – Circo de los Altares to Laguna Ferrari
Day 6 – Laguna Ferrari to Refugio Paso de Viento
Day 7 – Refugio Paso de Viento to Paso Huemul to Bahía Témpanos
Day 8 – Bahía Tempanos to El Chaltén
Alternatively, check out my other posts about hiking and trekking in Argentina and around the world.