Juan woke us at 7am to discover that the clouds had not disappeared and the winds had not abated overnight. If anything, the wind was stronger than the day before!

This meant that we really had to focus as we trekked across the ankle-turning surface of the Icefield. I mentioned before that glacier hiking requires concentration even in the best of conditions, and this was most certainly not the best of conditions!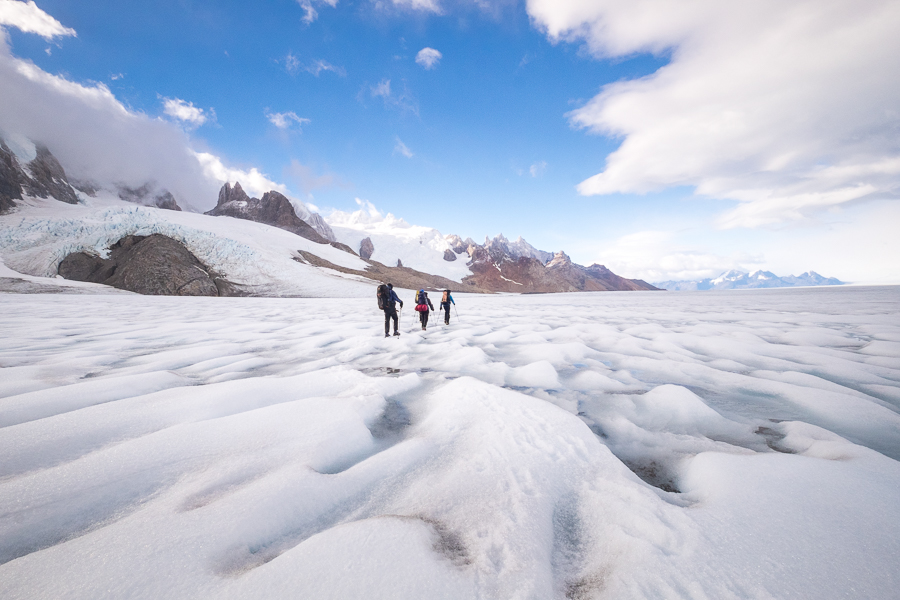 If it had been a clear day, we would have had an amazing view of Cerro Torre and its associated range, but as it was, we only caught a 5-second glimpse of it in one of our short breaks.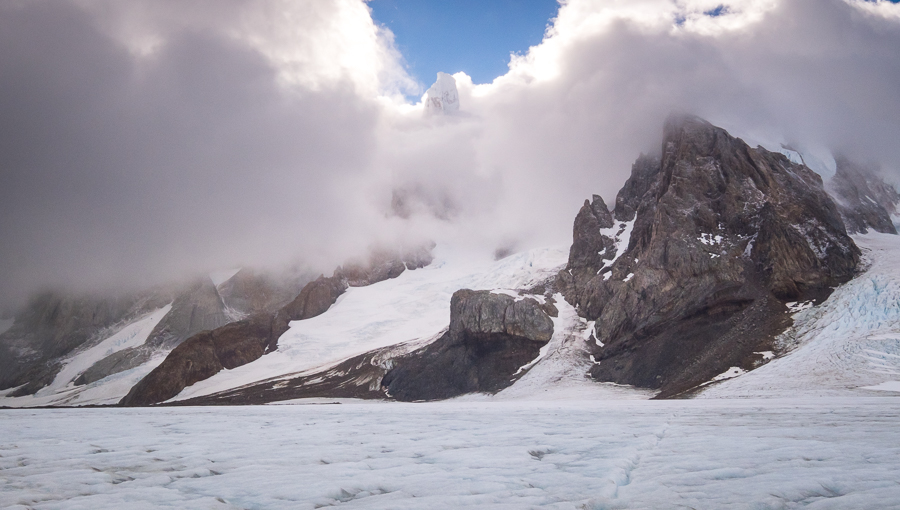 For the next 3 hours, we hiked through snow, slush, and hard ice, all the while being pummeled with little ice particles hurled at us by the wind.
It was mentally and physically draining to ensure we didn't miss-step and twist an ankle due to the buffeting wind, and I found that I started to develop a little "target-fixation" as I negotiated the crevasses. Even the narrow ones drew my eyes into their depths.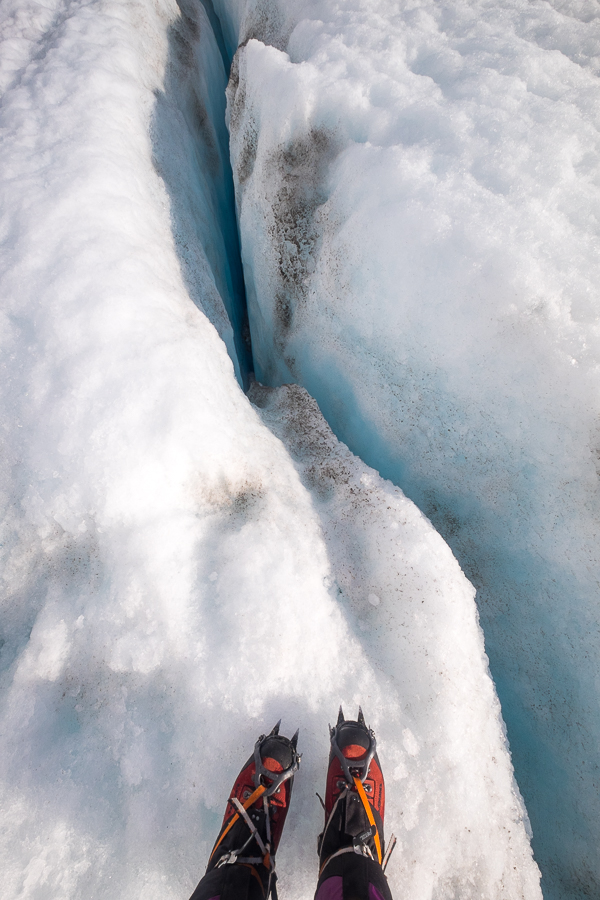 This was our last day hiking on the actual Icefield, and as we journeyed further South, we turned towards the mountains.
When we finally hit land again, it was strange (after almost 4 days) to hike without our crampons. Having unstable, rocky glacial moraine under our feet also took some getting used to, as we stopped to admire the enormous crevasses at the edge of the Viedma Glacier.

We crossed a tongue of land to skirt the worst of the crevasses in the glacier, and then had one last hike on ice (this time without crampons) before leaving the glacier for good.
But the fun was not yet over! We still had 7 glacial moraines to cross in order to get to our campsite at Laguna Ferrari, each one requiring an ascent and descent over loose rocks and scree.
The first moraine was particularly tricky because it was essentially still all ice but with a very thin covering of dirt. Slow and careful placement of feet and the prodigious use of hands to assist meant that I only fell once, even though it was incredibly slippery.
In contrast, the other moraines would have been quite easy to negotiate, if it hadn't been for the wind. By this stage it was blowing at 100km/hr and gusting even faster. We were mostly walking perpendicular to it, and being small and light and still carrying a 20kg backpack meant that I was constantly bracing myself to avoid being knocked over. There were moments when I actually had to stop moving, because if I'd lifted my foot to take the next step, I would surely have been blown over. I cannot describe how much energy I expended simply trying to keep myself upright!
As it was, I (and Anita) fell more than 10 times over the next 1.5 hours as we made our way towards the campsite. And there may have been a tear or two of frustration and exhaustion escape as I picked myself up from the rocks for the umpteenth time. "Type 2 Fun" at its best!
Cresting the last moraine, we could see Laguna Ferrari and the stone protective walls that marked our home for the night. I've never been so glad in all my life to see a campsite, and I could have kissed the ground had I thought I would be able to get back up again!
We'd been hiking for only 6 hours, but it felt more like 12. I don't think I've ever been so tired after a hike in my life!
Hiking Details
Hiking time: 6 hours
Distance Covered: 13.8km
Altitude: +276m, -411m
Read more about the Southern Patagonian Icefield Expedition
If this post has piqued your curiosity, read about the rest of my adventure on the the 8-day Southern Patagonian Icefield Trek with Serac Expeditions:
Prelude – leading up to departure
Day 1 – El Chaltén to Laguna de los 14
Day 2 – Marconi Pass to Refugio Garcia Soto
Day 3 – Gorra Blanca summit
Day 4 – Refugio Garcia Soto to Circo de los Altares
Day 5 – Circo de los Altares to Laguna Ferrari
Day 6 – Laguna Ferrari to Refugio Paso de Viento
Day 7 – Refugio Paso de Viento to Paso Huemul to Bahía Témpanos
Day 8 – Bahía Tempanos to El Chaltén
Alternatively, check out my other posts about hiking and trekking in Argentina and around the world.