You may remember I left you yesterday with the Overland truck stuck in the mud and the tractor unable to pull it out. It was a good thing we were meant to be bush camping that night anyway – so we had plenty of food and seting up our tents was what we were expecting to do anyway. We just expected to do it a little closer to the Kyrgyzstan border.
So the drama continued today…
It had rained even more overnight and I am happy to report that my little Alps Mountaineering Lynx 1-person tent is an absolute winner! However, more rain is not great when you are already stuck in the mud. So after breakfast, Gayle, Jane and I headed off to see if we could find some more help.
We started off by walking the ~4kms to the entrance to the park to wait for the Park Ranger to arrive. There were no signs posted on when the park would open or anything, so we sat down to wait. But then we decided we should split our efforts – so we flagged down passing cars and on our second attempt, we found some super-helpful chaps that agreed to give Gayle and Jane a lift into town (we really were in the middle of nowhere).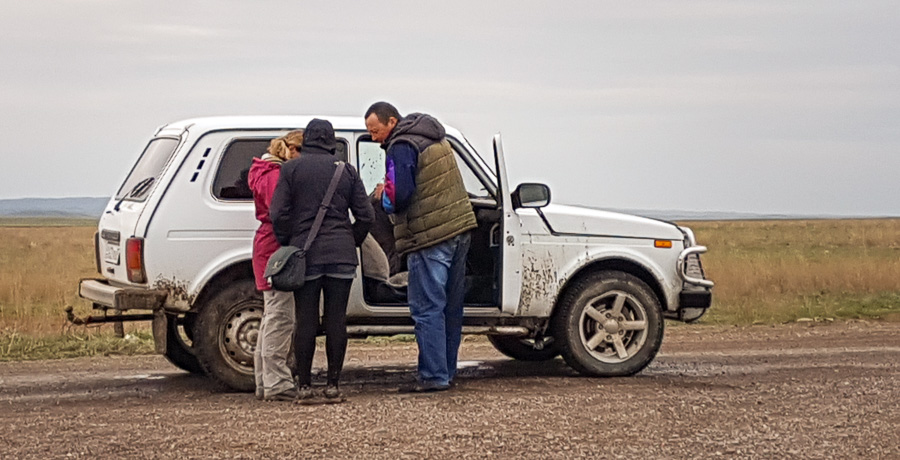 So they headed in there while I waited for the Park Ranger.
About an hour later, 5 helicopters come thuk-thuk-thuking over the hills to land right near me. I was most impressed that the girls had brought in the cavalry so quickly!
Unfortunately, it was not to be. And when I went over to see if anyone could speak English so I could explain our predicament – it quickly became clear that they were just another group of (much richer) tourists come to see the petroglyphs. The guy I found who did speak English said he wasn't sure what they could do, but he would tell the leader about us. Hmmm…..
About 1/2 hour after that, the Park Ranger arrived, but he was far more interested in collecting the entrance fee from the guys in the helicopters than he was at trying to decipher my charades explaining our tale of woe. When I finally did get his attention and showed him the photos of our predicament on my phone – he just shrugged his shoulders, said "nyet", and started going about his business.
I tried again, miming that perhaps he could call someone to help us. Again, this suggestion was met with a disinterested "nyet". Hmmmm….
About 15 minutes later, a lady turned up and so I tried the same routine on her. More shrugged shoulders and "nyets", followed by the offer to read a book about the petroglyphs and to sit down and have tea and bread with them. While that was lovely (and I did both), it was not helping. So I gave up and walked back to the group and the truck, hoping against all hope that Gayle and Jane had had better luck!
Once I got back, James (the driver) and I walked over to the local farm to see if we could borrow their tractor again. After much pleading, the answer was still "nyet" – so we headed back to see whether the girls were back.
Fortunately they were, and not far behind them came a big roadworks truck with a bit of a load of gravel as well … and a dude in uniform on horseback.
We all got very excited as he managed to shift the truck slightly, but that quickly turned to disappointment as he, too, became stuck in the mud.
The good thing about this was that at least we had a local trapped with us now, so they couldn't ignore us. The Chief of Firemen had turned up in full dress uniform, and was not leaving either, and plans were made to bring out a couple of firetrucks to join the fight against the mud. So there was nothing for it but to cobble together something for dinner and settle in for another night – this time sleeping in the leaning truck. Pretty sunset though 🙂
Oh – and the two guys that gave Gayle and Jane the lift into town came to visit us to see how we were getting on 🙂
The next day dawned bright and sunny for a change. Our Chief of Firemen was still with us, the story was that one of the firetrucks had become stuck in the mud further along the road – but the other one had turned up, along with an engineer and several other men.
First step was to get the roadworks truck out of the mud. So while they were busy working on that, we set about building a road out of stones.
I'm not sure what UNESCO would say about this — but we were on the opposite side of the hill to where the petroglyphs where so fingers crossed we didn't destroy anything! It was also every Australian's worst nightmare – turning over stones that, quite often, had spiders (and in one case a snake) lurking underneath. And that was how we spent most of the morning. Building roads, rebuilding roads in slightly different places, and trying to do what we could to help the efforts to free us.
Meanwhile – how were we communicating with our rescuers? None of us spoke Russian or Kazakh and only one of them had a few words of English. Why, by Google Translate of course 🙂
They eventually freed the white truck, and took the high road around to begin our rescue.
However, when they reached where we were stuck, they, too became stuck in the mud.
More digging and road-building ensued to free the firetruck, which then attempted to pull us forwards out of our bog.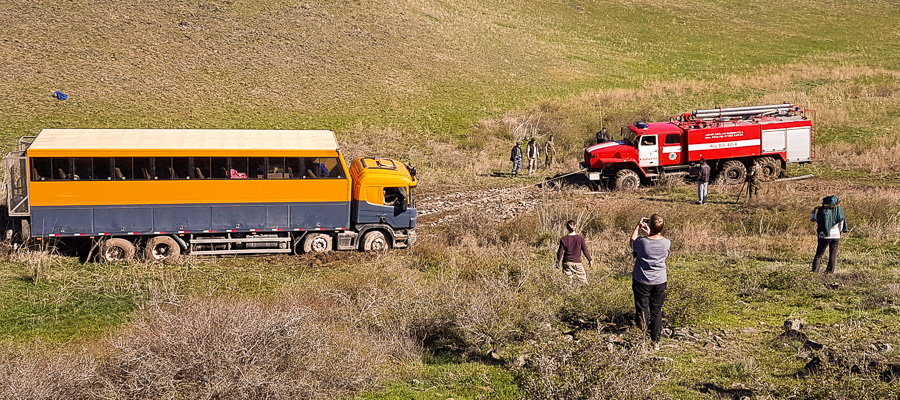 No joy! And they actually broke off the anchor point from the front of the truck!
Time to go back and dig out the second firetruck from its bog to see if we would come out with two vehicles pulling. For us, time for lunch!
An hour later they were back, this time attempting to pull us out backwards once they had charted a firmer base heading up the back of the hill with the petroglyphs.
You have probably already guessed how this ended up…
By this stage, we also had the mayor of the town out on site and a plan was made to move us on to Bishkek in Kyrgyzstan, while James (the driver) continued to work with the firemen to free the truck. So, at 2pm we offloaded our bags from the overland truck into one of the Ladas that seem to be able to go absolutely anywhere for transport to the visitors centre in town, and we hiked the ~6km to join them.
The mayor had arranged for a minibus to come pick us up and take us to the Kyrgyzstan border – free of charge – so when that turned up a couple of hours later, we all piled in and headed off, saying goodbye and good luck to James and his new friends.
We passed through the border at about 11pm with no hassles and were picked up by another minibus sent to collect us by the owner of the hostel we were staying in in Bishkek. Our fingers are crossed that James gets out soon!
Oh – and we made the papers in Kazakhstan in the Society pages!