The Tasting Menu at Sarfalik Restaurant in Nuuk offers a fine-dining experience that allows you to enjoy a wide variety of Greenlandic produce in the one sitting. Professional chefs take the abundances of the season and prepare innovative dishes using a variety of modern techniques for a truly unique taste of Greenland.
In the 2.5 months I've been based in Nuuk, I've not once been out to a restaurant or café to eat. Cooking for myself is so ingrained (it has to be after more than 3 years of traveling and watching every cent) that I usually forget that going out for a meal is even an option!
However, having written the Ultimate Travel Guide to Nuuk where I relied on restaurant reviews and the recommendations of my friends and colleagues in order to write the "Where to Eat" section, I decided that I had to go out and try one of these places before leaving. I chose to head to the top of the Hotel Hans Egede and indulge in the "Greenlandic Tasting Menu" at Sarfalik Restaurant.
Those of you who have been reading my blog for a while now know how much I love eating and trying new foods. For example, the Traditional Greenlandic Buffet at the Hotel Sisimiut and the Foodie Tour with Your Friend in Reykjavik were two of my travel highlights for 2018. Needless to say, I was really looking forward to the experience as Nicolai (from Denmark) seated me at a table by the window with a view to one of the well-known mountains near Nuuk – Store Malene.
Before the Tasting Menu begins
As I unwrapped the napkin from its strip of binding sealskin, Nicolai placed a "snack" down in front of me. Humpback whale with soy marinade and mustard mayo, and seaweed with a little onion mayo.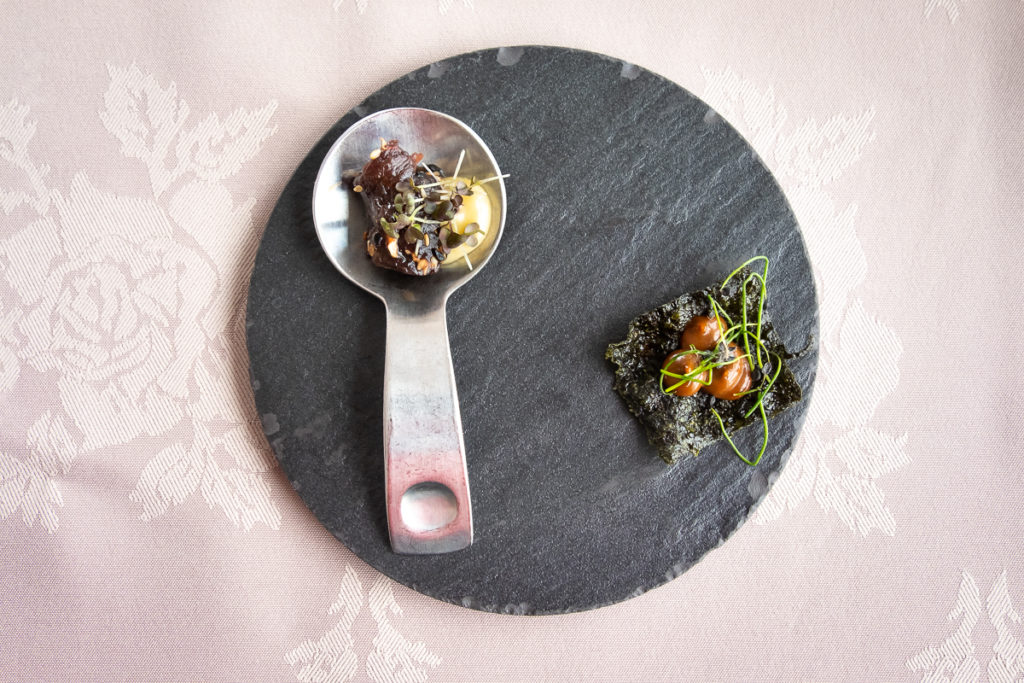 Although many people would balk at eating whale, it is very much a part of life in Greenland. Mattak (the raw skin of certain types of whale) used to provide the Inuit with several important nutrients, and is still a delicacy that is served at Kaffemiks (celebrations) in modern times.
I've tried whale meat on a few occasions in both Greenland and Iceland and have always really enjoyed it. This was no exception. The meat was melt-in-the-mouth tender with a subtle soy flavor. It was a great start to what I expected to be an amazing experience.
Next to appear on the table was a basket of warm bread. The white rolls had a wonderfully crusty exterior, and the malt rolls had a more cake-like texture with a rich taste that was enhanced by the salt crystals sprinkled on top. When loaded up with chive butter, keeping my hand out the bread basket was very difficult, even though I knew I had to.
Now for the Tasting Menu
The first real course of the Tasting Menu (no, we hadn't even started yet!) was delivered by Åsmund from Norway. It was an Italian-inspired musk ox empanada with rosemary mayo. There had been an "Italian Takeover" of Sarfalik Restaurant during the previous two weeks by visiting chefs, and this dish was created based on what they showcased during their stay.
One of the interesting things about the Tasting Menu is that it changes several times per year according to the produce that is in season. However, because it is made up of several small portions, there is also the flexibility to mix it up when an interesting opportunity arises.
Åsmund (who has a touch of an Australian accent despite never having worked in Australia?!) also presented me with the next dish – reindeer tenderloin with celeriac. The tenderloin was cured with sage and the half-ring of celeriac underneath it was pickled in red wine vinegar and hibiscus. Celeriac cream, crunchy sage "chips" and sprinkled dried Angelica topped off the dish. Åsmund explained that normally the celeriac cream would also have had fresh sage in it, but they were having supply issues. One example of the challenges faced by even a high-end restaurant in Greenland.
The reindeer was very smooth and tender with a mild taste of jerky. Delicious! I was less a fan of the celeriac, but that's just because I don't enjoy the taste of wine. The cream gave me a hint of what celeriac tastes like (I'd not eaten it before) and I look forward to another opportunity to try it in its more natural state.
Next up was cold smoked humpback whale with turnip presented in 3 ways.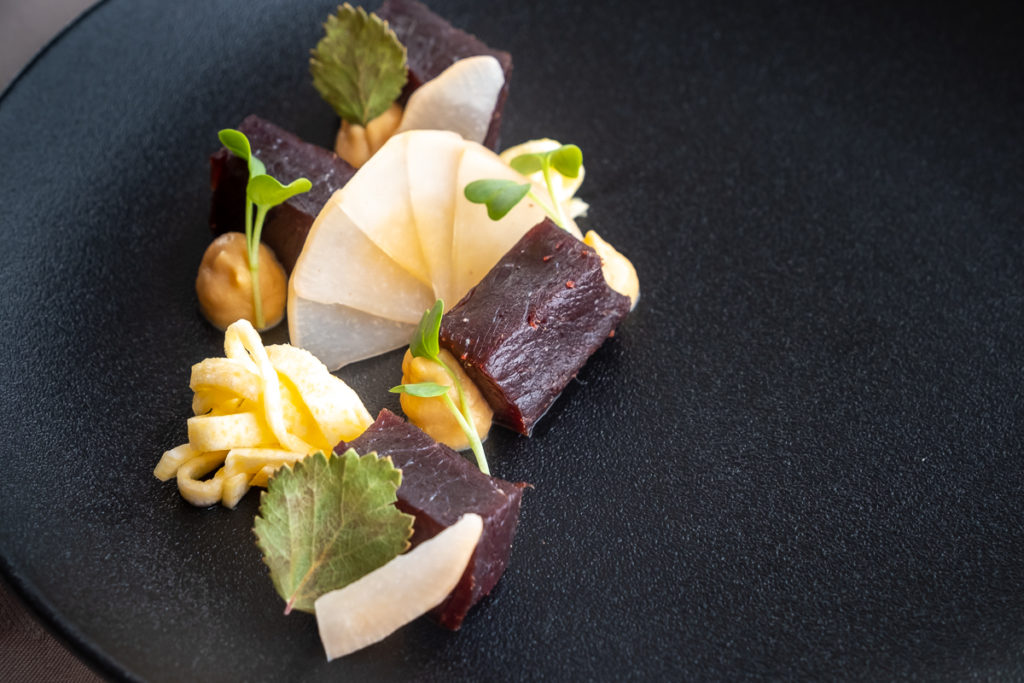 The whale was smoked in-house and had a texture more like that of raw fish than what I would normally associate with meat. Its colour was also very dark and Åsmund went on to explain that while this is a general characteristic of humpback whale meat, the cold smoking process (and lack of exposure to heat) actually makes it darker.
The turnips offered 3 completely different experiences of this root vegetable. The fermented turnips (triangles) were quite acidic and sharp, the pickled turnip (julienne) was also quite sharp but somehow had a sweetness to it too. The roasted turnip puree was very creamy and, for me, had the strongest and most recognizable turnip flavor.
My next course was bought out by Matthias from Argentina. Nicolai had told me that Matthias usually doesn't get to do front-of-house because he is not very confident with his English. But given I speak Spanish…
The plate that Matthias put in front of me was burnt cod with Greenlandic herbs and roasted tomato sauce. Matthias introduced it to me in Spanish, wished me pleasant eating, and disappeared quickly back into the kitchen.
The cod was perfectly cooked and the roasted tomato sauce very creamy. Like everything that had come before, it was delicious, though I was starting to worry about the fact that portion sizes seemed to be growing! I crossed my fingers I would be able to fit everything in. And yes. I was still managing to resist the lure of the bread.
Meeting the head chef – Simon
The next person to appear at my table with an orange granatine palette cleanser turned out to be the head chef, Simon. He is originally from Sweden (the kitchen is very multicultural) and had been working at Sarfalik for 2.5 years, 1.5 of those as head chef. He was much younger than I expected and I was looking forward to chatting with him about the inspiration for and challenges of putting together a Tasting Menu such as this in Greenland.
He returned with my main dish – musk ox with grilled sweet potato, musk ox souffle and musk ox glace – and said he'd be happy to chat after I'd enjoyed my meal.
This dish was fantastic! The musk ox was like a fine steak cooked to perfection. The glace, beautifully rich. And the elements on the plate aligned with the Greenlandic tradition of not wasting anything. The glace was made using the bones of the musk ox. The puree and chips were made from the castoffs of the grilled sweet potato. I love this approach.
Main dish – Spring Tasting Menu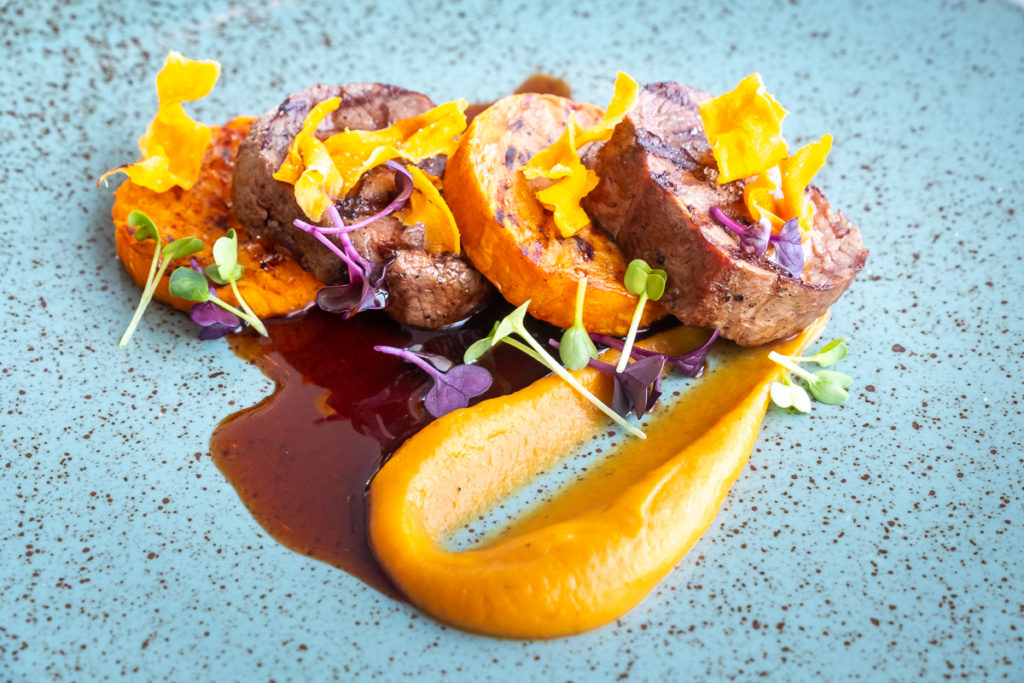 Once I'd finished eating, Simon joined me at my table while we waited for the dessert to be ready. He explained the idea behind the Tasting Menu – to create high quality food that works with the abundances and limitations of the current season in Greenland and neighboring countries.
For example, February is musk ox hunting season in Greenland, so the main today was a musk ox plate. Later in the year during reindeer hunting season, the Tasting Menu would instead feature a reindeer-based main dish. Right now, root vegetables (the staples of Nordic countries) support whatever meat is available (though this, too, will change as the seasons change), and locally sourced herbs that grow wild in the backcountry around Nuuk (like Angelica) are used whenever possible.
"The goal is to tell a story with the Tasting Menu", Simon tells me.
A story that is dictated by the season. A story that features local produce sourced directly from the fishermen and hunters while acknowledging Nordic influences on Greenland. A story that showcases the multicultural nature of Nuuk through the use of different cooking techniques drawn from the countries of origin and experiences of the kitchen staff of Sarfalik Restaurant.
I was very much looking forward to how the last chapter of today's story would unfold!
Spring Tasting Menu dessert
When Simon returned, he came bearing a magnificent Chervil-based dessert. The menu describes it as the following: "Chervil and cream cheese ice cream with yoghurt crisps, liquorice sprinkles, and chervil grass", but I prefer the story that Simon told me about it.
It symbolizes Spring in Nuuk. The green represents plants starting to grow and the brown (burnt white chocolate), the dirt that is slowly revealed by the melting snow. However, just like the Spring we have been experiencing during my stay, a period of warmer weather is abruptly interrupted by a cold snap, and fresh snow (the white fluff) once again covers the landscape.
Brilliant!
And delicious!
The chervil cream cheese ice cream was silky smooth and creamy with a mild flavor that was offset by the much stronger chervil syrup. The yoghurt chips were crisp and almost toffee-like, and the thyme snow (it was meant to be chervil snow, but again, supply problems) was lighter and fluffier than sherbet and disintegrated immediately upon contact with my tongue. I didn't think anything could dissolve more readily than sherbet, but I have been proven wrong!
It was a spectacular end to an amazing meal that was further enhanced as the setting sun momentarily peaked out from underneath the cloud layer to bathe the restaurant in incredible golden light. Moments like this are truly magical.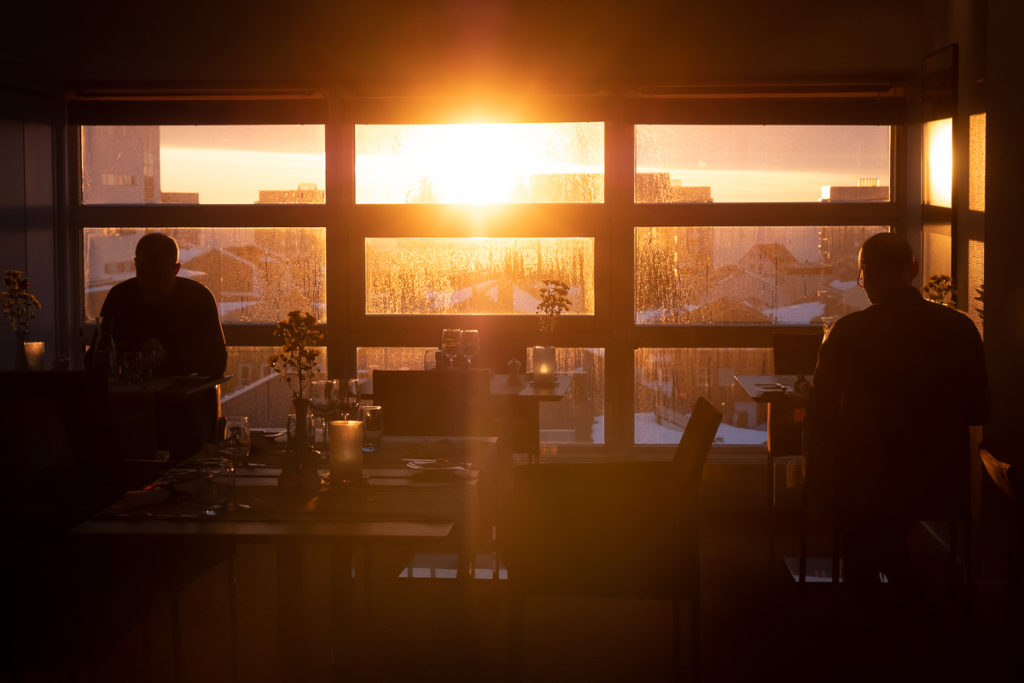 Recommendation
The Tasting Menu at Sarfalik Restaurant in Nuuk is a wonderful way to try local Greenlandic ingredients prepared in innovative ways. The small portion sizes and large number of courses mean you get to taste a wide range of produce, all prepared with the imagination and ingenuity of top professional chefs. There is also the option to pair the menu with a carefully chosen wine selection.
A million thanks to Simon, Åsmund, Nicolai and Matthias for looking after me and a wonderful experience. I look forward to returning again in September to try to the Autumn version of the Tasting Menu!
Discover more about Greenland
For recommendations on where to eat in Nuuk, check out the Ultimate Travel Guide to Nuuk – the best resource on the web for those planning a trip to Greenland's capital. It also has loads of practical information on how to get to Nuuk, how to get around, where to stay, and all the things to do once you arrive.
I have a large number of blog posts about Greenland, so feel free to read more about my experiences here on my blog.
Or, if this post has piqued your curiosity about Greenland in general, learn more about this amazing country by:
This post contains some affiliate links. If you make a purchase through one of these links, I will earn a small commission at no extra cost to you. Your support is appreciated!