To be honest, apart from visiting the Cerro Verde National Park to climb Volcán Santa Ana or Volcán Izalco, or using it as a base to explore some of the Mayan ruins or the Ruta de Flores, there isn't much to do or see in Santa Ana itself.  So mostly hung out enjoying the Casa Verde and catching up on photo processing and journal/blog entries while I was there.
Of course, there is the main Cathedral – an elaborate gothic structure that was started in 1906 and completed in 1959.
And I was fortunate enough that the Russian Ballet was performing "Sleeping Beauty" at the amazing Santa Ana Theatre while I was there.  I had never been to the ballet before and had no idea if I would enjoy it or not, but I figured for $12 for the cheap seats – it was a perfect opportunity to find out.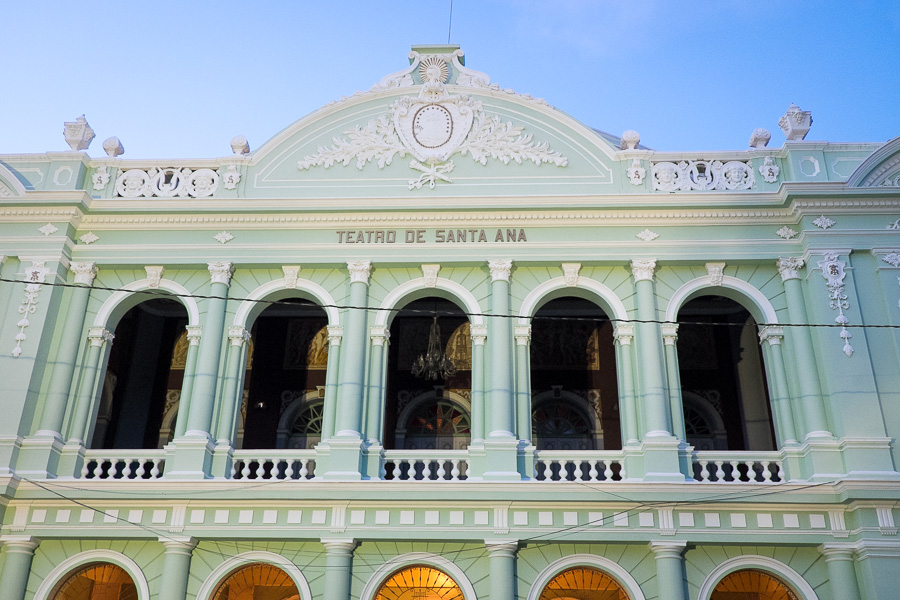 The seat numbering in the Theatre was a bit confusing so I started off sitting in the wrong seat.  Was having a wonderful chat with Jasmine, the lady next to me who wanted to see what Australian currency looked like (unfortunately I didn't have any one me), when the person whose seat I was in arrived.   Bid adieu to Jasmine, changed seats, and then got chatting to Genesis – a 12 year old girl who loved the ballet.
I have to admit that, unlike Genesis, I'm not a fan of the ballet 🙁  And although Genesis offered to relate the story to me (and even leaned across at one point to ask if I was understanding the story), there seemed to be a lot of superfluous people on the stage at most times, some of who didn't actually dance at all, but just walked on and stood around for large amounts of time.   I also felt that the guys were more graceful than the girls, and it was a bit distracting to hear the "clunk" of the wooden points of the girls as they danced.   Still, glad I went, and at least now I know that it's not for me.
Pretty much the only other thing I went to see was the ruin of the Escuela de Artes y Officios Jose Mariano Mendez.   I had caught glimpses of this on the various buses I'd taken so decided to take a closer look.
It must have been an impressive building in its days serving vocational education in careers such as carpentry, boot-making and horticulture.   They have recently done a survey to see how much it would cost to restore the buildings – anyone have US$35 million?