Final day of the trip was only a short one for me, given I was crossing over into Chile. That being said, it started bloody early so we could get to the Sol de Mañana Geysers for the sunrise. This is when they are at their best, and it really is worth getting up early and freezing your arse off to experience!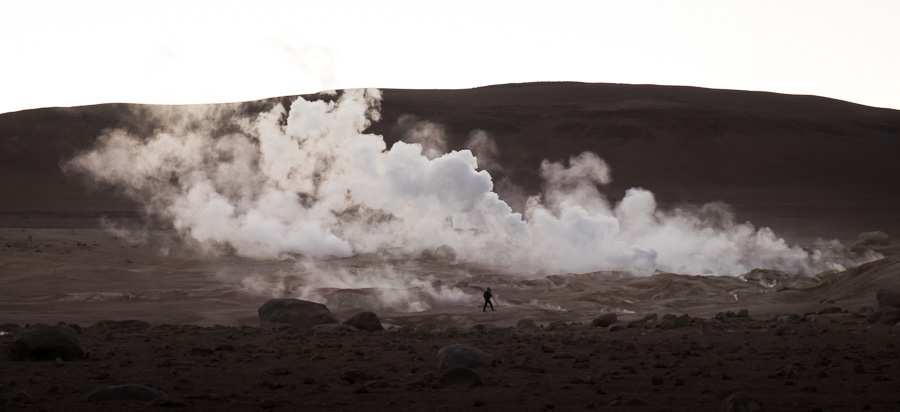 There are two main geyser fields with plenty of boiling mud,
and hot water that steams in the very cold temperatures at 4800m at sunrise.
And of course the geysers – both small
and large
And when the sun breaks the horizon – it is truly spectacular!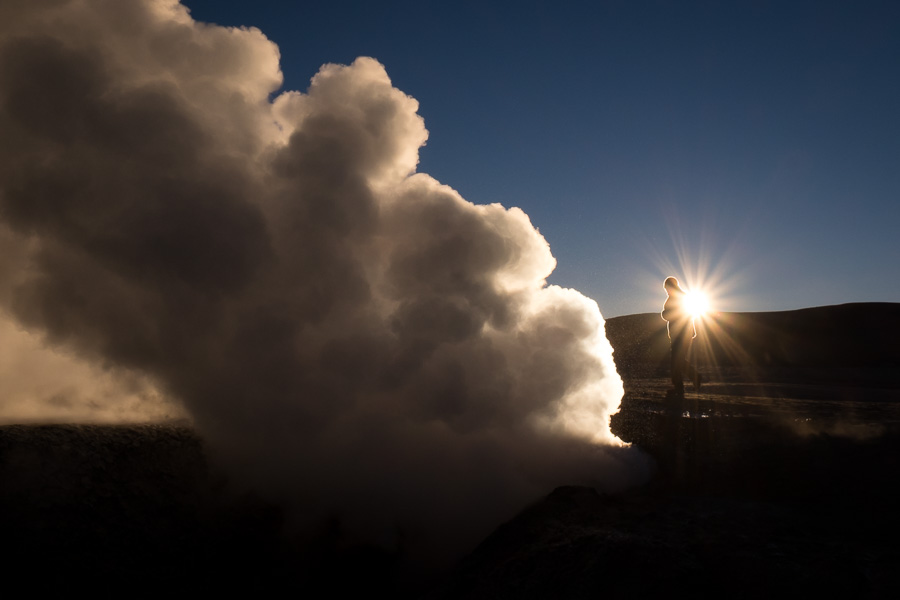 Just up the road we stopped off at the Polques hot springs for about an hour. To give you an idea of how much tourism has increased, here is the lineup of cars at this one spot (and it wasn't peak season yet!) Back in 2001, we only saw about 2 other cars in the whole 4 days!
Decided to not join the 100 or so people in the hot spring itself (it isn't that big to be honest) and headed off to the Salvador Dalí desert. This place is stunning, marred only by those bloody tracks from cars that don't stick to the marked roads. Of course they could have been made many, many years ago … but still. Grrrrrrrrrr…..

Then we started heading towards the Licancabur Volcano and the Chilean border, stopping off at Laguna Blanca

and Laguna Verde
both of which don't have anywhere near as much water in them as they used to.
At that point, I transferred to a minivan that would take me across to San Pedro de Atacama, while others in the group made the ~7hr trip back to the town of Uyuni itself.
Overall, it was a good trip. But I have to admit that it was not as spectacular as the first time I went. I think this was for 2 reasons:
there really is something incredibly special about the Salar full of water and the surreal experience you get with that
the increase in tourism and the fact that you were almost never alone and were restricted in where you could go was difficult to come to terms with. Totally get why it happens, but really appreciated the remoteness the first time I went.
Recommendation: If you are in Bolivia, you have to do this trip. There is a reason why it is so popular – and that is because it is absolutely spectacular! Though I think that if I were to visit this area for a third time – I'd definitely drive myself. There is so much to see and you are quite restricted on an organised tour. Salty Desert Aventours were a great outfit – wouldn't hesitate to recommend them.
Time: You can do trips from 1 – 4 days leaving from Uyuni – most people do the standard 3-day trip. Those trips that leave from Tupiza can be up to 6 days.
Cost: We paid 1200 Bolivianos (USD$175) each for the trip, which included accommodation, meals and driver/spanish speaking guide. In addition, we each had to pay 30Bs (USD$4.50) for Incahuasi Island entrance, 20 Bs (USD$3) for the Galaxy Caves, 150Bs (USD$22) for entrance to the Eduardo Avaroa Nature Reserve, and 50Bs (USD$7) for the transfer to San Pedro de Atacama.