After 2 years of this blog, my friends joke that if I'm not posting about hikes or treks I've done, I'm posting about food. So they won't be surprised that one of the very first things I did when planning my trip to Iceland was look up foodie tours 🙂 Specifically, I was looking for an opportunity to try some of the more unusual Icelandic foods, which is how I chose the Reykjavik Food Lovers Tour – Icelandic Traditional Food by Your Friend in Reykjavik.
We were met at Ingolfstorg Square by our guide, Fanney, and walked less than a block to our first foodie stop. No, I'm not going to tell you where – you need to actually do the tour to find out 😉 Suffice to say that the restaurant is one of the older houses in Iceland and was originally used for falconry!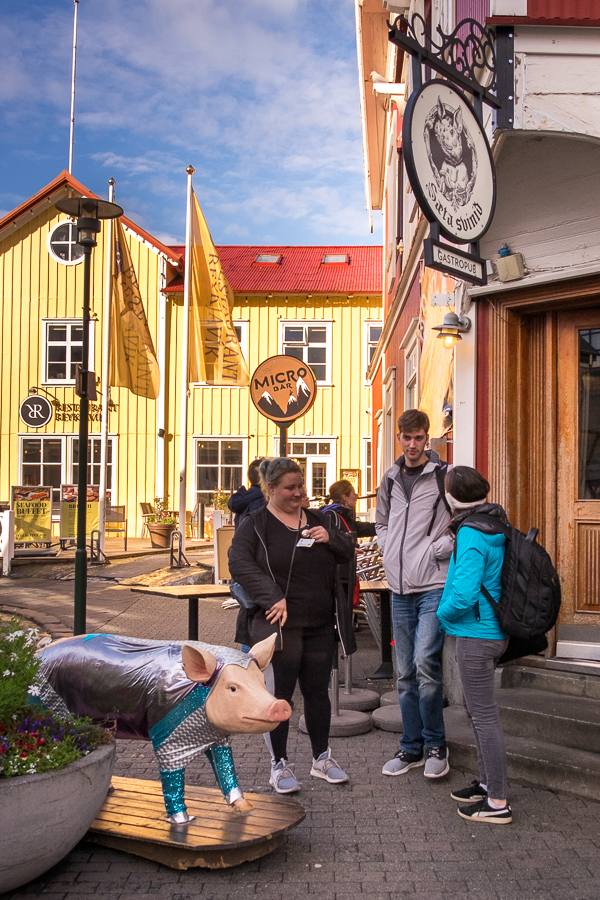 Foodie tour stop 1: Puffin
Here we tried one of the things I was most excited about – hot smoked Icelandic puffin. Yes, those cute little birds with the bright orange beaks.
I was surprised at the very "smooth" texture of the meat, and both the presentation of the dish and the interior of the restaurant were amazing! This was one of my favourite dishes on the tour, eaten under very different conditions to almost every other foodie tour I've done where I'm usually just standing around in the middle of a market or out on the street 🙂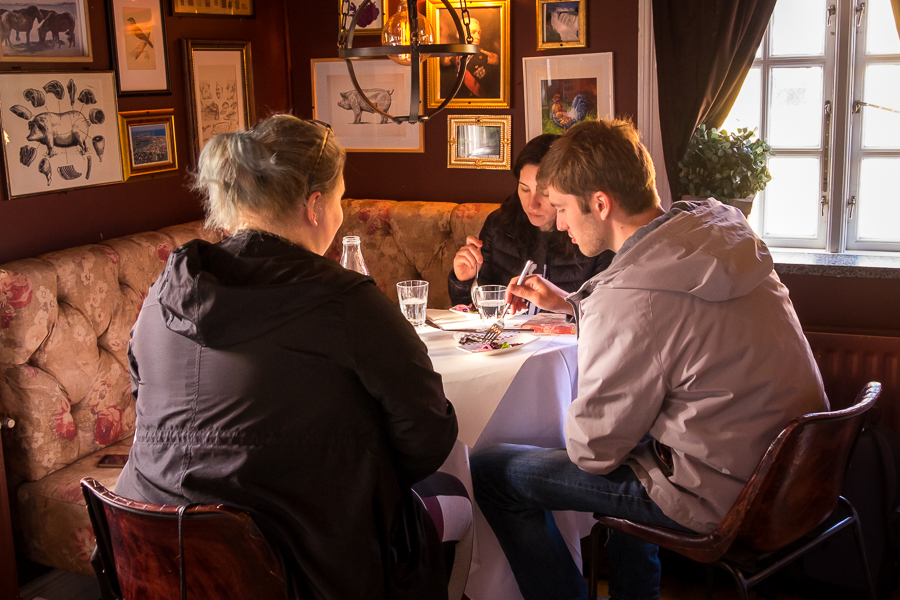 While we were eating, Fanney explained that although puffins spend most of their lives at sea, during the spring and summer months an estimated 10 million of them come to Iceland to nest. She also explained how the hunting of puffins is regulated in Iceland and just how difficult it is to actually catch them! Watch Gordan Ramsay try 🙂
Foodie Tour stop 2: Icelandic Lamb Soup
Our next stop was again only a block or so away at one of the oldest restaurants in Reykjavik (founded in 1932). Here we tucked into a too-large-for-a-foodie-tour bowl of Icelandic lamb soup with its melt-in-the-mouth lamb, tender carrots, celery, potatoes, onions and loads of rich lamb flavour. Although I'm a seasoned foodie tour goer and I knew I should be pacing myself – I couldn't help but finish the whole bowl … and the bread.
To make this soup there are special cuts of lamb that should be used as well as a very particular herb mix, but as far as veggies go – well anything that doesn't go bad too quickly is fair game.
Two tastings in and so many more to go… Oh oh – already starting to feel full! Fortunately our next couple of stops involved much smaller samples!
Foodie Tour stop 3: Icelandic Hot Dogs
Icelandic hotdogs are basically an unofficial national dish. Made predominantly out of lamb (theoretically) you should ask for "one with the lot" to enjoy the full experience of fried and raw onion, ketchup, remoulade, and sweet brown mustard (pylsusinnep) along with the dog and steamed bun.
The hotdog stand we visited on the foodie tour has been around since 1937 and shot to fame in 2004 when Bill Clinton ate there. I'm nowhere near famous, and I don't usually eat hotdogs, but I have to admit this these ones make for a very tasty snack!
Foodie Tour stop 4: Dried Fish
You don't have to be in Iceland long to realise that dried fish (Harðfiskur) is also a staple in the Icelandic diet and a favourite snack for locals. I had eaten a lot of Icelandic dried fish on the Unplugged Wilderness Trek in East Greenland last year and love pairing it with remoulade (mayonnaise is one of the very few things I really don't like the taste of, but for some reason, I love remoulade!). Every Icelander I've suggested this to, including Fanney, has looked at me in bewilderment and admitted they'd never thought to try that. They usually just eat it plain or team it up with butter! Seriously guys – try it. It is amazing!
After enjoying the brisk evening air down by the harbour, it was time to head back inside for two more of the new tastes I'd been looking forward to. As an added bonus, one of the wonderful things about the restaurants chosen for this tour is that each of them seems to have an historical story or anecdote that makes them special. Fanney related yet another of these stories to us as we headed towards our next dining experience – but you'll have to do the tour in order to find out why this guy is special and occupies a very important position in the restaurant we entered next 🙂
Foodie Tour stop 5: Fermented Shark, Lobster Soup and Minke Whale
If you mention traditional Icelandic food, those who know something about it will come back with "don't they eat fermented shark?" Why, yes they do! Or rather, they did (current Icelanders are far more likely to opt for a hot dog) and this is what we were going to try next.
Given that Hákarl is an "acquired taste" we were presented with small cubes to sample. I'd actually tried some previously with the Icelandic family with who I was staying, but this time around the ammonia was much stronger (to me it had elements of a REALLY strong brie). I don't find the taste horrible, in fact I was surprised at how mild it was, but I also wouldn't rush to order it I have to admit.
We actually had 3 plates in this restaurant (!) and next up was lobster (langostine) soup – one of the most popular dishes on the menu. This was really creamy with a slight thai-red-curry flavour and very tasty.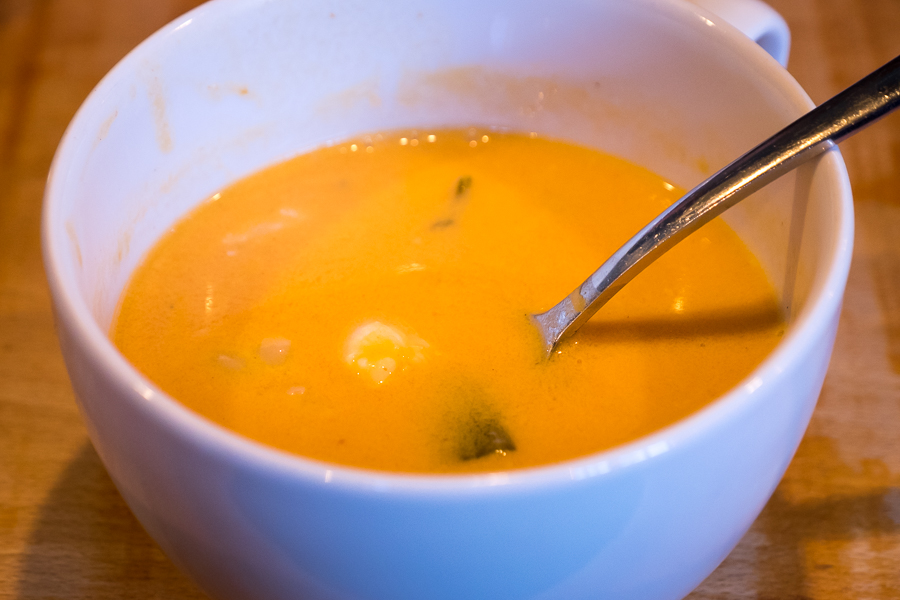 However, by far my favourite dish of the whole tour was the third dish we tried – Minke whale with honey mustard dressing. I'd tried whale previously in Greenland and liked it – but this was beyond awesome! Tender, juicy, and with a perfect balance of spices. Oh. My. Goodness.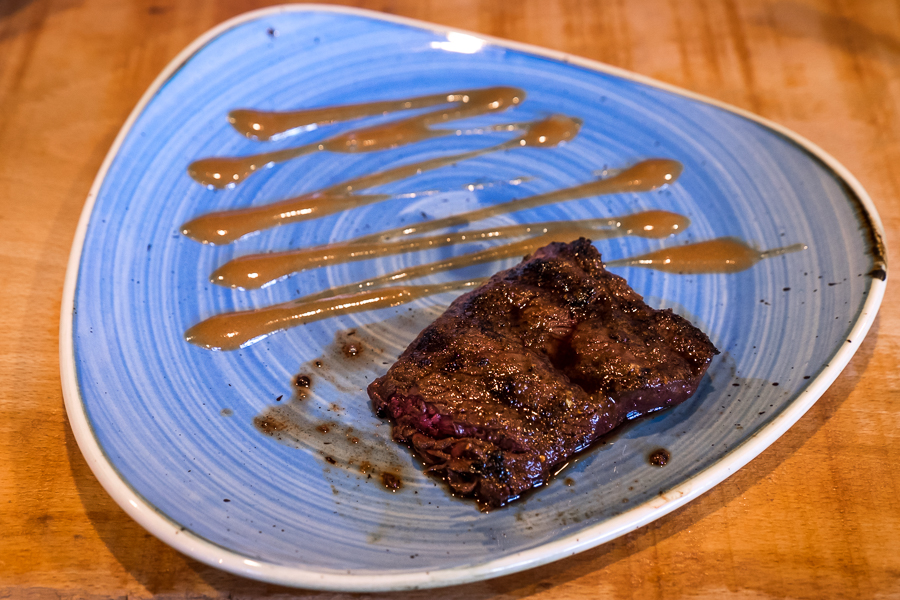 I know some people won't even entertain the thought of eating whale based on what we hear about whale hunting in the media (actually I'd be surprised if such people were still reading given I opened with eating puffin…), but Minke whales have never been endangered and there is a yearly quota (of less than 0.03% of the stocks around Iceland) that is strictly adhered to. In other words, it is sustainably hunted (as it is in Greenland) and is more "green" than importing beef or chicken from other countries.
Foodie Tour stop 6: Special Fish and Chips
As you can imagine, by this time we were all quite stuffed with food (though I could have squeezed in a couple more serves of whale). But we weren't done yet as we waddled a few more blocks into a restaurant famous for its fish bites served with 9 different sauces. Somehow I was going to have to make room…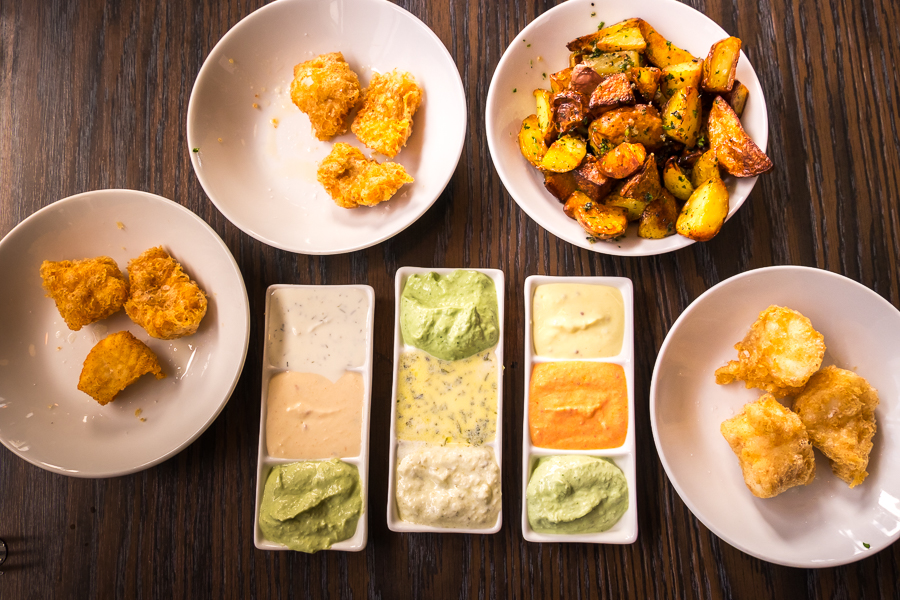 The fish on offer depends on what has been caught fresh that day – in our case: Ling, Cod and Tusk – and is cooked in a special batter that is very light and more like a Japanese tempura. The sauces are all based on Skyr (a high protein yoghurt-like dairy product that is very traditional to Iceland) and the sauces we were presented with were: mango, honey mustard, coriander, tzatiki, chilli, lemon & dill, basil, tartare, and truffle & tarragon. Unfortunately I couldn't keep straight which one was which (they weren't labelled) but my tastebuds surprised me by indicating that mango was my favourite (I wouldn't have thought to pair it with fish and chips) followed by honey mustard, then coriander. It turns out almost everybody's favourite is the mango 🙂
Foodie Tour stop 7: Skyr Dessert
Beyond stuffed, we still had one last dish to sample on this incredible foodie tour. Fortunately it was dessert, and everybody knows there is a whole separate stomach for dessert … right?
We actually ended up back at the very first restaurant we started at for our Skyr dessert and an Icelandic beer.
Tasting similar to a cheesecake, this was another of my favourites for the tour. And having eaten mine quicker than the others, I was looking longingly over for scraps … none of which were forthcoming. It was too good! And a perfect way to finish off our trip through modern and more traditional Icelandic fare.
Fanney left us each with a chocolate bar that incorporated Icelandic liquorice (oh how I love Icelandic liquorice!) and I eventually managed to bid my fellow foodies adieu and stagger back home with my over-extended but very happy stomach.
Recommendation
I absolutely recommend the Reykjavik Food Lovers Tour with Your Friend in Reykjavik. The food is amazing (and very plentiful!), the stories about the establishments are really interesting, and Fanney had loads of information about Icelandic food preparation and food culture in general.
There is not a lot of walking involved – everything is contained within a few blocks of the centre of Reykjavik. If anything – a little more walking between courses would have been beneficial 🙂
Top Tip: perhaps don't eat breakfast or lunch beforehand!
Cost: ISK 14,990 (USD$125)
Time: about 3 hours