My foodie journey through Ecuador started in Quito with the Quito Culinary Tour and Cooking Class from Quito Urban Adventures. I was again the only person on the tour (I'm starting to get a complex!) and had a great time chatting with Pablo, who not only talked about Ecuadorian food, but also how Ecuadorian history as well as more recent events have impacted how food is produced, sold and eaten in Ecuador. A really interesting narrative that illustrates just how quickly things are changing here.
Our first stop was the Santa Clara market where Pablo used to go as a child with his grandmother. There we visited Alba who sold all sorts of Ecuadorian chocolate, coffee and other goodies (not just from Ecuador) – all personally taste tested to ensure that she herself liked what she was selling.
The story of Ecuadorian chocolate is really very interesting – for years the Ecuadorians exported the cacao beans for pittance and bought back the chocolate from other countries at a much greater expense. Pacari was one of the first brands to start producing chocolate locally back in 2002 and surprised the world when they won the International Chocolate Award in Belgium with their lemongrass chocolate (I can vouch for it – it deserves its gold star!).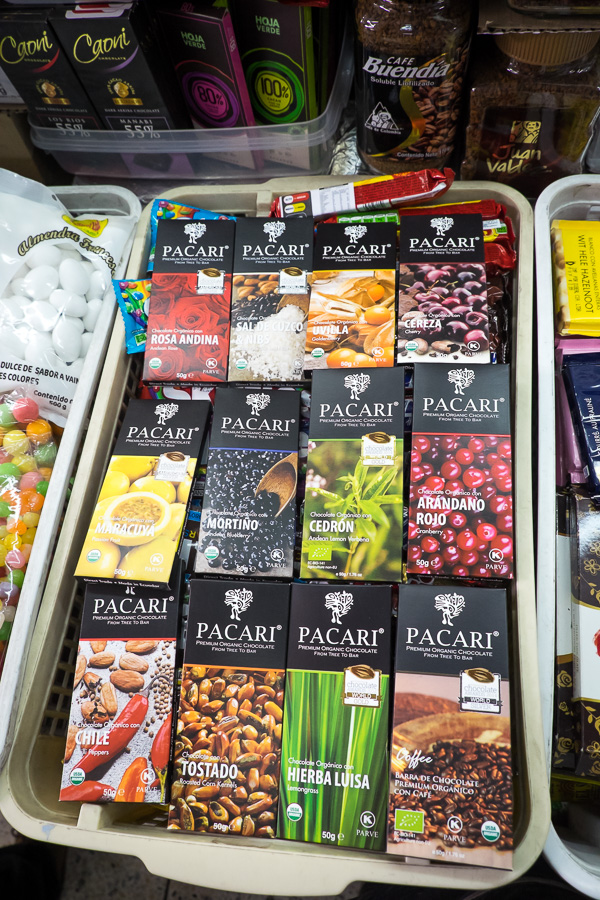 This success, and incentives from the Ecuadorian government, has meant that more and more chocolate is being produced locally and more and more brands of chocolate are popping up in Ecuador almost daily. The goal was to reach 30% local production of chocolate within 15 years, but this level has almost already been achieved in only 5 years.
A few stalls up, we tried a small piece of pure 100% cacao paste. I imagined that it would taste quite bitter (this is what I'd experienced in Central America), but it wasn't as bitter as I was expecting and didn't have much flavour at all really. Pablo explained that this was because in Ecuador they grow fine flavour and aroma cacao (called "Arriba nacional"), which is less bitter than that produced elsewhere. The story of chocolate in Ecuador is really very interesting and Pablo tells it really well on this tour.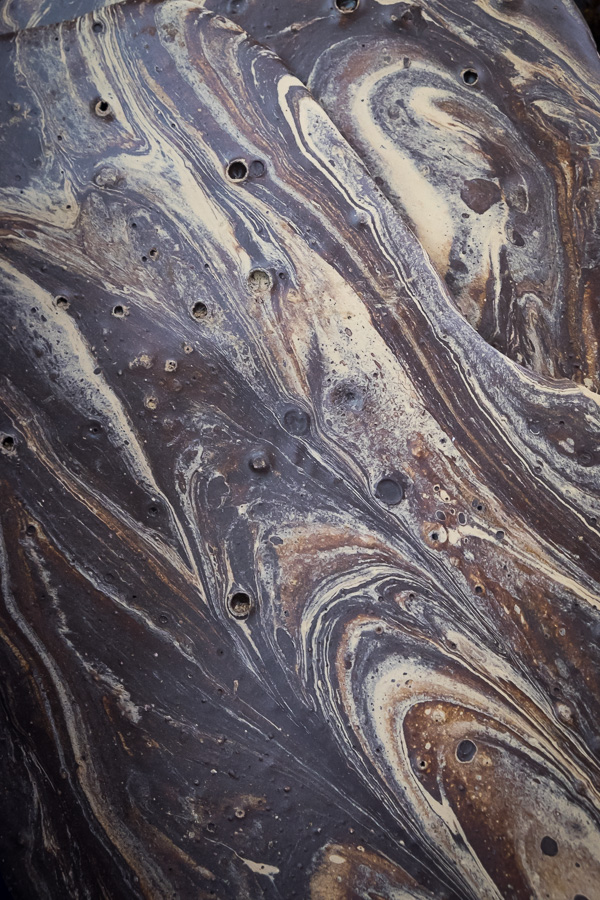 From there we wandered further into the market where fresh flowers (Ecuador is one of the world's biggest producers of roses), fresh fruit, potatoes (Ecuador is one of the world's biggest producers of potatoes – with over 500 varieties to choose from!), herbs and vegetables were prevalent.
While we were talking about the different fruits I was not familiar with, an announcement came over the speaker system which prompted Pablo to point out to me how clean and ordered the market was. I had actually noticed this myself – it is a stark contrast to the markets of Central America that's for sure. The announcement was actually to alert the stall holders that the municipal garbage truck had arrived.

Essentially, the council sends this garbage truck every day at the same time and it stays at the market for 1/2 hour. The stall holders have this period of time to take out all their rubbish and clean up around their stalls, because once the truck leaves, governmental "secret shoppers" come to the market to inspect the stalls. They can revoke licences if the stall holders are not keeping to the strict hygiene standards.
Finally, we passed through the super-clean food stalls where there was tons of fritada, as well as hornado de chancho – a whole roasted pig with the skin crackled with a blowtorch. I will definitely be coming back to try!
Ecuador really has cleaned up their markets to a phenomenal level including mandating that all food stall must use filtered water. Another regulation is that you can't have produce (eg bakery goods) displayed next to an open door, they have to be displayed further inside the shop and out of the direct pollution of passing vehicles. Quite amazing really!
From the market we went to the bakery "Las Quesadillas de San Juan" which is one of the few remaining traditional bakeries (they started in 1935). As the name would suggest – their specialty is quesadillas, though they make other bakery products and also sell ice-cream these days.
Quesadillas in Ecuador are completely different to quesadillas in Mexico which are again completely different to quesadillas in El Salvador. Ecuadorian quesadillas have a base made from pasta and a filling that is more like a muffin, and are not as sweet as one might suspect given the basic ingredients of egg yolks, cheese, potato flour and sugar. Essentially the muffin filling is spread onto the round pasta base and then the edges folded up to form a rough pentagon. They are then baked in a brick oven.
After I had a crack at folding my own quesadillas, we headed upstairs to sample these famous treats as well as a hot chocolate with mozzarella. Yes, you read that correctly. Ecuadorians serve their hot chocolate with mozzarella cheese! And you know what – it actually works 🙂

Our final stop was Graciela's house where we made empanadas de morocho, tamales and pristiños in her tiny kitchen. The empanadas were made from corn masa and filled with a mixture of minced beef, rice, carrot, peas and spices. These were then fried in hot oil before serving, and were really delicious with their really crispy outer shell.
The tamales are also corn based with a filling of cooked chicken, one raisin, a small piece of hard-boiled egg, and a beef and capsicum stew, and steamed in leaves to cook. Graciela's tamales were much, much more tasty than the tamales I had in Guatemala and other tamales I've tried in other places. They were really, really good!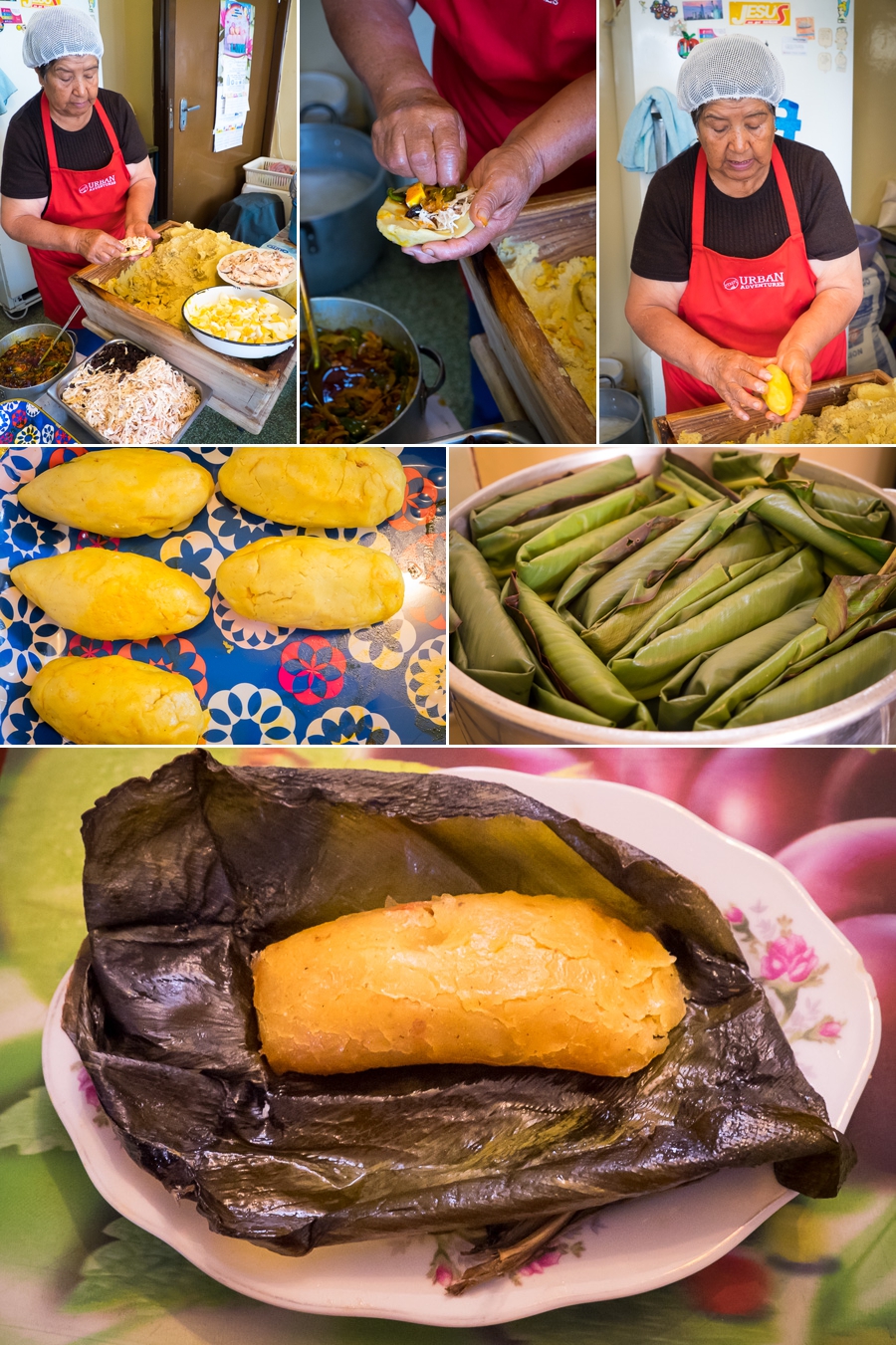 The pristiños are another dough that are folded into a very particular shape (I was actually quite good at this), deep fried and then served with a sweet syrup – miel de panela. Deep fried dough with syrup – of course it tasted good 🙂
This feast was served with "Tree Tomato" (a type of tomatillo) juice and was a great finish to a really awesome morning.
Recommendation: Pablo was a fantastic guide and full of information about Ecuador's past, recent history and the rapid changes that have taken place in the country, and of course, Ecuadorian food.
Cost: USD$103. Includes snack and lunch
Time: ~5-6 hours
Booking: http://www.quitourbanadventures.com/