First port of call on the Río San Juan was the La Esquina del Lago Jungle River Lodge for a few days.  It's located in the Los Guatuzos Nature Reserve and although it is one of the key fishing lodges in the area, it also offers some other interesting options as well.
The Lodge is just across the river from San Carlos and a much nicer place to stay than in the town – especially when you can ask at any time to be ferried across to the shops if you do need to get something.  Philippe, the owner, has created a place that again fosters that sense of community that I so love, with a wonderful patio with tables and chairs where we all ate together, as well as other common areas with hammocks.
The staff are all wonderful and the food is really amazing – the fish carpaccio and the baked snook (freshly caught by some other guests) we had on our last night there was absolutely brilliant!  What you would pay at least AUD$50 for in Australia was only $10!
Unfortunately Lake Nicaragua and the Río San Juan are both very dry at the minute after 3 years of drought, but it did mean that we could walk out to a sand bar directly from the Lodge.  There were lots of left-over vestiges from the large crowds that descended on the sandbar during Semana Santa the first time I went, and a truly incredible sunset.
The second time, Caite and I tried to hike across to where the pelicans were all sitting but sank up to our calves in mud and had to turn back.   We ended up sitting down on the lake shore to watch the sunset and were treated to the most spectacular sight!    The pelicans had decided to come to us!   All several hundred of them!
The below are all pelicans, and it still does not capture the magnitude of the migration – this was one of several waves of birds heading off to another part of the lake I assume.  They flew directly overhead and just kept on coming.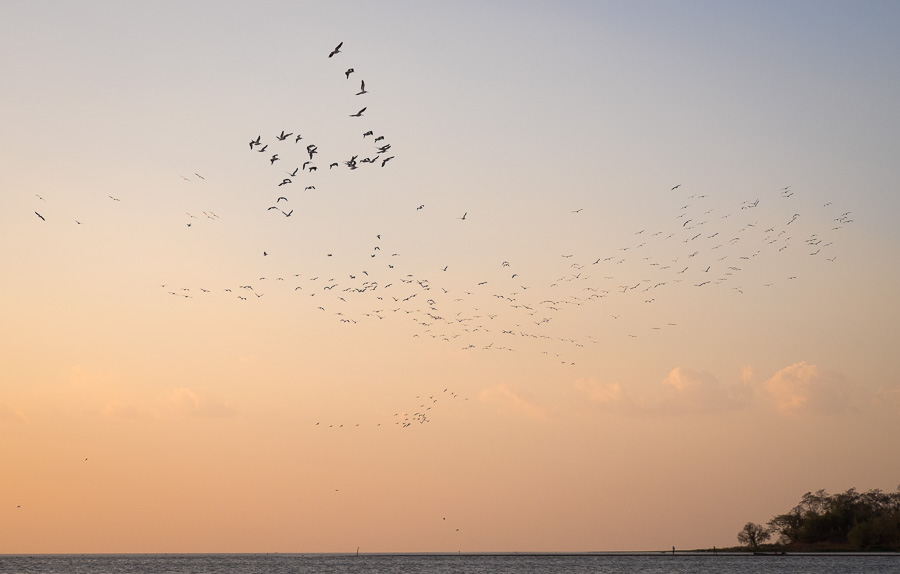 A really beautiful thing to witness.