Turkmenistan is, in a similar fashion to North Korea, a very closed country, which can make it quite difficult to visit. We needed Letters of Invitation (one of our group was refused this because in his photo he wasn't clean-shaven and yet didn't have a full beard … just a 5-day growth) and Visas, both of which, fortunately, were arranged by the company I was traveling with on our behalf.
This was also evident in the border crossing from Uzbekistan to Turkmenistan, which was the longest yet. 9.5 hours in total, though to be fair, at least two of those was because a member of the group had overstayed their Uzbek visa by 2 days and they wouldn't let her leave the country! The police ended up coming to get her and she had to fly to Tashkent to buy an exit visa – then, and only then, would they let her leave. She'll rejoin us in Baku, Azerbaijan!
For Turkmenistan, it is mandatory to have a local guide, so Nadia met us at the Turkmen border and helped us get through there relatively quickly. As always, it's the truck that takes the most amount of time – I can't imagine how long it would have taken without this assistance! We then headed a few hours down the road to bush-camp about 5km from Konye Urgench – one of 3 UNESCO listed historical sites in Turkmenistan.
Myself and the other Australians were really struck by the landscape in which we were camping. We all remarked that it was difficult to tell whether we were in northern Turkmenistan, or north-west Victoria really!
We entered Konye Urgench as soon as it opened the next morning, and Nadia gave us a guided tour. This city has been around since at least the 4th Century BC, and was destroyed on at least 2 occasions, by Genghis Khan (in 1221 he burned the city and flooded it), and Tamerlane (in 1373 he razed the city and massacred the population). These days, most of it remains hidden underground, with just a few structures scattered over a wide, open area.
We started off at the Turabek-Khanum Mausoleum (from the 1300s).
This structure has an amazing dome of 365 interlocking tiles that make up a "night sky", as well as 24 pointed arches, 12 bigger arches below that, and four big windows. Note the numbers here: 365 = days in a year, 12 = months in a year, 4 = weeks in a month, 24 = hours in a day.
Although nobody is certain who is buried here, it is dedicated to Turabek-Khanym, a Mongolian princess and a patron of women. For this reason, women in particular, come to leave offerings.
This 60m, now very crooked, tower is from the 11th and 12th centuries, and the highest in Central Asia. It is ringed by eighteen ornamental strips and three belts of inscriptions in Kufi, and used to be crowned with a wooden lantern.
This is one of the few surviving monuments from the pre-Mongol era and was originally co-located with a Madrassah and Library. The conical (rather than dome-shaped) roof was typical of the 12th Century.
This low, non-descript hill is actually one of the key pilgrimage sites in Konye Urgench, where women roll down the hill to promote fertility. Unfortunately, we didn't get to see anyone doing this, but I do love one of the legends for how it got its name. This legend posits that the site used to be a Madrassah, and when the Mongol horde descended, the 40 scholars who lived there prayed that it would be spared. To achieve this end, the Madrassah turned itself upside down, and the scholarly works are now buried beneath the hill awaiting discovery.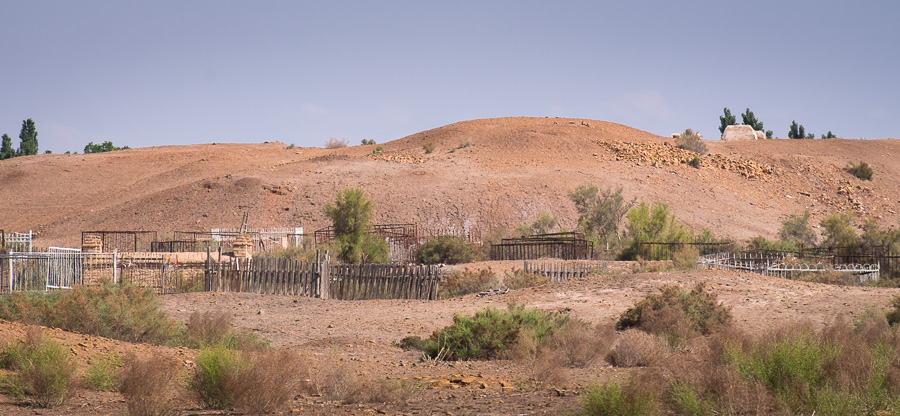 There are several other structures in this very spread-out site, and you really do need a guided tour to understand what you are looking at and its significance. Definitely worth a visit if you happen to find yourself at the northern edge of the Karakum (Black Sand) Desert.