My first week in Guatemala I'd read about the Kids Restaurant. As the name suggests, this is a restaurant that is run entirely by kids (under adult supervision), but it only opens its doors every second Friday. Luckily I was there on one of the Fridays it was open so I decided to try it out.
It is one of the initiatives of an NGO called TESS, which offers the opportunity for kids from poorer neighbouring communities to come to the centre after normal classes to obtain computer and hospitality skills as well as English classes. This gives them amazing opportunities in Antigua – which is the foodie capital of Guatemala and now almost entirely revolves around hospitality and tourism.
The restaurant was a little out of town, but they provide transport out for the patrons. Once we arrived, we were met by the kids who introduced themselves in English and led us in to seat us at our tables.
The menu for the day was:
Rainbow smoothie
Black beans with bacon soup
Chicken Pitta Bread
Apple Crepe
All of which was really quite good, and there was heaps of it!
On this night, the older kids were in the kitchen cooking with their mentors.
The younger kids were waiting tables
And we were there on their special Fathers Day dinner where half of the patrons were actually the dads of the kids (table on the left), which was really cute.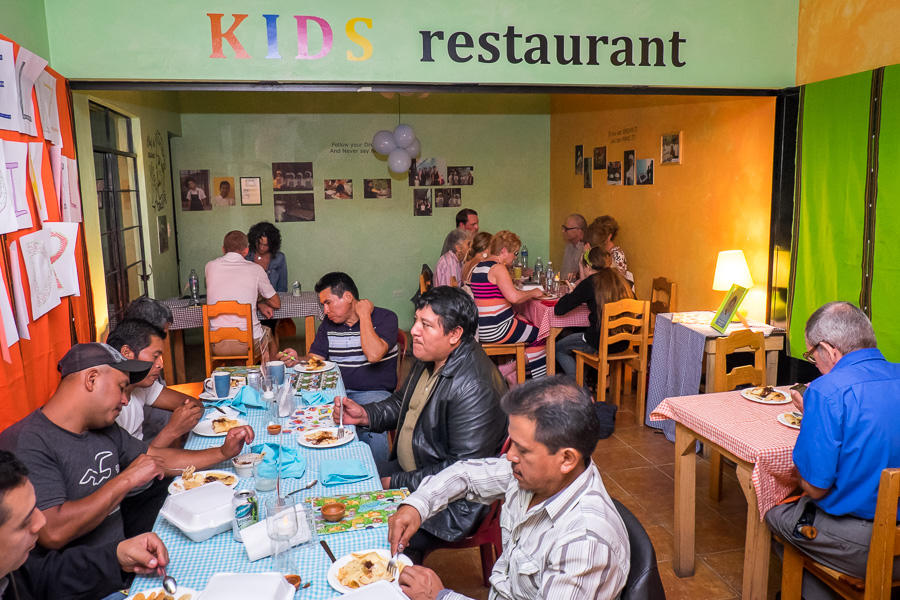 Recommendation: If you are in Antigua when the Kids Restaurant is running, it's a very different and worthwhile experience, and all for a very good cause. The kids are lovely and the food is good.
Cost: 100 Quetzales for 3 course meal plus the drink they prepare. Beer, softdrink, etc is extra.
Time: About 3 hours from pickup to drop off