A quick half-day hike just outside of Quito is to the cross on Volcán Ilaló. And, unlike most of the hikes in this hiking mecca of a country, you can actually get to the trail-head on public transport!
However, it turns out that I didn't need to worry about that as my friends Suzi and Marcelo were also interested in climbing to the viewpoint. They picked me and two more of their friends up at around 8am and off we set to the Chapel in San Pedro del Tingo – the starting point for the hike.
Already from the Chapel, you have nice views over parts of Quito and out to the surrounding mountains.
But if you are keen – you can also do the climb.
I have to admit, this was the least interesting hike I've done in Ecuador ☹
Because it is so close to Quito and so easy to get to, it is extremely popular. The trail is very obvious, but is in really bad shape, mostly I suspect due to the off-road motorcyclists who also attempt to do the climb while trying to avoid hikers. On this day, there was a group of 4 of them catch up to us, which was really frustrating because of the noise and also the fact that they kept blocking the path (they were having a lot of trouble getting the bikes up the trail and resorted on several occasions to using ropes to pull the bikes up).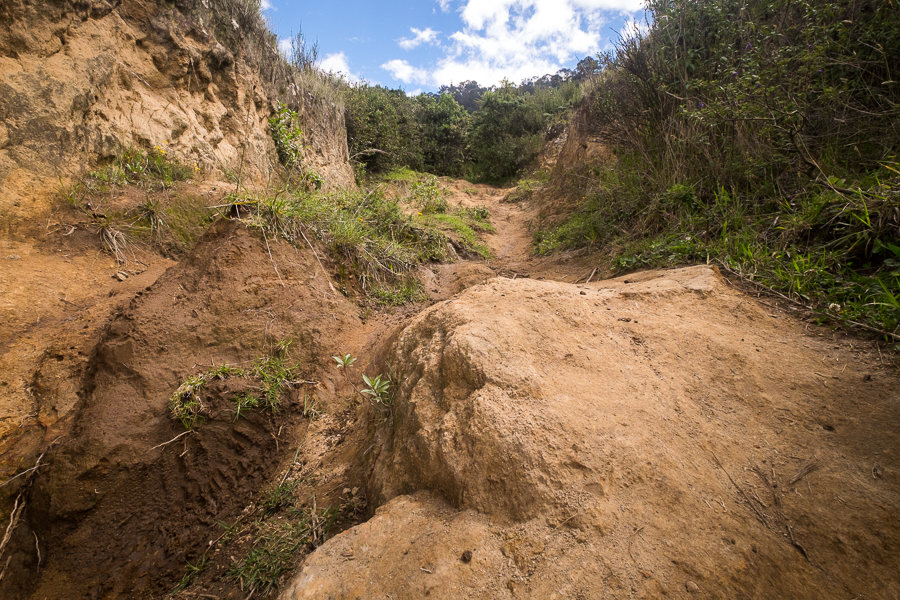 The hike is surprisingly steep – a 30-ish degree grade that doesn't let up for about 2 hours! And this is one of the easier hikes in Ecuador!
There are several small crosses along the way, but unfortunately I couldn't find any information about why they are there.
And the main event – the big cross – which is not actually at the summit of the volcano, that's another 40 minute hike away.
But the views from here were lovely, and would be truly spectacular if it were completely clear, as Volcán Cotopaxi would loom large on the horizon.
Recommendation
If you don't have a lot of time and would like to do a relatively "easy" hike around Quito, Volcán Ilaló might be a good option – especially if you are starting your acclimatization for hikes at greater altitude. Personally, I'd recommend going to Otavalo and doing the Laguna Cuicocha rim hike as a much more beautiful option, but it depends on your timing and route.