My last destination with the MAdventure group was Yazd – a desert town renowned for its well-preserved, mud-brick architecture and fascinating "Badgirs" (wind-catchers).
I didn't think it was possible to get hotter than Esfahan and Persepolis, but I was absolutely wrong. Yazd is something else in the heat stakes – 43 degrees for the duration our stay!
Unfortunately, our visit coincided with a public holiday (we seem to have hit several of these in the last 2 months) so there was very little open – including the bazaar where I had intended to go souvenir shopping. Instead, I called into the Jameh Mosque, which apparently has the tallest minarets in all of Iran.
More beautiful tile work and architecture
and I tried not to intrude too much on these women praying.
From there, I went for a choose-your-own-adventure walk through the mud houses of the UNESCO listed Old Town. Around almost every corner, you could spy a badgir – essentially a giant wind catcher used to cool the building. These work in one of 3 ways (read the linked article for more information), the most common of which is where wind enters the tower and is directed downwards. The rate of airflow is what cools the interior, rather than the air itself being actively cooled.
My route tended to be dictated by the arches and any undercover sections I could find.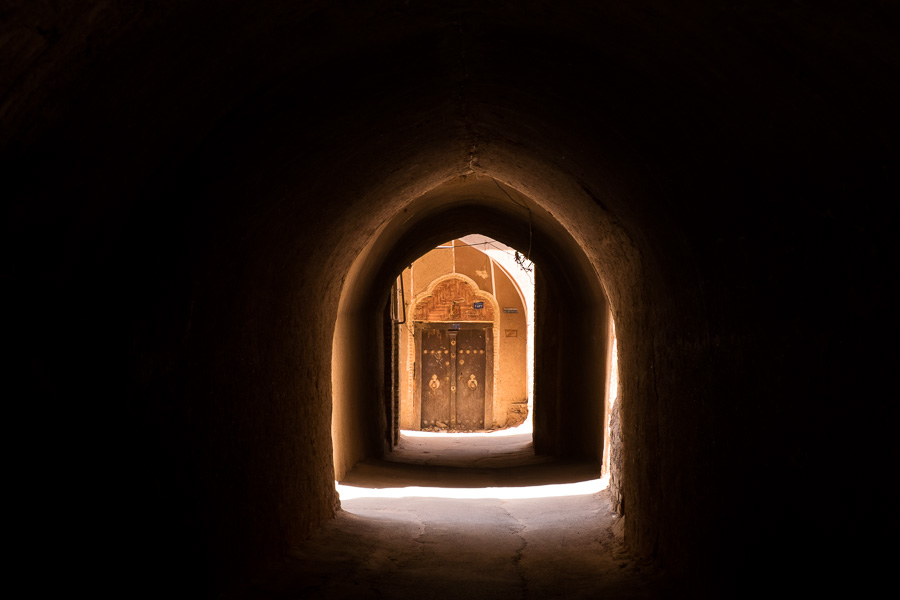 I came across several steep stairwells leading underground – I believe these were accesses to to an extensive canal system (unfortunately all were locked and I didn't have time to visit the Water Museum).
And this water reservoir, again cooled by badgirs.
The other interesting thing I noted was the door knockers. There were often two of them and apparently which one you use depends on your gender.
This stems from the fact that although women must be completely covered up while in public in Iran (it is a law, not just a religious thing), they can wear whatever they like in private and with other females. So when someone knocks at the door – how is the lady of the house to know whether she has to cover up or not? Simple! If it is a male visitor, he uses the knocker shaped like a solid bar which makes a deeper knock. If the visitor is female, she uses the ring-shaped knocker which results in a lighter knock!
After walking around for a couple of hours, I went and cooled down in the air-conditioning of the hotel for a while and then headed out to see the biggest badgir of all in Dowlatabad Garden.
And while the badgir is impressive, I found the marble baths and stained-glass windows in the building beneath more beautiful.
Is it worth the 200,000 Rial (USD$6) entrance fee? In a word – "no" – especially since Iran in general is quite a cheap country to visit. Though the entire complex is meant to be a classic example of Persian desert garden, if that is your interest.
Of course, no trip to Yazd would be complete without passing by the Amir Chakhmaq Complex at least half a dozen times. And while I didn't go in (I'm not sure you can?) its exterior is one of the classic views of Yazd.
Although Yazd was interesting and I could have easily spent a few more days there exploring, it did not have as nice a vibe and did not feel as safe as Esfahan – a sentiment shared by several of the women in the group who had issues with the some of the attention directed at them by boys and men. None of us had had this experience in Esfahan.