I really, really like the town of Loja in southern Ecuador!
I was fortunate enough to be there for part of the Festival Internacional de Artes Vivas Loja, but aside from this, I also just really enjoyed the vibe of the town itself. I also love that the architecture is very different to what you see in the Historic Centre of Quito or in Cuenca – much less grandiose.
Doing things around the wrong way, it wasn't until my final morning that I joined Free Walks Loja (now Loja Tip Tours I think) for – you guessed it – a free walking tour of the town 🙂
These guys have only just started up, and I hope they get the funding they were seeking to grow the business, because these walking tours are always a great way to get acquainted with a place and learn a little about the history in particular. I try to find them everywhere I go.
For example, one of the most famous landmarks in Loja is the Independence Monument. But it is just another monument/clock tower (and not terribly interesting) unless someone actually tells you about its history and the stories depicted in the panels around the 4 sides of it.
Aside from participating in the Festival, and learning a little about the history and architecture of Loja – the other thing I indulged in while I was there was trying as much of the typical Lojano food as possible. For those of you who have been reading this blog for a while, this will come as no surprise 🙂
Bolón de Maní at Ricuras de Sal y Dulce
I started off with something that isn't actually typical to Loja, but that I'd been super-keen to try ever since reading about it on the web – a Bolón de Maní. A bolón is essentially an Ecuadorian dumpling made of green plantains mashed with a variety of other ingredients – in this case – peanut paste (in Ecuador you can buy pure peanut paste [very cheap] as well as peanut butter [very expensive – go figure!]).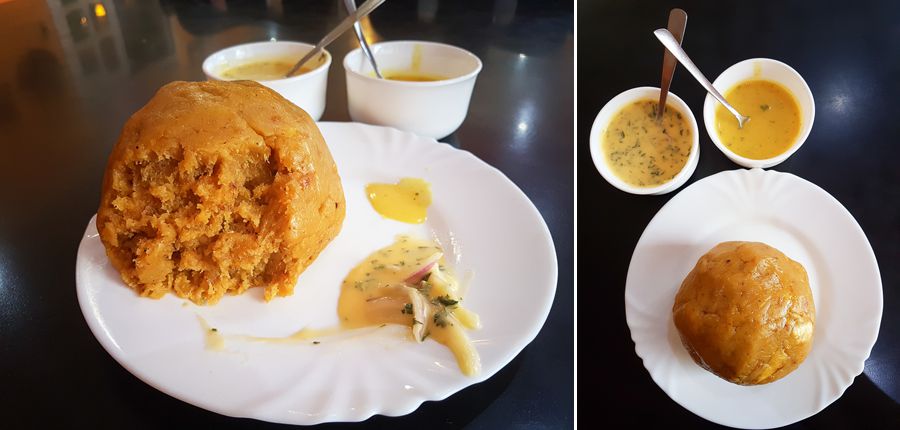 Mine was bigger than a softball/baseball, and soft and warm with an obvious peanuty flavour. It was served with 2 sauces: chile and coriander, and what tasted like spicy curry. Absolutely delicious and enough for about 3 meals for me – all for USD$3!
Cecina at Mama Lola
I do use TripAdvisor as I travel, but find that their restaurant/cafe recommendations are a little hit and miss. Probably because everyone's taste-buds are different and I'm a bit of a self-admitted food snob. But I decided to head out to try the #2 ranked restaurant in Loja – Mama Lola – which serves traditional Lojano cuisine. I'm sooooo glad I did!
The first thing to know about Mama Lola is that it is extremely busy with locals coming in for lunch on weekends! I was the only gringo there, but there was a queue out the door waiting for tables. In the end I was joined at my table by 2 locals – a very common practice here and a wonderful way to meet new people and practice my spanish 🙂
I ordered the Cecina, which is a very thin pork steak marinated in cumin and garlic, and one of the most typical dishes of Loja. It usually comes with yuca and other accompaniments, and, in typical Ecuadorian fashion, I was presented with about 3 times as much food as I could possibly eat.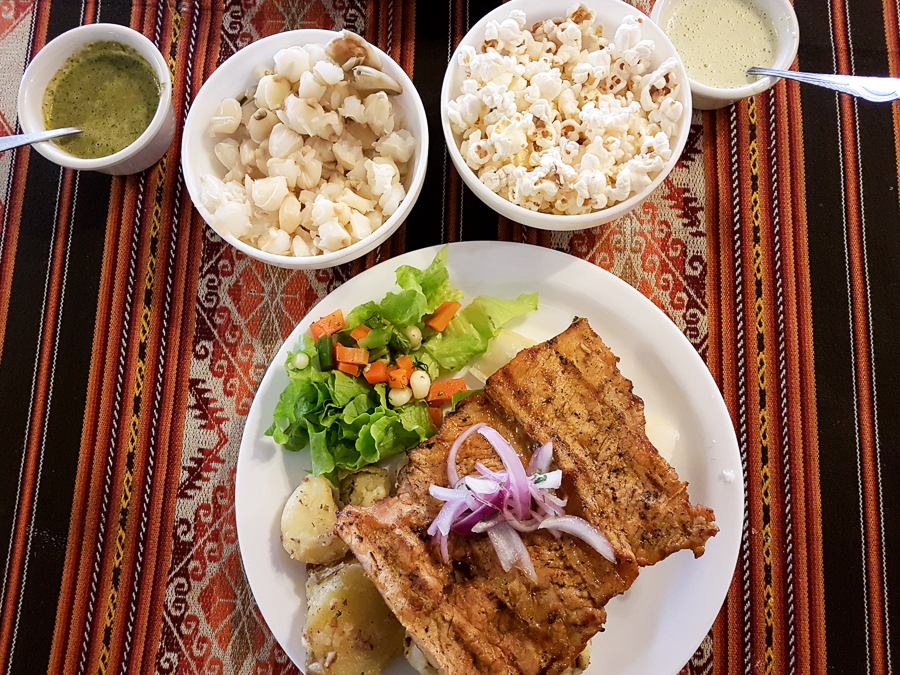 Yes – that's potato bake, salad, pork, corn (top right), popcorn, two different sauces, and you can't actually see the large chunks of yuca hiding underneath the pork steak. It was very good, but I have to admit that I still prefer the fritada (braised pork) or hornado (slow-roasted pork) that you find in Quito.
Despite not being able to finish my meal, I spied the most incredible looking desert over on the next table and I figured I had to try it. It turned out to be an amazingly light and fluffy cheesecake – the best I've ever eaten – and I have to admit I almost ordered a second one to take home with me!
And can you guess how much my cecina, my cheesecake and a large limonada drink cost me? USD$7.25. Ecuador is a fantastically cheap country for eating.
Repe at the Mercado Central
The other "must try" dish from Loja is a thick, hearty soup called Repe. It is made from a base of green bananas, onions, garlic, milk, cheese and coriander, and tends to have lots of "bits" in it.
The one I tried at the Mercado Central was the Repe de Arveja con Guineo – or Ecuadorian split pea and green banana soup. And once again, it was cheap as chips (USD$1) and absolutely delicious. Actually, I don't think I've ever had a bad soup in Ecuador. They really know how to do them well!
I accompanied this with a typical herbal tea: Horchata Lojana – a warm, very sugary, rose-flavoured drink with spices. It was OK, but I don't particularly like sugary drinks (despite my sweet tooth), so it was both the first and last time for Horchata.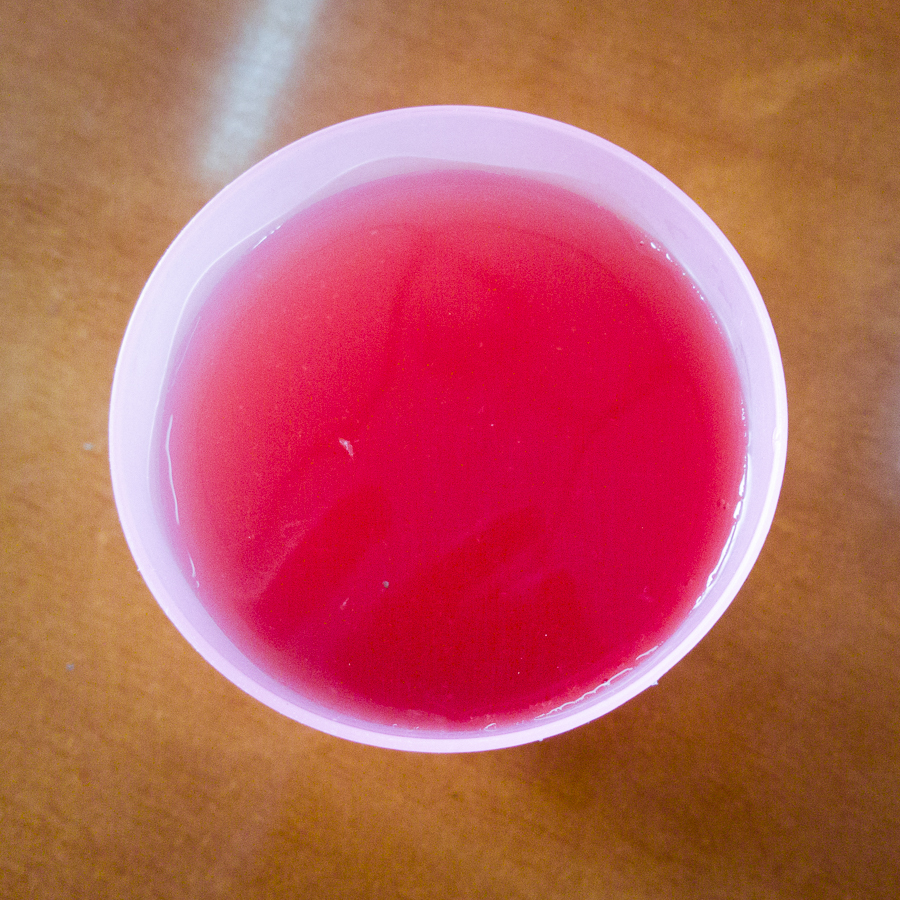 On my way out of the market, I decided to buy a tray of Lojano sweets including Bocadillos Lojanos (small squares of panela and peanuts) and Lojano figs. Not sure what the other ones were, but the bocadillos were definitely the pick of them!
And on a last minute whim as I headed for the exit – I decided to try Sábila. I had no idea what it was (the lady I bought it from couldn't explain it to me) and I had never seen the word anywhere before – so why not! Oh what a big, big mistake!
Turns out Sábila is a drink made with Aloe Vera. And although it has almost no flavour, I could not cope at all with the texture of it. The best way I can describe it was that it was like drinking a jellyfish, and every sip I took, the aloe would stick to my lip and trail the glass as I moved it away from my mouth.
It was beyond revolting!
I pride myself on being able to eat almost anything, but I have to admit I only managed about 3 sips and couldn't do any more. I gave the almost full glass back to the lady and took my leave 🙁