For the second time this year I found myself visiting my friends in Portugal and eating waaaaaaaay too much food! This trip I added a few more Porto dishes some others from the Algarve, but this post focuses on the food of the Azores, where I spent 5 days exploring the largest island – São Miguel.
For those unfamiliar with Portuguese autonomous territories, the Azores are a series of 9 volcanic islands located between Europe and North America. Given that they are separated from Portugal by over 1,000km, they have their own unique dishes, and my friends Pedro and Conceição were determined to have me try as much typical Azorian food as possible during my short stay!
It all started with a drink that can only be found on the islands – Kima. A masterpiece of slightly fizzy, sweet passionfruit juice (those who know me well know that I love anything with passionfruit) that the wasps loved as much as I did! Much better than Passiona!
Then some Bolos Lêvedo when we got home from the hot springs at 11pm on the first night (and every breakfast thereafter)!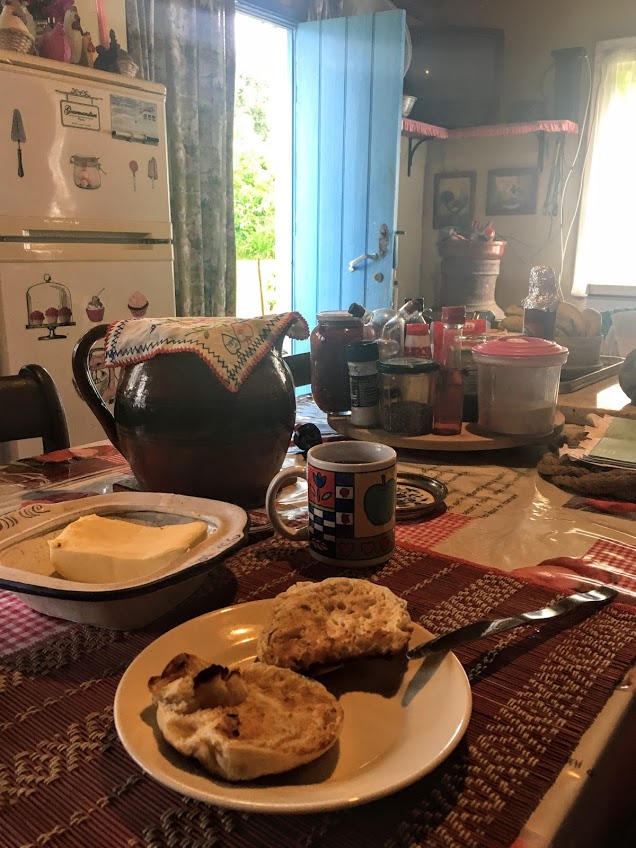 These are like English Muffins, but sweet, and absolutely awesome with butter. Very, very addictive!
The next morning started with a Queijada de Vila Franca Do Campo, yet another concoction of egg yolks, sugar and milk dreamed up by the nuns in the 16th century, for morning tea. This queijada is traditional to the island of São Miguel and there is a similar one – Queijada da Graciosa – which, no surprises, comes from a different island in the archipelago: Graciosa. It was yummy (of course), but not as tasty as some of the other treats I've tried in Portugal (the Jesuita is still my favourite).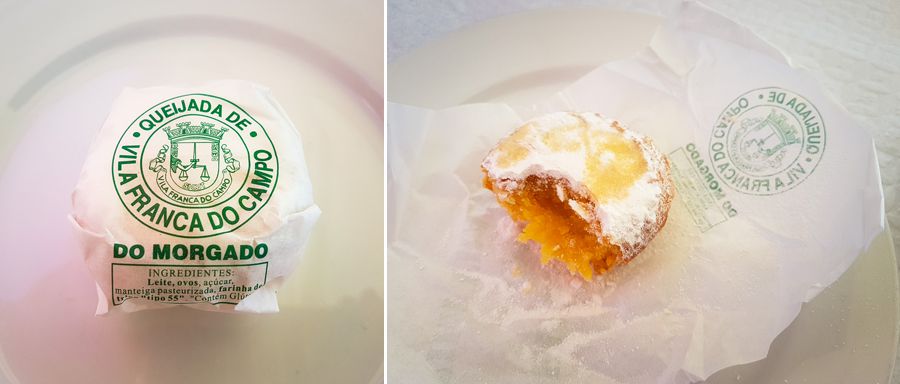 Had to hang out until 2pm for lunch, when we had a booking at Tony's Restaurant in Furnas for me to try one of the absolutely essential foods of São Miguel – the Cozido das Furnas. This is basically a dry stew that has been cooked for several hours in a volcanic fumerole near the town. You must pre-order it, as the restaurants need to know how many of the large metal pots of layered chicken, beef, pork, blood sausage, cabbage, carrots, potatoes and yams they need to prepare, and then get them out to the Caldeiras da Lagoa da Furnas early in the day for cooking.
Each hole can fit two of the pots and is labeled with either the name of the restaurant, or a number (locals can also bring their Cozidos here to cook) so there is no confusion as to who owns which dish! We were fortunate enough to see one local couple bring their food to cook, and the process of burying it.
Back at Tony's, we started (after 48 minutes of waiting!) with the usual fresh cheese, bread and Molho de Pimenta da Terra – Azorian spicy sauce.
And then a few minutes later, out came the Cozido. It was absolutely enormous (this was a plate for 1 person) and piled high with meat, veggies and rice.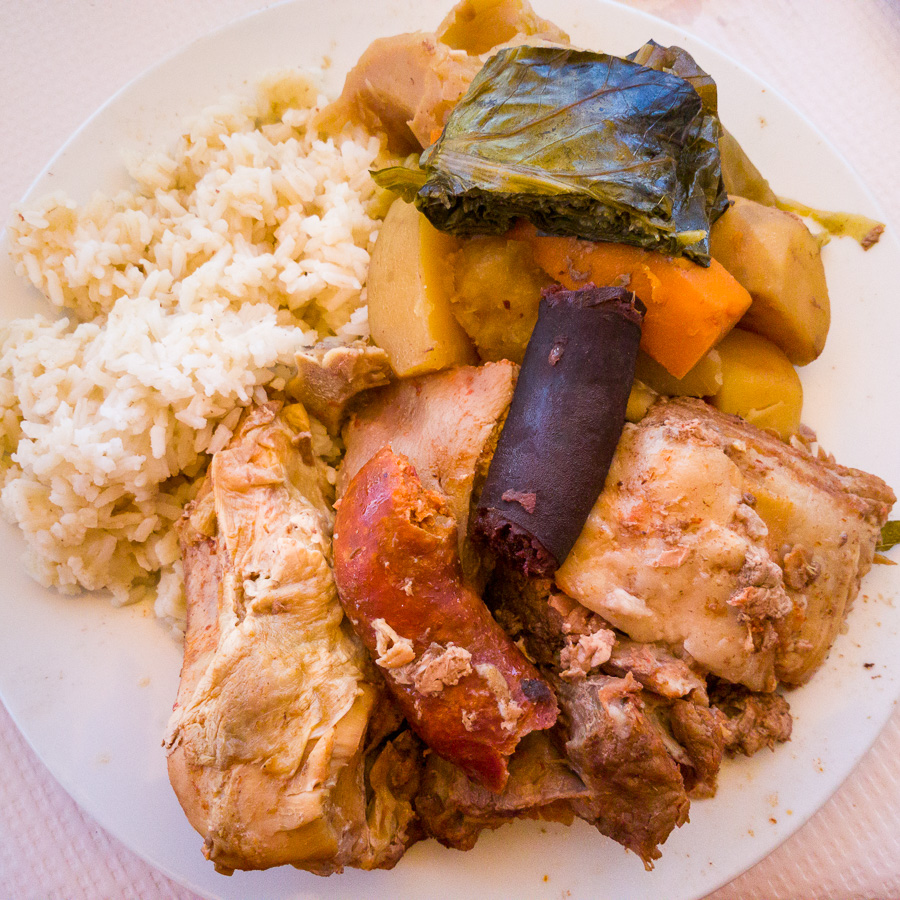 I didn't touch the rice, ate about 1/3 of the veggies and couldn't quite make it through all the melt-in-your-mouth, falling-apart meat. And even with that, I'd eaten about 4 times as much as I should have. Oh my stretched stomach!!
There is a very distinct flavour to the Cozido that you would be hard-pressed to identify if you didn't know how it was cooked. Definitely a tinge of sulfur present there… I wonder why they don't do this in Rotorua, New Zealand?
And although I was over-full from the Cozido, there always has to be room for dessert. We ordered the passionfruit and the red bean dessert, but they bought us a bonus pineapple dessert for taking so long to get our cheese and bread to us at the beginning of the meal. All incredibly delicious, but oh my over-stretched stomach!!
Fortunately, that was all the eating involved on Day 2, though I never really recovered for the rest of my time in Portugal 🙂 It didn't stop me from trying things though – after all – how often does one make it to the Azores?
The next of the typical Azorian dishes I had to try was the Chicharro – fried Atlantic Horse Mackerel with Molho de Vilão (another special sauce). I have to admit, of all the things I tried in the Azores, this was my absolute favourite! You really can't go wrong with fried fish and this was super-super tasty, especially when dipped in the sauce. Didn't go much on the pickled onions though…
Then, when we got home on Day 3, Conceição had bought some Chorizo paste for us to have as part of a light dinner. This is a brilliant concept and one I hadn't come across before. Basically, you take a chorizo, remove the meat from the casing, and puree it with butter. Voilà! Chorizo paste. We had it with a few different types of bread (the darker one is Massa Sovada – a sweet bread from the Azores), fresh cheese and the spicy Azorian sauce.
Day 4 saw us in Ponta Delgada (the administrative capital of the Azores) for lunch, where I could try 2 of the remaining "key" Azorian dishes. I started with a 1/2 serving of Lapas – limpets cooked in a garlic, butter and red pepper sauce. These were a little like mussels, but much milder in flavour.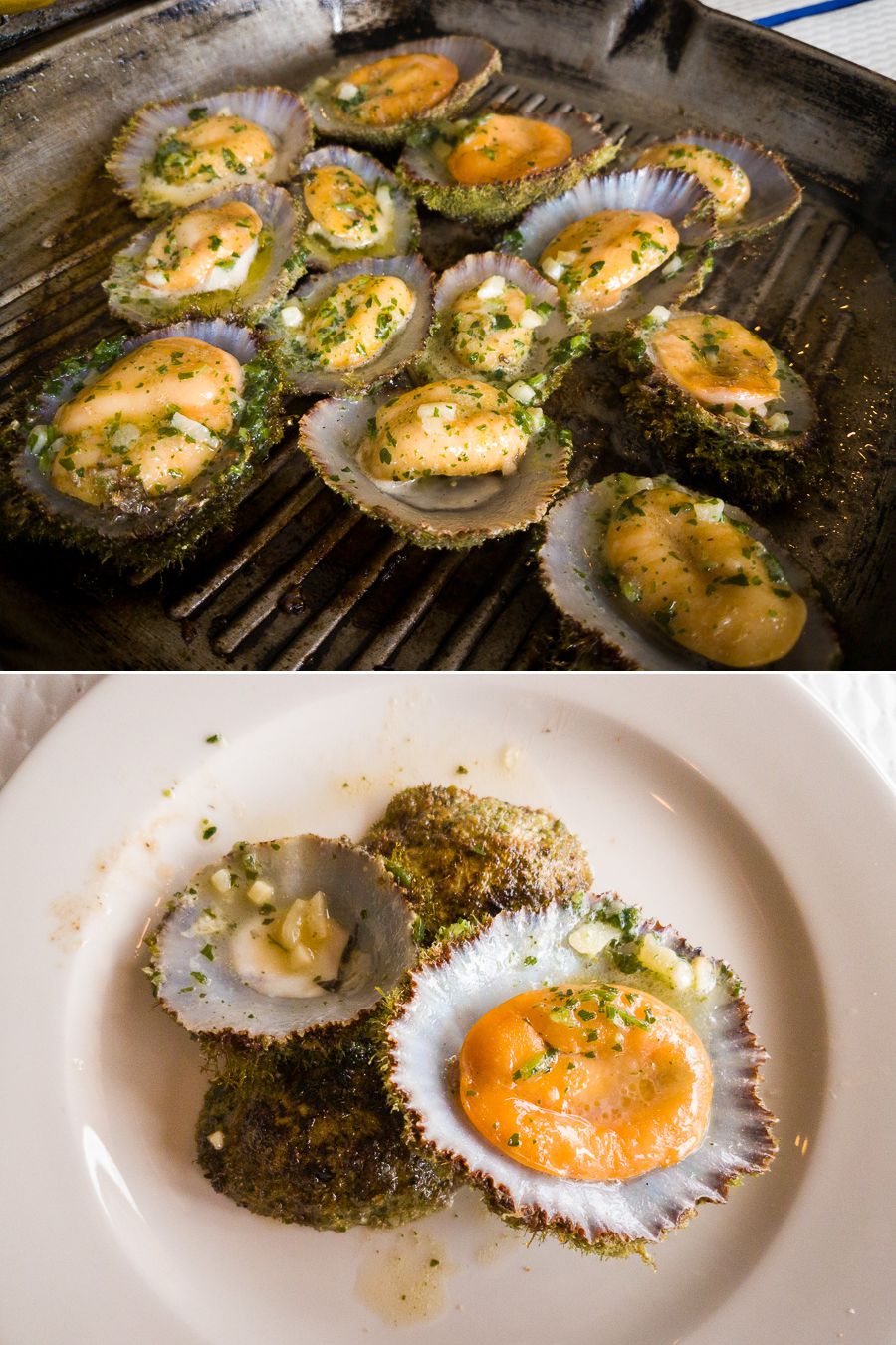 I followed this up with the Morcela con Ananas – blood sausage with pineapple. I've eaten blood sausage many times before and really like it – and the pineapple (lots of pineapple grown in the Azores) helps to cut through the richness nicely.
The Azores are also known for their dairy products (they have very happy cows) so, of course, I had to try a local icecream or frozen yoghurt. I went with the frozen yoghurt when we stopped at a cafe for a coffee. Turns out chocolate goes much better with icecream than yoghurt!
Finally, I did manage to find a treat to rival my beloved Jesuitas! The orange queijada at Chá Gorreana is a small parcel of moist, orangey deliciousness that is one of the best "cakes" I've ever eaten in my life. Forget the tea! This is the reason enough to visit the tea plantation 🙂
The one key dish I missed from São Miguel was the steak – purported to the the best in the world (though I'm sure many other countries would argue this point). I just didn't have enough time or stomach space to fit it in … so maybe there is another trip to the Azores in the future!