Arriving in Antigua, Guatemala I was so happy to discover that I didn't have to look far to find foodie workshops.   I started my gastronomy exploration with Taste Antigua's Street Food Tour and then signed up for two cooking workshops – one with El Frijol Feliz (The Happy Bean) and the other through La Tortilla Cooking School – over the following days.
El Frijol Feliz was first and the great thing is that you got to choose which dishes you wanted to prepare.  I chose those that I hadn't tried before and that I wouldn't be preparing the next day at La Tortilla and ended up with:
Jocón con Pollo (main: chicken in a spicy green stew)
Chilaquilas de Güisquil (side: chokos and cheese thing)
Picado de Rábano (side: radish salad)
Mole de Plátanos (dessert: bananas with mole)
Then the other girl who did the class with me added
Traditional Guatemalan Rice (side: type of fried rice)
Frijoles Volteados (side: refried beans)
Tortillas (side: "bread")
Felisa was our cooking instructor and Armando was translating (the other girl didn't speak Spanish), but we were right in there preparing everything with Felisa, starting with the Jocón de Pollo.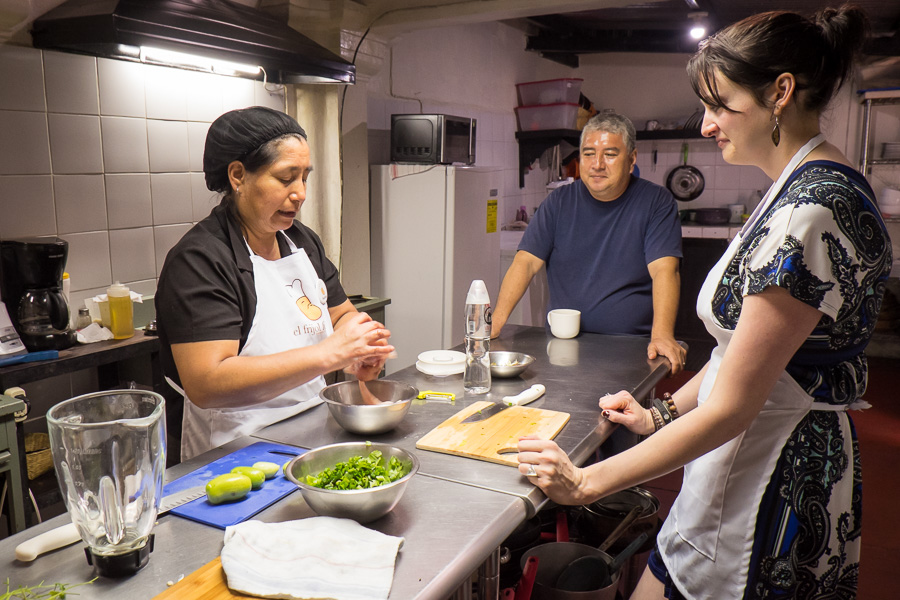 Jocón de Pollo is apparently one of the hottest dishes in Guatemala, but for a person who uses lots of chili in everything, it barely registered on the heat scale.  It was a really good flavor though, and you can't beat that luminous green colour!
The Chilaquilas de Güisquil was actually my favourite of the dishes!  Took me ages to figure out what Güisquil was as there are lots of different types and everyone kept telling me it was type of squash, but it didn't really look like any squash I'd ever seen.   It was only once we started peeling them and I uncovered the sliminess that existed under the tough outer skin that I realized these were Chokos!   Finally, I have found a use for the cheapest vegetable in Australia beyond Granny-Pearl's chocko pickles J
Nobody else in the world knows what a Choko is.  Turns out it must be an Aussie term… and even though I doubt many Aussies know what it is either.   It's that green thing you can often find for 99c in Coles/Woolies and you always wondered what the hell to do with it.   To make the Chilaquilas you basically slice the Chokos relatively thickly and form a "sandwich" with cheese in between two slices.  Then you coat this in well beaten eggs and shallow fry.  It is usually served with a tomato sauce.
The Guatemalan Mole for the Mole de Plátanos turned out to be a little different to the Mexican Mole, although the base ingredient of chocolate is common between the two.  It's not often that I say that something is too sweet for me, but this dessert was seriously, seriously heavy duty rich – couldn't eat too much of it and no, you can't taste the banana at all.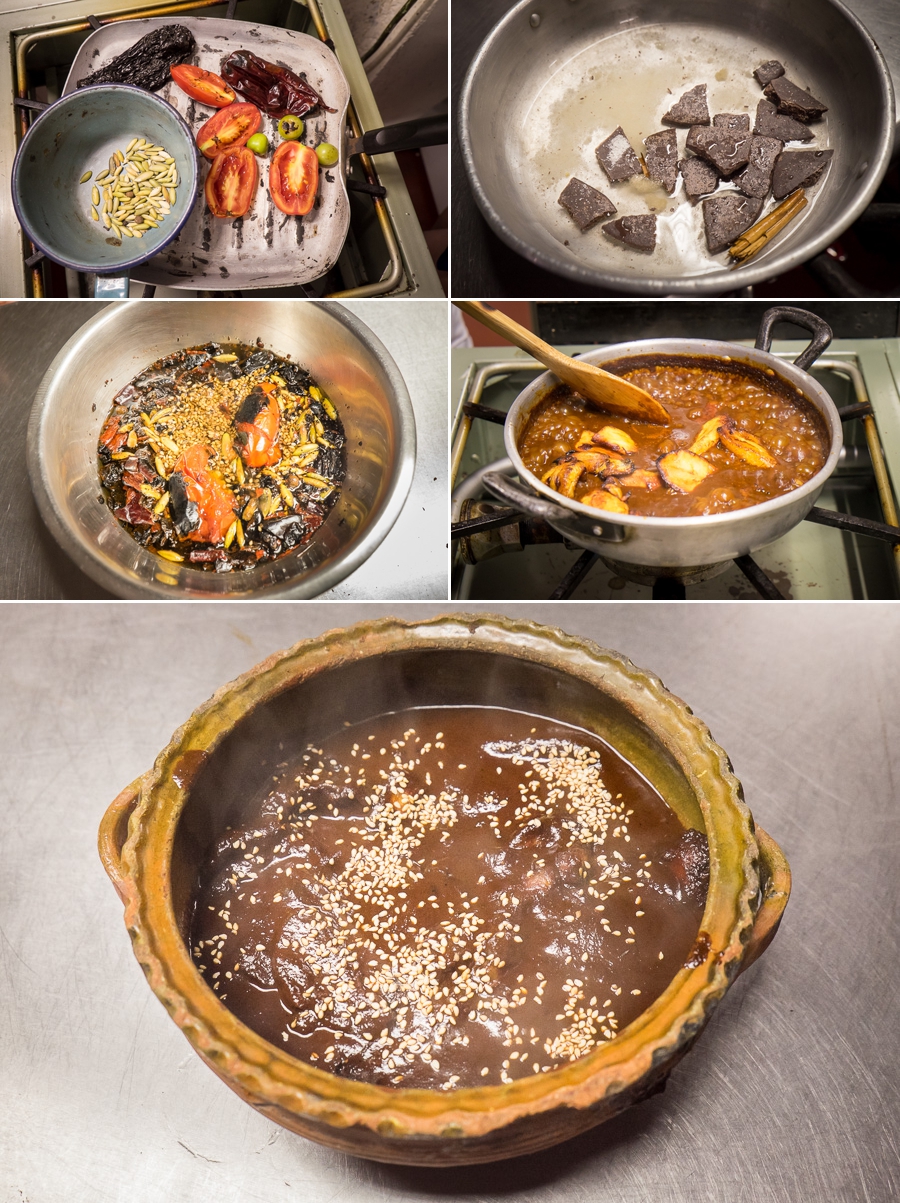 The Picado de Rábano is basically radishes, mint, coriander, onion and lemon juice and was quite tasty.  The Frijoles Volteados were the best I'd ever tasted (even though they don't look like much), the Traditional Guatemalan Rice was also highly addictive, and the Tortillas were, well tortillas kinda taste the same all over Central America.  Ours were perhaps a little more lop-sided than normal…   Here's the complete feast all laid out!
Way too much food for the two of us so I ended up with ½ of it to take home for leftovers!   Nice way to eat cheaply in Antigua and it really was very tasty.
Recommendation:  Great activity if you like cooking and want to try some of the traditional dishes of Guatemala.
Cost:  US$49 to cook 4 dishes (you get to choose – look on the website), though if others in the group are interested in different dishes you usually get to cook more.
Time:  About 4 hours all up