Imagine WWF wrestling – you know that really weird "fake" wrestling that you see from time to time on TV?  Got that good and firm in your mind?  Great!
OK – now imagine WWF wrestling but done by indigenous Bolivian women (Cholitas) wearing traditional clothing.  Yes – this is what I went to see the other night in La Paz!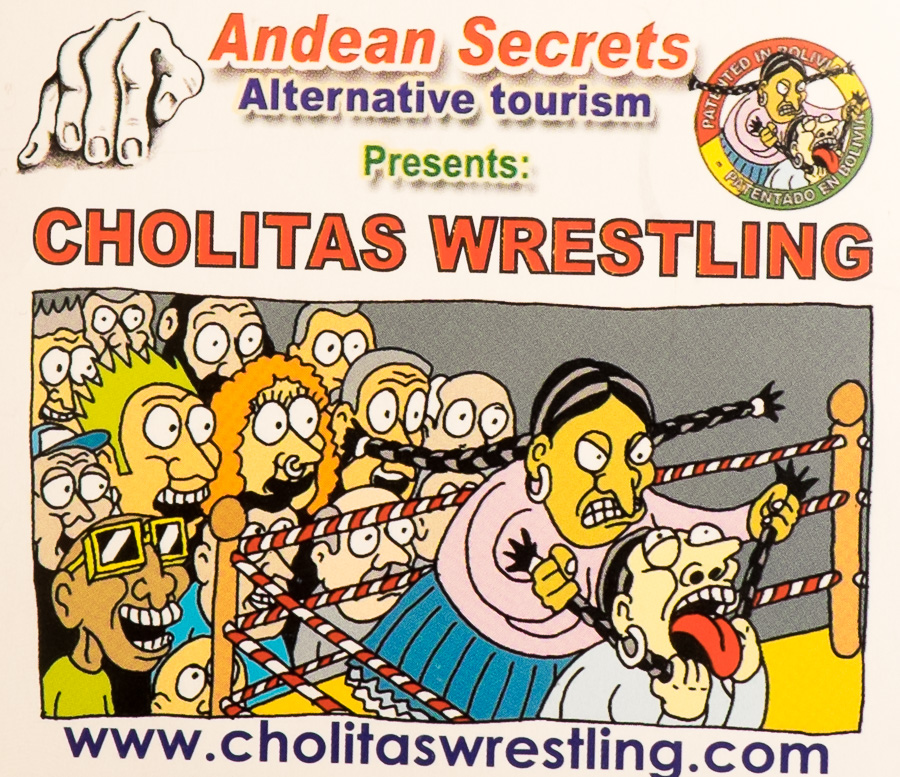 It was held in a large sporting stadium (read shed) that looked like it was more regularly used for basketball.   Overwhelmingly, tourists made up the crowd, though there were a few locals come to witness the spectacle as well.
It's not often that the guys are the warm-up for the girls, but the night started off watching 4 guys having a go.  I have to admit, their efforts were not terribly impressive – I felt they only had a fraction of their heart in it.  So used this time to also pick up my snack (popcorn and full-strength coke) and souvenir from the souvenir stand (all included in the tourist ticket).
Then, after about 20 minutes, the girls came on, and they were much more impressive in their commitment to the activity.  The Cholita in green (below) was very, very sassy – she strutted her stuff around the arena when she walked in for her introduction, danced with several of the guys in the audience and really played it up for the crowd.
There were 3 rounds of Cholita wrestling, each lasting about 10-15 minutes.  It was weird.  It was bizarre.  Here's a small taste of what we witnessed:
It was also really weird because the "referees" also got in on the action in each round – either holding down one of the combatants or fake-punching them as well.
I've never understood the WWF thing and, after this even bizarrer display, I still don't get how people like this type of wrestling (men or Cholitas).   Still – it was an experience!  And you can even have your photo taken with the Cholitas at the end 🙂
Recommendation:  Cholitas wrestling only happens on Thursday and Sundays in El Alto above La Paz.  I went on a Thursday, I suspect the Sunday spectacle is much bigger.  I booked through Hanaq Pacha Travel.
Cost:  90 Bolivianos (~$15) for the tourist ticket, which includes transport to and from, entrance, snack and two trips to the toilet.
Time: About 3 hours including getting there and back.