I visited Baños when I was in Ecuador ~13 years ago and it was quite a sleepy little place where the main attraction was the Pailon del Diablo waterfall.
Whoa – culture shock when I stepped off the bus this time! It has grown enormously and every shop is offering either food (of course), adventure tourism options or massages. Given that it has become the adventure capital of Ecuador, I was certainly anticipating some changes – but not to the level that I encountered – it is staggeringly different to how I remember it!
I didn't really have any plans for Baños, so looking at the offerings I decided that although I had a great time Canyoning in Mindo, it was way too short and I'd just gotten into the groove of it when it was all over. So I decided to go again 🙂 I wanted to do the more intense canyoning trip offered by Imagine Ecuador (there are 2 types, most people choose to do the shorter one), but needed at least one other person to join as well. Fortunately, 2 Swedish guys signed up later the same afternoon and we were on!
It is a 40 minute drive from Baños to Casahurco where we met up with the Swedes who had been rafting earlier that morning. The guide was curious as to where I learned my spanish, and out of interest, I now always turn this question back on the person asking to see where they think I learned my spanish. The last two times I've done this, they have both said "Ecuador" (the time before that – Chile). My accent can't be too bad then 🙂 Though I suspect it is more of an "international latin american accent" that is difficult to put a finger on, similar to what my accent is now in English.
After lunch (still loving fried fish – mostly trout here in Ecuador), we changed into full-length wetsuits (mine was about 3 sizes too big for me), shoes, harnesses and helmets and headed out for some instruction and practice on level ground.
That done, it was off to tackle the canyon! The reason I wanted to do this trip rather than the regular canyoning trip was that in addition to rappelling, you got to do other things as well like jumping and ziplining. First up was basically a "trust fall" off a small waterfall.
This was quickly followed by a ~3m jump
Which was followed by a ~10m jump off a waterfall. Given that I'd found jumping off a 5m edge into the Somoto Canyon in Nicaragua scary – this was positively terrifying, and I have to admit it took me some serious psyching up before I eventually did it.
But, I did do it 🙂 It was the sticky-out bit of rock just under where you jumped from that was really freaking me out!
Surprisingly, unlike the massive adrenaline rush I got in Nicaragua once I'd passed the point of no return, when I finally left the ledge here – I was reasonably calm … perhaps my brain had simply shut down and refused to acknowledge the craziness of what I'd just done 😉
There was lots of wading and boulder scrambling down the river as we moved from one waterfall to the next.
And even a short zipline off a waterfall, which was pretty cool!
From there it was more rappelling, a few small jumps, and boulder scrambling to the end.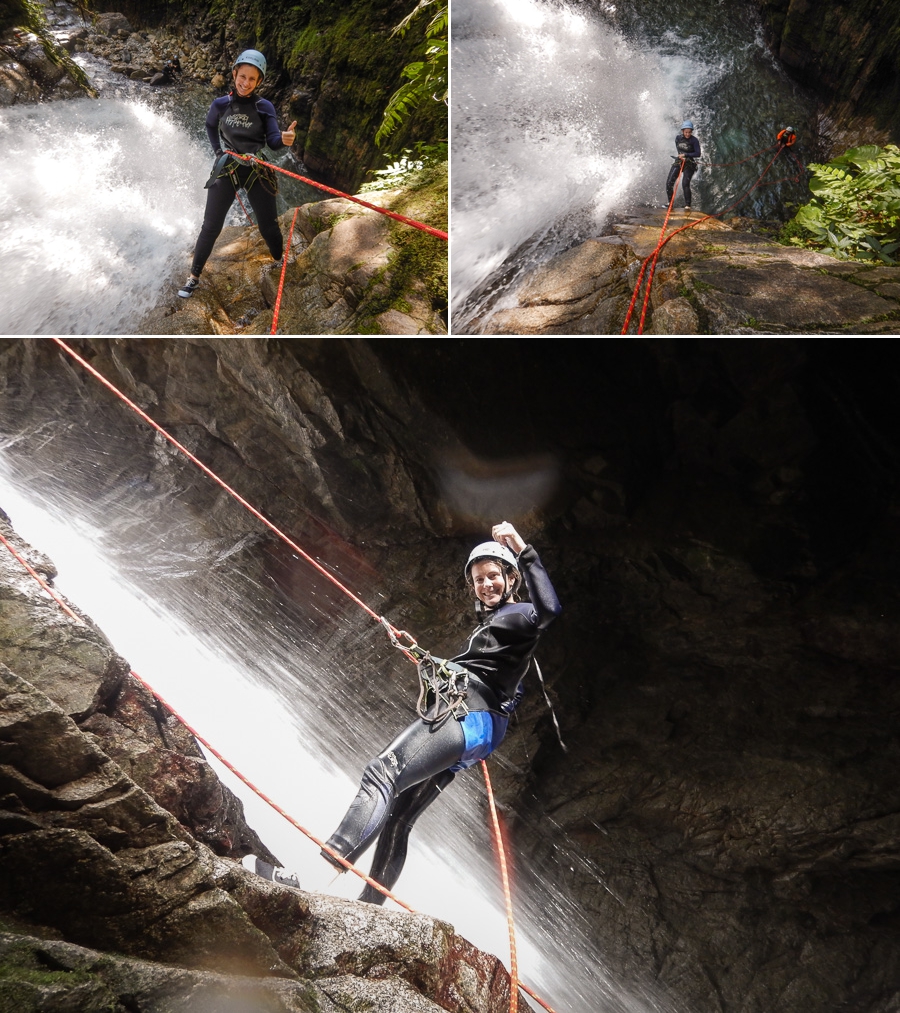 All up, we were in the canyon for about 2 hours, and despite being absolutely freezing cold (it was a chilly day to begin with and being soaking wet wasn't helping), it was an awesome time 🙂
Recommendation: If you want to have a more rounded canyoning experience (and aren't petrified of jumping off ~10m waterfalls) I'd go with this trip rather than the regular one.
Cost: $65 per person ($50 per person for 4 or more). Includes transport, lunch, all equipment, guides, photos/videos of the experience (I didn't take any of the photos/videos used here – thanks to Imagine Ecuador for providing!)
Time: About 4-5 hours (2-3 hours in the canyon)