The drive from Samarkand to Bukhara is a seemingly never-ending display of agriculture and what would appear to be Russian commission houses (all identical).
Along both sides of the road, an irrigated, green region fans out to a width of a few kilometres, but look a little further and you can see the arid hills lurking in the background. At this time of year at least, the fields are all freshly prepared and there are small armies of women (mostly) working with their hands and hoes to ensure the next crop.
The old city of Bukhara– Central Asia's holiest city – is quite compact and, given our hotel was right in the middle of it all (great location!) it was only a 20-minute walk to the furthest-flung sights. Like Samarkand, the old city has been extensively restored (they are still working on it) and there are plenty of Madrassahs, Minarets and Mosques here to keep even the most hard-core tile-spotter very, very happy.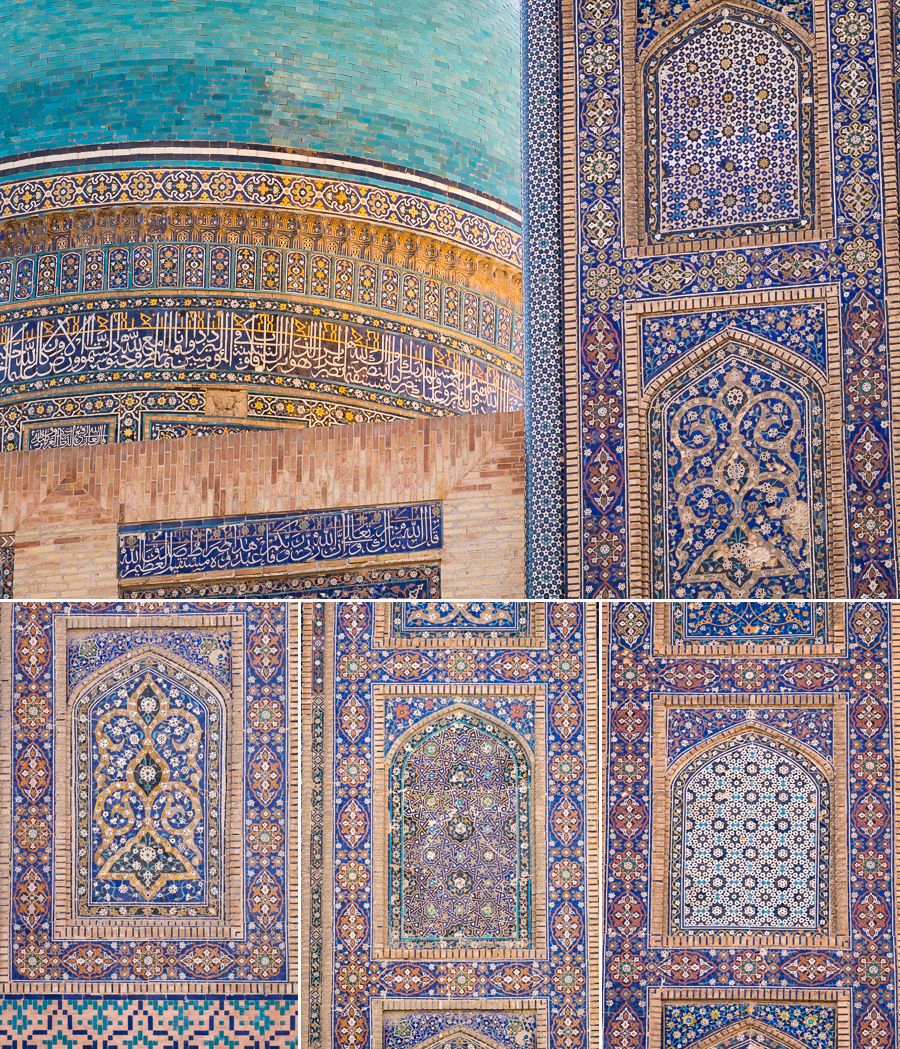 Though I did manage to find one or two places (like the Maghoki-Attar Mosque – the oldest mosque in Bukhara) that show what these glorious buildings must have looked like before the restoration efforts.
Unlike in Samarkand, I decided to not actually enter any of the Madrassahs here, but rather just admire from the outside. By far the best time to do so was between about 6 and 7am when there were very few people about, and before the tourist stall holders made their appearance (more on this in the next blog post).
In particular, I spent quite a bit of time hanging out around the Kalon Minaret/Kalon Mosque/Mir-i-Arab Madrassah complex, which is absolutely gorgeous before the crowds descend.
And incredibly stunning at sunset – particularly with the birds (swallows of some sort?) swooping and looping around the domes and minarets.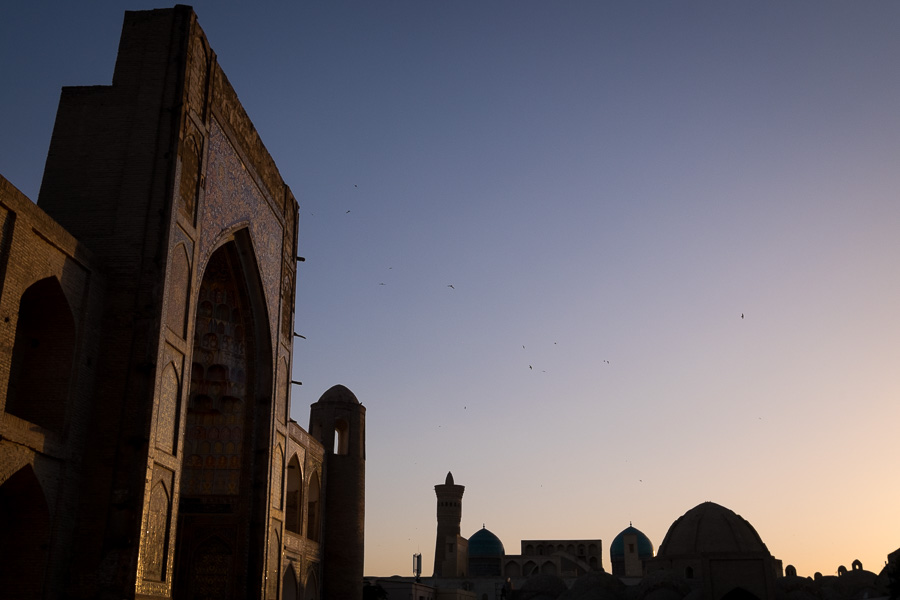 The Kalon Minaret, in particular, was something quite different to what I saw in Samarkand. With its 14 ornamental bands, it is believed to have been the tallest building in Central Asia when it was built in 1127, and the first to utilize the glazed blue tiles that became prevalent in the region under Tamerlane (Timur). It is said that Genghis Khan was so impressed by the 47m tall structure that he spared it as he raged across the region.
A few of the other sites I visited in Bukhara:
Char Minor, which is hidden in the residential streets of old Bukhara. With its 4 close minarets, it was apparently the gatehouse of a madrassah that has since been demolished.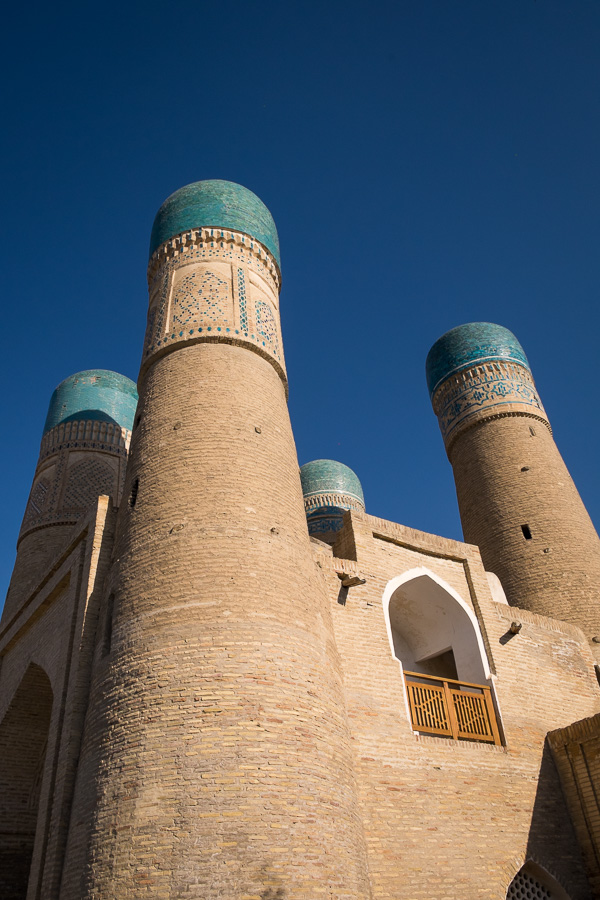 The Ark – Bukhara's oldest structure, a fortress and essentially a royal city within the city of Bukhara.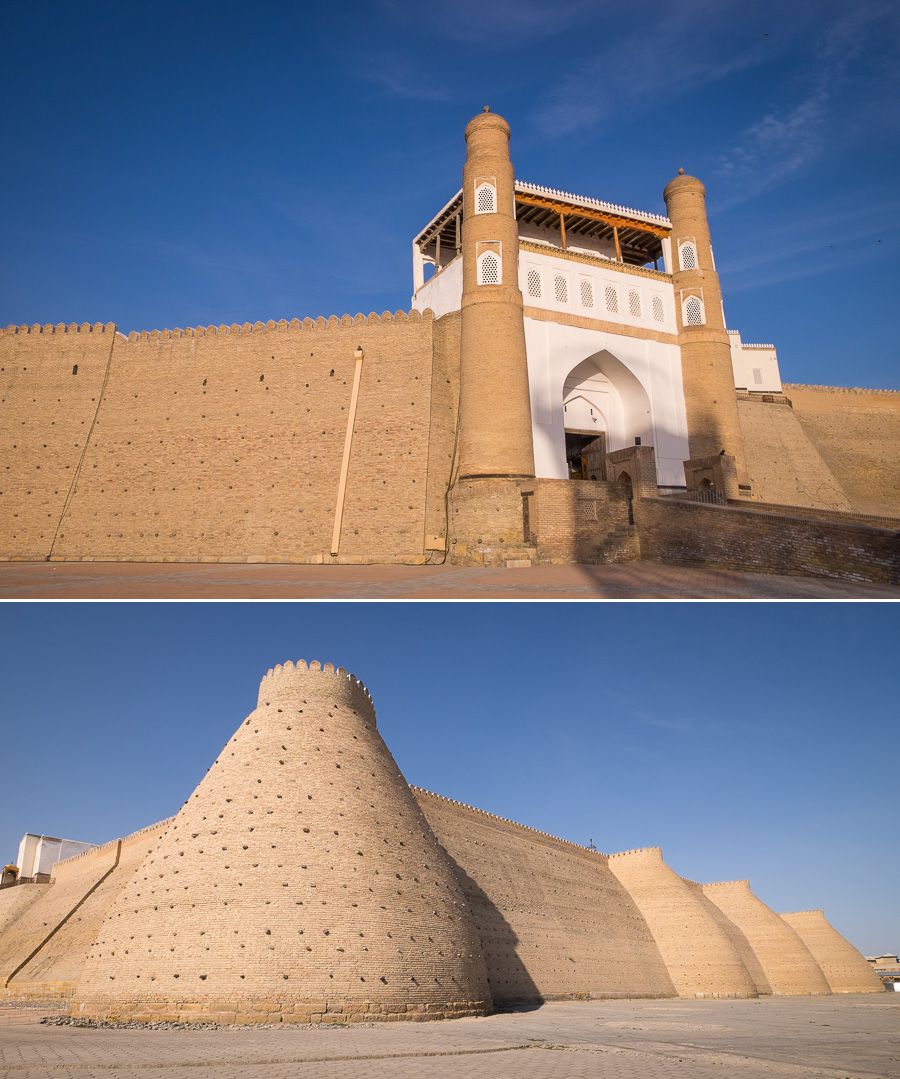 Ismail Samani Mausoleum – with very intricate brickwork and 2m-thick walls, Bukhara's oldest Muslim monument has essentially survived intact since it was completed in 905AD.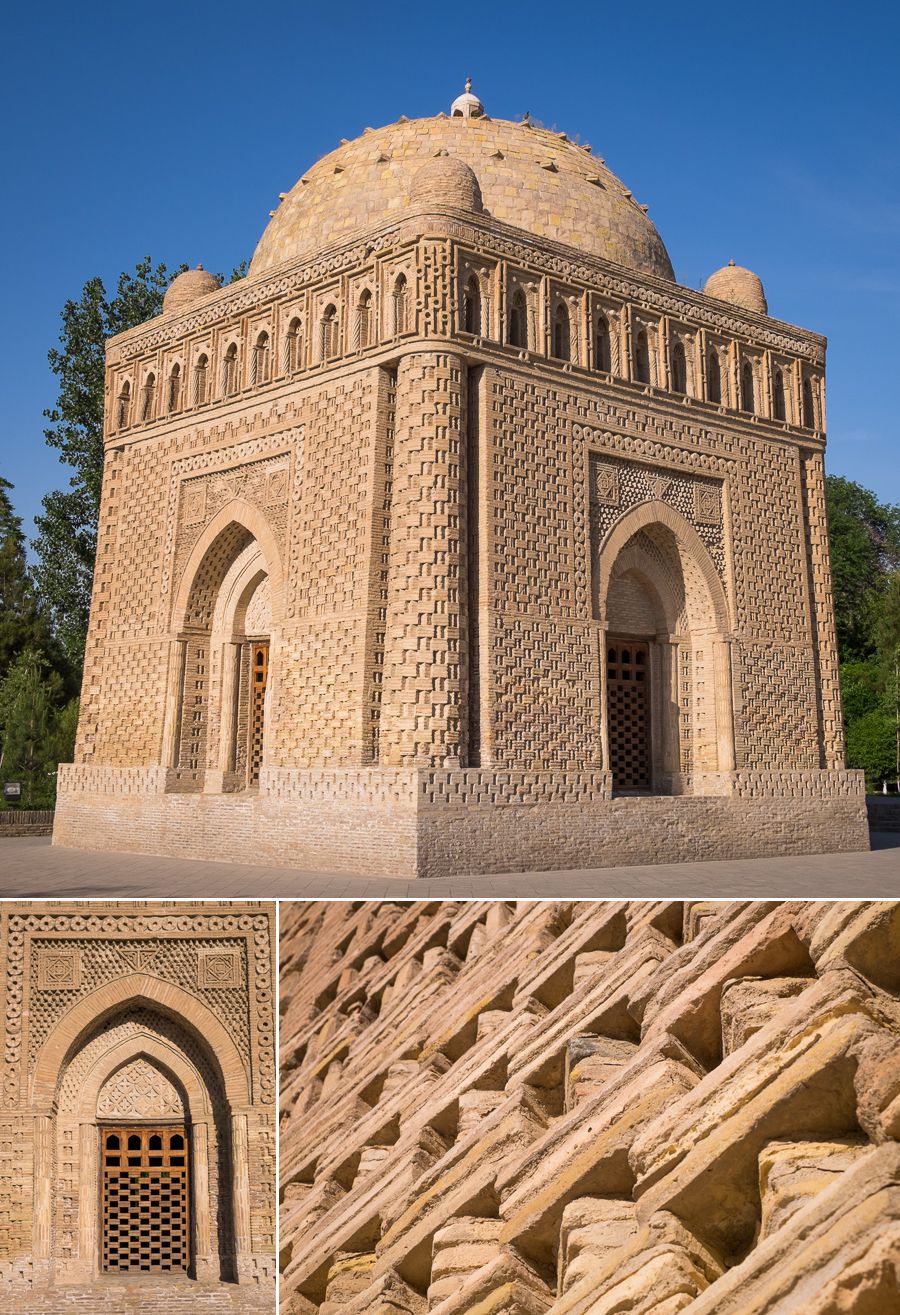 Bolo-Hauz Mosque – one of my favourites, and the place of prayer for several Emirs! I loved the extensively decorated wooden roof held high above the ayvan (traditional verandah) by 40 carved wooden pillars. It was like looking at a mosque through a forest of trees, and I spent ages sitting there admiring it.
I sat there for so long, in fact, that a 20-something year old Uzbek guy who had come for prayer came and joined me to practice his English. I watched as he and many other late-comers ran towards the mosque just as prayer was beginning (it was quite humorous seeing them come sprinting and cycling in from everywhere, kicking off their shoes as they approached the door) and, once prayer was over – he and his friend (who also spoke English) invited me to go for dinner with them to a great place they knew.
It is times like these that I really resent the <5% of the population who make the world a bad place. There is nothing more I wanted to do than say "yes" to an invite from locals to eat with them, but I couldn't. It was like when I was sitting on the shore of Lake Issyk Kul a few weeks ago admiring the view, but had to move on when 3 men suddenly appeared. In both scenarios – I probably would have been fine. But you never know, and as a girl – you have to be extra careful. I hate it that such caution and distrust is necessary in our world 🙁