I slept incredibly well at the Hotel Narsaq, and awoke to a wonderful breakfast of bread, cheese, meat, eggs (with extras packed away for lunch), cereal, tea and coffee at the hotel. Blue Ice Explorer had described 4 hikes from Narsaq and so I decided to set out early to see if I could fit 3 of the shorter ones into the one day.
First up, the hike to the top of Tasiigaaq just behind town for a view over Narsaq Bay. It is quite a steep climb for an altitude gain of 450m, but it only took about an hour to reach the summit. And the view was amazing!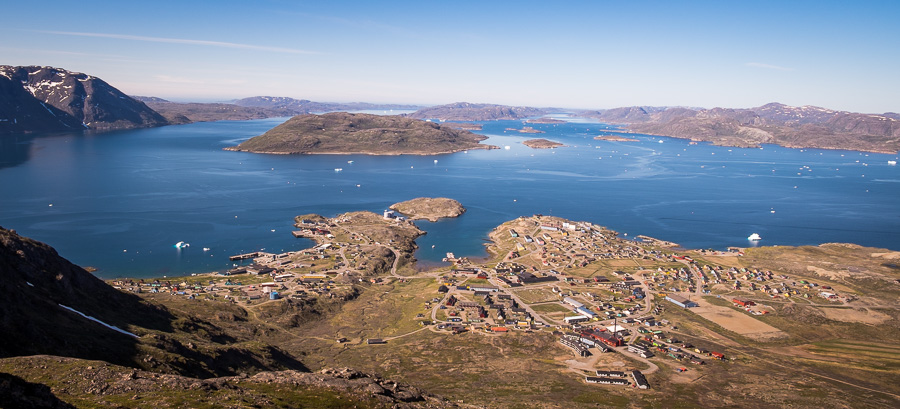 It was actually Greenland's National Day, and while I was up there, I saw the start of the sealing competition. About 20 boats suddenly roaring away from Narsaq harbor in various directions – all vying to be the first to return with a seal.
I half thought about hiking to the top of Qaqqarsuaq mountain (right beside Tasiigaaq, but 235m higher), but figured the view wouldn't really be any different, and I had 3 other locations I wanted to visit that day. So instead, I hiked down the trackless back side of the mountain through low, spongy vegetation and headed towards the Narsaq River and Dyrnaes, the destination of another of the suggested hikes.
Dyrnaes is the location (apparently) of a quite extensive array of Norse ruins. However, even with the help of the map, I couldn't make out anything that remotely looked like centuries-old structures.
OK – maybe this was one … but I'm not sure.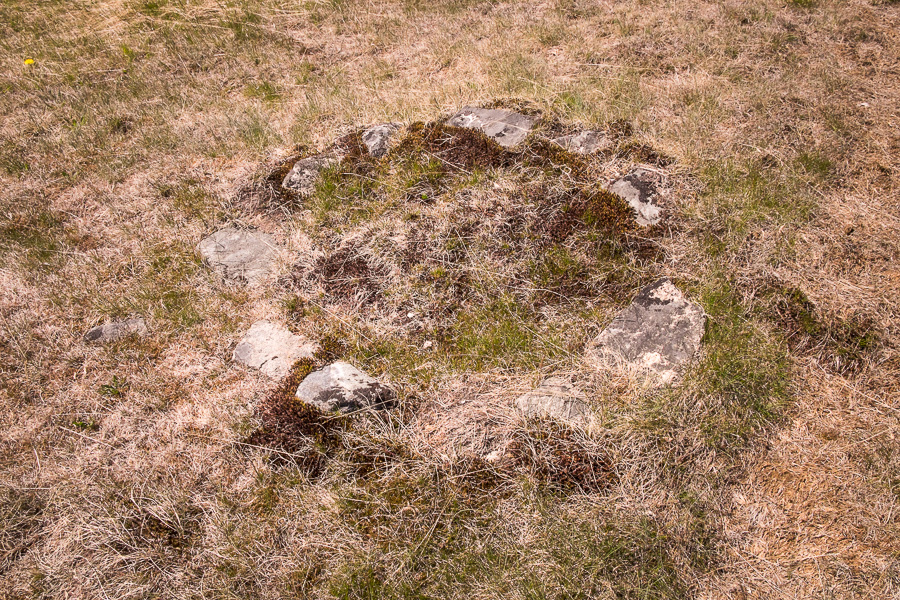 I hiked a little further around the coast to see what there was to see, and laid down on a rock for ½ hour soaking up the sun and listening to the icebergs crack. If you hear a particularly loud crack – it's a good indication that an iceberg will turn – I managed to see about 3 of these in the hour I was exploring this area.
From there it was back into Narsaq, where I joined the locals in enjoying the National Day celebrations listening to a series of live bands.
Surprisingly, 2 out of the 3 bands I heard played a mix of folk/country/Hawaiian sounding music.
And yes, even Greenlanders do sausage sizzles at public events!
The third hike for the day was out to Narsaq Point (Nuugaarsuk). This started at Landnama Farm – a Norse long house ruin from about the year 1000AD, and one of the oldest excavated in Greenland. It is believed to be the first place Eric the Red settled before moving to Brattahlid at the end of the Tunulliarfik Fjord. I didn't have any trouble making this one out 😊
From there, I followed a trail along the shoreline around to the point, which has great views back up the fjord in the direction of Narsarsuaq.
I then followed the dirt road back to Narsaq, passing lots of small bodies of water trapped in the rocks, something very similar to what I saw along the Routeburn track in New Zealand a few years ago. For some reason, I think these are called tarns, and I always think they look amazing.
Dinner at the Narsaq Hotel was really outstanding, and I ended up meeting a couple of young Greenlanders (one a documentary maker, the other the secretary to the Mayor of Qaqortoq – the largest town in South Greenland), who took me down to the bar and then to another public concert in the community hall.
Great first day in Greenland! I have to keep pinching myself to remind myself that I'm actually here!!
Distance Hiked: ~15km all up via the route I took
Time: ~5-6 hours
Discover more about Greenland
If this post has piqued your curiosity about Greenland, learn more about this amazing country at Visit Greenland, and check out the wide range of tours of all kinds (not just hiking and trekking) at Guide to Greenland.
This post contains some affiliate links. If you make a purchase through one of these links, I will earn a small commission at no extra cost to you. Your support is appreciated!