Our Day 3 of the Southern Patagonian Icefield Expedition – the climb to the summit of Gorra Blanca (White Hat) – doesn't actually exist in any of the information made available by Serac Expeditions or Swoop Patagonia. Due to the unpredictable nature of Patagonian weather, the expedition has extra days built into the schedule, and this summit is an optional side-trip available to the guides if the weather cooperates. We were very fortunate to have had good weather so far, and a decent forecast for the rest of our trek.
If you don't think about it too much, summiting Gorra Blanca would seem to be a doddle compared to the previous day's vertical climb up a massive cliff. For a start, we would only be carrying a day pack – leaving the majority of our heavy backpack behind at the Refugio Garcia Soto. However, if you delve into the fine-print on a map, it reveals that the summit of Gorra Blanca lies at 2900 metres above sea level – 1500 metres above the level of the Icefield. That's right, an ascent of 1,500 metres in less than 5km. If you do the maths – you'll realise it is bloody steep!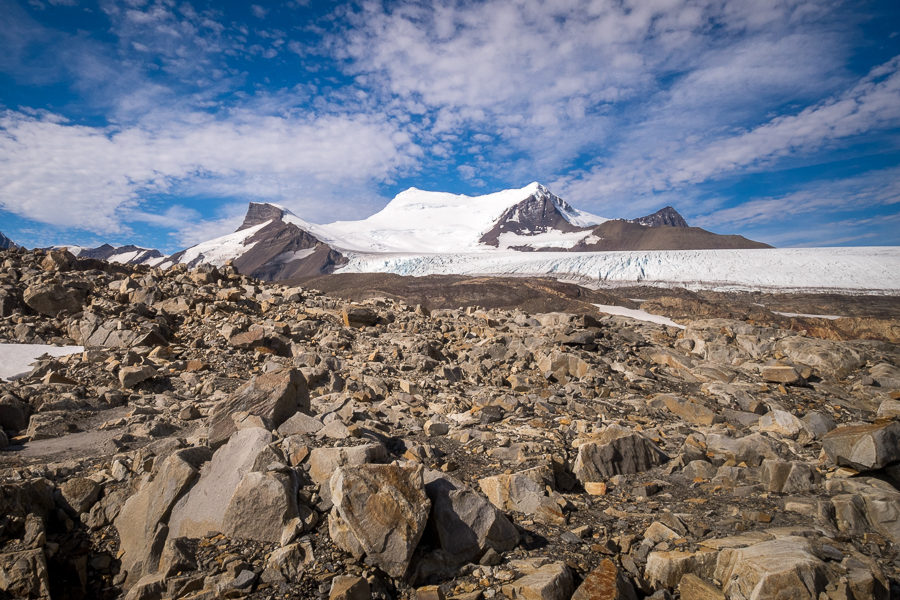 We were up at 5am for an early breakfast, and out on the ice just as the sun started to light the Eastern sky.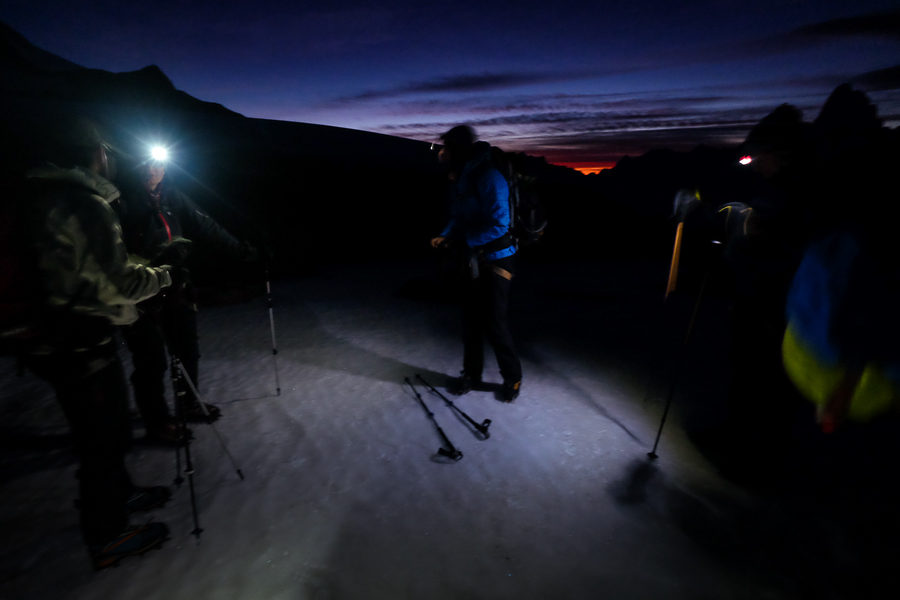 Wet-weather gear (this time mostly to cut the wind), crampons, harnesses and headlamps on, we set off in the pre-dawn darkness back down the last part of yesterday's route. This initial descent was necessary in order to cross a depression in the glacier before starting the ascent proper.
The first part of the ascent saw us negotiating a complicated crevasse field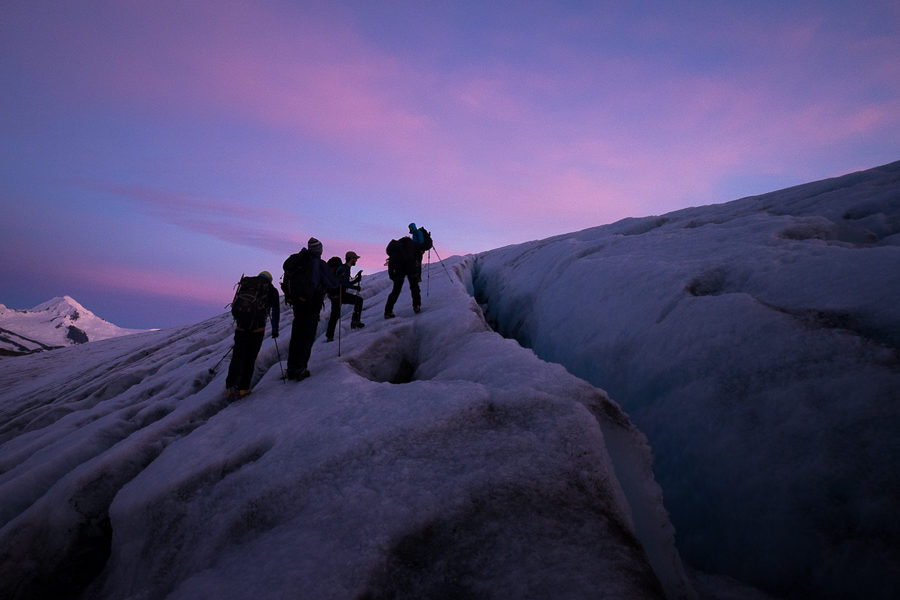 and we had to back-track several times to find a way through when the crevasses were too wide for us to jump. If you are scared to stare into and jump over the abyss, this trek is not for you!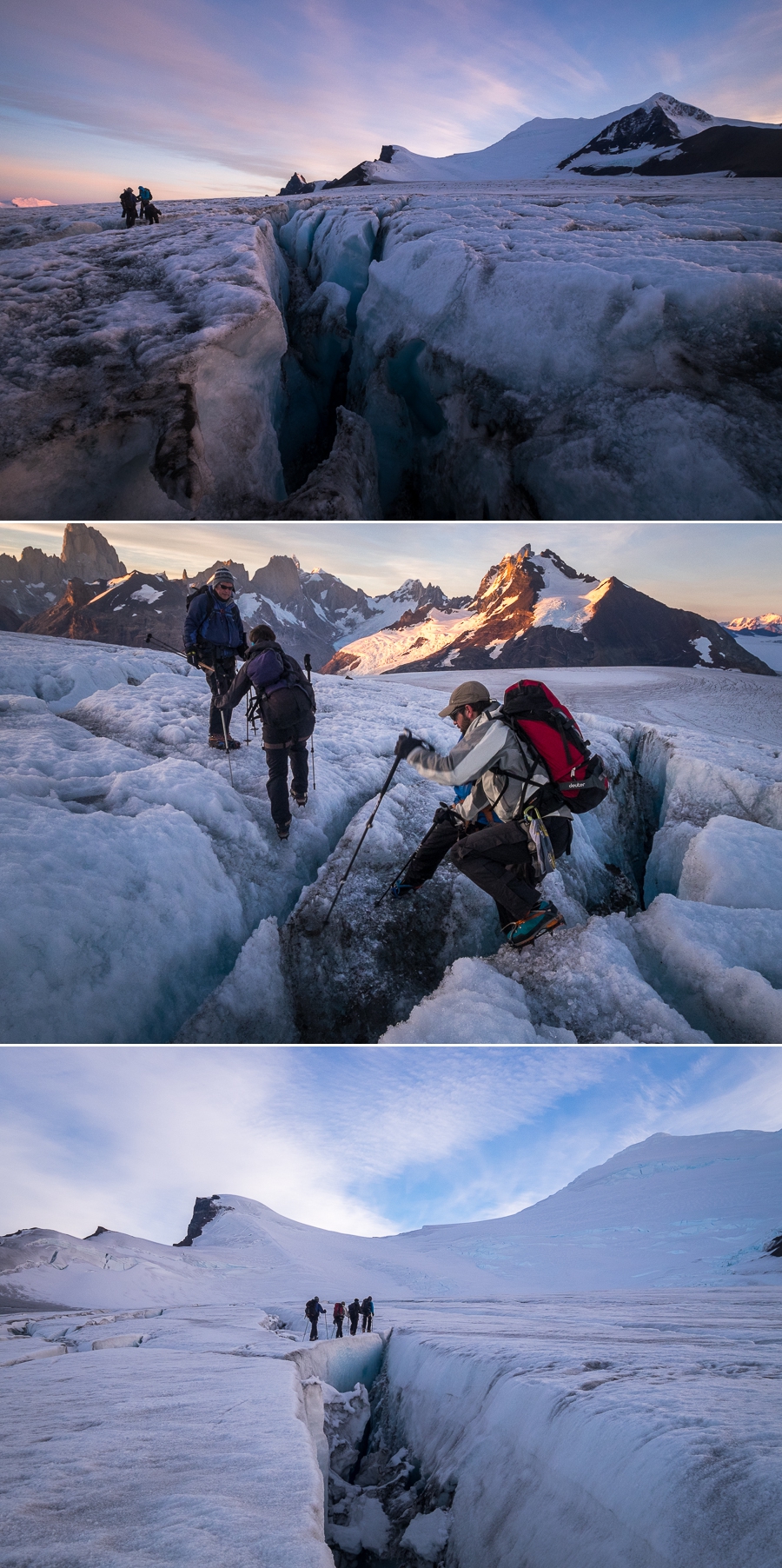 With the sun finally above the horizon and the worst of the crevasses conquered, we stopped for a snack and to rope ourselves together for the next part of the ascent. We had reached a point where snow started to cover the ice. Early in the season, this doesn't cause any problems as the snow covering is thick and can support the weight of a person. However, in February, the snow can be quite thin, and the ropes were to ensure that if one of us fell into a hidden crevasse, the others could brace and pull them out.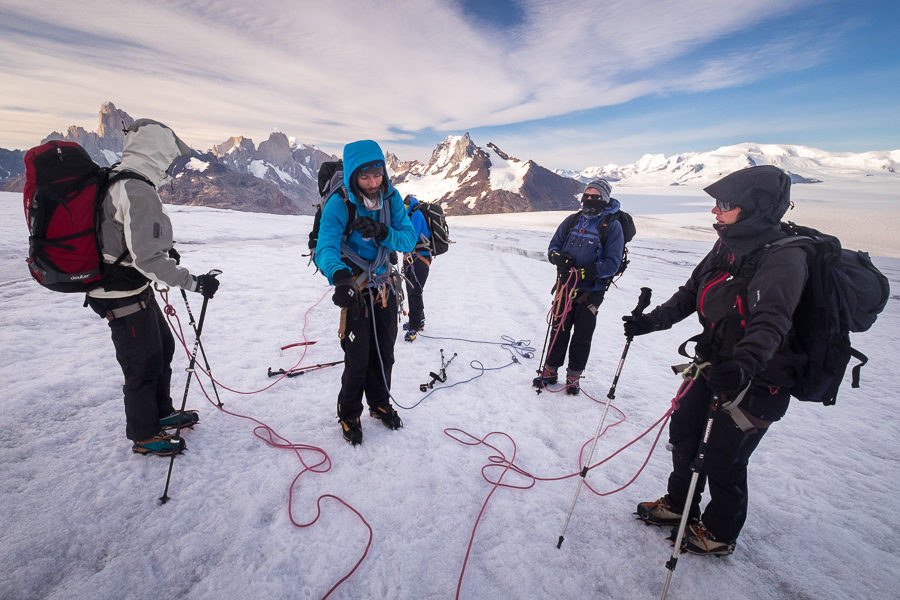 For most of us, it was our first time hiking while roped and Juan explained that we had to keep enough slack in the rope so that it just touched the ground as it hung between one person and the next. This was to ensure that if one of us accidentally "discovered" a crevasse, we wouldn't fall too far and hurt ourselves.
"The other important thing to remember", he said "is that you owe me a beer every time you tread on my rope!"
Crampons are sharp enough to damage a rope and, if stepped on too many times, will render it useless as a safety measure.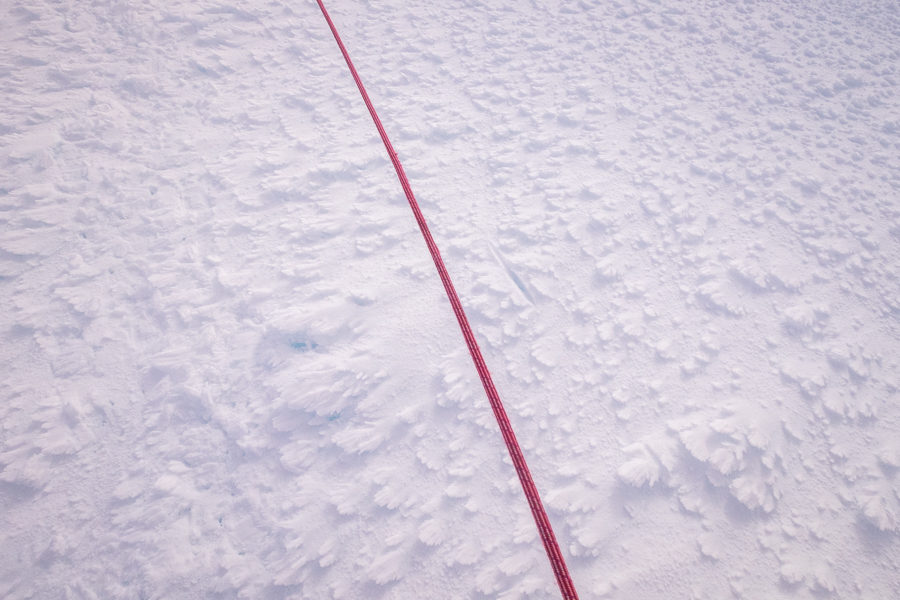 I have to say, it can be surprisingly difficult to keep the rope from underfoot! Juan searched for a pace that would suit the whole group, but even once established, individuals would speed up or slow down randomly. The rope required constant vigilance and I found myself totally obsessed with it as we started up the snowy slope.
This first part of the ascent was a steep 30 degree incline. And if that doesn't sound all that steep – I challenge you to walk up a similarly inclined hill for an extended period! Even with the slow pace set by Juan, it was a good workout. Fortunately, watching the rope kept me distracted.
After a brief rest at the col (essentially a saddle point), we then headed for the even longer and steeper (about 45 degrees) slope that led up to the final summit "mushroom". Looking up from below, it still seemed impossibly far away.
By this time, the rope had lost its allure for me and my attention was unfortunately focused on my pounding heart, straining lungs and tired legs. It was a very tough, uphill slog! However, we were unbelievably lucky with the weather, and each of our short rest stops was a relief and a welcome opportunity to look around and take in our incredible surroundings.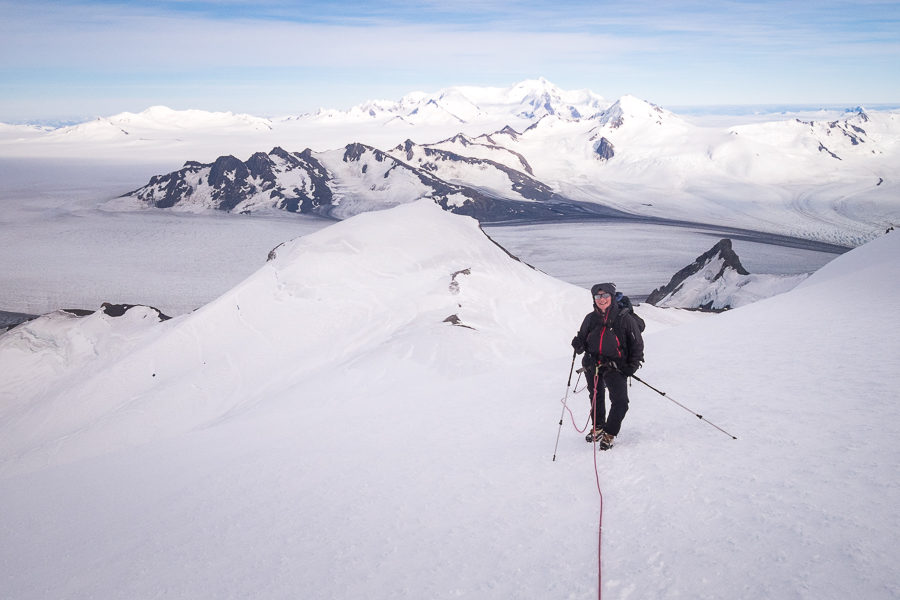 Up, up, up we trudged. And I have to admit, I almost broke about 50 metres before reaching the base of the "mushroom". But the rope won't let you fail, and I was almost dragged that last short distance by Juan, Rafa and Reto who were in front of me.
Here I regained my composure (and my breath – we were at almost 3,000m above sea level at this point) and we all added extra layers to what we were wearing. Though there had hardly been any wind at all during our climb, Juan expected it to be very blowy standing on the summit.
The last short section up the "mushroom" was essentially vertical. Juan and Rafa gouged "steps" into the ice, strategically placed an ice-axe as a hand-hold, and then scrambled up themselves so they could use the ropes to assist us.
And finally, we were all there! On top of the world with a 360 degree view of the most incredible landscape. From here we could see Lago O'Higgins and the 200km distant San Lorenzo mountain (it was an amazingly clear day)! Lago Viedma, Cerro Fitz Roy, Cerro Torre and the whole Fitz Roy/Torre massif, Cordon Gaea, and the Southern Patagonian Icefield.
It was every bit as cold and windy as Juan had predicted and we only stayed for about 15 minutes. Yes, I know. All that effort for 15 minutes. But to be honest, each step of the way is an amazing experience, and the sense of achievement at the end is incredible.
This is called "Type 2 Fun" – not necessarily fun in the moment, but the best thing ever after once it's done.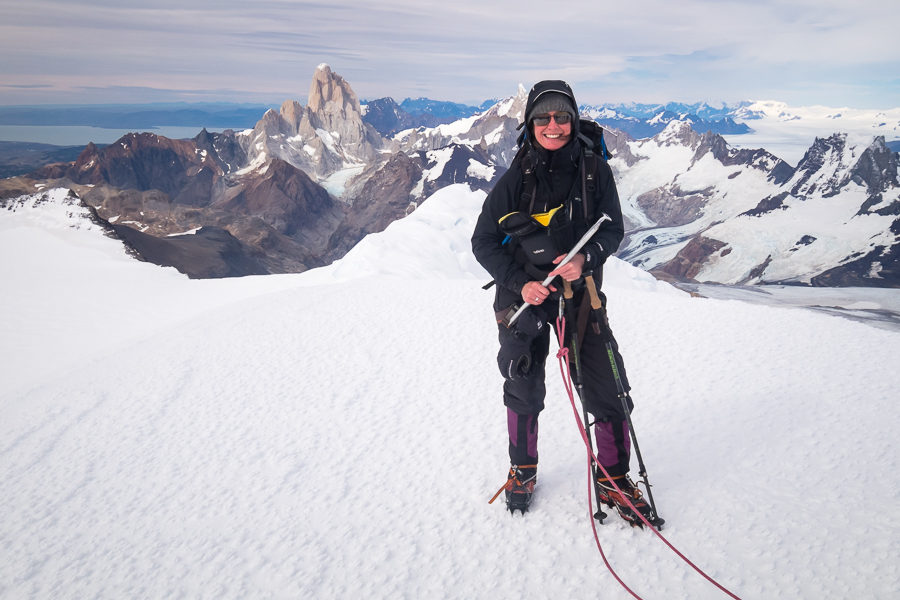 Once back down the "mushroom", we ate a quick lunch and changed rope configurations for the descent of the 45 degree slope. It is always more dangerous to descend than ascend, and in this new configuration, our guides could brace us if we fell and couldn't regain our footing.
We split into two groups with Anita and Reto tied to Rafa, and Jan and I tied to Juan. We were to walk ahead of and to the side of our guide, following the bootprints we had made on our way up. It looked to me as if Juan and Rafa were parents with two wayward children on leashes, but who was I to comment.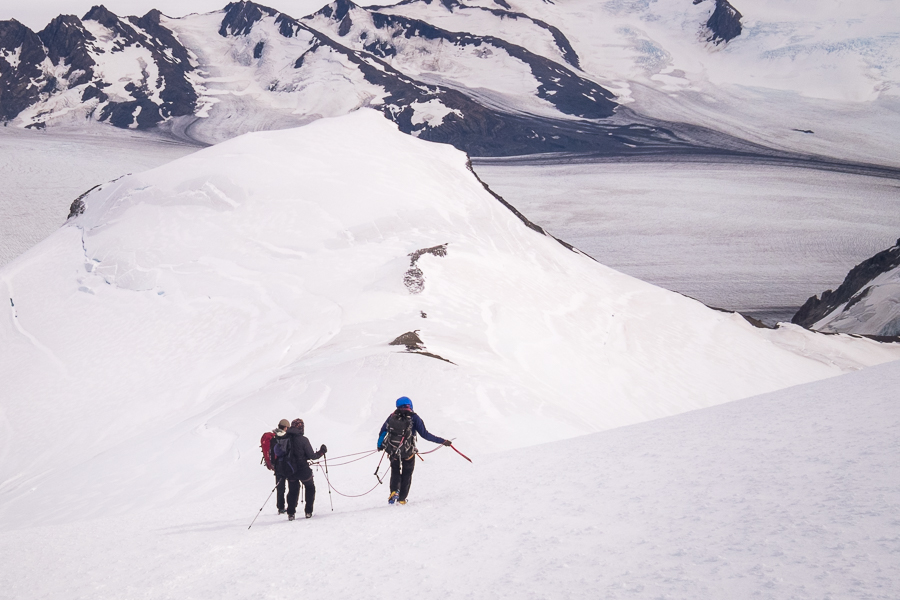 We made it back down to the col without anybody starting an avalanche, and had another snack and rope configuration change near an ice overhang that looked just like a wave breaking!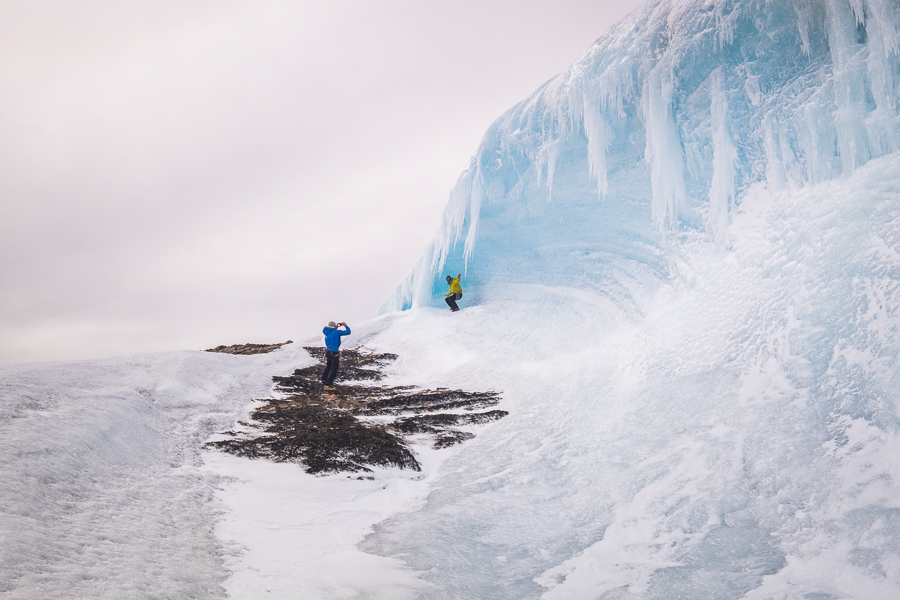 We were back to the original rope configuration, but this time with Reto in the lead. He set a cracking pace down the trail we'd made on our way up, and it was such a pleasure to plunge down the snowy slope admiring the incredible surrounding vistas. So much easier than going up!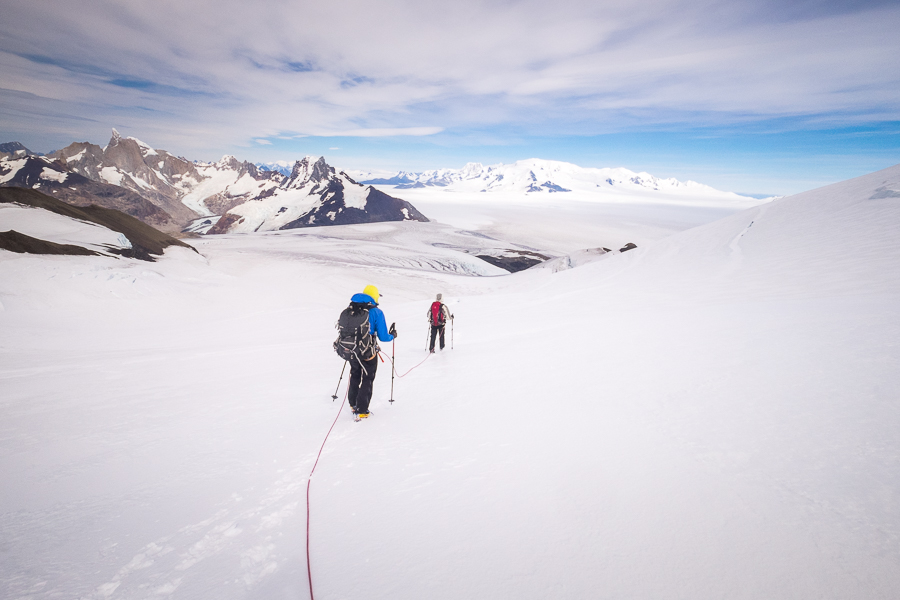 We had one more change of rope configuration to put Juan and Rafa in the lead as we picked our way back through the crevasse field – a journey which seemed to take forever. Hiking on the melted top of a glacier is ankle-turning stuff, even with mountaineering boots with ankle support. You have to concentrate and watch every step you take to be sure of your foot placement, and after 7 hours of difficult hiking, this is pretty draining.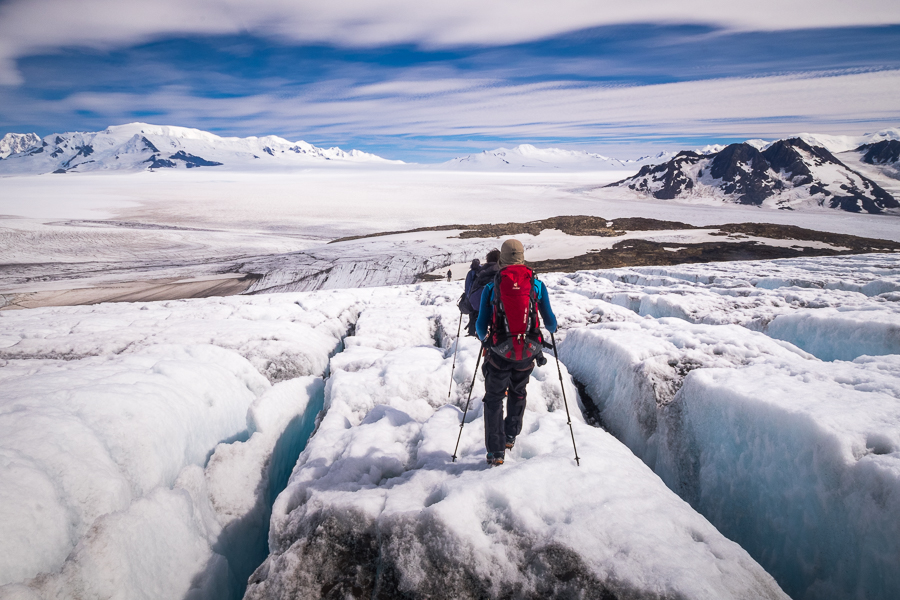 At one point, I saw the Refugio below us to our left and thought we must have been taking a different route back to avoid the final climb from the depression in the glacier. But it was a false hope. An indeterminable amount of time later, the hut appeared above us to our right, up the hill that I had hoped to avoid. This made sense, of course, as there was no other way to cross the glacier.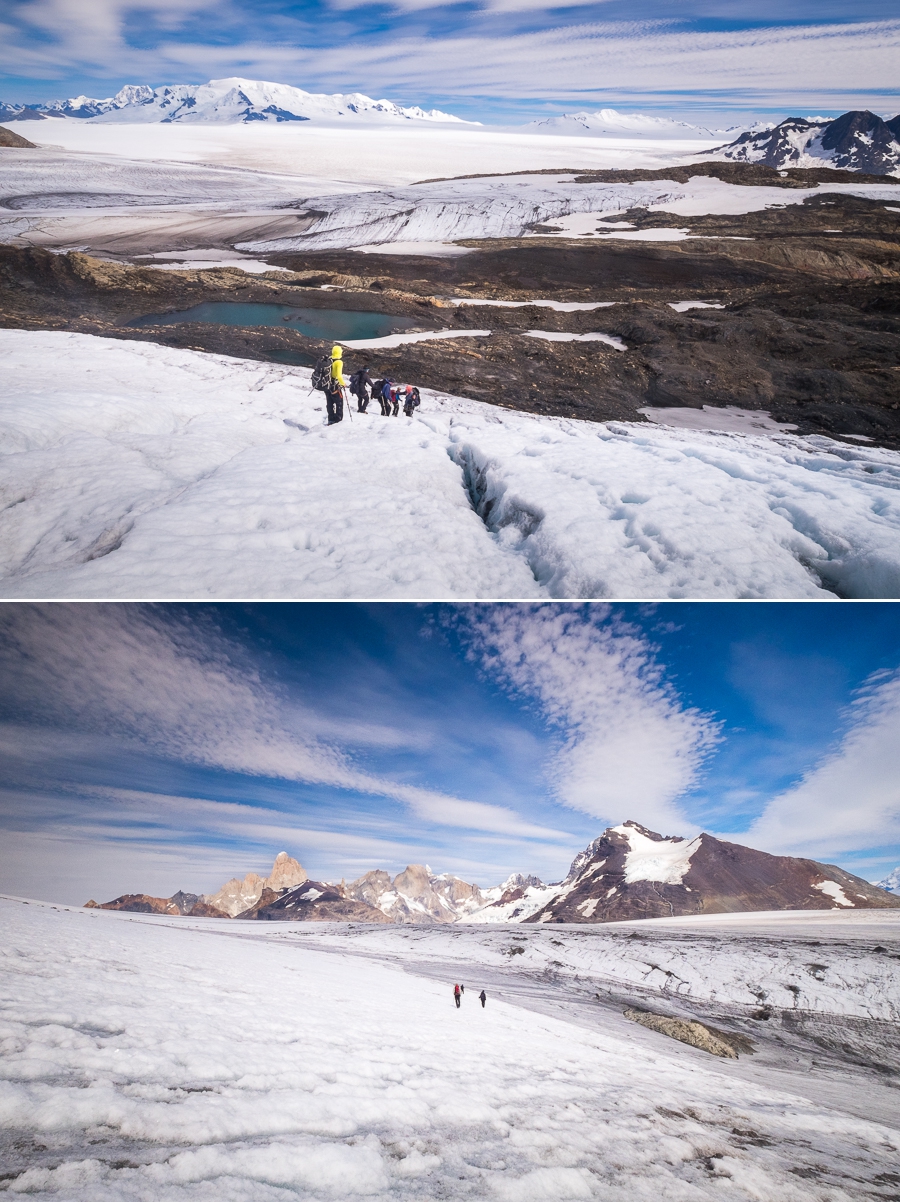 On the way up to the hut, we all stopped to refill our water bottles. One of the fabulous things about hiking in Patagonia is that in many places (and particularly here), you can drink the water straight out of streams and rivers … and off the top of glaciers.
Juan and Rafa filled all the water bags they were carrying so we would have enough to cook dinner and breakfast without having to go out again, and we finally reached the hut, tired but elated at our very good fortune to have been able to summit Gorra Blanca. Many people don't have that opportunity due to poor weather.
After tea and bikkies, we spent the rest of the afternoon soaking in the sunshine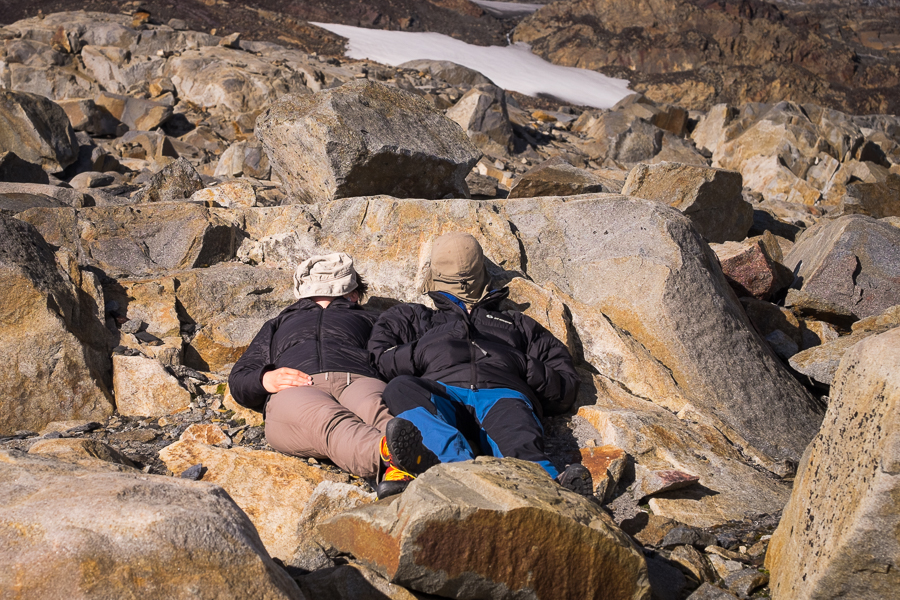 drying clothing
checking out the local vegetation (yes, it exists!)
and enjoying the views that so few people have the opportunity to see. Move your cursor across the image to scroll through the full panorama.

After a dinner of instant soup, pasta+pesto+grated parmesan, and chocolate, I headed back out to watch the evening light play over the Refugio Garcia Soto and surrounding landscape.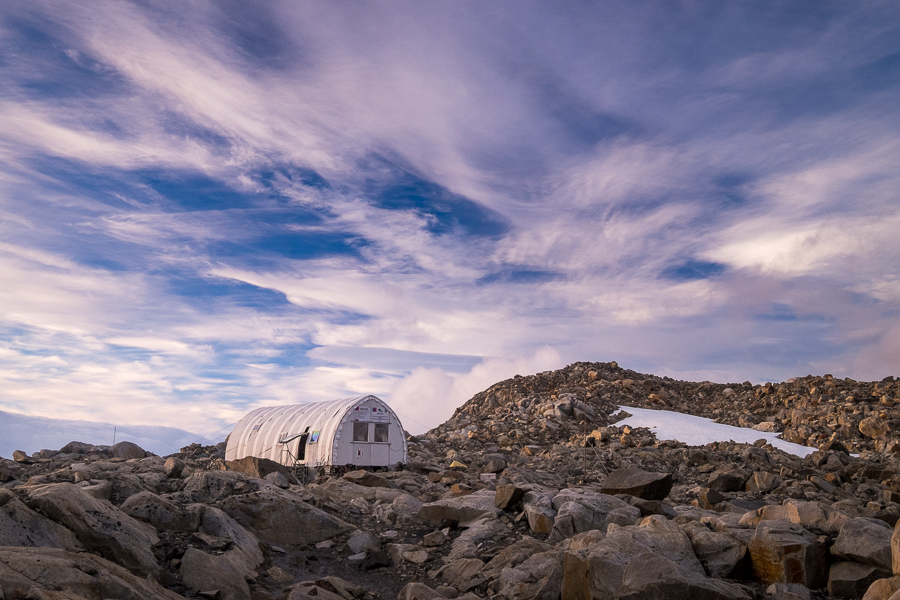 The Fitz Roy range glowed against a backdrop of dark clouds.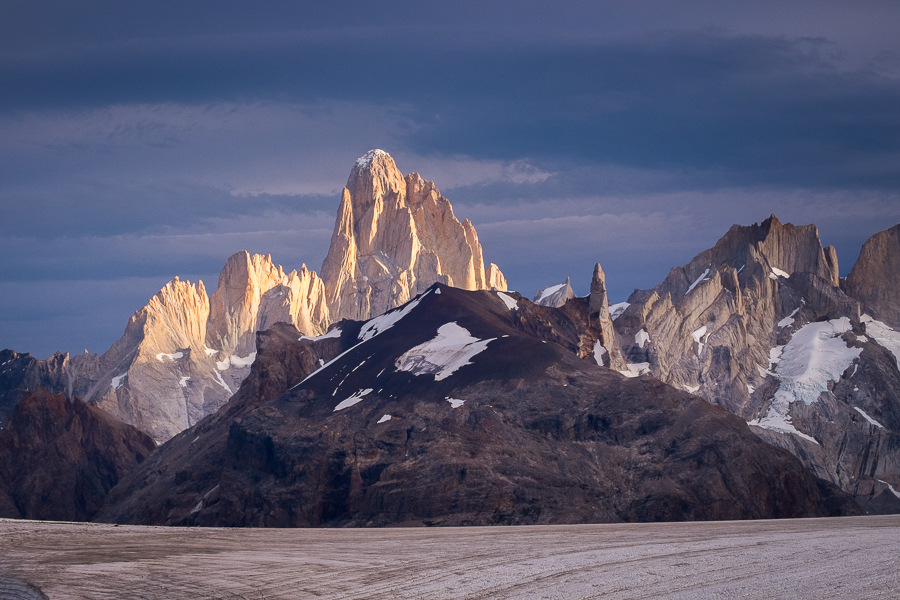 The summit of Gorra Blanca looked like an impossible achievement.
But we had conquered it.
Hiking Details
Hiking time: 9.5 hours
Distance Covered: 8.5km
Altitude: +1500m, -1500m
Read more about the Southern Patagonian Icefield Expedition
If this post has piqued your curiosity, read about the rest of my adventure on the the 8-day Southern Patagonian Icefield Trek with Serac Expeditions and Swoop Patagonia:
Prelude – leading up to departure
Day 1 – El Chaltén to Laguna de los 14
Day 2 – Marconi Pass to Refugio Garcia Soto
Day 3 – Gorra Blanca summit
Day 4 – Refugio Garcia Soto to Circo de los Altares
Day 5 – Circo de los Altares to Laguna Ferrari
Day 6 – Laguna Ferrari to Refugio Paso de Viento
Day 7 – Refugio Paso de Viento to Paso Huemul to Bahía Témpanos
Day 8 – Bahía Tempanos to El Chaltén
Alternatively, check out my other posts about hiking and trekking in Argentina and around the world.