After 2 weeks of hiking in great weather in South Greenland, I arrived to cold, wet and wind in the capital, Nuuk. I was picked up at the airport by my Airbnb host, Rene, and taken to the accommodation. It was absolutely awesome – my own space with a separate entrance, fridge, microwave and bathroom, and only a 5 minute walk to the centre. Heaven for the next 5 days!
To be honest, I didn't get up to much in Nuuk. There are plenty of excursions to keep you occupied, but after 2.5 months of bad or no internet, I had some catching up to do! And I was enjoying Skyping with family and friends 🙂
It was snowing on my second day in Nuuk (yes, in the middle of summer) so I only headed out for lunch. In my quest to try some typical Greenlandic food, I went to the amazing Katuaq Cultural Centre and decided on the Musk-Ox hotdog. Wow! That is a strongly flavoured meat! Seriously, seriously intense flavor, and apparently not just because it was in sausage form … the meat itself is very gamey.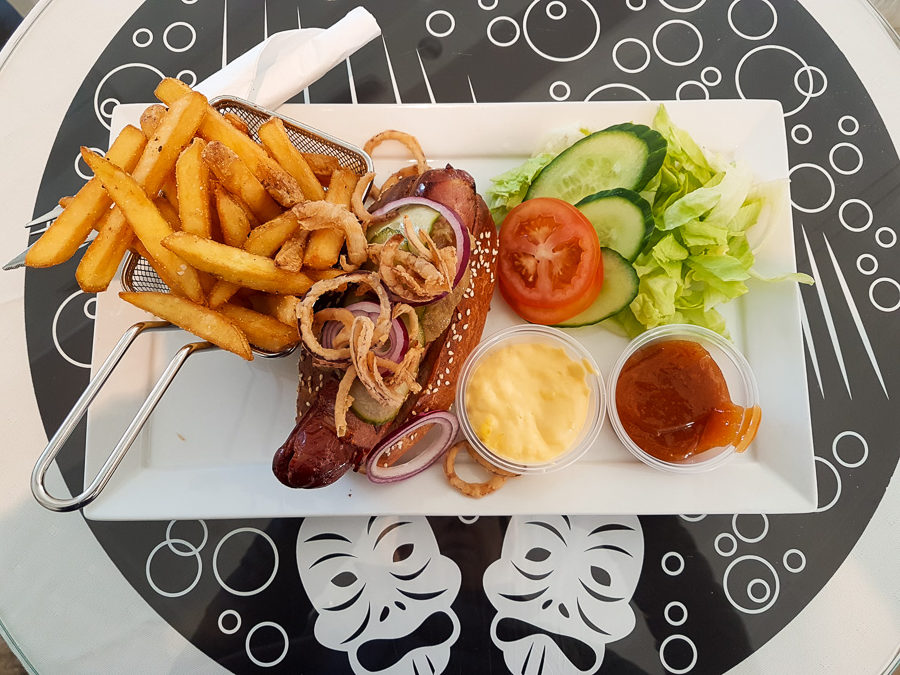 While I was there, I heard another antipodean accent – and met Andrea – a Kiwi lady who had been living in Nuuk for 9 months. She was absolutely lovely and essentially adopted me for the remainder of my time there 😊
The third day dawned bright and clear and so I wandered around the old part of town – which, with its small, brightly painted houses looks a little like a toy town. All the newer areas of Nuuk tend to be apartment buildings – so there is quite a dichotomy of architecture in the capital.
The nice thing about some of the older apartment buildings though – they have amazing murals painted on them. Love this!
I took a break from hiking (there are two short hikes in the surroundings of the city), but did walk out to a few different viewpoints around town. The view from the point near Café Inuk in particular is absolutely stunning! The image below was taken at 9:30pm. Yes, the sun is still up!
And the images below were taken at midnight. Nuuk is just a little south of the Arctic circle so the sun does set briefly (between about 11pm and 2am), but it never gets completely dark in summer.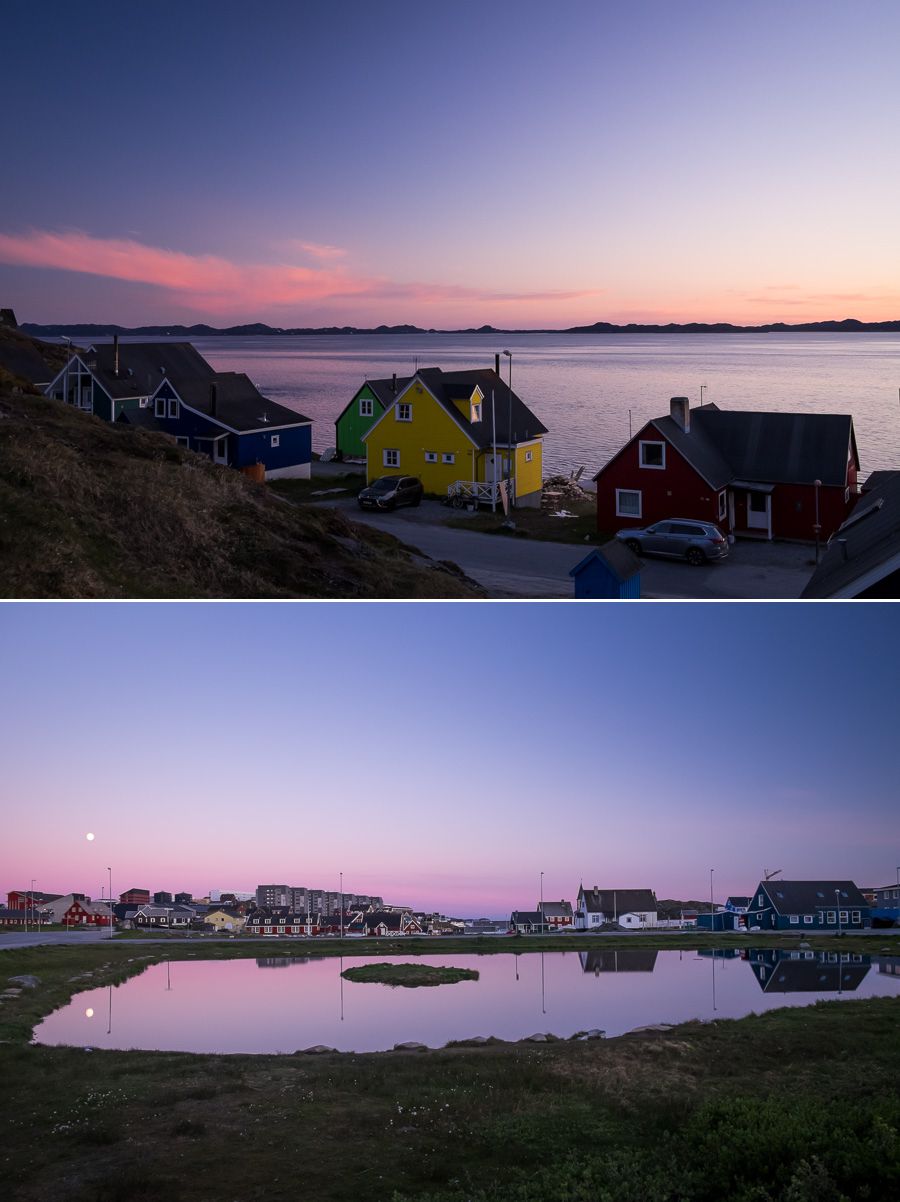 I returned to the café at the Katuaq Cultural Centre to try the "Greenlandic Tapas" on another occasion. In amidst shellfish salad, mussels, prawns, marinated salmon, and another mini musk-ox hotdog (called a "mini hot-dog sled"), I also got to try fried whale meat. The flavor was very unexpected – very, very mild and kind of fishy (yes, I know a whale is a mammal).
So, a very lazy time in Nuuk catching up online and hanging out with Andrea, Lars and their friends. Lovely way to spend 5 days though – just chilling out for a while!
East Greenland, here I come!
Discover more about Greenland
If this post has piqued your curiosity about Greenland, learn more about this amazing country at Visit Greenland, and check out the wide range of tours and accommodation available at Guide to Greenland.
This post contains some affiliate links. If you make a purchase through one of these links, I will earn a small commission at no extra cost to you. Your support is appreciated!