When visiting León, you really can't miss the world heritage listed Basílica Catedral de la Asunción, better known as the León Cathedral.   It is enormous (it is the largest cathedral in Central America) and located right in the middle of everything with the central plaza facing it.
The story goes that this cathedral was originally meant to be built in Lima, Peru, but through a mixup in blueprints it ended up being built in León, and Peru ended up with a significantly smaller structure.
The interior of the church is beautiful and much plainer than many of the cathedrals I have poked my head into in latin america.  It contains the resting place of Rubén Darío, Nicaragua's premier poet and León's favourite son, as well as other less-well-known figures and the ubiquitous religious art.   Surprisingly though, the interior is not all that cool – I was expecting it to be a bit of a haven from the Leónese heat, but it didn't turn out that way.
12 lions surround the cathedral guarding each of the entrances – the two out the front are my favourites.
I'm very glad we paid the US$2 to access the roof of the cathedral.   It is blindly white (thank goodness for sunnies) with lots of amazing views over the cathedral itself and León in general – including out to several of the volcanoes near the city that make up part of the ring of fire.   We only had 1/2 hour up there before they closed the roof (it closes at 4:30pm each day) but I could have easily spent more time to take it all in.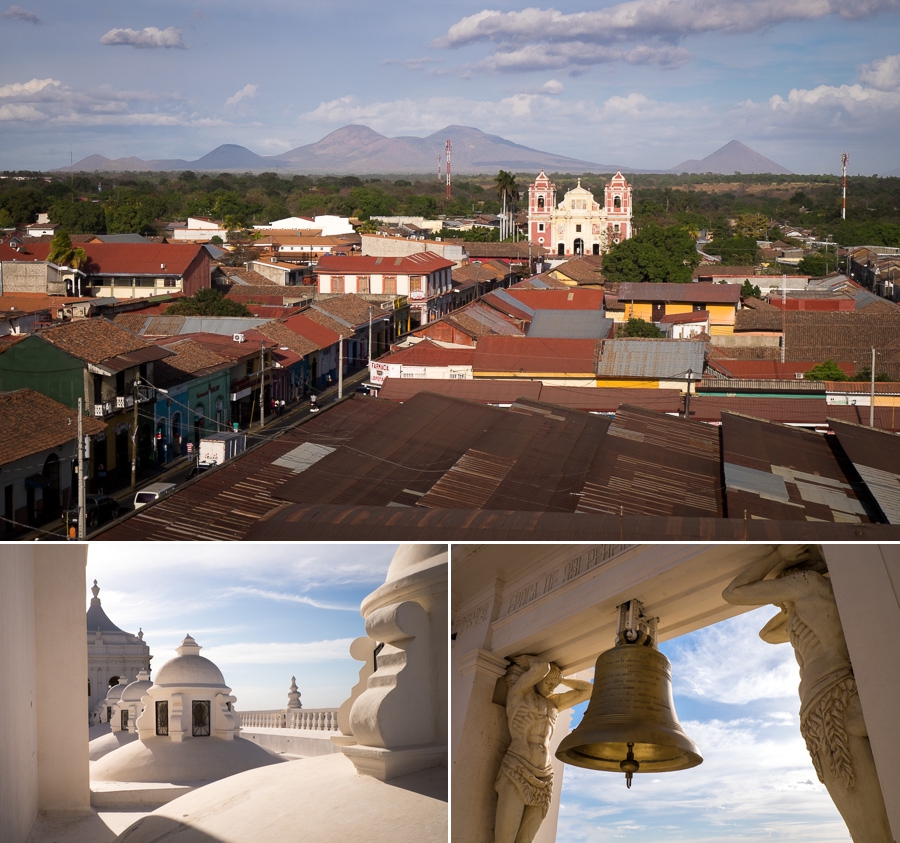 The best place to hang out in León from about 4:00pm is the Central Park in front of the cathedral.  It is about this time each day that the temperature takes a nosedive and the park fills up with school students and families just hanging out.   I can recommend the raspados, and if you stick around from 4:30pm – 5pm, you can listen to the chorus of bells from the León Cathedral.
I had hoped to learn a lot more about the cathedral by taking a city walking tour, but one of the downsides of travelling alone is that many tours only operate with a minimum of 2 (or 4) people.  Even though I put my name down at several places, apparently nobody else was interested in knowing anything about the city in the 7 days I was in there.    Next time!