While we were waiting for James to un-stick the truck from the Tamgaly petroglyph mud with the help of his fireman and Army friends, we hired a mini-van and headed off from Bishkek for a 3-day tour around Issyk Kul – the second largest mountain lake in the world (behind Lake Titicaca).
It turned out that it is a bloody long way around this lake, so there was a lot of hours spent in the minivan driving. But we did get to the following sites:
Burana Archaeological Complex
This complex is actually the remains of an ancient (X-XIV century) settlement, the most prominent feature of which is the Burana Tower – a minaret from the XI century and one of the first known in Central Asia. These minarets were typically built around morgues to call the faithful to prayer and to also serve as watchtowers. At 24m tall, it is only about half its original height (the top part has been destroyed) and is adorned by "ornamental belts" and other decorations.
The interior staircase is not for the claustrophobic, and is made out of bricks. It is a one-way street only so timing your ascent/descent when others are around can be challenging!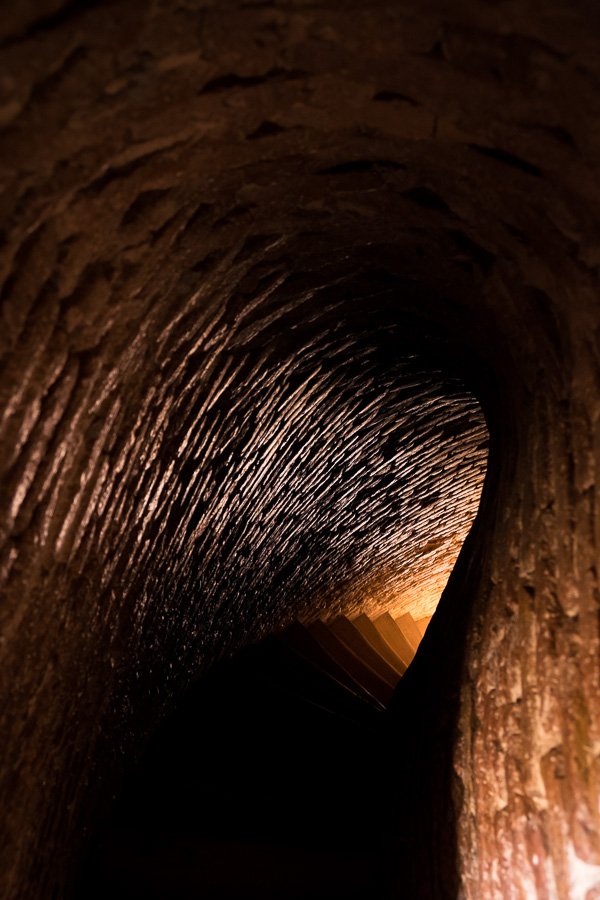 Although the tower is what draws visitors to the site, there are other areas to explore as well. There were many examples of petroglyphs on display.
As well as stone sculptures and monuments from the Turkic nomads. These sculptures typically include features such as hats, clothing, ornaments and weapons, and some are depicted holding a vessel in their right hand.
Then there were the giant millstones, used in water mills along the Burana River for grinding the grains the population cultivated.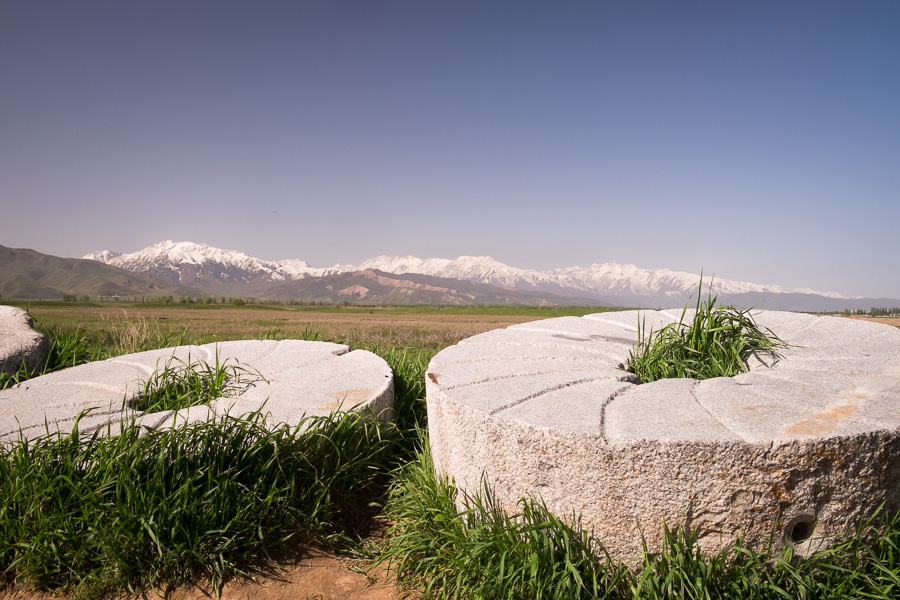 And stone columns with different writing systems – including Turkic and Sogdian scripts.
Unfortunately, we only had an hour at the site, which was nowhere near enough time to explore it properly. The whole Burana Archaeological Complex is a UNESCO World Heritage Site – yes, still finding them everywhere 😊
Petroglyphs at Cholpon Ata
Because you can never see too many petroglyphs, several hours later we stopped at a very large petroglyph field at Cholpon Ata. This was basically a huge field full of boulders and scattered rocks, and although there was a map of where to find things at the entrance, it really didn't help at all!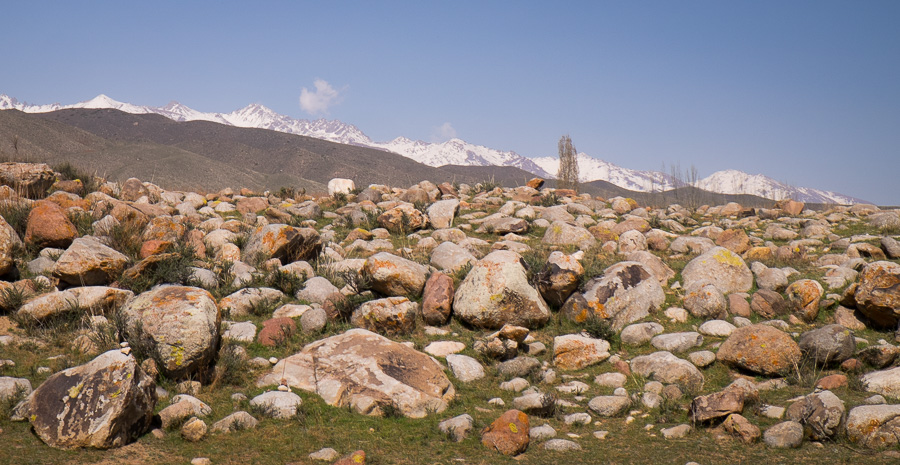 But, wandering around, I managed to find several of the petroglyphs – a few of which were really, really impressive!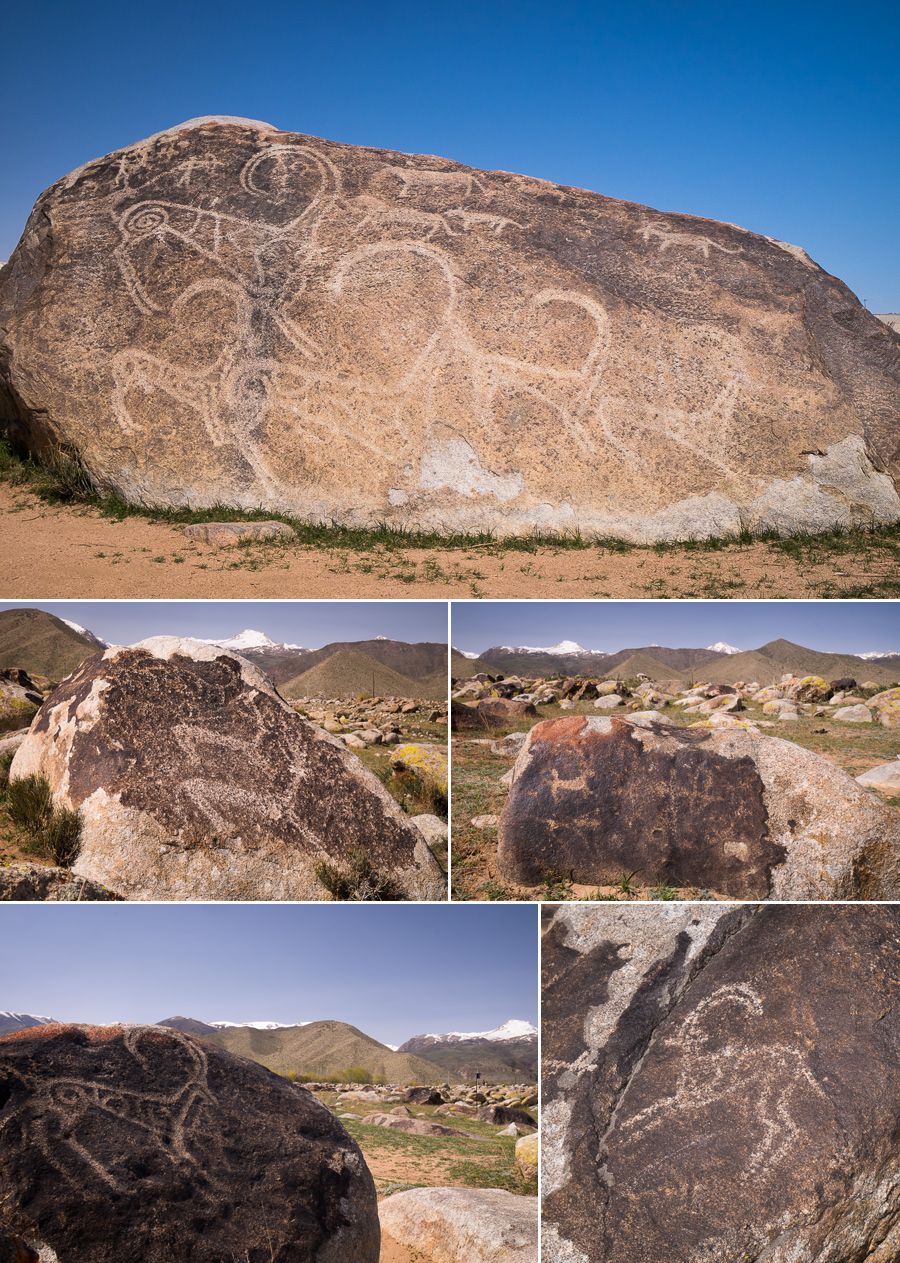 There were also a handful of examples of the Turkic nomad sculptures
And beautiful views of both the mountains and the lake.
Again, we had an hour here, but perhaps 1.5 hours would be better
Dungan Mosque
Once we reached Karakol – one of the biggest towns on the lake – we visited a couple of specific buildings. The first was the Dungan Mosque – a very ornate building which was apparently built without a single nail (the wooden sticks are curved in special way to create a stable building without nails). If it seems to be Chinese in style – it is! The Dungans were Chinese muslims who left China due to their religion, and this particular mosque was built by a Chinese architect and several artisans between 1907 and 1910 for the Dungan community in Karakol.
Pravoslavik Church
The second location we visited in Karakol was a very intricately decorated Russian Orthodox church built entirely of wood! Unfortunately, no photos were allowed – so this was the only one I could sneak while sitting in the grass eating a banana. It was really a spectacular building!
Jeti Oguz
Leaving Karakol, we headed back out into nature to visit Jeti Oguz – the "valley of the 7 bulls". This is a geological protected area, and I have to admit I was puzzled about how they came up with 7 bulls from the formation. No matter which way I dice it, I don't get 7. Would have been great to have had more time here to do some hiking, some of the pictures I've seen of the surrounding area are gorgeous!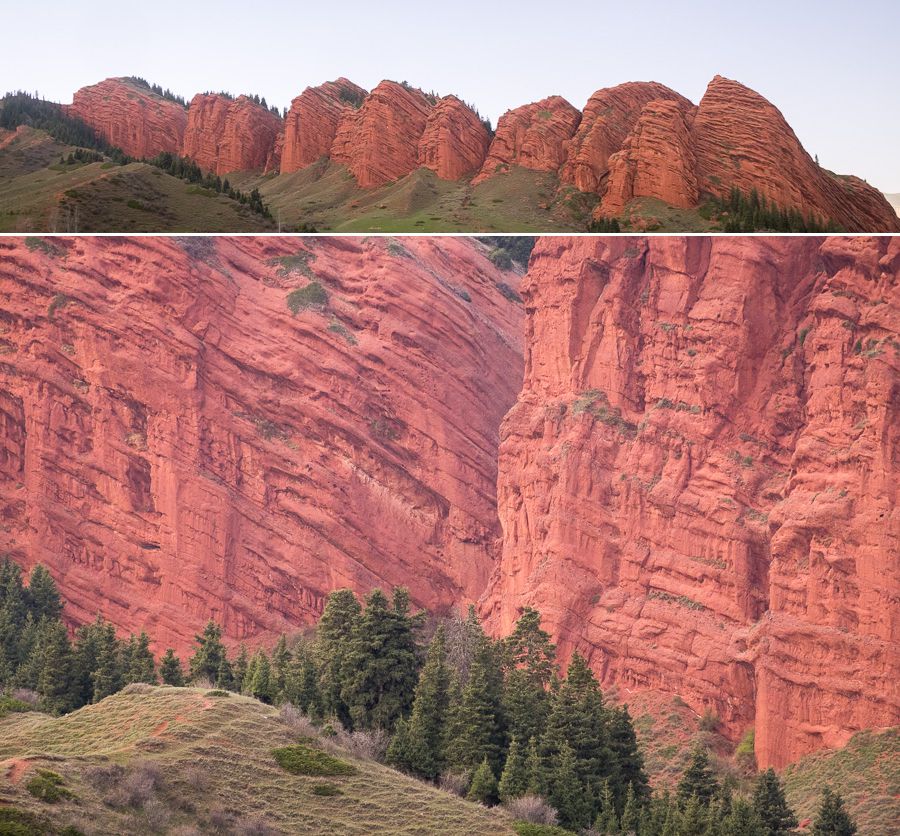 Fairytale Canyon
Then it was on to the Fairytale Canyon, which features eroded and multi-coloured rocky formations.
Before spending our second night right on the lakeside at the Bokonbaevo yurt camp.
Issyk Ata
Our last day around the lake dawned overcast and rainy. This was OK though since we really just had a long drive back to Bishkek with only one stop at the waterfall and hot springs at Issyk Ata. Given it was cold and I hadn't had a proper shower for a few days, my original plan was to hit the hot springs. But when we got there, these turned out to be essentially a swimming pool – ie not very natural.
So, I decided to chase after Gayle who decided to hike to the waterfall instead. It was snowing and absolutely freezing cold, and I never did catch up to Gayle (turned out I went right when I should have kept going straight to find the waterfall), but my quick hike up the valley above the river was very pretty, even if my face froze on the way back as I walked into the wind and snow.
Summary
Issyk Kul Lake is one of the key tourist attractions of Kyrgyzstan. And although it was nice, I didn't find it all that spectacular to be honest. It's a very big lake and if I were to choose a side – I would say the southern side is prettier (and more remote) than the northern side, which seems to have a string of towns run into each other along the road.
Not sure if my opinion would change with a different itinerary – and perhaps there are ways to do hiking around the lake with amazing views (I will need to look this up for next time), so although it was great to get out of Bishkek and see new places, I would explore other areas of Kyrgyzstan before returning here.