There are two ways to eat in Cuba – the cheap way (where you pay in CUP) and the expensive way (where you pay in CUC).
Most visitors to Cuba stick with whatever Lonely Planet and TripAdvisor recommends, and I admit this is how I found some of my favourite meals in Cuba:
Santiago de Cuba = Compay Gallo. Nice terrace, both Wendy and I were impressed with our meals. Price: ~5CUC (~US$5)
Baracoa = El Buen Sabor. Seriously – don't go anywhere else. Baracoa is renowned for its coconut-based sauces and I was a little bamboozled by the rave reviews given the first attempt at eating the local dish.   Then I tried El Buen Sabor and never went anywhere else again.  Bonus awesome terrace if you get there early enough!  Price: ~10 CUC (~US$10)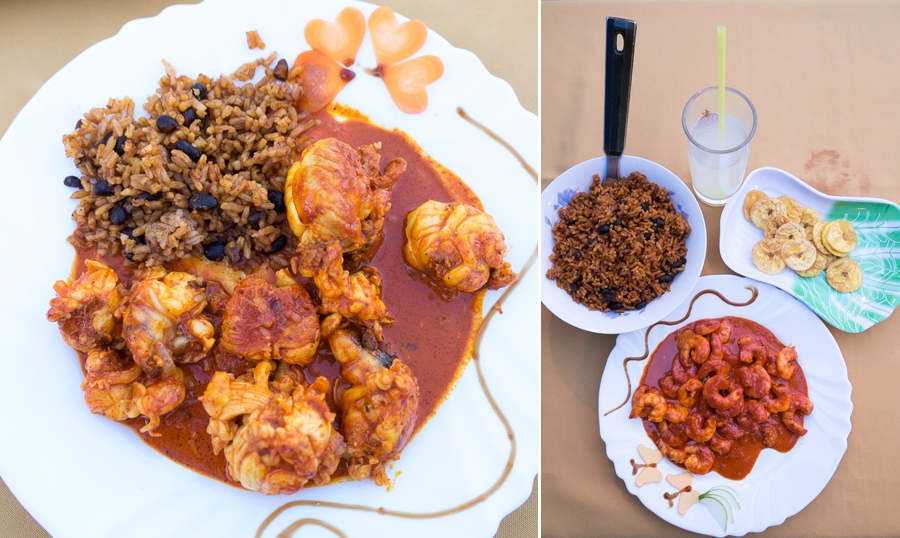 Trinidad = La Redaccion. Wow – just wow!  I ate here twice and recommended it to Chris and Cathy who also really loved it.  Some weird-arse sounding flavours but I can recommend the chocolate chicken curry and the tropical chicken.  Main meals also come with a free Mojito and be sure to look unsure about whether you are going to come in or not until they give you the free sample out the front 🙂  Sorry – no picture – too busy eating!   Price: ~10 CUC (~US$10)
However, if you want to eat like the locals, get yourself some CUP and rock up to any of the numerous hole-in-the-wall places (literally) that line the streets of Cuba.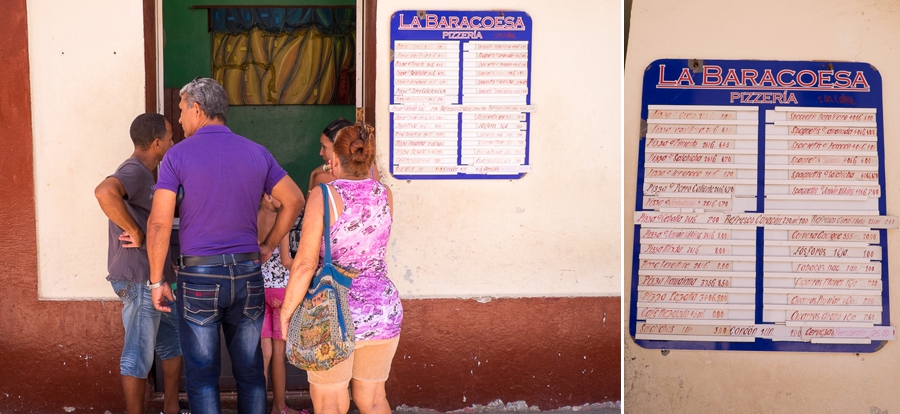 The most common things on offer:  Ham and cheese bread rolls or pizza.   The ham+cheese rolls were OK, but I tended to opt for pizza which bears no resemblance to an Italian pizza but is surprisingly yummy!  Average price for a pizza like this = 8 – 20 CUP (10 – 80 cents).   It gets handed to you piping hot and fresh from the oven with only a scrap of paper to protect your hands (forget the plate in the picture below – that was just so the pizza wasn't sitting on the ground!  You can just see the scrap of paper poking out at top left).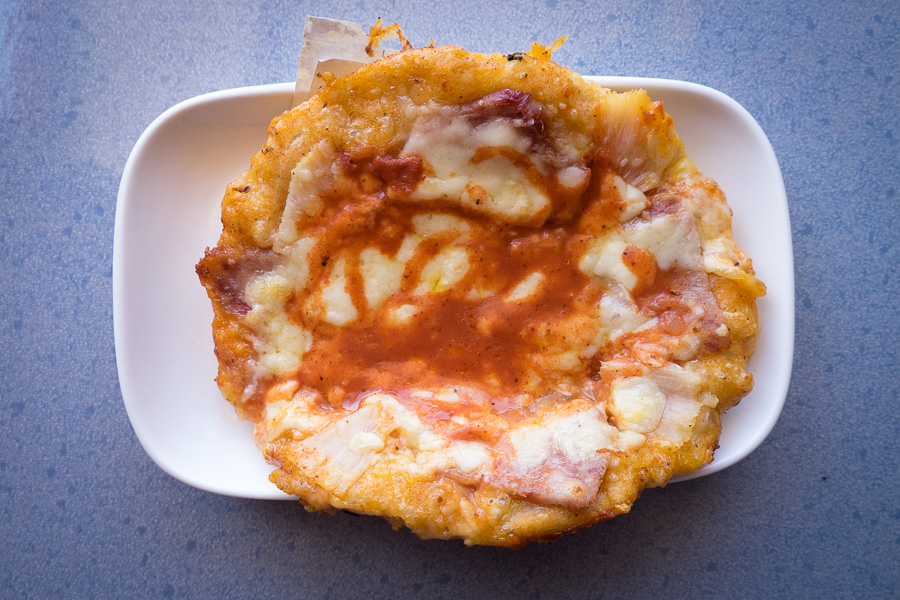 The best pizza I had in Cuba was in Camagüey at a better-than-a-hole-in-the-wall joint called "La Salsa" that always had a heap of people lined up outside.    I can highly, highly recommend the leg ham pizza – if it weren't so filling I would have gone back for another!  Damn it was good!  Note again that it is served on a scrap of paper if you get it to go 🙂
And the added bonus was that just across the street, there was a hole-in-the-wall icecream place that did pretty good icecream in a massive cone for 5 CUP (~10 cents).  I can recommend orange-pineapple as the flavor, and yes, I did go back there for seconds 🙂