So, if you've been reading along for the past year, you know by now that I have an obsession with typical foods of whichever country I'm visiting. Portugal was no exception – and I have to admit – it has some of the best treats on the planet! I reckon I put on over a kilo during the week I visited 🙁
I was very slack at taking photos of the dishes I ate while in the Alentejo region with Jose (trust me, there were many, and all of them enormous), so tried to make up for it in Porto!
And it all started with a classic: the Pastéis de Nata – a rich egg custard in layers of crisp, flaky pastry.
I love these things (best when dusted with cinnamon as well), and I'm not alone. It is possibly the most popular Portuguese pastry, and you can now find them all around the world.
Given I was hungry, I also had a Rissóis de Camarão (shrimp croquette) – a very popular Portuguese snack – from the same place. It is basically prawns in a type of béchamel sauce, wrapped in pastry, breaded and deep fried. Also very good! Yes, I have a savoury AND a sweet tooth 🙂
Next up: a heart attack on a plate, and Porto's typical dish – Francesinha. The "Little Frenchie" is definitely not for vegetarians, consisting of bread and layers upon layers of different types of meat, then topped off with melted cheese and a tomato and beer-based gravy.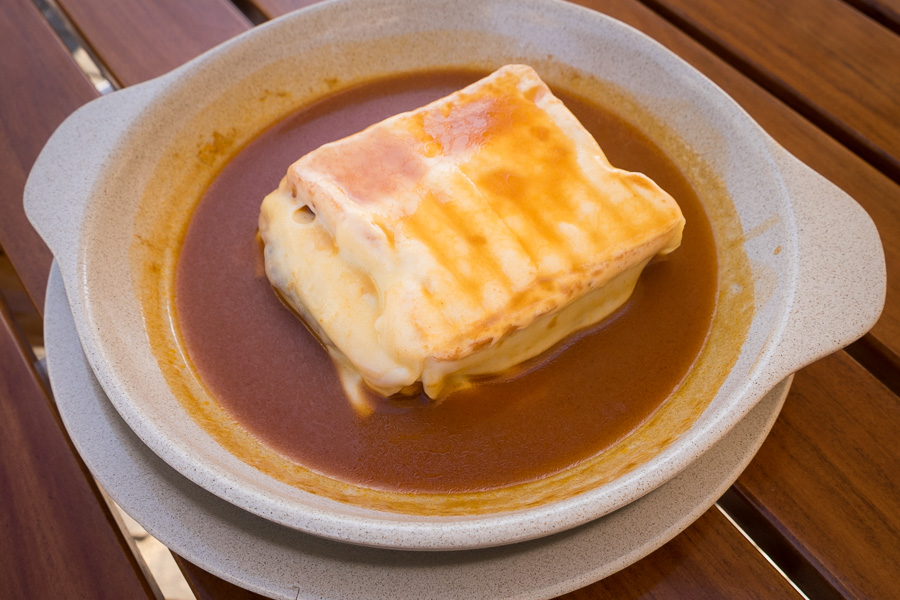 Healthy? It most definitely was not! Tasty? Well, it did have a lot of flavour, but the problem was that I didn't particularly like the flavour. Having learned what the ingredients are, I suspect this was due to the beer-based gravy – certainly it was that part of the dish that was giving me the most problems. And although another of my friends graciously offered to switch dishes with me, I ate my way through it … taste-buds becoming more and more numb to the taste as I progressed. Loads of Portuguese can't be wrong … but I won't be ordering it again 🙂
In the evening, we wandered over past the Monumento aos Heróis da Guerra Peninsular to the Mercado Bom Sucesso. This monument commemorates the victory of the Portuguese (the lion) over Napoleon's French troops (the eagle) during the Peninsula War (1807–1814), but unfortunately what I saw was a lion humping an eagle on top of a very tall column! A million apologies for the irreverence 🙁
The Mercado Bom Sucesso is an awesome place to eat, filled with lots of little cafes serving all sorts of different things. In keeping with my theme of trying little bits of alcohol, especially if they are typical, I had a go at Poncha – the typical drink from Madeira island. It is basically aguardiente (the alcohol), sugar and juice from a fruit in season, and wasn't too bad (I still struggle with the taste of all alcohol). I did manage to finish it 🙂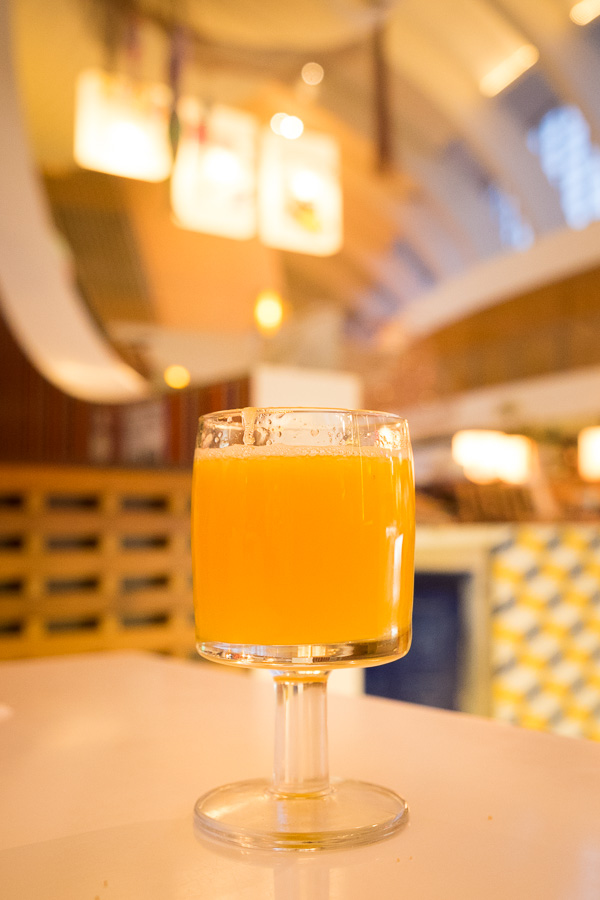 And it was here that I found my favourite Portuguese treat (apart from the Nata of course). The Jesuíta! Created by the Jesuits (no prizes for guessing there), it is a triangular confection consisting of layers of thin, flaky pastry, with a thin filling of egg cream, and topped with a crispy, sweet, cinnamon-meringue crust.
It was heaven! I was so impressed, I ordered them everywhere else I went around Porto – but none was as good as this first one from the Mercado Bom Sucesso.
So, that was the first day of eating in Porto…. and there might have been one or two other treats consumed in there as well :-/
Other typical food that I tried during my time around Porto:
Pastel de Chaves – flaky pastry with minced meat and spices inside. This name of this pastry is actually protected by the European Union since 1995.
Clarinha de Fão – a thin pastry, dusted with icing sugar and filled with chila pumpkin beaten with egg yolks.
Bola de Berlim – essentially a Portuguese doughnut with an egg-yolk-based filling.
You might be starting to notice a trend emerging with the sweet pastries … the Portuguese use a LOT of egg-yolks! So bad. But oh so yummy!
And finally, a couple of typical dishes cooked specially for me by my friends 🙂
Alheira – a delicious garlicky bread and game sausage – traditionally made without pork (follow the link for the story behind this). Typically served with boiled potatoes and Grelos – a green leafy vegetable.
Pão-de-ló – yet another coronary-inducing dessert with so many egg yolks that you don't even want to know about it! I was a little worried that it was actually going to taste like egg yolks, but nothing like it! Absolutely delicious – I went back for seconds, but thought I'd better stop at that point…..
I absolutely love the food of Portugal and can't wait to visit again to work my way through some more of the pastries and other goodies on offer – and to have another Jesuíta (or 10) from the Mercado Bom Sucesso.