Decided to give the butt a rest (yes, it was sore!) and hike the west coast north of Hanga Roa. Started early to try to get good light on Tahai Complex – I was the only person there at 8am!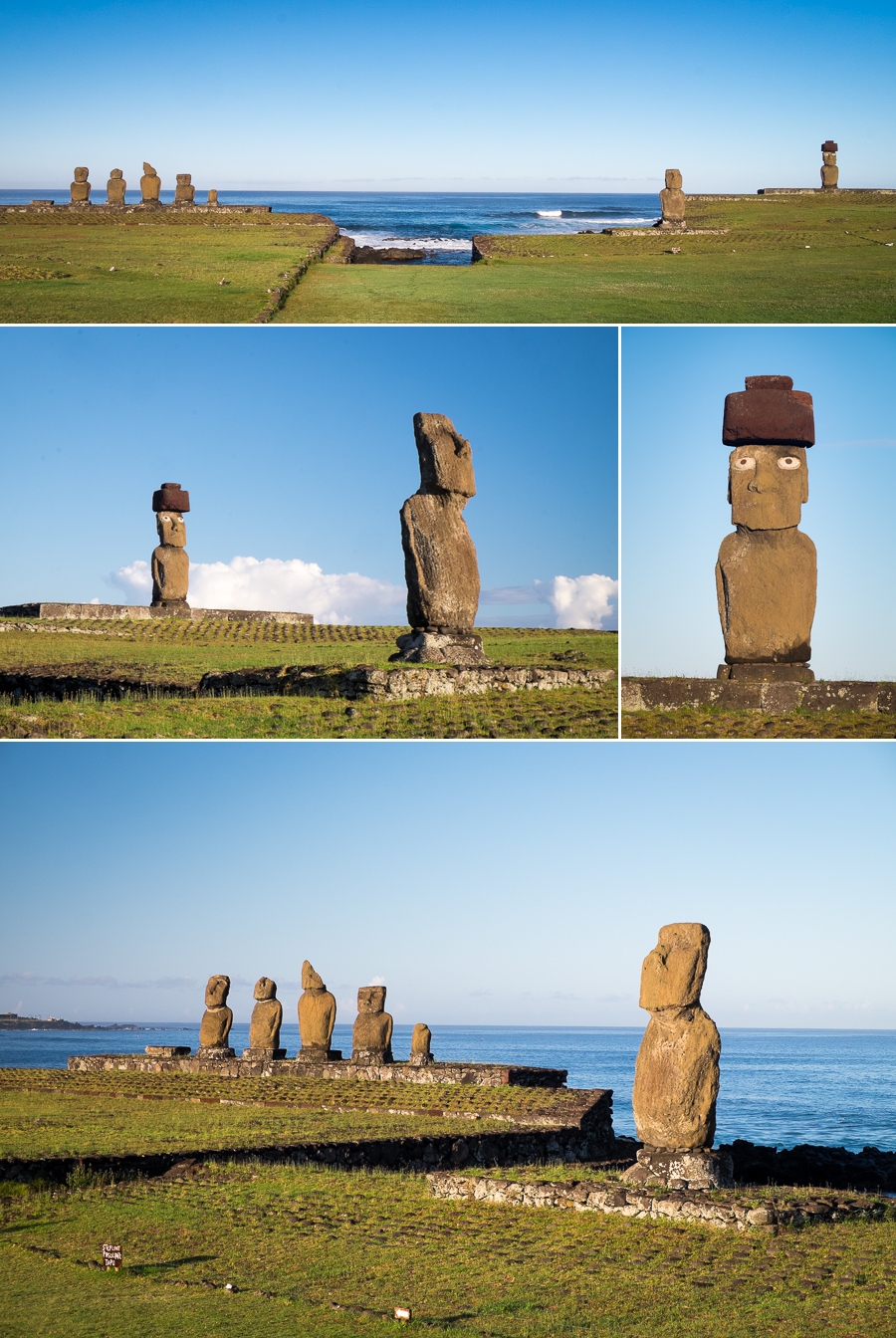 Continued further north to Hanga Kio'e, and then sat down behind a pile of rocks watching the view and reading for an hour (Thomas Covenant of course). Passed through a National Parks checkpoint and decided to walk to the furtherst Ahu – Ahu Tepeu, and visit the caves on the way back.
Ahu Tepeu was a large village, and you can still see some of the stone circles in which food was cultivated (manavais) and the outlines of several elliptical houseboats. The longest houseboat on the island (40m) is found here and it is thought that this was used to hold meetings, rather than for sleeping. And, of course, there is the ruined Ahu.
The caves along this western side of the island, though much touted, are nothing particularly special to be honest. Ana Te Pora is a lava tube whose main feature is a bed of rocks.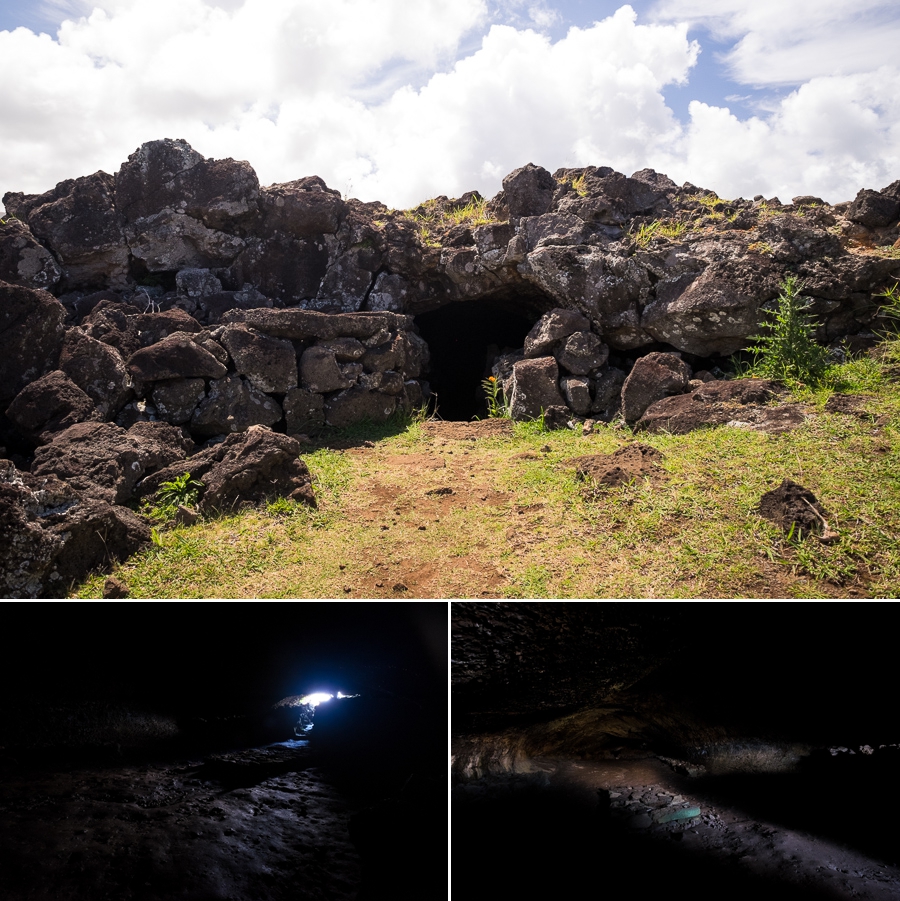 And you don't want to suffer from claustrophobia if you decide to visit Ana Kakenga, "the Cave of two windows" – the entrance is a very tight squeeze before it opens out.
Got back to Camping Mihinoa (where I'm staying) with extremely sore feet after hiking about 16km (damn arthritis)! I have my own little tent here with a great mattress (kinda like a gymnastics mat) and light sleeping bag, a huge communal kitchen with lockers for everyone to store their food (most people who stay here cook for themselves), hot showers with tons of pressure and a nice common area. And its right on the ocean!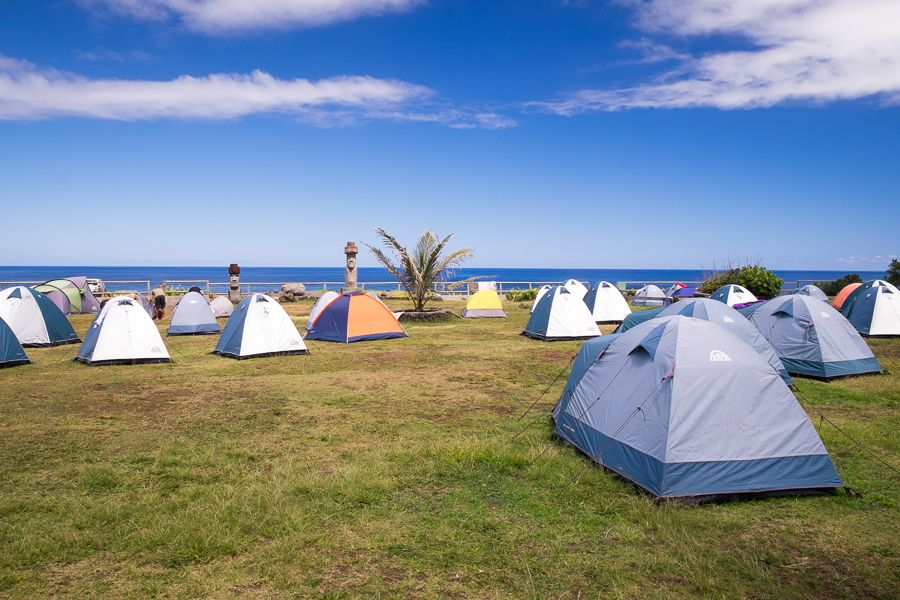 To save money (Easter Island is very expensive), I bought a box of food from Santiago and am eating exactly the same thing for each of breakfast, lunch and dinner this week. Breakfast is granola, "Greek" yogurt (well, as Greek as it comes in Chile) and cacao nibs from Guatemala (yes I still have some!). Lunch is a cheese, prosciutto and avocado sandwich (I buy fresh bread each day at one of the bakeries). And dinner is a masterpiece and surprisingly tasty – a quinoa, cauliflower, carrot, asparagus, mushroom, chorizo stirfry that I take across to road to eat while watching the sunset 🙂
Speaking of which … another spectacular one!