In Cuba, the most common form of accommodation is to stay with a Cuban family in what is called a Casa Particular.   These are identified by what looks like a blue anchor sign – and they really are absolutely everywhere.
Basically, Cuban families make spare rooms available for tourists in their homes and they earn money via the room (usually 20-25 CUC) and by offering breakfast, dinner and sometimes lunch as well for an extra cost.  I was a little nervous about this before coming to Cuba, but I had a really amazing first experience which set me up really well with the idea of it.
I'd booked Casa Colonial Nivia in Santiago de Cuba several weeks early based on recommendations online and it really didn't disappoint!  I had a gorgeous, enormous room with a private bathroom for 25CUC.  Lots of light, airconditioning, walking distance to the centre of Santiago de Cuba – really quite amazing!   And Beatrice (who is the main person in the family looking after guests) was so sweet!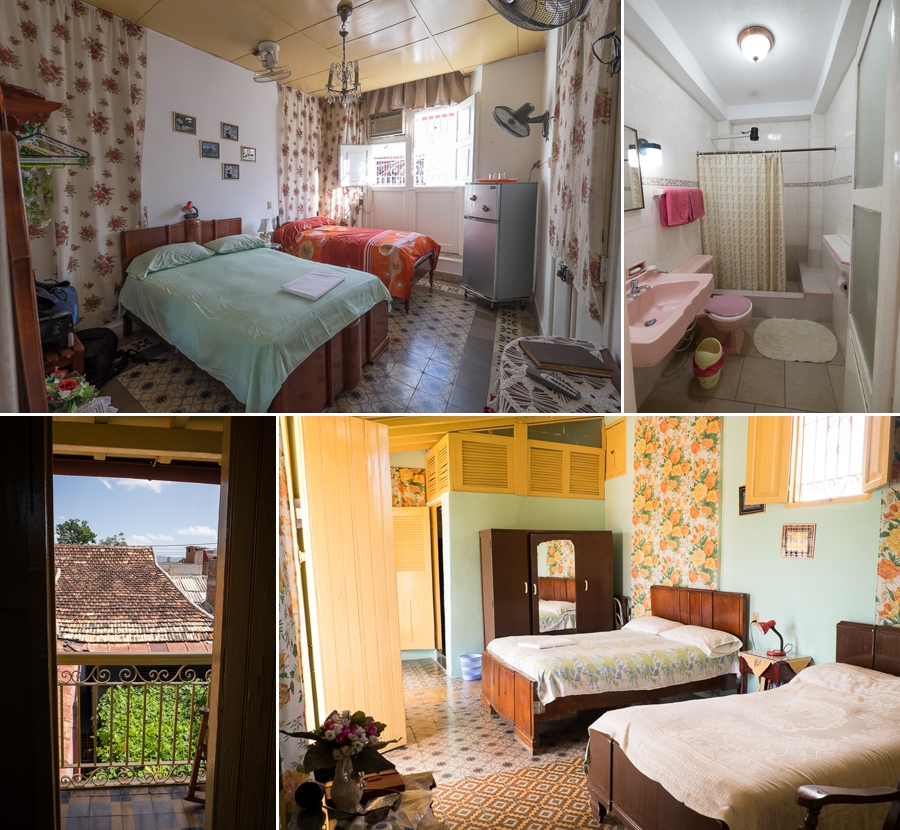 I'd asked the Casa to prepare breakfast for me when I arrived which turned out to be a very good option indeed!  It was really tasty and absolutely enormous – tea, coffee, eggs, fresh fruit, bread, jam, cheese, ham all for 4 CUC!
Each day I was there, I ended up packaging up the bread and cheese to have sandwiches for lunch, and froze whatever fresh fruit I didn't eat for a cool afternoon snack (yes, my room had a proper refrigerator with freezer in it as well)!   Actually, I did that in almost all the Casas -the meals they serve are enormous!
My favourite Casa Particulares were:
Santiago de Cuba:   Casa Colonia Nivia (gorgeous romos – see above)
Baracoa:  La Terraza de Rafael y Adis (hot chocolate included in the breakfast which is served on the rooftop terrace)
Bayamo:  Bretones (amazing dinner for 8 CUC that would have fed 4 people and a really interesting owner who is super-keen to chat)
Viñales: La Cabaña Azul (fabulous breakfast and Piña y Yamilé are super-keen to interact and chat – Spanish only)
The casa in Trinidad was fine but the casa in Camaguey didn't have much light in the room and the owner very brusque.  The Casa in La Habana had the most amazing view and sea-breezes (thank goodness) but I'd grown accustomed to air-conditioning and private bathroom J  All the owners though were very helpful with booking the next place in my schedule.

So it's an interesting experience I have to say and one that I got used to very quickly and appreciated.  Just so glad I started with a great experience in Santiago de Cuba though 🙂