Two of my greatest joys in life are hiking and trekking, and eating excellent or interesting food.
Unfortunately, I didn't have much of an opportunity to try traditional Greenlandic food during my 5 week visit in 2017. The best I managed was a Musk Ox Sled Dog and some whale at the amazing CaféTuaq in the Katuaq Cultural Center in Nuuk.
So I was very excited to see that the Hotel Sisimiut holds a surprisingly cheap Traditional Greenlandic Buffet every Saturday night! Given that I'd just finished hiking the Arctic Circle Trail (160km from Kangerlussuaq to Sisimiut), I felt completely justified in indulging to the maximum extension of my stomach. Yes, I signed up immediately 😀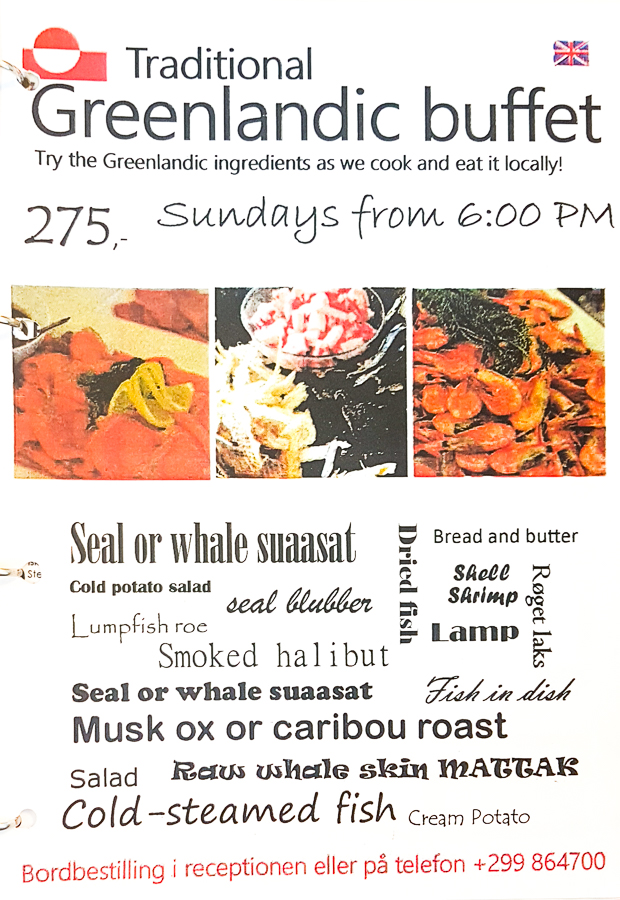 The wonderful head chef, Noel, allowed me to come watch the final stages of food prep in the kitchen and ask loads of questions about how the kitchen runs. It is a fascinating enterprise!
English is the main language spoken in the kitchen. Given that all the staff are learning or have learned English – they use their working time to also practice and perfect their skills in their third language (both Greenlandic and Danish are official languages in Greenland).
The kitchen is extremely busy in the morning as they prepare lunches for over 400 school children at 5 different schools.
They can never 100% predict what will be part of the Traditional Greenlandic Buffet, as they source their meat directly from the hunters. It all depends on what has been caught/killed in the past day or two.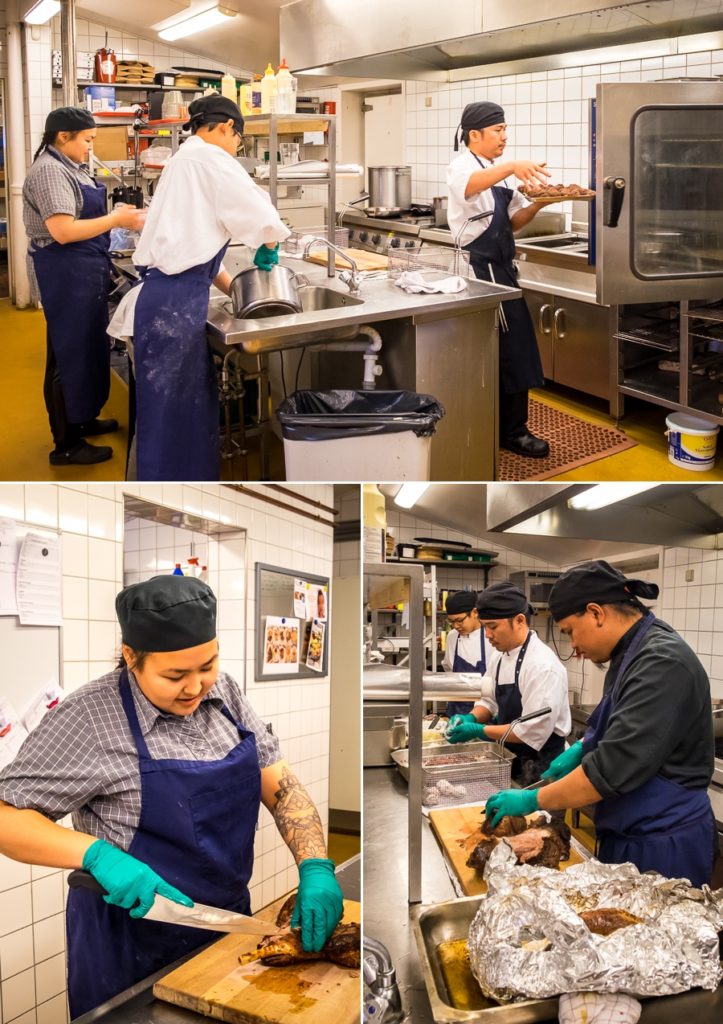 It was a wonderful experience to learn about the behind-the-scenes at the Hotel Sisimiut kitchen and I couldn't wait to sample the outcome!
Tyson and I were first in the dining room when the food was all laid out for the buffet. The wait-staff went through and explained what everything was, at which point Tyson decided it wasn't for him and headed off to find something less seafood-y to eat.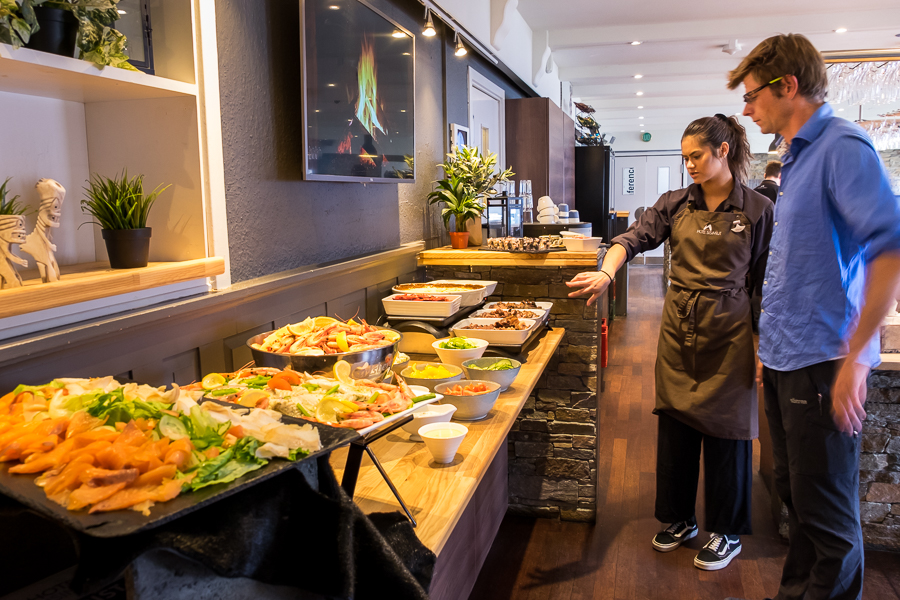 Which was fair enough. The traditional diet in Greenland draws heavily from the ocean, so if your taste-buds agree with Tyson's and you aren't a fan of fish and seafood, you are limited to about a third of the offerings in the Greenlandic buffet.
I, on the other hand, decided to tackle this enormous smorgasbord in 2 waves. First up – seafood!
Seafood at the Traditional Greenlandic Buffet
Despite my best efforts to get "just a little bit of everything", my plate still looked very full as I took it back to my table in the Nasaasaaq Restaurant and Brasserie.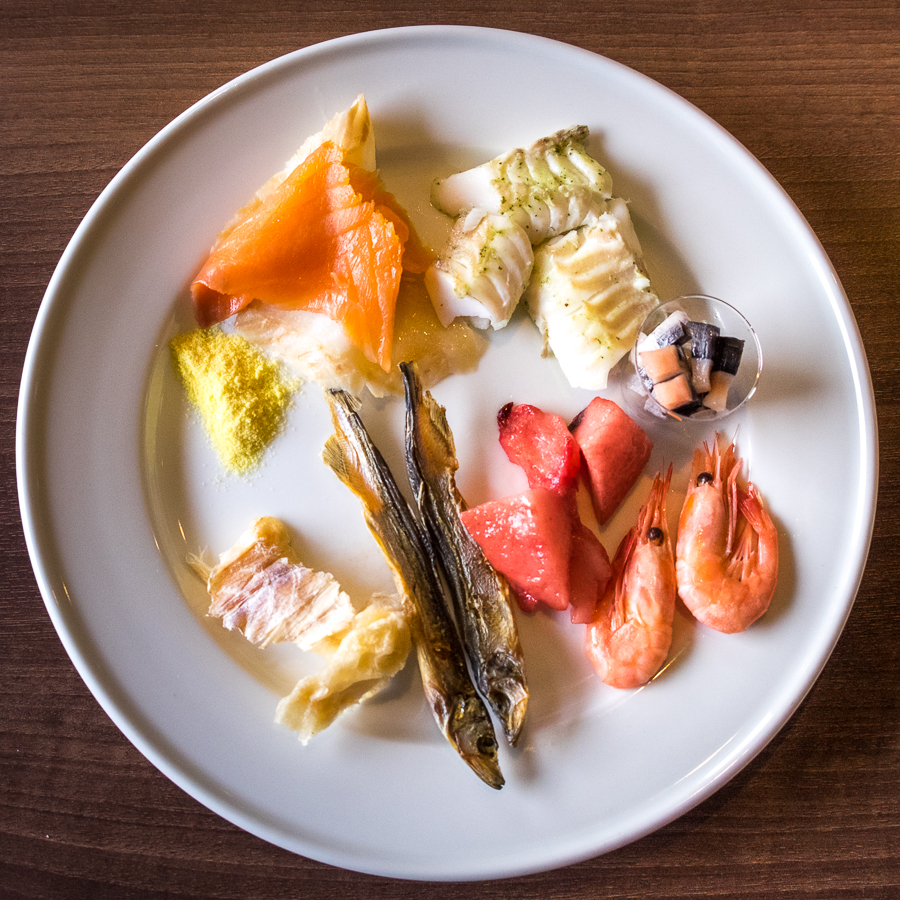 Before me I had smoked salmon, smoked halibut, Greenlandic prawns, dried cod, dried sardines, baked cod, whale blubber and mattak – a Greenlandic delicacy of whale skin and fat.
I'm a big fan of panertut (dried fish), having been introduced to it last year on the Unplugged Wilderness Trek in East Greenland, and both the prawns and the cod baked in a curry-style sauce were delicious. But it was the whale blubber and mattak that I was most curious to try.
Read more about seafood in Greenland at A Taste of Greenland.
Mattak
Although most of us balk at even the thought of eating whale, it is an important staple in the Greenlandic diet. Partially this is because a single whale can feed a lot of people for quite a long time, an important consideration when meat is sourced through hunting. But also because it is a very rich source of Vitamin C – something that is critical in an environment where fresh food is scarce.
Mattak comes from a narwhal or white whale and is the skin and fat of the animal with a thin layer of cartilage separating them. It is most commonly served cut into small cubes and eaten raw – exactly how it was presented at the Traditional Greenlandic Buffet.
It didn't have a strong flavour but the texture took a little getting used to. While the skin and fat were quite soft, the cartilage was very hard and rubbery, an unusual sensation for me and I felt I had to be a bit careful of how hard I chewed for fear of catching the cartilage at the wrong angle. Nevertheless, I ended up eating two whole glasses of mattak, and happily accepted more when I visited a local Greenlander in their home later in the week.
Whale Blubber
While the epidermis of the whale is a key source of Vitamin C, the blubber is equally important in the Inuit diet. Not only for its calorie content in the freezing Arctic climate, but also because of the large amount of Vitamin D and Omega-3 fatty acids it contains.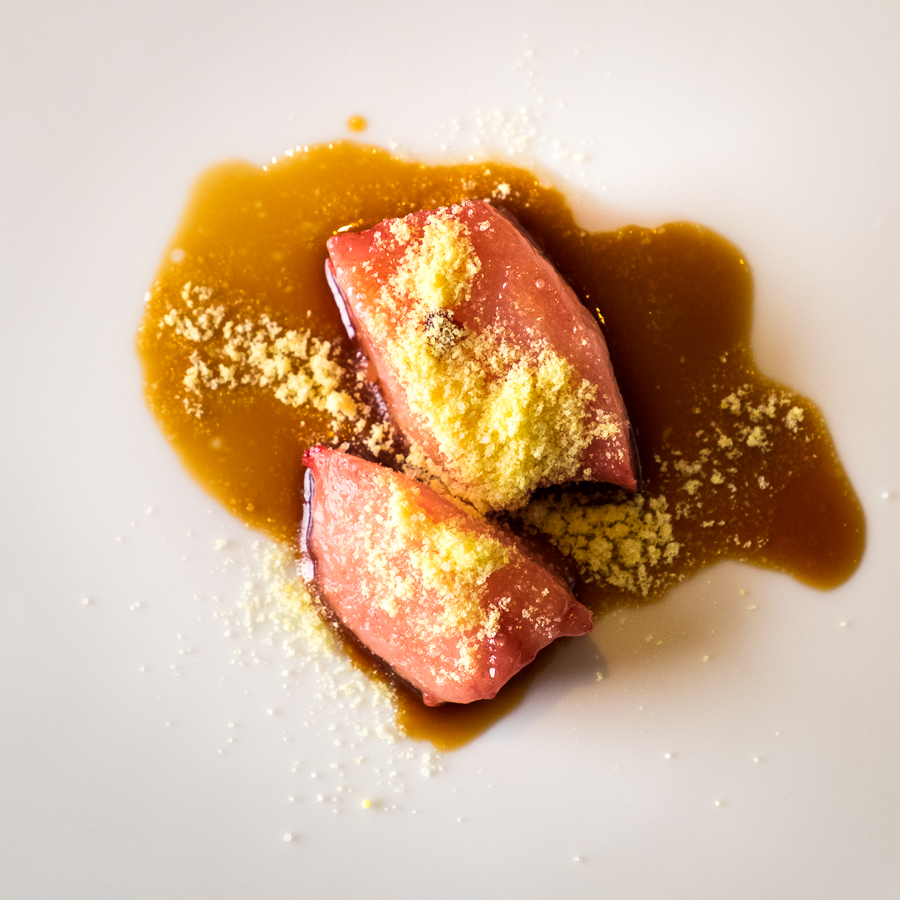 "The way we usually eat this is with some soy sauce and aromat", explained the young waitress in perfect English as she pointed out the bottle of Kikkoman's and a bright yellow powder.
While I appreciated the advice, I decided to eat the first piece of raw blubber "as is" to get the pure experience. It didn't have much flavour, and I found the texture to be very soft and watery, but creamy at the same time.
I didn't think it was so bad, so popped a second piece of raw blubber in my mouth…
… and immediately went looking for a serviette to spit it back out.
The problem was nothing to do with the food. It was the fact that between the first piece and the second piece, I had started to really think about what I was eating, and my mind had had an adverse reaction to the idea of eating blubber. After all, I'm one of those people who usually buys the leanest cuts of meat or trims all the fat off once it is cooked!
That left the third piece of blubber on my plate, and I decided it was time to try the soy sauce and aromat suggestion. The locals know what they are doing. With the addition of these two elements, I had no problem getting my last piece of blubber down, though I have to admit it is not something I would choose to eat unless I needed the vitamins!
Read more about whale as a food in Greenland at A Taste of Greenland.
Suaasat – Seal Soup
It couldn't be a Traditional Greenlandic Buffet without serving the national dish of Greenland – Suaasat. This is a thick soup typically made with seal meat, potatoes, onion, rice, salt and pepper, and perhaps a bay leaf.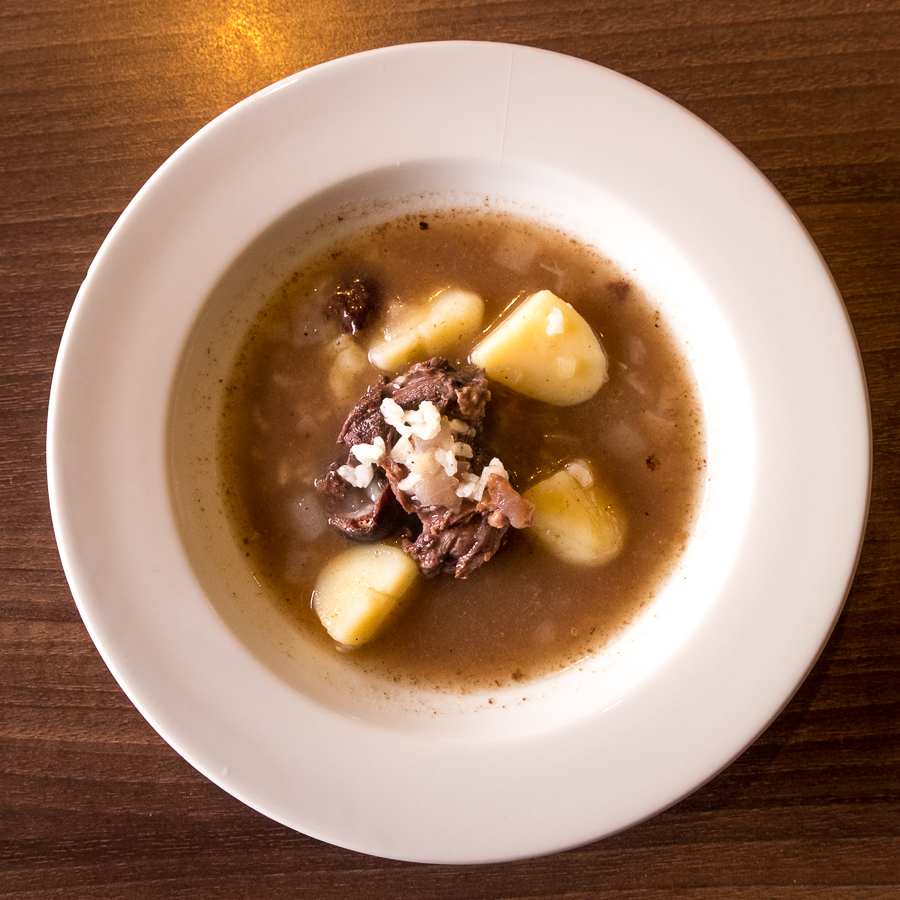 As one would expect from a dish designed to provide sustenance in frigid Arctic temperatures, it is a rich and hearty soup. It has a very slightly fishy taste, which I assume comes from the dark seal meat, but it was very tasty!
Read more about seal as a food in Greenland at A Taste of Greenland.
Meat at the Traditional Greenlandic Buffet
Although the Greenlandic diet relies heavily on what can be caught in the ocean, the world's largest island also has a handful of decent sized land animals – all of which were on the second plate I helped myself to at the buffet.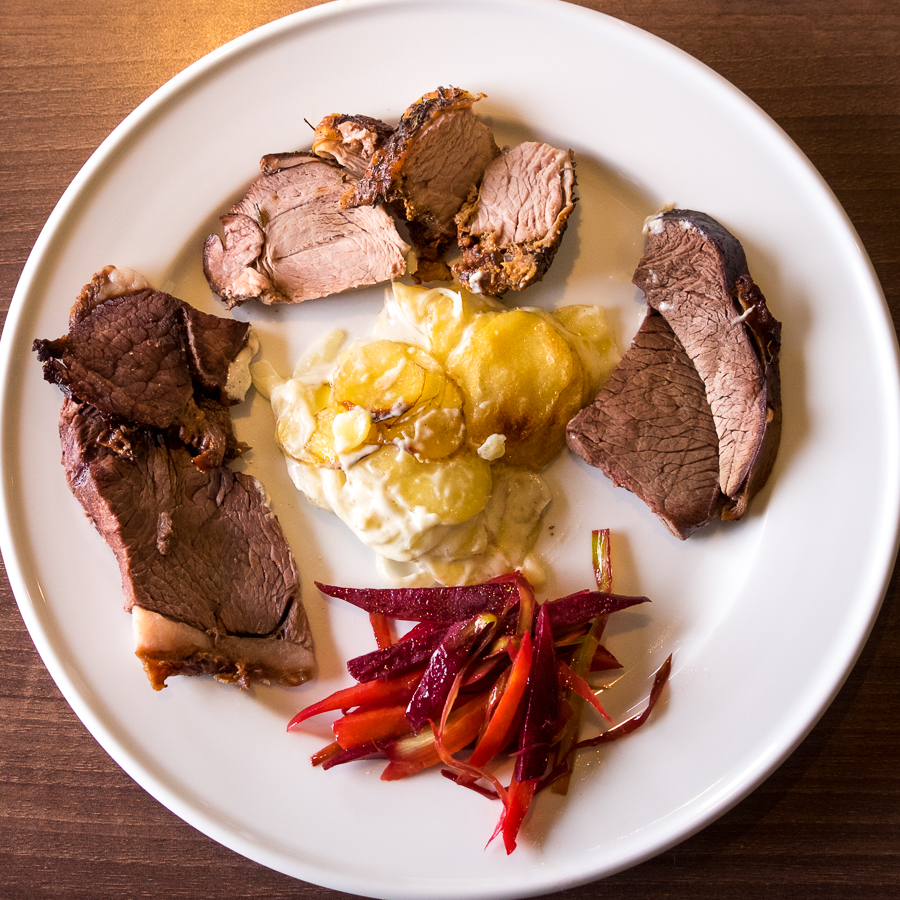 Lamb (Sava)
One of these was very familiar! Lamb is the meat my family ate all the time while I was growing up, and is still a favourite when I go home. Greenlandic lamb is just as delicious as Australian lamb (some experts would claim it is the best in the world!) and frozen lamb chop meals are my staple if I have access to an oven while travelling in Greenland.
The lamb are primarily raised in the south of Greenland and I saw plenty of them as I hiked the area between Narsaq and Narsarsuaq last year. And although the lamb of my plate was wonderfully cooked, I was far more interested to taste the other two meats.
Read more about lamb as a food in Greenland at A Taste of Greenland.
Musk-Ox (Umimmak )
Although I'd tried a musk-ox hot-dog last year, I was keen to try a less manipulated version of the meat.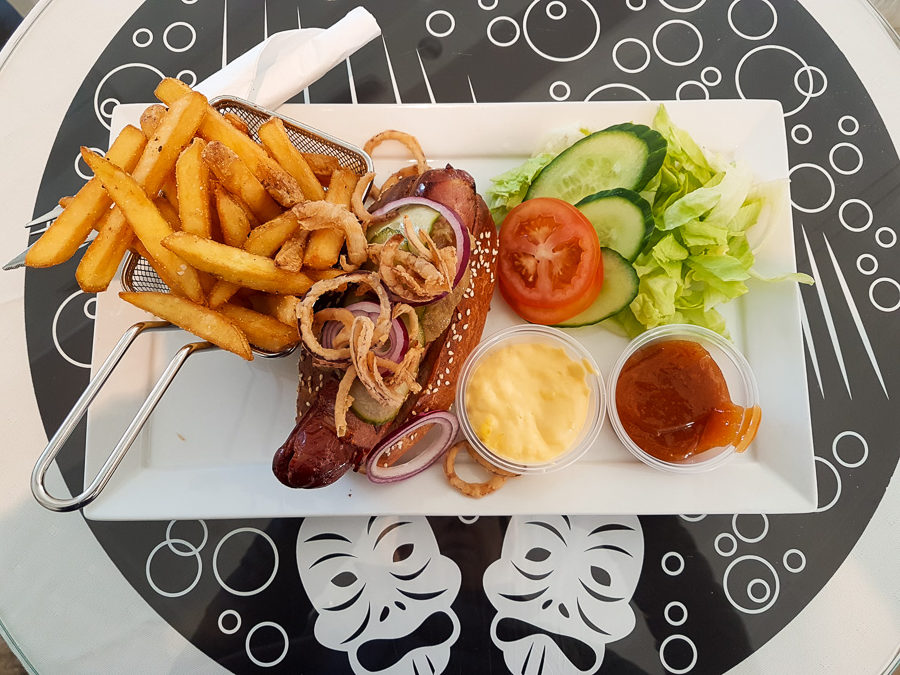 It turned out that musk-ox was actually my favourite of the 3 meats! The taste was enhanced by careful selection of herbs and was nowhere near as strong as what I'd experienced with the hot-dog. It was perfectly cooked, juicy, and yes – I may have gone back for seconds … and thirds!
Read more about musk-ox as a food in Greenland at A Taste of Greenland.
Reindeer (Tuttu)
The third meat on the plate was reindeer, the favourite of Noel, the head chef. He was telling me while I was in the kitchen that reindeer meat is very lean, so the fat must be left on while cooking to ensure it is as tender as possible.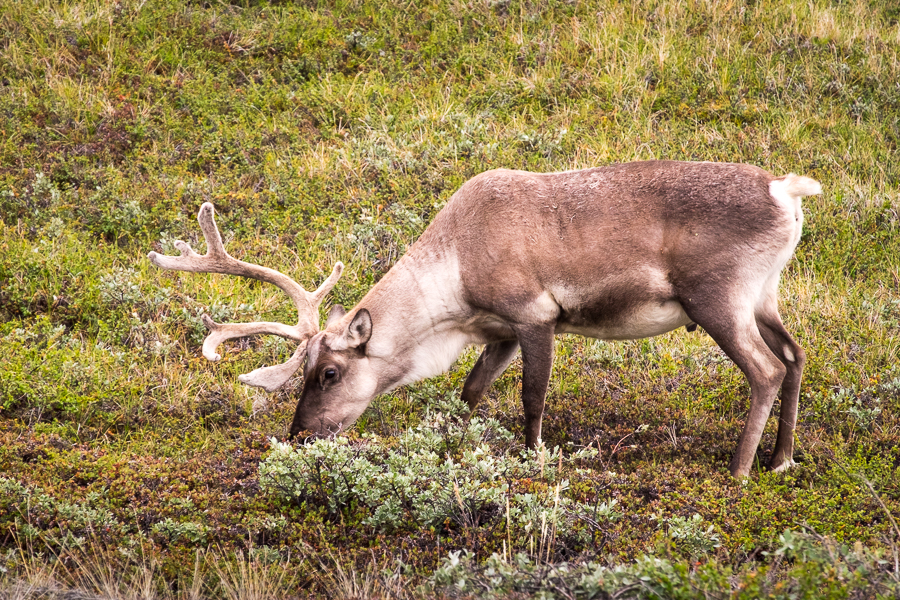 Certainly, it was not as tender as the other two meats, and although it was very mild at first taste, a stronger gamy flavour developed as an after-taste.
Read more about reindeer as a food in Greenland at A Taste of Greenland.
Recommendation
If you are interested in trying new foods and/or are looking for an unlimited amount of food for a great price in Sisimiut, you must try to time your visit to coincide with the Hotel Sisimiut's Traditional Greenlandic Buffet.
All the food was immaculately prepared and presented, and they had to almost roll me out of the restaurant I had eaten so much! I suggest not eating lunch 🙂
Cost: 275DKK (~USD$42) for all you can eat
Time: as long as you want to keep eating. I took about 2 hours before I couldn't fit anything else in.
Something cool: check out the Greenlandic Food Infographic from Visit Greenland
Discover more about Greenland
I have a large number of blog posts about Greenland, so feel free to read more about my experiences and adventures here on my blog.
Or, if this post has piqued your curiosity about Greenland in general, learn more about this amazing country by:
This post contains some affiliate links. If you make a purchase through one of these links, I will earn a small commission at no extra cost to you. Your support is appreciated!