From Dushanbe, we had to travel a long way north to a very specific border crossing that could process the truck. The scenery continued to be very impressive for several hours
Including lots of avalanche/rockfall shelters
And several very long tunnels, including the Anzob tunnel, which runs for over 5km and is the modern link to northern Tajikistan (previously this area was cut off for large parts of the year due to avalanches and snow). Until recently, the Anzob tunnel was otherwise known as the "Tunnel of death" – here's a funny summary for exactly why, stories that were verified by our trip leader who passed through the tunnel 5 years ago. Fortunately (or unfortunately depending on how you look at it), our journey was nowhere near as eventful – they've clearly done a lot of work on it.
At our first bush-camp we were joined by a very drunk Russian who would not leave us alone and became quite a liability (though we were camping outside his house, so not much we could do).
He was still sleeping it off the next morning as we had breakfast thank goodness, so it was an uneventful start to the morning where we packed the truck and moved further north. Given that we didn't have too far to drive, we stopped off for a few hours in Istaravshan (one of the oldest cities in Tajikistan) to have a look. They were gearing up for the 9th May celebrations with lots of people in the street, and we were befriended by a few women and their daughters as we walked along – communicating through sign language and being gifted with roasted sunflower seeds.
Would we hand someone we saw walking on the street and who we couldn't really communicate with part of what we were eating in Australia? I think not. And I guess one of the key differences is that here, we stand out like sore thumbs – it is obvious we are tourists. However, in Australia – because it is so multicultural – it is impossible to tell who is visiting and who actually lives there. Try to share something with a person who lives in Australia, and they would wonder what the hell was the matter with you and what was wrong with the food. Try to share something with a visitor and they would probably have the same reaction we had here – grateful for the offer and keen to engage. Problem is – you just can't tell.
Given our short amount of time in the city, I headed for the Mug Teppe – a castle/fort on top of the hill just outside of the main downtown area. It was a steep climb and, upon arrival, I was immediately swamped by about a dozen late-teen guys who were super-keen to practice their English.
One of them (the guy in the brownish shirt just to the left of me in the photo) spoke excellent English and he was super-busy translating as he and his friends peppered me with questions about me, my travels and what I thought of Tajikistan.
We were soon joined by another group of about a dozen primary-school boys who were also super-keen to practice their English.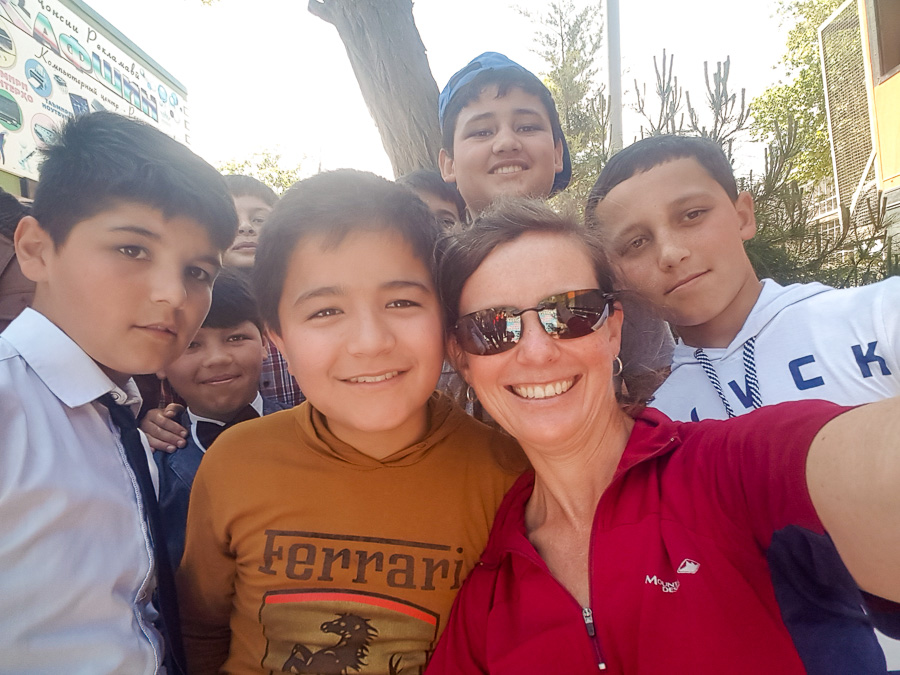 The boy in the brown shirt to the left of me in the photo attends a school for learning English in Istaravshan (I actually met the son of the person who opened the school as well thanks to my entourage) and again, spoke extremely well. He is planning to become a translator and "go to America" when he grows up, and was doing a great job relaying questions from his friends to me, and my answers back to them.
In the end, I think I ended up being surrounded by about 30 people – and was far more the attraction than the castle was! Only got about 2 minutes to snap a quick picture of the castle – but really enjoyed chatting with the locals 😊
Next stop was the other main city of the north – Khojand. Came across this really lovely park in my wanderings, and just decided to sit and enjoy the peace and quiet. About 5 minutes later, I was joined on my bench by these two girls who (you guessed it!) were super-keen to practice their English 😊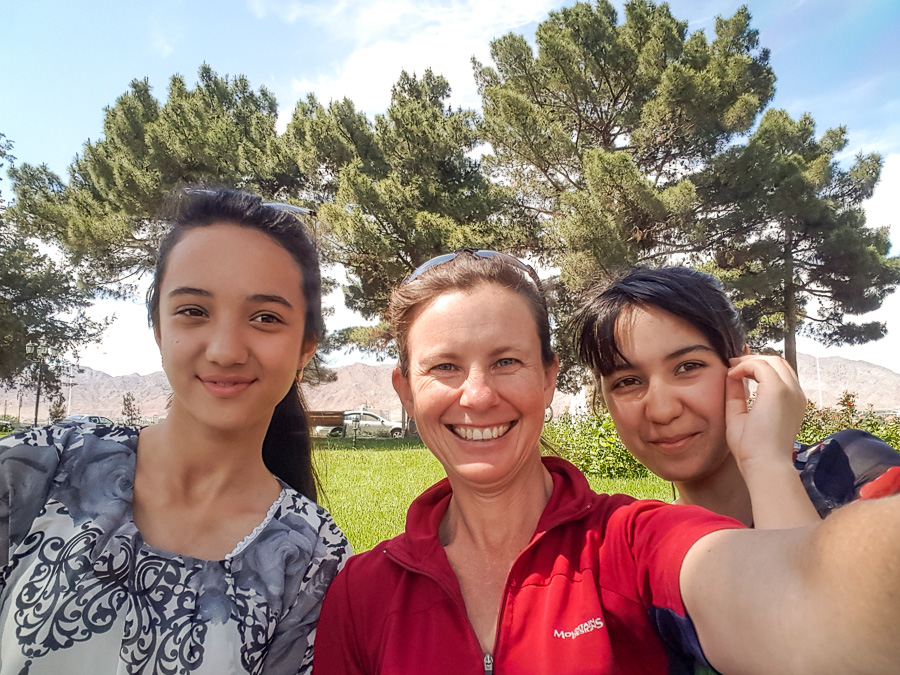 Had a really lovely chat with them, and it is great to hear that their hopes and dreams are for lots of travel and interesting careers – one wants to be a doctor and study in Moscow, the other a lawyer. Very impressive to hear the uptake of English in Tajikistan – and all the kids I chatted to today spoke multiple languages, usually Tajik, Uzbek, English and Russian.
When I come back to Tajikistan – will definitely return to this area to spend more time in these large and non-touristy towns.
Drove up almost to the Uzbek border on back roads trying to find a place to camp. Problem was that it was all farmland! Chucked a u-ey and went back along the main road and eventually it was decided that we would camp on the grass in this abandoned petrol station lot.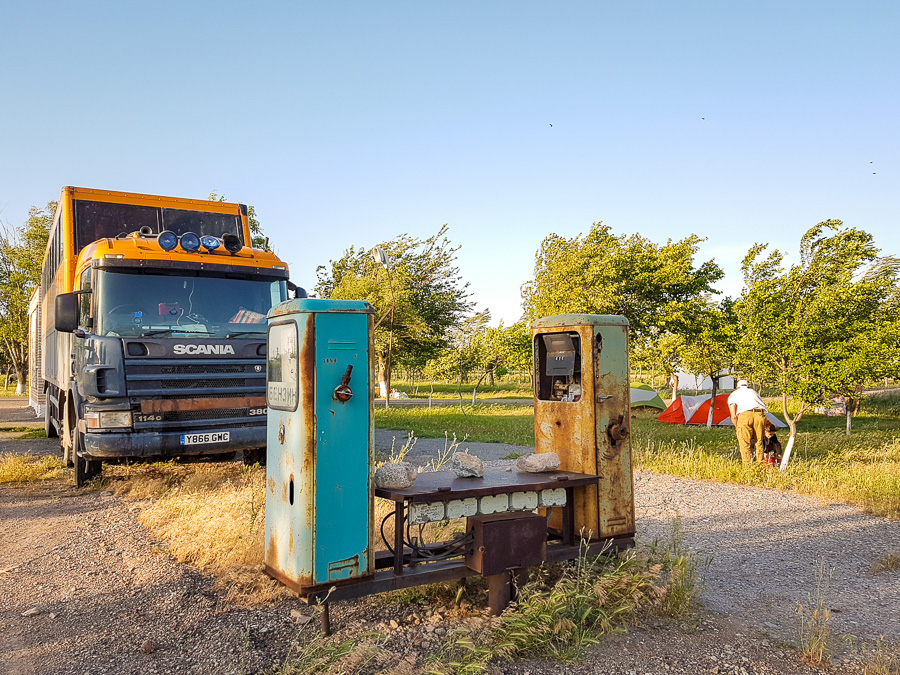 One of the guys who worked at the border actually saw us do the u-ey and followed us until we stopped (we are pretty hard to miss after all) to ask us what the hell we were doing. He was satisfied with our explanation (he had thought our behaviour was slightly suspicious), and the guy who owned the petrol station lot was also fine with us camping there – and even offered that we could sleep in one of the buildings that he would unlock, rather than sleeping in tents. We stuck with the tents.
It's really amazing how cool everyone is with us rocking up and pitching our tents on their property. Would we be so accommodating in Australia?