A Nuuk Fjord boat tour is a must-do for every visitor to Greenland's capital city. Even a relatively short trip of a few hours takes you past incredible mountain scenery and may even provide you with dinner!
There is something really special about being out on the water. I'm not sure what it is, but I am always keen to jump on a boat and set sail – no matter where we may be heading. Which is how I found myself at "Tidevandstrappen" (the Tidewater stairs at Nuuk's industrial harbour) at 8:45am for a 4 hour Nuuk Fjord boat tour.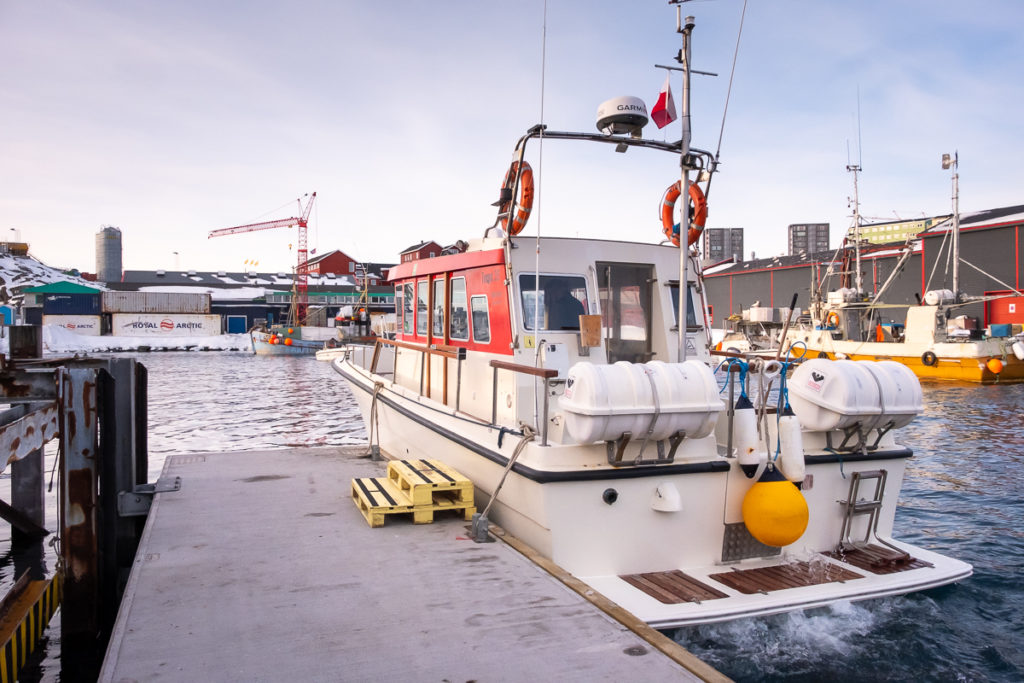 I would be sharing this trip with a solo traveller from the US and a group of 8 people from Nunavut – Canada's newest territory. This was a fantastic group and we had a lot fun together on our fjord adventure.
We were welcomed on board by our captain, Katarina, and given a briefing on where we would be sailing by our guide, Sebastian, as we headed out into the fjord past the colourful houses of Nuuk. Some of the hardy folk from Nunavut elected to sit out on the front deck to enjoy the bracing temperature and wind-chill of Greenland, but I stayed in the warm comfort of the cabin for this first part of the trip!
The Nuuk Fjord close to the Capital
On this trip, we would be exploring the part of the fjord that is closest to Nuuk. In particular, we would be circumnavigating Sermitsiaq mountain, the icon of Nuuk, which forms its own island very close to the capital.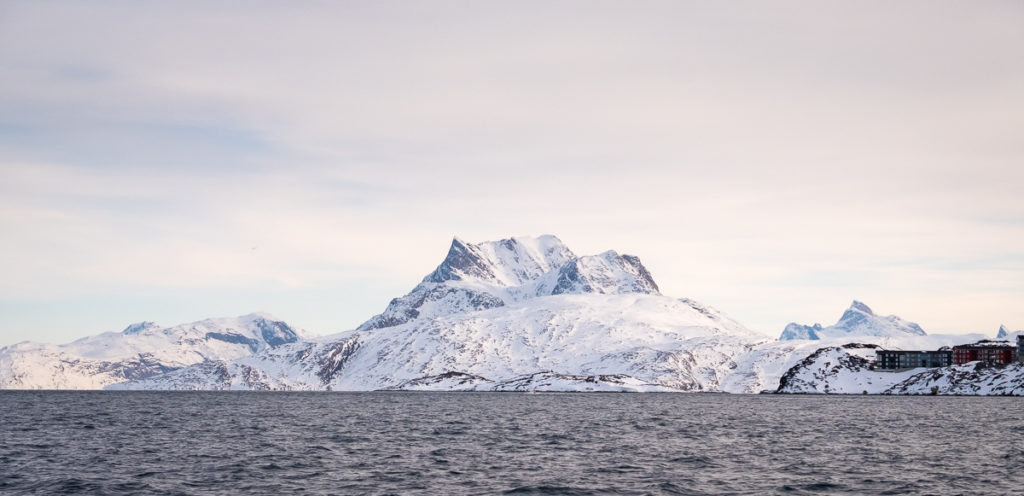 Before we did that, however, Katarina set course for Maaluto island, where Nuuk Fjord's 5 whales are sometimes seen. Unfortunately, there were no whales on this occasion, but my imagination ran wild with the thought of owning one of the summer houses in this beautiful area. How amazing would that be?!
We also found a small iceberg, and I was fascinated by how excited the folk from Nunavut were to see one. Apparently they have a lot of sea ice there in the winter, but not so much old ice like this that has come from a glacier.
Sermitsiaq Waterfall
The next major stop on our tour of the Nuuk Fjord was the waterfall that cascades over the back of Sermitsiaq. At this time of year (the start of March), it is frozen solid, and forms the most beautiful and colourful "stalactites".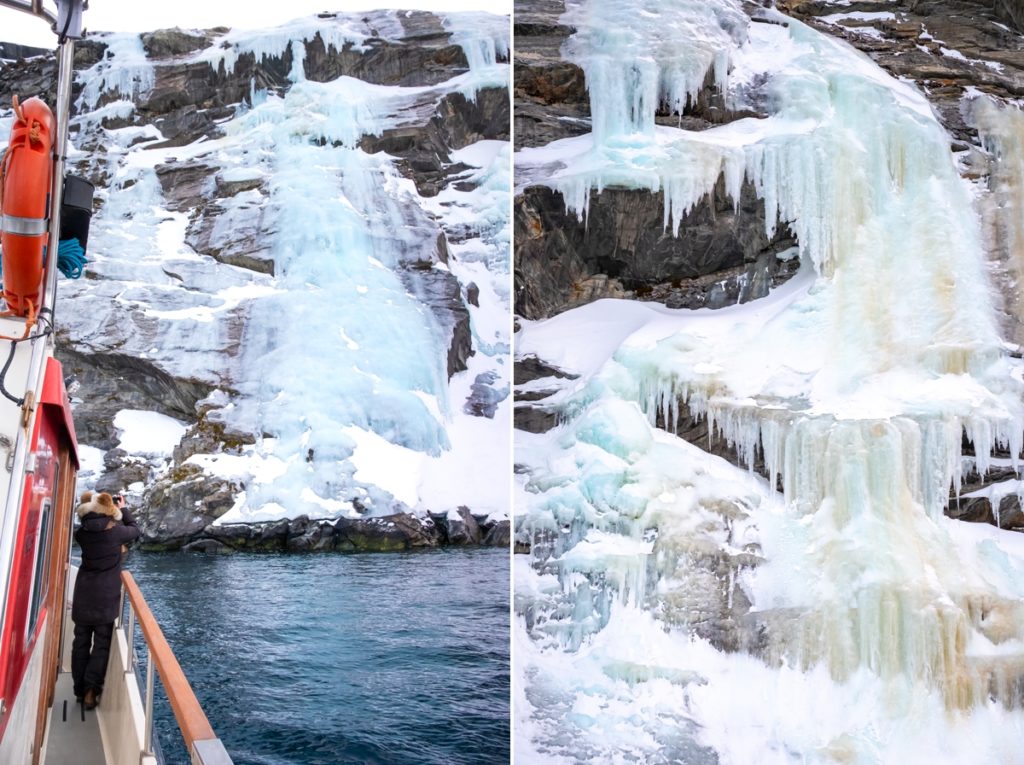 We watched in amazement as Katarina nosed the boat into the rocks at the base of the waterfall and Sebastian jumped out (in tennis shoes!) to gather ice from the waterfall for us. Given how much trouble I have just walking around Nuuk on the ice, it was an impressive display of mountain-goating!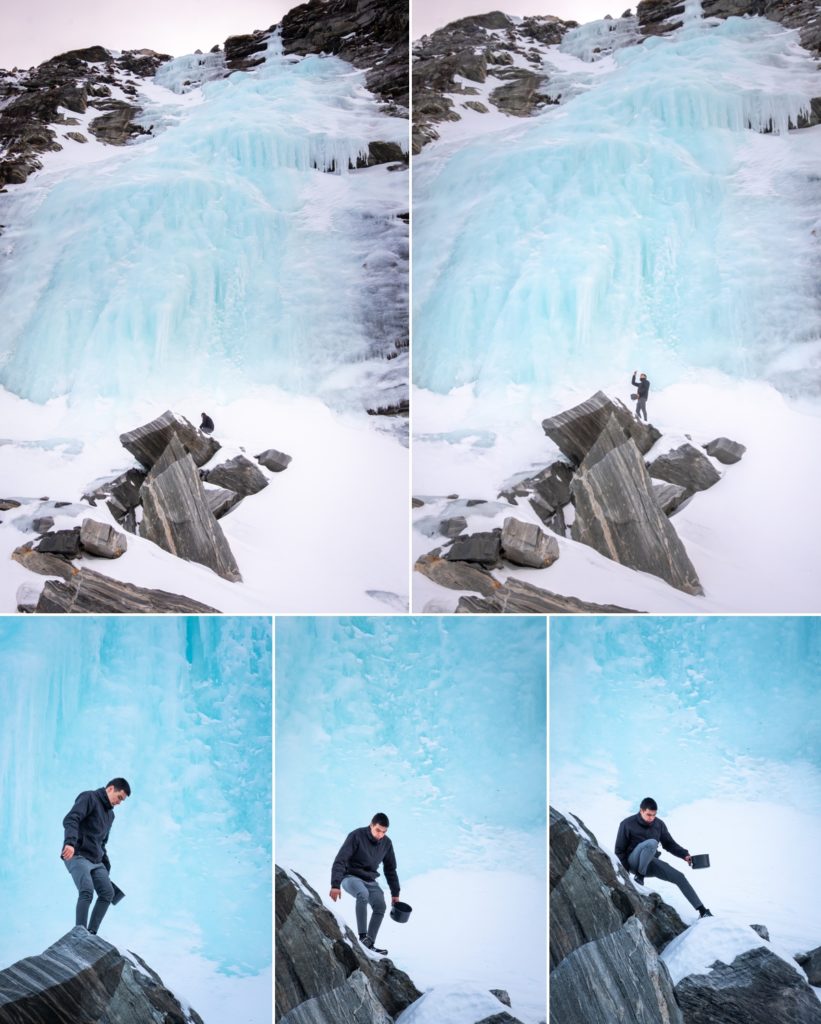 Our reward – ice that doesn't get much purer than this.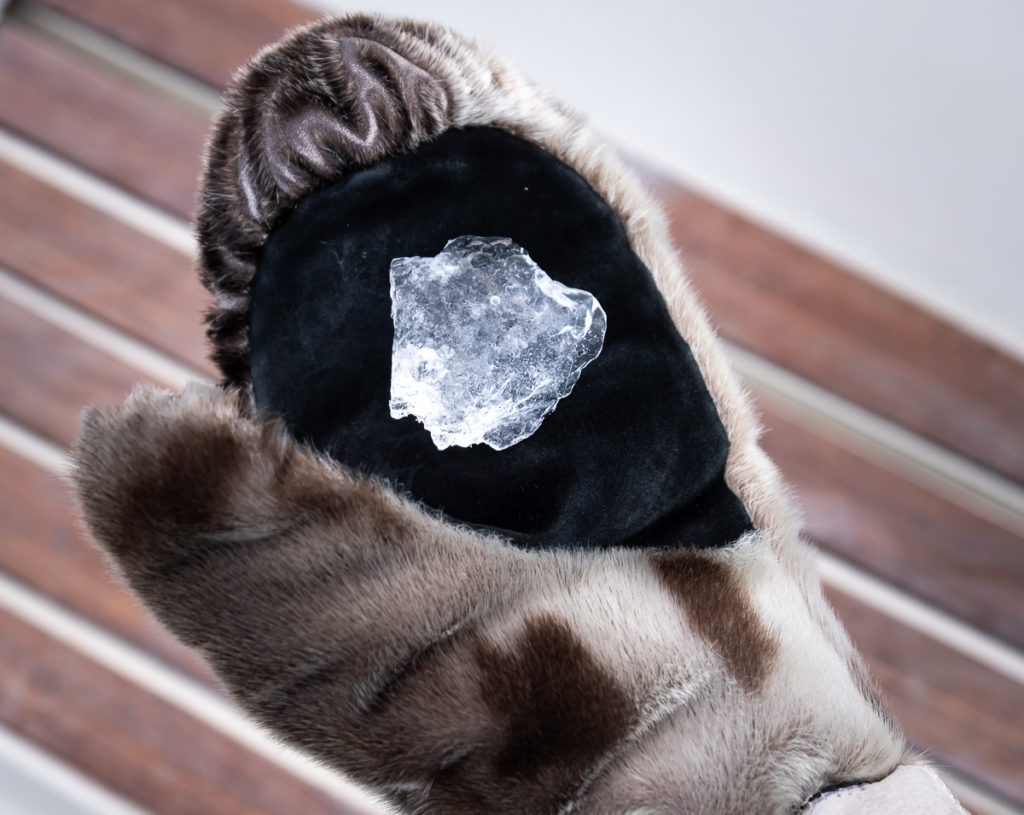 The views around the back side of Sermitsiaq are just as impressive as the view of Sermitsiaq itself
and what better way to take some time out and enjoy the scenery than to do a spot of fishing!
Fishing in the Nuuk Fjord
Sebastian and Katarina set us up with a couple of hand-lines, each of which contained 3 large hooks.
And within 30 seconds of dropping these unbaited hooks over the side, we had our first fish!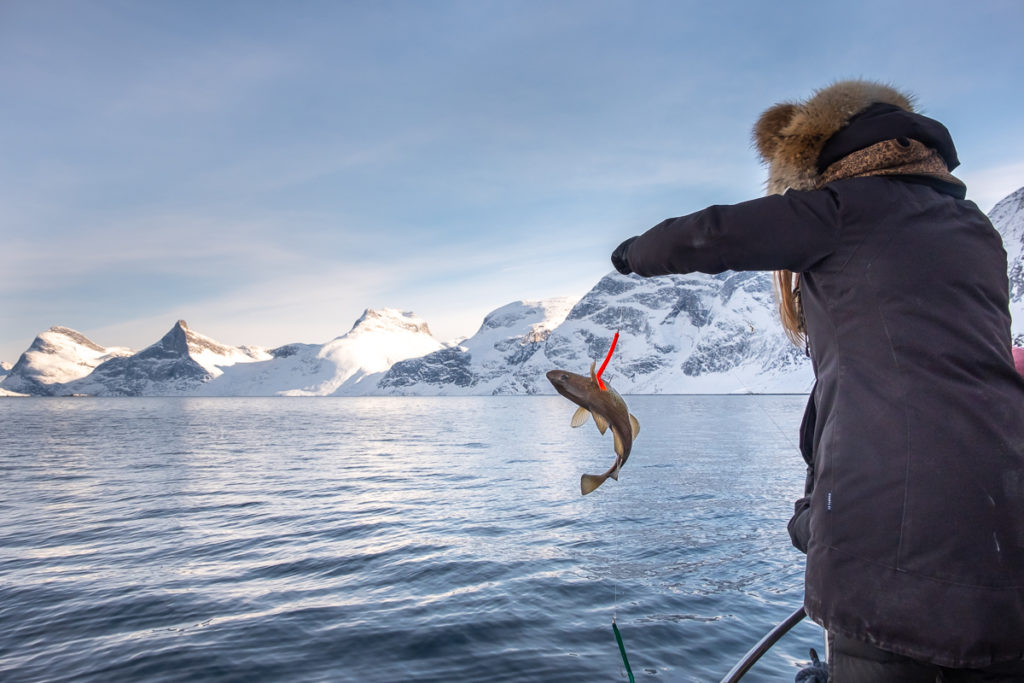 It was incredible how these cod would bite at anything. And so quickly! Such a contrast to going fishing with my Dad in Australia, where we usually sit in a boat for hours to catch absolutely nothing at all. Don't worry Dad, it is about spending quality time, not really about the fishing for me. But you should definitely come to Greenland to go fishing… 🤣
We pulled up lines about 15 minutes and 7 fish later, and moved a little further along to sit under Oriartorfik – a very impressive 1030m sheer cliff that falls straight into the Nuuk fjord. The fish-finder was going crazy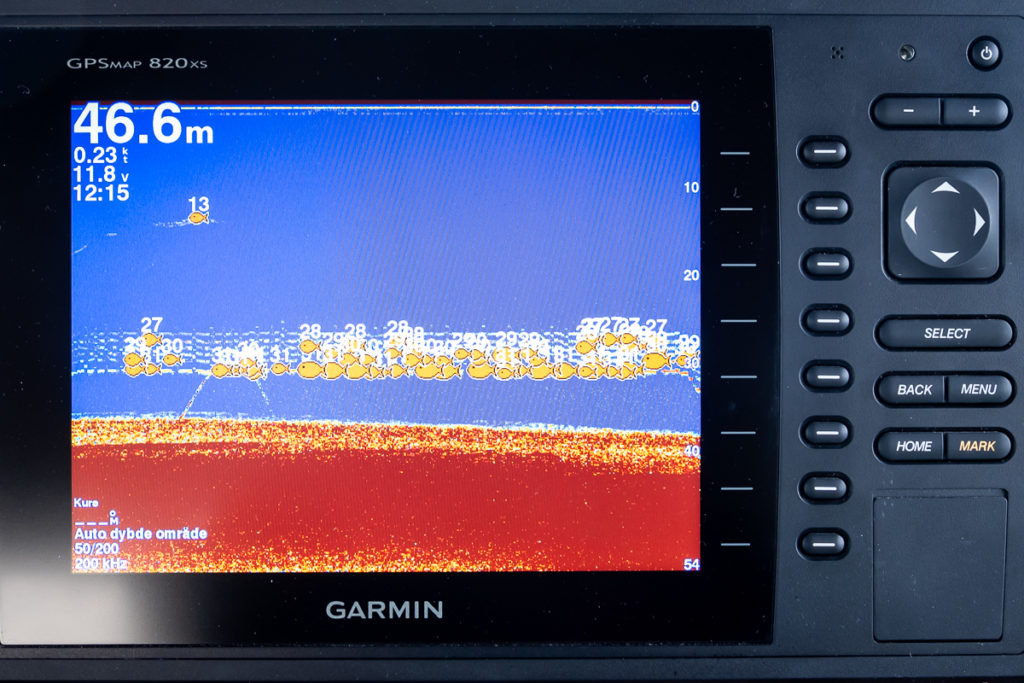 and again (and unlike in Australia) the fish were biting at nothing. Several of us even managed to pull up 2 fish at a time!

This was my first experience of using a hand-line. And although it is very easy to spool out the line, it really is a 2-person job to bring it all back in – one to pull on the line itself, and the other to wind the line back onto the rack so it doesn't end up in a tangled mess on the floor.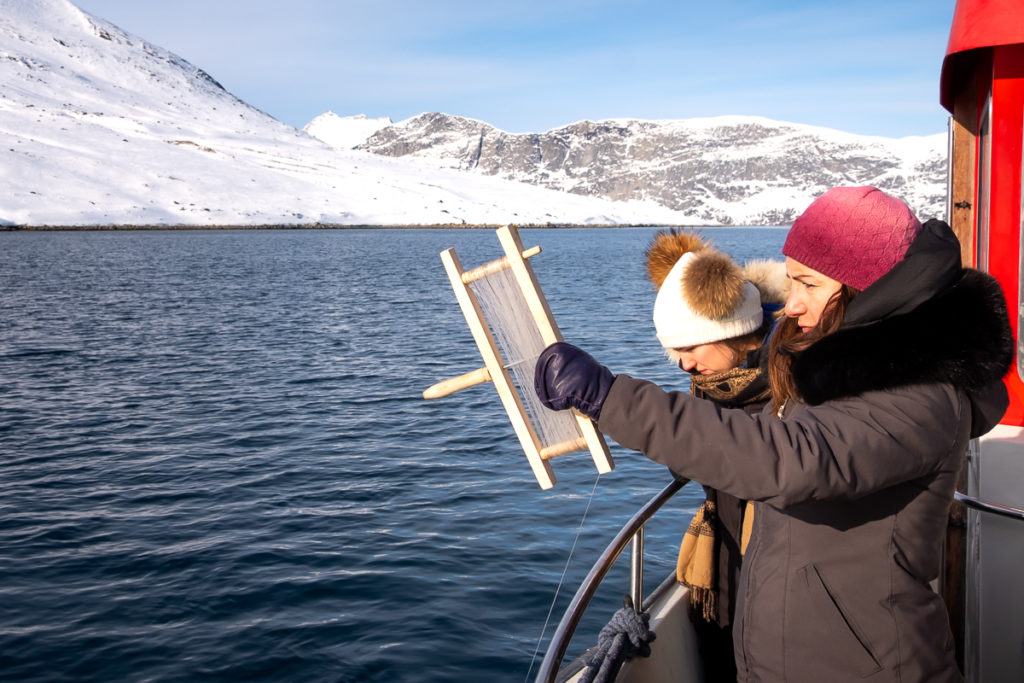 We'd caught about 20 fish and were very proud of our seafood haul before we decided to call it quits and head back towards Nuuk. After so much bracing fresh air and excitement, we spent most of this return journey inside the warm cabin, drinking tea and coffee and admiring the views through the large windows.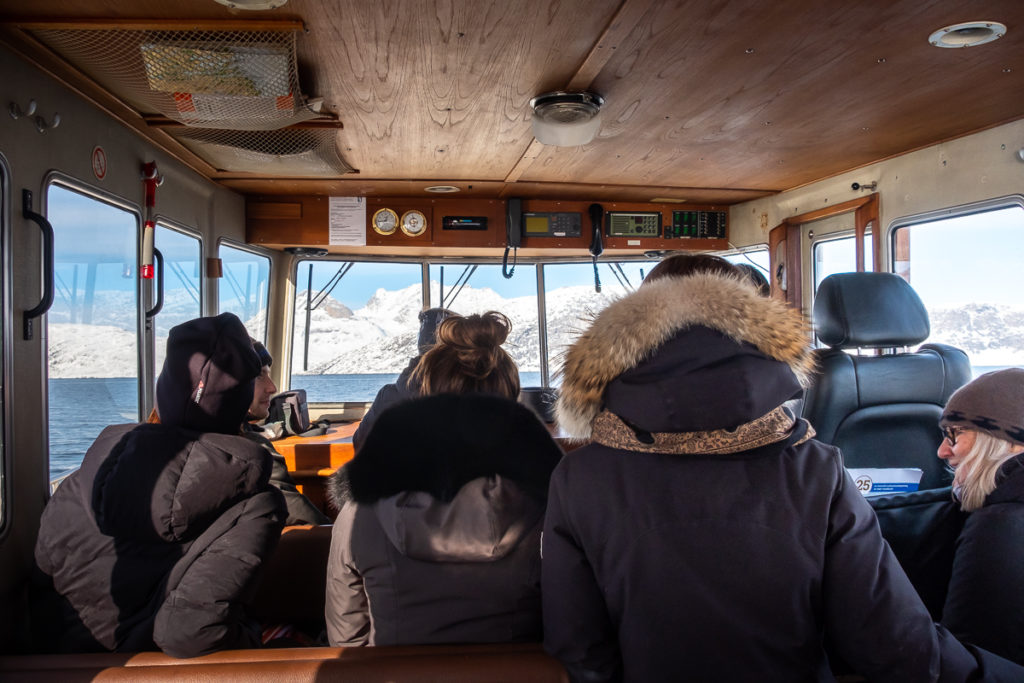 Views of Colourful Nuuk
The entrance to Nuuk harbour is on the opposite side of the city to the main fjord, which means we had a wonderful opportunity to see the Old Colonial Harbour and the colourful houses that contribute to the moniker – "Colourful Nuuk" from the water.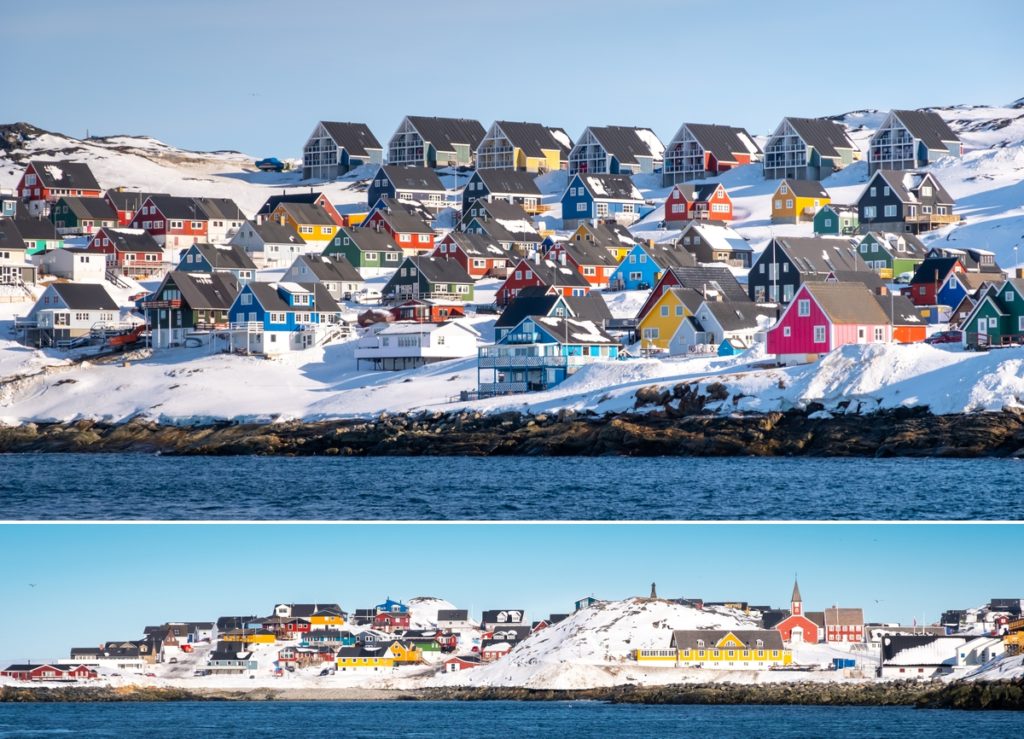 It was an amazing trip into just a small portion of the world's second-largest fjord system and the perfect way to spend a Saturday morning 😄
Explore the Nuuk Fjord by boat
If Nuuk is part of your itinerary for Greenland, you have to head out on one of the many fjord tours available. Even a short one such as this is an amazing experience and offers really beautiful views from the water.
Discover more about Greenland
I have a large number of blog posts about Greenland, so feel free to read more about my experiences here on my blog.
Or, if this post has piqued your curiosity about Greenland in general, learn more about this amazing country by: