Thought I'd write a bit more about La Mariposa Escuela de Español so you get a good idea of what I'm doing and where I am for the first 2 months of my trip.
The school is located in a small town about 45 minutes from Managua and an hour from Granada. It is owned by Paulette (originally from the UK) and is the best Spanish school experience I've ever come across (and I've been to a few Spanish schools over the years!). I came here for a month back in 2012/2013 and there was no question that I would return. So it forms the natural jumping off point of my trip, 10 months of which is in Spanish-speaking countries.
Aside from being outside of a major, or touristic, city, La Mariposa has several other distinguishing characteristics (you can read much, much more at their extensive website):
Its teachers are absolutely first-rate! They come from the local community and are specially trained to teach Spanish to visitors. They also have a program of continuous professional development so that all the teachers remain current and are introduced to different ideas. During conversation class (more on this in a minute), it's pretty common for you to head out into the town and walk around with your teacher while conversing, which is great experience given that the way people talk in the street is very different to how the teachers talk in the school. The teachers speak slowly and clearly (though they speed up and speak more naturally with advanced students) because all of the classes are in Spanish – there is no English even if you come here not knowing a word! Trust me, this is the way to do it and they are very, very skilled at ensuring that you can understand what's going on and can progress quickly. The classes here are held outside under cover (it is always warm in Nicaragua) in "classrooms" scattered throughout the grounds. Advantage is that you can bird and butterfly watch while studying 🙂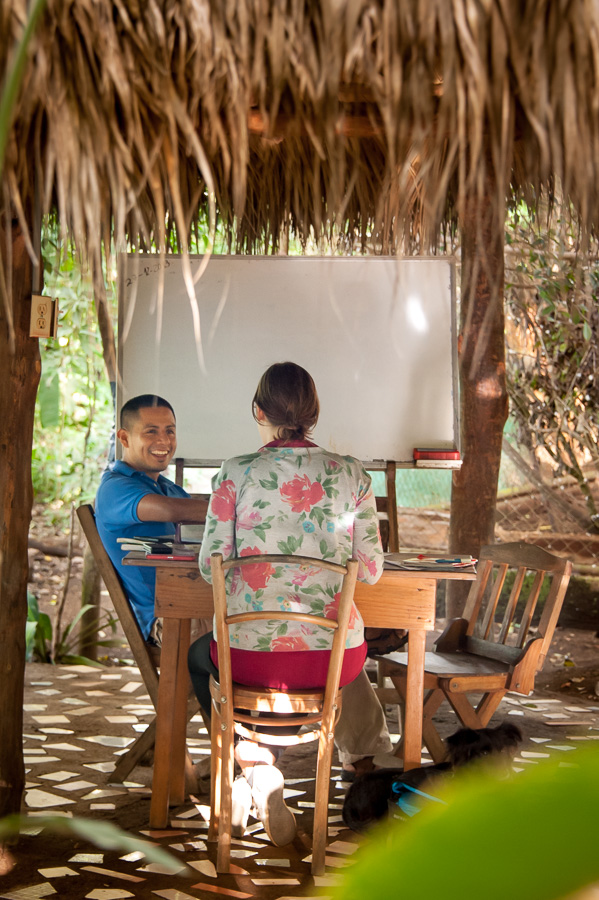 It has a really nice eco-hotel attached if you do not wish to stay in a homestay (there are pros and cons to both options) and it is set in beautiful grounds with quite a few short walking trails. They specifically plant trees and bushes to attract birds and butterflies to the grounds so there is never any shortage of flora and fauna.
| | |
| --- | --- |
| Eco-hotel | Molly walking the trails |
The school cooks lunch for all of its students Monday – Friday. This is absolutely genius because it fosters a sense of community amongst the students at the school. At all the other Spanish schools I've been to, you might see the other students for 5-10 minutes before class and on one of the activities that sometimes run in the afternoon, but that's it. Here, everyone congregates for lunch and its really easy to meet new people and make friends.
Testament to this is the fact I keep in touch with at least 6 people I met last time I was here and I got to reconnect with one of them face-to-face over the last 2 weeks! Phil was back again (Phil is an awesome guy with incredible enthusiasm for everything – but especially for all things that fly and things that crawl through the undergrowth at night) and I got to meet his lovely mum, Sue, as well!
Actually – there are a LOT of repeat customers. The school is very full at the moment (much less so next month which is not good!), and of those students, I would say about ½ of them have been here before and elected to come back to continue their studies. It's just that kind of place.
If you choose to do the activity program (rather than the volunteer program) there are activities every day of the week. Other Spanish schools usually offer only 1 or 2 activities per week. Activities include:
visiting the projects the School is involved in in the community
hiking and horse riding around San Juan de la Concepcion
a Nicaraguan cooking class
Nicaraguan history classes (really interesting!)
visiting local artisans
visiting local markets
hiking the 2 closest volcanos
longer day trips each Saturday (to the beach, to Granada)
and much more.
It has one of the most varied volunteer programs of any school – anything from reading to school children, to working with children with disabilities, to working with animals, to working on the farm growing the food, to helping prepare the food in the kitchen. I'm actually creating a recipe book for the school while I'm here this time that showcases the awesome, and predominantly vegetarian, food that the school cooks for its students.
It has an ethos of sustainability – all the buildings are built using ecologically friendly methods, they grow as much of their own food as they can, they rescue animals.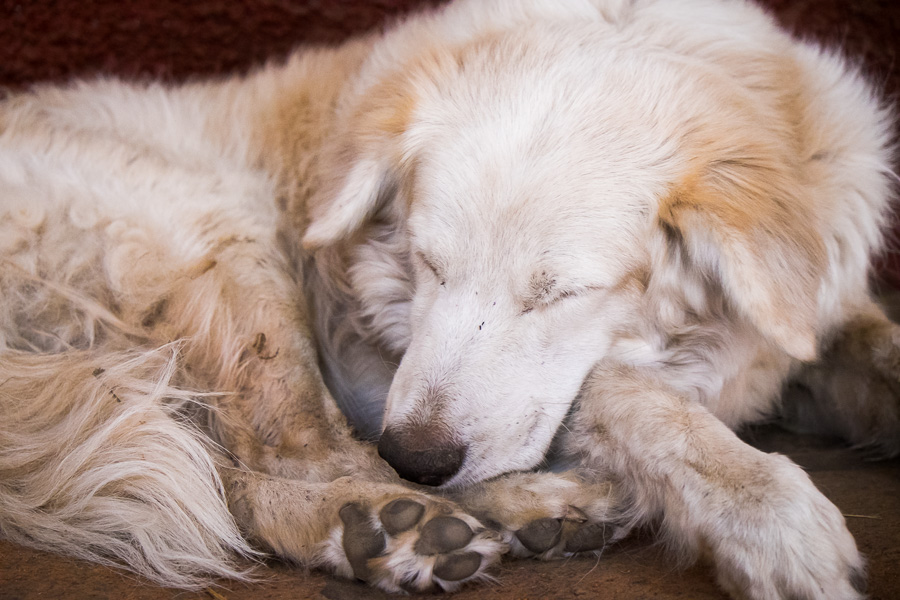 It does a lot of great work in the community of La Concepcion– currently 18 projects on the go through their NGO: La Association de Tierra.
Its very family-friendly – there have been 5 families here in the past 2 weeks!
My recommendation is, if you want to learn Spanish, don't try to learn in a non-spanish speaking country. Although the airfares are expensive (at least from Australia), it is infinitely better to come to central America and attend a Spanish school here. You will learn way more in 1 month than you will learn in several years back in (for example) Australia and it won't actually end up costing you much, if any, more money to reach the same level of proficiency (once you are here, Central America is very cheap). And you don't need to come for a month – many people come for 1-2 weeks and then travel afterwards. Oh, and while you are saving for the airfare, you can do skype lessons for USD$10/hour! Of course, the time difference between Australia and Central America is truly horrible, but it is possible and very worthwhile – I did several before returning this time 🙂
OK – so a bit more about how the formal part of the school works. Basically you have 4 hours of Spanish Monday to Friday, and usually 1-1 with a teacher. 2 hours of this is grammar class (I've learned so much about English grammar by studying Spanish!) and, at La Mariposa at least, they try to make sure you have the same grammar teacher for the length of your stay. The other 2 hours (after a 20-minute break) is conversation where you start to put into practice the grammar you are learning. Here your teacher changes each week so you can experience different ways of speaking and learn about the Nicaraguan culture from different perspectives. Yes – it is full-on (even for advanced students like me), particularly if you are really serious about improving. But because of this, it is possible to improve fairly quickly if you put in a bit of effort.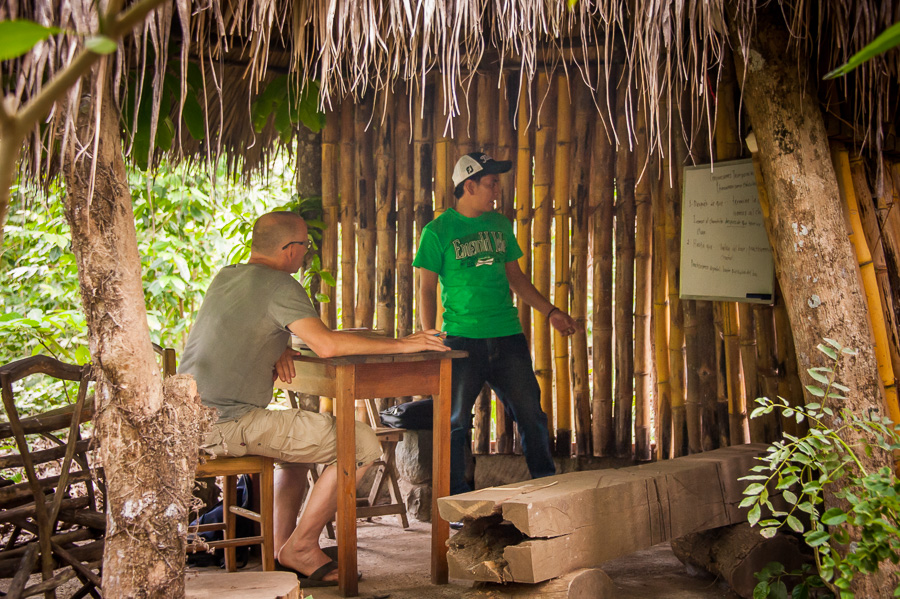 I have the same grammar teacher this time as what I had last time and I absolutely love her! My main goal on a daily basis is to impress Eliza with my homework, and over the past week I've managed to do it 3 out of 4 times 😉 I'm at the point now where my written Spanish (especially after the last 2 weeks) is excellent and with few errors – even when I'm playing with very complicated sentence structures.
The homework she has set me is to:
Read in Spanish for at least 20 minutes/day. I try to get an hour in at least and am currently reading a chick-lit book "Maggie ve la luz"/"Maggie sees the light", a Marian Keyes book translated into Spanish from English. Its slow-going (but getting faster) and a really good way to further study the use of the different parts of the grammar, as well as learn vocabulary and useful phrases.
Write. I've probably taken this to the extreme and have been writing for 2-3 hours per day. Ok – granted – that equates to only 1000 words at this stage but I firmly believe that a big chunk of this time is taken up creating the story. To speed things up a bit and to give us more writing to correct the next day I actually write ~500 words of a made-up story (for some reason I tend to write romances :-/) and ~500 words that I've transcribed from something on the internet written in English. The first 500 words takes me over 2 hours (because I make up the story as I go along), the second 500 words take me about 40 minutes. Really hope I'm going to get faster at this as well… but at least I make very few mistakes!
Then yesterday I mentioned that I also have a bunch of podcasts here from a Chilean radio program, so there is now:
Listen to at least 20 minutes of this each day. The main problem I have with this is that the Chileans speak VERY quickly and sloppily so it is quite hard to understand. Eliza asked me today how much I understood last night and I said about 50% (I can understand 100% of what she, and the other teachers say to me without even trying). She looked surprised so I played her a bit and then she understood 🙂 She said I definitely have to continue with this exercise and I have always thought that if I can finally understand Chilean Spanish, I can understand anyone!
So far this time I've had Alba and Katy for my conversation teachers – both really interesting women! Interested to see who I'll be chatting with next week.