For the past several years I've wanted to include a multi-day kayaking trip as part of my adventures. However, mostly due to the fact that I travel independently and it is tricky to find others who are up for an extended activity at the same time I am, it hasn't happened.
Until now!
Trawling the internet, I found a few companies offering a 6-day kayaking trip down the length of the Comau Fjord in Parque Pumalín (part of the area saved for conservation by Douglas Tompkins – if you don't know the story, I encourage you to read it) in northern Patagonia. The the idea of paddling slowly past the incredible natural beauty of one of my favourite regions on Earth immediately caught my imagination, and I was determined that nothing less would do.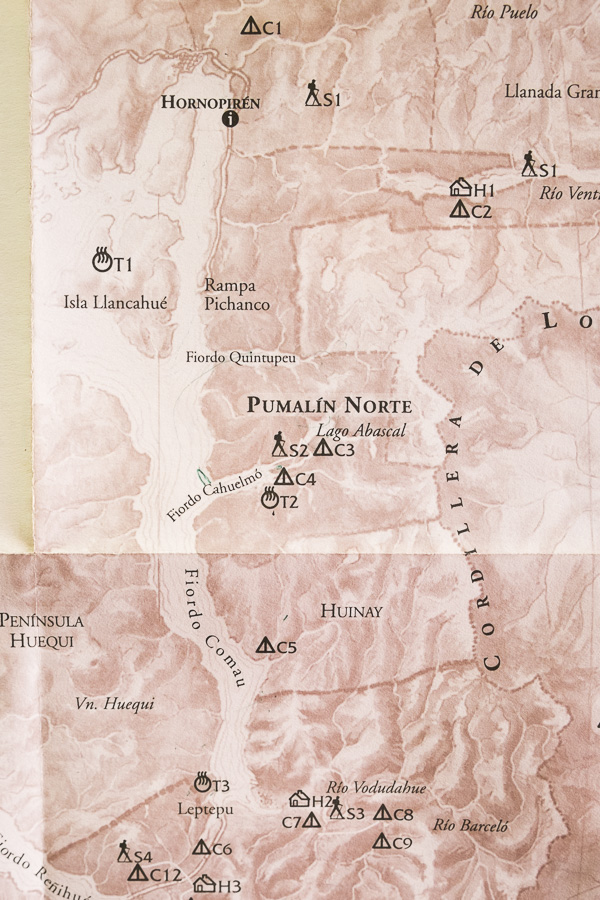 OK. So, no, I have never actually kayaked before. And yes, it would have made much more sense to start out with a kayak of a few hours to see what it was like. But in a rare period of irrational thinking, and having been assured that prior kayaking experience was not necessary (you just had to be reasonably fit and come with a "can do" attitude), I ignored logic and followed my heart's desire.
For several weeks I waited in hope that others would be interested in doing the same trip. And, just when it looked like it wasn't going to happen, Alsur Expeditions contacted me to let me know they had 2 others. We were good to go!
Day 1 – Hornopirén to Isla Llancahué
I was joined by Huw from Wales (some kayaking experience), and Koreen from Canada (fair amount of kayaking experience), and, together with Colyn (our guide) and Chloe (our general all-round-helper and cook), we set out from Puerto Varas for the drive (and ferry ride) to Hornopirén. There we met the last member of our expedition, Miguel the boat driver, loaded the kayaks and all of our food and gear for the next 6 days into the Don Miguel "mothership" and motored for about 5 minutes to a sheltered spot to get set up with the kayaks and start our first day of paddling.
Given my experience with kayaking (remember, none), I was thankful that the kayaks we were using were of the particularly stable kind – something I tested as I got in for the first time. Colyn help me to adjust the pedals for the rudder, gave me some basic instructions, and we were ready to go!
The whole of Patagonia is full of incredible scenery, and we were really lucky this first day to have bright sunshine and glorious weather! We even went and visited this fur seal who was tucked up on a buoy trying to ignore us.
Unfortunately, the gloriousness of my surroundings wasn't quite enough to distract me completely from the fact that I seemed to be putting a heck of a lot more effort into paddling than my colleagues, and that kayaking is a shitload harder than it looks! Particularly true when you paddle for 4 hours straight without a break! Words cannot express how happy I was to see this beach on Isla Llancahué – our campsite for the first night. I may have bitten off more than I can chew here…
Here, we were also introduced to the "ferry" between the mothership and wherever we were camped and, after a luxury dinner on board the Don Miguel, we headed for our sleeping bags.