Yes, there is such a thing as Greenlandic Beer. Godthaab Bryghus is the largest brewery in Greenland and it is possible to do a tour of their facility if you are visiting Nuuk. Even if you are not a beer drinker, it is a fascinating insight into the logistics and workings of a small brewery in a remote part of the world.
I have tried beer once in my life. After just one sip, I screwed my nose up and chased what was supposedly the best beer in Bolivia down with some Fanta. How on Earth could anyone actually enjoy drinking this stuff?!
Given this history it might seem like an odd decision for me to arrange a tour of the Godthaab Bryghus (Greenland's largest brewery) while I was in Nuuk. The lengths I go to in my research to create The Ultimate Travel Guide to Nuuk for Guide to Greenland! That being said, I did round up some friends to share the experience with me, figuring that they could give me their impressions of the beer so I didn't have to try it for myself.
We were met by Jörg – a master brewer from Germany – who promptly poured us each a glass of "Classic". After all, what is a brewery tour without a beer in your hand!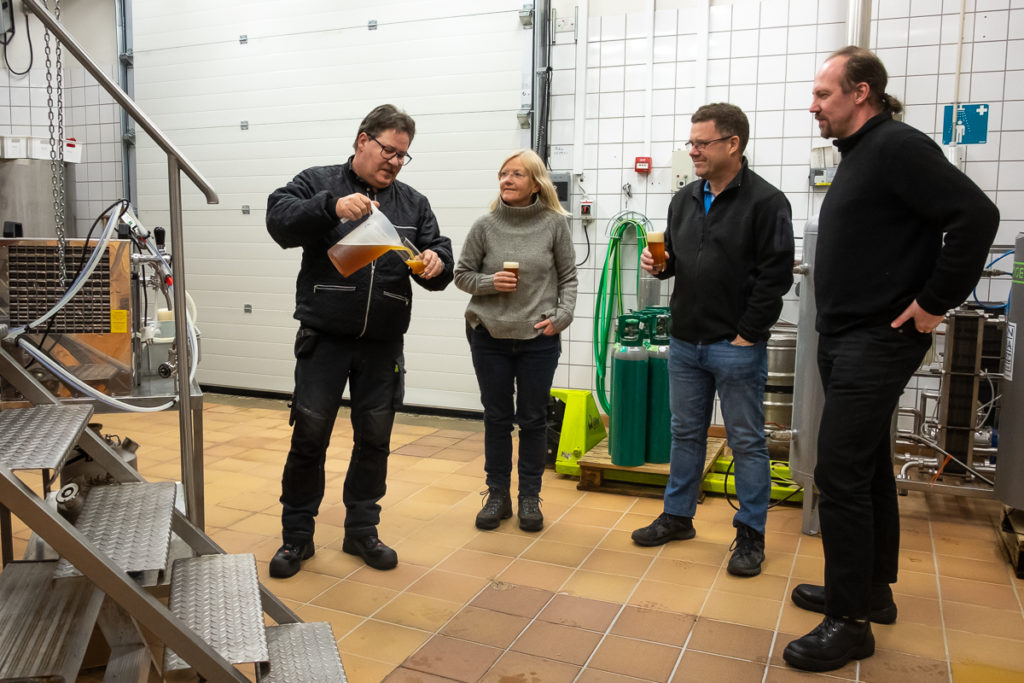 Loaded up, Jörg started to tell the story of how beer is made and the differences between the various types.
How to brew beer
It is a fascinating and complex process which makes for an interesting and time-critical job when your brewery is not automated. That's right. Jörg must monitor temperatures and keep track of timing manually to ensure the brew doesn't "over-cook" and become a bad experience. Given it is just him and one other person involved in the production of the beer – it is a good thing he loves his job!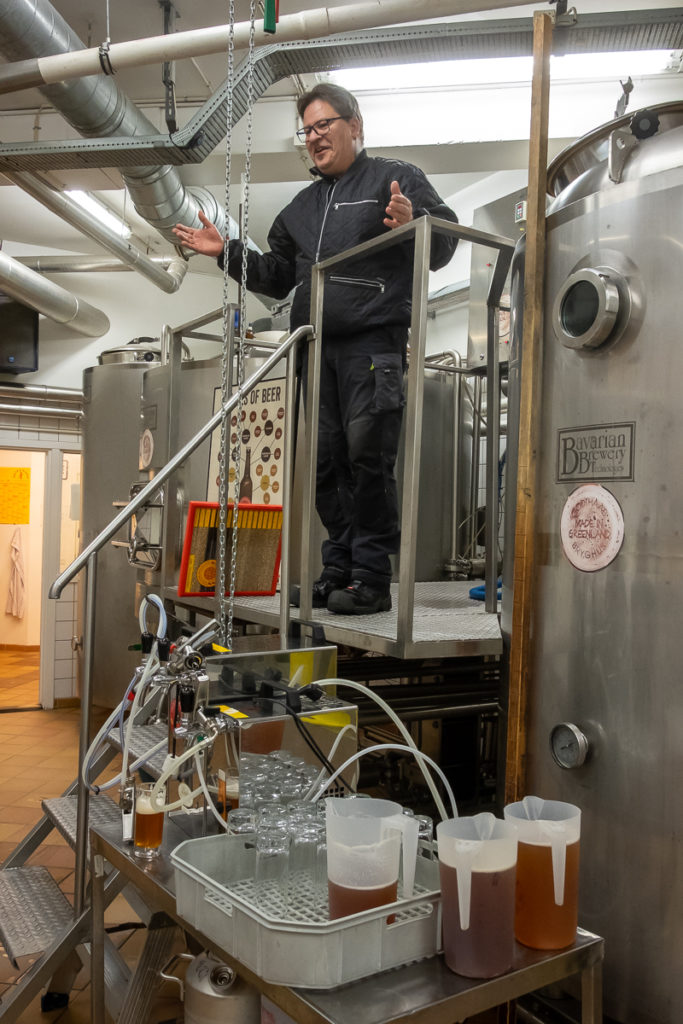 We very quickly realized just how small the brewery is when Jörg led us in to the "old cellar" with the fermentation tanks. We'd now seen ¾ of the operation!
Here he explained the process of fermentation and how holding the beer in the fermentation tanks for a longer period delivers a better taste. At Godthaab Bryghus, they hold the beer in the tanks for up to 3 weeks, compared with the more standard 1 week at larger breweries.
After 2 weeks, he removes the yeast from the tank and tests to see if it is still good to use for the next brew. In a large brewery, this would be done by sending it off to a lab. But here – it comes down to Jörg's discerning tongue. He simply tastes a sample of it.
From the fermentation tanks the brew is piped through a filtering system before it is ready for distribution. It is here that the brewery calculates the tax owing using a mechanism attached to the inflow to the filter.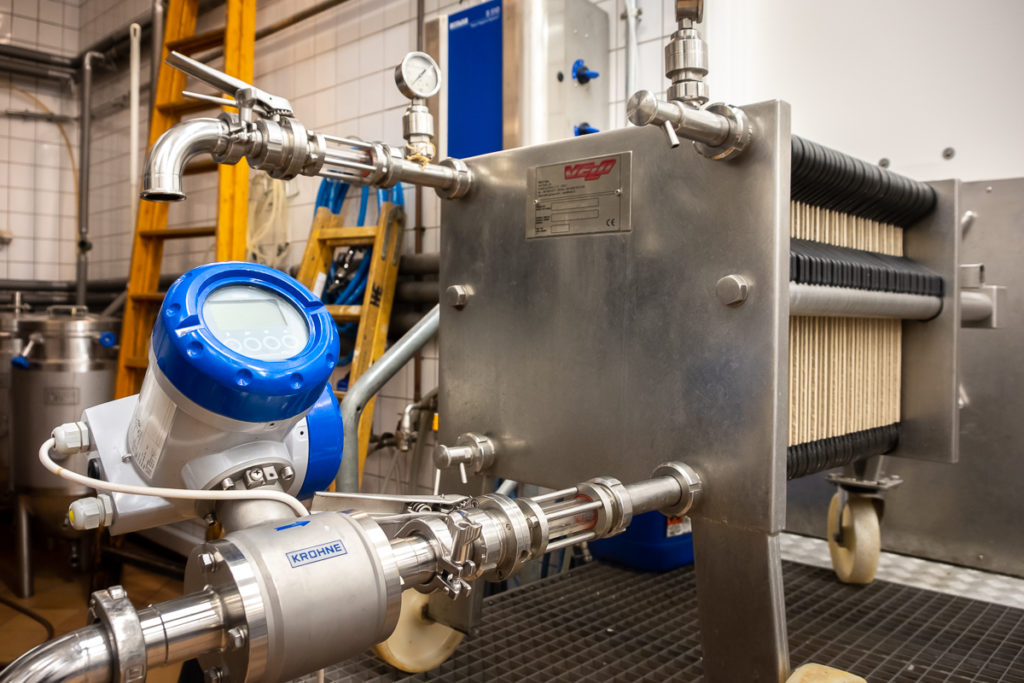 The other feature of this particular room was the impressive distribution system that delivers beer directly to the tap in the many bars and restaurants attached to the brewery. 3.5km of tubing must be cleaned every 2 weeks. You can probably guess who does that as well!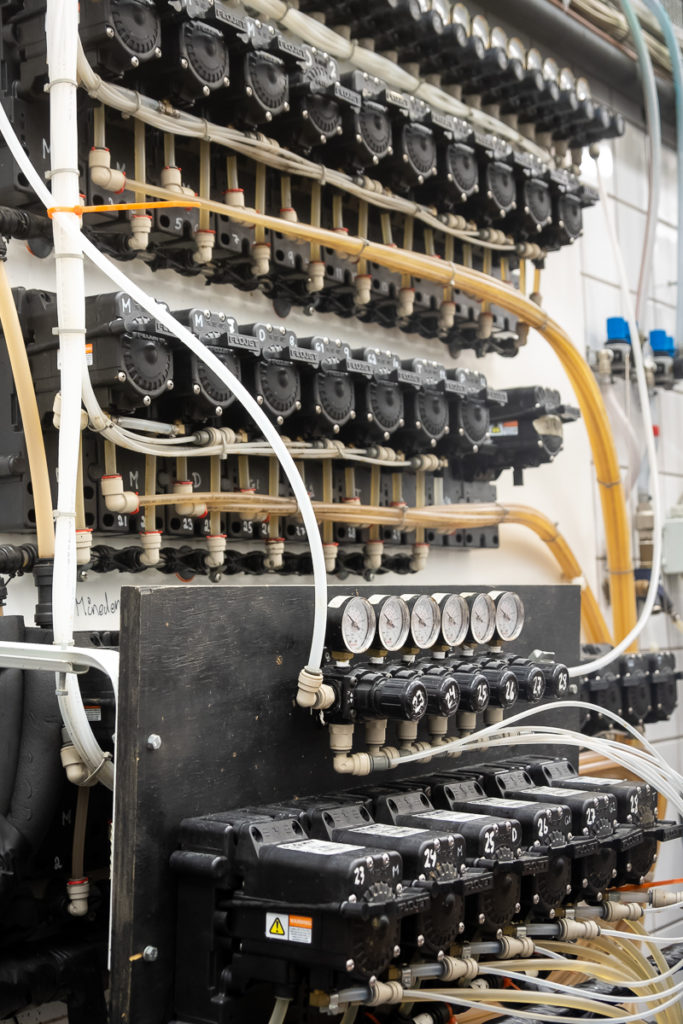 By this time, we were about 20 minutes into the tour and it was time for a new beer. This next beer was the "Classic" flavoured with Angelica – a herb that grows and is widely used in Greenland. Given my motivation to try anything local … how could I not try this?!
Trying my second beer ever
I asked for the smallest amount possible, held my breath, and took a sip.
Huh! You know what? It wasn't actually too bad!
No, I wouldn't choose to order it. And the dryness of it was strange to me, but I certainly made it past the first sip this time around!
Experimental Beers at Godthaab Bryghus
From there we headed into the "new cellar" where Jörg explained the portable, rapid cooling system they use to keep beer up to the masses at large events. We also we got to pour our own Pilsner directly from the tanks!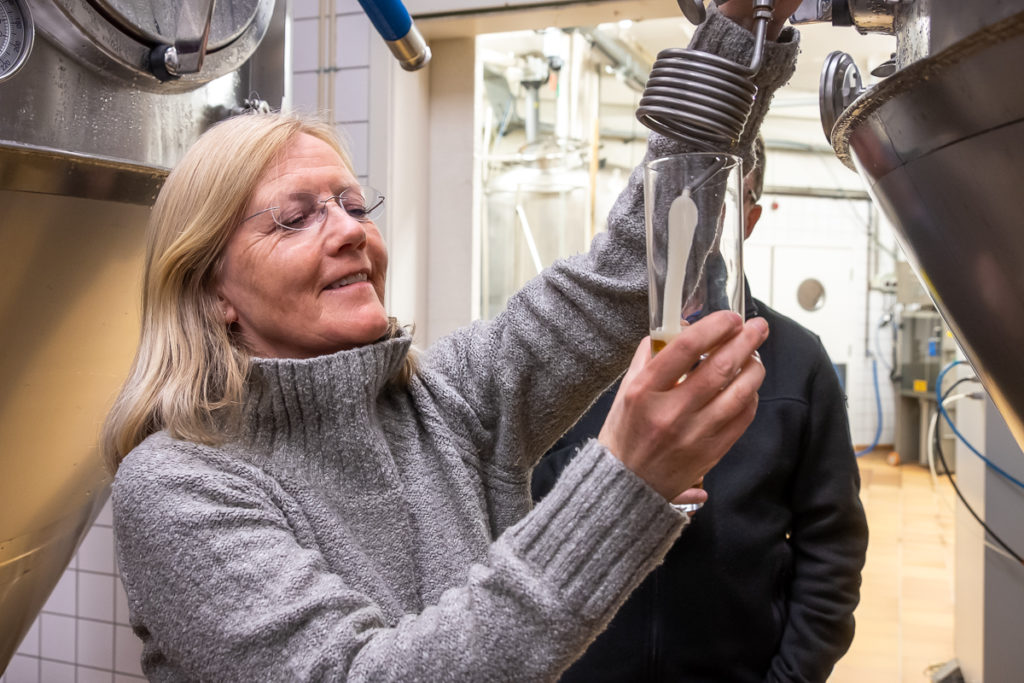 He also talked about their experimental beers – small brews that are initially tasted internally within the company. If the experimental brew passes the taste test and there is the general feeling that it might sell well, they will make a small run of it to see how it goes. This is how the Angelica Beer started out. But they have also experimented with lemongrass, blackberry and other flavours as well.
The current experiment was ginger-spiced beer, and of course we had to try this!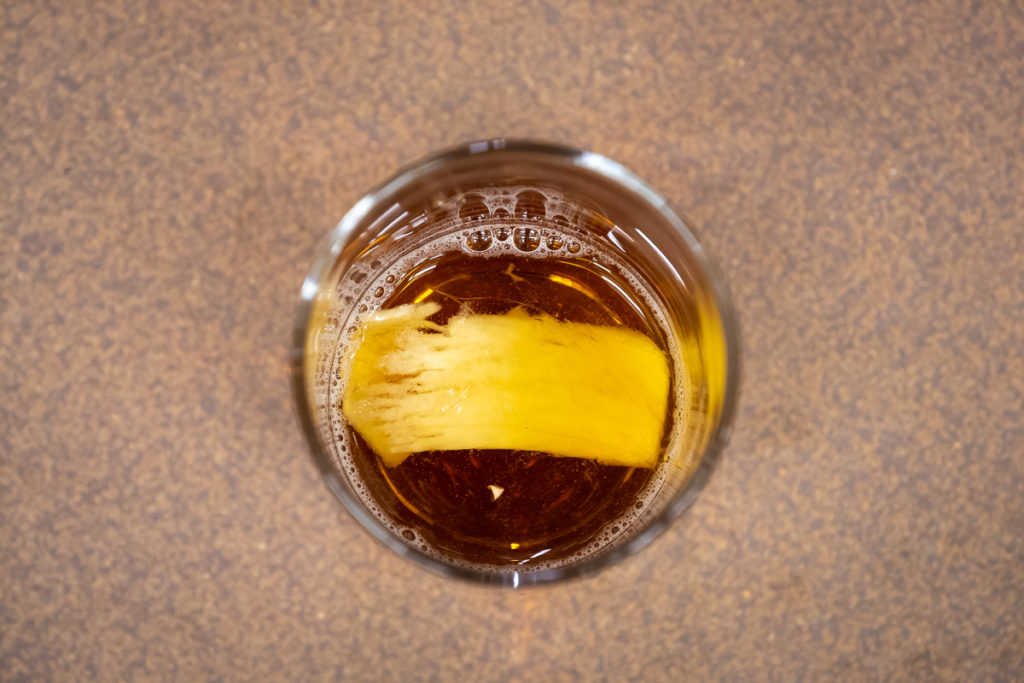 The Verdict on Godthaab Bryghus Beers
In the end we tried 4 beers on the brewery tour. Here are the verdicts:
Classic
Mark: Classic is just that – smooth, easily drinkable and tasty

Nola: as the name says – the classic beer as we know it. However, I think this one was milder
Angelica
Mark: unique, like Greenland. A round, robust flavour with I think would go really nicely with a robust meat and mashed potatoes.

Nola: it was heavier, dark and had an aftertaste. The hops were not so obvious
Pilsner
Mark: sharp and snappy with a long crisp aftertaste

Nola: light and tasty, and I think you could call it a lady beer
Ginger
Mark: fabulous gingery smell and a light taste. More of a beer with ginger than a ginger beer – refreshing

Nola: modern with little taste confusion, because you don't expect ginger in a beer
Mark Favourite: Angelica
Nola Favourite: Pilsner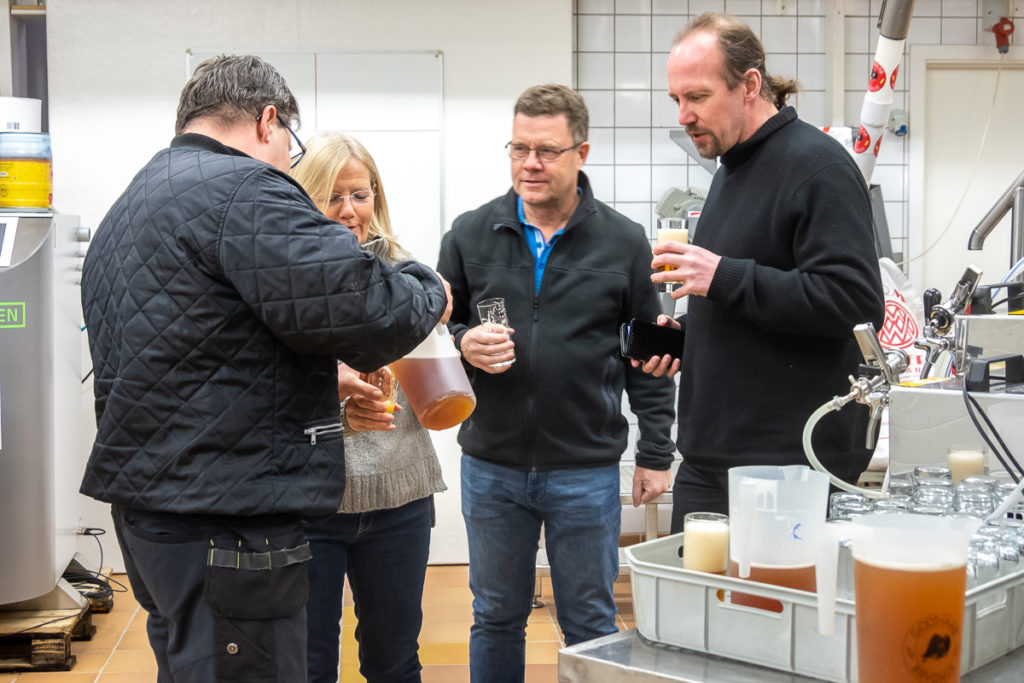 And my verdict? Well, to be honest, they all kind of tasted the same. The ginger-spiced one was a little sweeter to my mind but didn't taste much of ginger (Jörg did say it had only brewed 3 days and needed another week or so) and if I had to pick a favourite – it would probably be the Angelica. But there wasn't much in it.
Recommendation
Even if you don't drink beer, the tour of the Godthaab Bryghus in Nuuk is a fascinating look behind the scenes of a small brewery and offers a quick introduction to the beer brewing process. Jörg does a great job of explaining everything and clearly loves talking about beer and his brewery.
Make sure you ask him about why they don't generally export their beer and the challenges the Danish breweries Tuborg and Carlsberg have in preparing their beers for sale in Greenland. The logistics of living in Greenland will always fascinate me.
Time: ~1 – 1.5 hours
Cost: 125DKK (~USD19) per person including 3 beer tastings
How to book: ask in Daddy's Bar whether it would be possible to arrange a tour
Discover more about Greenland
If you are planning to visit Nuuk, the best resource on the web is the The Ultimate Travel Guide to Nuuk. Along with practical information on how to Greenland's capital, how to get around, where to stay and where to eat, it also offers a complete rundown on things to do in this small but fascinating city – including this Brewery Tour.
I have a large number of blog posts about Greenland, so feel free to read more about my experiences here on my blog.
Or, if this post has piqued your curiosity about Greenland in general, learn more about this amazing country by:
This post contains some affiliate links. If you make a purchase through one of these links, I will earn a small commission at no extra cost to you. Your support is appreciated!