The reason I caught a bus for 16 hours immediately upon arriving in Cuba was to ensure I was in Santiago de Cuba for the Festival of Fire / Festival del Caribe.    I (and other travelers I met) had been anticipating lots of activities, colour and music – but not quite.  I finally found a program in the Infotur office (tourist information office) and it seemed as if it was predominantly lots of talks.  Hmmm…
Although it meant staying in Santiago de Cuba (my least favourite place in Cuba) 4 days – at least I caught the opening parade.
It started at 4pm when the temperature was about 36 degrees and the humidity about 90%, and Santiago de Cuba is not renowned for its shady boulevards!   Basically it was a procession of people from different Caribbean and Latin countries, many of who were dressed up in some form of traditional clothing, some of who where accompanied by music.  I felt incredibly sorry for this guy (and a couple of others who were done up similarly) – they moved incredibly slowly and I have no idea how their paint didn't just drip off them in the climate!
There was quite a crowd turn out despite the temperature and we followed the parade down from Plaza Martí to Parque Cespedes – the central plaza in Santiago de Cuba.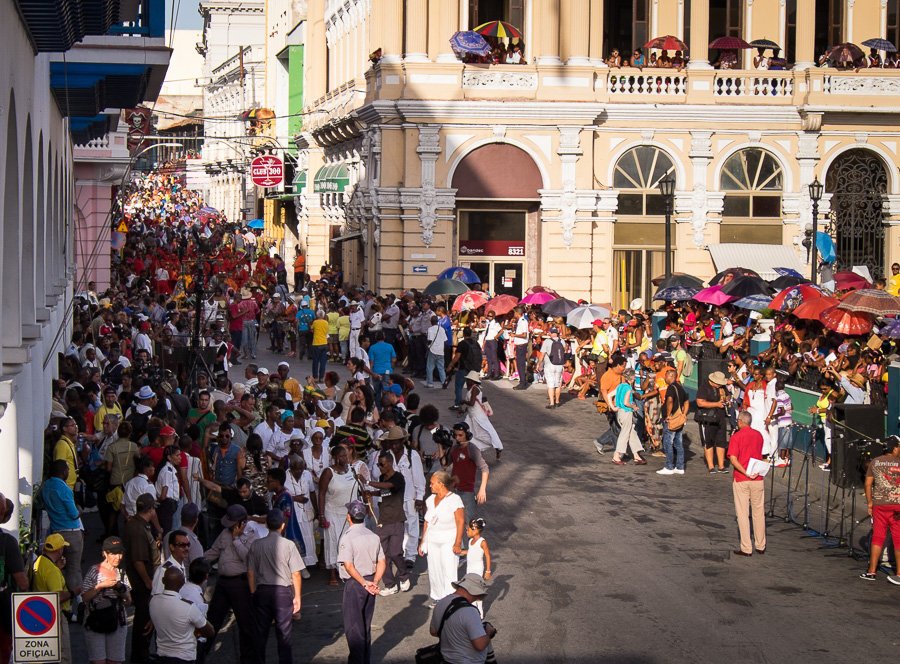 At this point there was a massive pause in the procession as a band seemed to play for an hour for the VIPs who were seated in the shade.    It was great to hear for about the first 5 minutes, but then it was exactly the same percussion repeated for an hour … Wendy and I decided to seek shade and sat down in a doorway to wait for something more interesting to happen.   Turns out there was a lot of activity going in and out of that particular doorway, and after about 15 minutes when the door was opened for about the 10th time, the guy who opened the door invited us in and up to his apartment with a balcony overlooking the park to watch the parade.  Ah – now all the activity made sense!     We joined him and his friends for about ½ hour and finally the parade started moving again.   He was super chatty and explained some of what was going to me and it certainly as we watched from this very cool vantage point!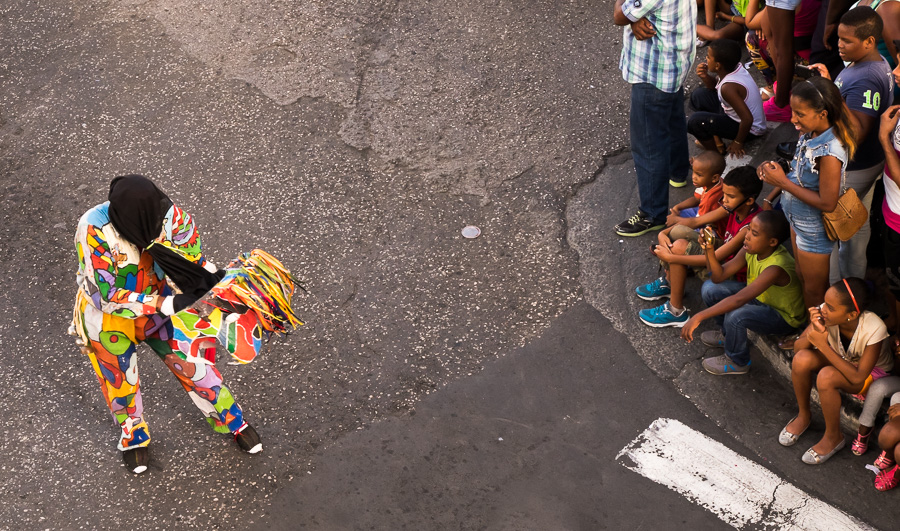 We eventually headed down to street level again as the sun started to set – it was great to see all the locals out enjoying as well
We left before the parade finished (it would have finished well after sunset at the rate they were going and Cuban streets are not very well lit – so we wouldn't have seen much at the end) and headed to a restaurant called Compay Gallo – best restaurant we ate at in Santiago de Cuba – awesome meal for only 5.50 CUC.